This issue our double layer specialist John Miller answers some key questions on fitting supercapacitors into automobiles. The answers are very interesting indeed.
What are the critical issues for using electrochemical capacitors in automotive applications?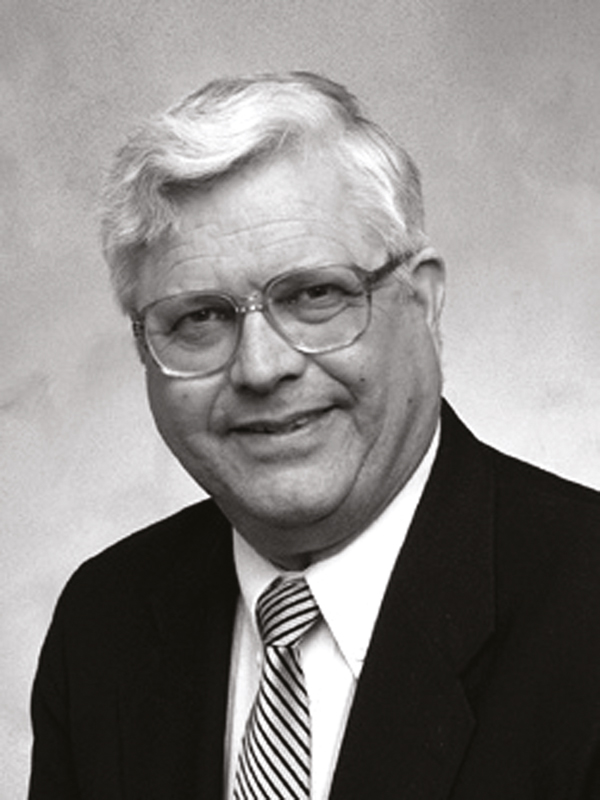 The issues for automotive applications are obvious and readily identified. Although often not fully appreciated, the first of these is, simply, cost. Electrochemical capacitor technology necessarily competes on a cost basis with other energy storage approaches for automotive use. In overall financial terms, capacitor technology for a particular use must provide a higher total value than the alternative solutions. This can be difficult to determine when we are working – as is very true of electrochemical capacitors – with a new technology that is still evolving. It literally is not a difficulty we can afford to ignore.
A second critical issue encompasses both durability and reliability. Conditions for use in automotive applications can be extremely severe compared with those faced by many other consumer applications that require long product life. The operating environment for automotive use includes, for example, both very high and very low temperatures, similarly conditions of high and low humidity, shock and vibration, and a variety of other stressful conditions – through all of which the component must continue to operate with uncompromised reliability. Over and above these stresses, the consumer's typical expectation of any components that are used in an automobile is that they will be maintenance-free and completely dependable under all operating conditions, for up to and even beyond ten years or 100,000 miles, depending what we take as our standard.
A final critical issue is safety. The automotive industry focuses intently on maintaining and improving vehicle safety. Much of this relates most directly to the driver and is concerned with the use of seat belts and the presence of built-in safety features like air bags. Electrochemical capacitor components used in automobiles must meet the safety requirements of every other type of component used in automobiles, and their design must recognise without fail that the most important requirements for any component will be those related to personal safety.
Cost, durability, reliability and safety comprise the basic set of issues that must be addressed as a group in designing and manufacturing electrochemical capacitors for automotive use.
How does the performance of an electrochemical capacitor compare with that of a battery in hybrid vehicle applications?
There are, it goes without saying, fundamental differences between capacitors and batteries in the charge storage mechanism. Both technologies respond differently in use, in that the voltage of the battery remains relatively constant – independent of its state of charge – while the capacitor's discharge slopes, voltage decreasing as the discharge proceeds. Further, in terms of charge/discharge performance, batteries generally must be charged at a lower rate than they can be discharged. Capacitors, on the other hand, can be charged and discharged at the same, very high, rate.
To compare the performance of a battery with that of a capacitor in a hybrid vehicle application we first need to know the power profile of the application, including the duty cycle, the operating period of that cycle, peak power levels as compared to the average power levels, estimated environmental operating temperatures for the system, and the average power level at which the devices will be charged. These issues are critical precisely because of the differences in the charge storage mechanisms. A battery relies on chemical reactions and the kinetics of the reaction often dictate power performance. A capacitor's physical charge storage, in contrast, generally does not suffer from these same limitations.
In general, therefore, a battery must most often be sized to meet the power profile of an application, and in doing so may often have available considerably more energy than is actually needed for that specific application. A capacitor, on the other hand, must usually be sized to meet the energy requirements of an application, with a clear recognition that the capacitor can usually readily meet the power requirements.
There is also a major difference between electrochemical capacitors and batteries with regard to regenerative braking. The charge rate of a battery is generally lower than that of a capacitor, with a corresponding difference in expected energy capture efficiency. Batteries currently used in hybrid vehicle applications demonstrate excellent performance – coupled with, however, the unavoidable expectation that they will wear out in a foreseeable time period or after a certain number of charge/discharge cycles. Present thinking is that capacitors designed for such applications will be maintenance-free throughout the planned life of the vehicle.
Both technologies also show differences in their responses to the environmental operating temperature ranges that can be expected in typical use. The battery, with its chemical charge storage, loses power performance at low temperatures due to rate limitations in chemical reactions. The capacitor, because its charge storage is physical, generally does not have this problem.
Yet another difference in performance between the two technologies is their failure modes. Capacitors typically suffer a 'graceful death', their performance fading monotonically. Their equivalent series resistance, for instance, will gradually increase while their capacitance decreases. Batteries, however, may be operating acceptably at one moment, only to fail catastrophically in the next without any indication that failure was imminent. This, of course, colours our picture of reliability for each type of device, as it also bears on how we might go about setting up schedules for either regular or preventive maintenance.
Overall it is the power profile that dictates the differences in performance between the two technologies. If the power profile for a hybrid vehicle requires high power at high cycle rates, as might for instance be the case with a city transit bus that stops and starts in a regular fashion, this power profile would be markedly different from that of a light automobile with fewer start/stop cycles in ordinary driving and which on the open road would experience greatly reduced charge/discharge cycling.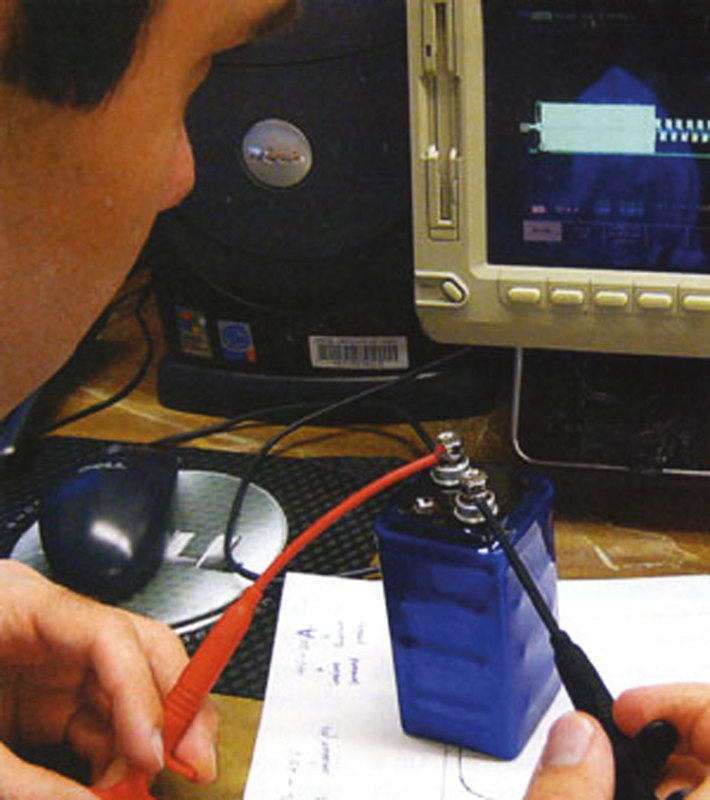 The hybrid vehicle application that most starkly reveals the performance differences between batteries and capacitors is in heavy hybrid refuse trucks, a situation ideal for capacitors and totally unsuitable for batteries. The typical refuse truck may have 800–1,000 start/stop cycles in an 8-hour period, with a maximum speed between trash pickups of perhaps 15 mph. This high rate of start/stop driving will cause a temperature rise in the energy storage system owing to the simple fact that energy storage is never 100% efficient. The well-established greater regenerative energy capture and charge/discharge efficiencies of capacitors in this cycle profile demonstrate more clearly than in almost any other comparative situation the basic differences between capacitors and batteries.
Starting, lighting and ignition (SLI) batteries that are used to start large engines have very high cold cranking amp (CCA) values. What is the typical CCA value of a capacitor that has been designed for this application?
Right at the outset, care needs to be taken about how we define cold cranking amps. CCA – an SAE standard developed many years ago – specifies the constant current that can be supplied by the battery for 30 seconds, such that the voltage remains above 7.2 volts when the battery is at 0° F. The standard further stipulates that the battery must be new and in a fully-charged state when the test is performed.
Remember, however, that this 30-second test was devised back in the days when carburettors were still used to fuel engines. The battery for a car today may in fact have a CCA rating of several hundred amps. A large truck battery, for instance a Group 31 battery commonly used in open-road trucks, might have a CCA rating of as much as 650A. Further, three or four of these latter batteries are often used in parallel in the truck, for a combined rating of as high as 2,600A.
A capacitor typically used for truck starting will have a capacitance value of 650F, and may be used, as it commonly is, with two or even three of the Group 31 batteries. This 650F capacitor however, when subjected to the SAE CCA test, would have a CCA value of perhaps as little as 100A. The question then arises, on the face of it an embarrassing one, whether a capacitor like this could in fact even start an engine.
Remember further, however, that the starting cycle for today's fuel-injected engine lasts typically for a single second or less. Power delivered over 30 seconds is no longer the important parameter. Although the CCA value of a capacitor may be very low, its maximum power compared to that of a battery is nevertheless exceptionally high. At a temperature of -25°F for instance, the 650F capacitor mentioned may have higher peak power than do four Group 31 batteries combined. A more reliable test for the cranking ability of an energy storage component with modern engines should, therefore, include a specification that measures the energy it delivers in 1 second at 0°F, with the voltage required to remain at 7.2V or above. Such a rating involves energy rather than current, thus revealing the quantity of work that the energy storage component can perform in the first second of engine cranking. This, of course, should be directly related to achieved engine rotation speed.
In summary, the CCA value associated with SLI batteries is essentially meaningless as a standard for electrochemical capacitors. The output duration required for starting today's fuel-injected engines is much less than that stipulated long ago in the SAE standard, geared as it was to the many seconds of cranking necessary to start carburetted engines.
Electrochemical capacitors have capacitance densities that are typically more than 100 times greater than aluminium electrolytic capacitors. Why, then, don't we use electrochemical capacitors as filters in dc power supplies?
Direct current power supplies generally use large electrolytic capacitors for filtering the 120Hz ripple on rectified 60Hz power. (Other types of capacitors are usually included to efficiently filter much higher frequency components.) The purpose of electrolytic capacitors is to decrease the 120Hz ripple to achieve a purer dc output. Capacitors serve this task well because of their ability to store energy. During a voltage drop, energy stored in the capacitor can be delivered. Conversely, the capacitor can store energy during the time the voltage rises. In order to be effective for this purpose, the capacitor must be able to both charge and discharge at the 120Hz ripple rate. And, since there are continuous charge/ discharge cycles, the capacitor needs to be very efficient as a storage device to avoid excessive heat generation.
Owing to their design, however, electrochemical capacitors cannot efficiently charge and discharge at the 120Hz rate. Briefly, this is a matter of their having highly porous electrodes that limit response time. The typical response time for an electrochemical capacitor, therefore, may range from a fraction of a second to several seconds, clearly unsuitable for 120Hz filtering. In contrast, aluminium electrolytic capacitors may have a response time in the order of a millisecond. In conventional capacitor jargon, the dissipation factor (DF) for electrochemical capacitors at 120Hz is too large for them to be practical for filtering. This DF factor is defined as the resistance divided by the reactance of the device, typically a few percent at most for aluminium electrolytic capacitors. For electrochemical capacitors, on the other hand, at 120Hz the DF will be more than 100%, meaning that more energy is dissipated during each cycle than is stored, making them totally unsuitable for ac power filtering applications. In other words, the device behaves more like a resistor than a capacitor at 120 Hz.
An interesting historical point to note in this connection is that when electrochemical capacitors were first invented in the late 1960s there were no known applications having significant volumes. Because they were too sluggish to be used as filtering capacitors, significant attention was devoted to decreasing their response time in order to render them more suitable for that purpose. This 50-year quest, now extended to potential use of electrochemical capacitors for ac filtering at 60Hz, remains unsuccessful to the present day. Only with the advent of CMOS memory in the late 1970s, volatile and requiring a backup power source to prevent information loss in a power failure, were electrochemical capacitors able to come into their own commercially.
How can an asymmetric electrochemical capacitor have essentially unlimited cycle life when one of its electrodes is like a standard battery electrode?
Most electrochemical storage devices, whether batteries or capacitors, have approximately equal capacity in each of their two electrodes: that is, each experiences approximately the same depth of discharge during cycling operations.
In a symmetric electrochemical capacitor, both electrodes have the same material with approximately the same mass and, hence, the same capacity, so that during charge/discharge each electrode responds equally. Typical batteries similarly have electrodes of approximately the same capacity. An asymmetric capacitor, in contrast, typically has one battery-like electrode and one high-surface-area carbon electrode. The capacity ratio of the electrodes, that is, the battery-like electrode capacity divided by the capacitor electrode capacity, is typically selected to be three or more. The result of asymmetry in electrode capacity is that one of the electrodes is not fully discharged during cycling. If we envision a 10:1 ratio of battery electrode capacity to capacitor electrode capacity, the battery electrode would be discharged only 10% in a full discharge of the capacitor electrode.
It is well known that batteries with shallow depths of discharge provide much higher cycle life than those with greater depths of discharge – clearly a significant difference. One asymmetric capacitor manufacturer, ESMA, is in fact able to provide a guarantee of 100,000 cycles for its product. This is a NiOOH/KOH/C device, with the battery electrode NiOOH, the capacitor electrode activated carbon, and the electrolyte KOH. It provides exceptionally high cycle life despite the fact that it uses a battery-like electrode. The same company also offers a range of products that have been optimised differently. Instead of high cycle life, for instance, some ESMA products have been optimised for high energy density. In those devices the battery electrode capacity to capacitor electrode capacity ratio is much lower, perhaps as low as three, so that the battery electrode is used to a much greater extent. The guarantee for that product is only 10,000 cycles, but it provides almost four times as much energy density because of its lower electrode capacity ratio and also through the use of thicker electrodes which are possible with this particular design optimisation.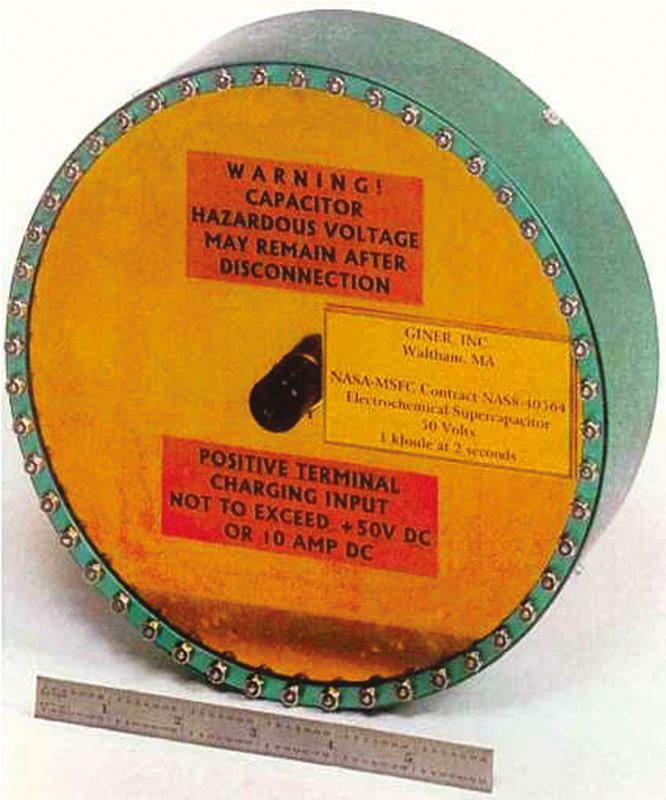 Asymmetry in an electrochemical capacitor further allows it to operate at high power levels. This is because the current density on the battery electrode is much lower than it would be in a battery, where it would be fully discharged. Electrochemical capacitors achieve their high power performance and high cyclability because of their design. Performance of this type of electrochemical capacitor need not be hindered in any way by incorporating a battery-like electrode into that design.
Electrochemical capacitors are very expensive compared with batteries. When, if ever, will they achieve parity in cost?
Electrochemical capacitors today can achieve cost parity with batteries in some, but definitely not in all, applications. They are, in fact, uncomfortably expensive compared with batteries when we use energy density or specific energy as the basis for comparison. Thankfully, choosing different parameters for comparison can be more encouraging. These parameters might include: cost per unit of stored energy per cycle, cost per unit of delivered power, and cost per unit of regenerative energy capture per cycle. A proper cost comparison obviously requires that we reconsider the basis on which we measure cost.
One area where life-cycle cost parity may be possible is in engine starting. As the market expands for electrochemical capacitors and manufacturing volume increases, cost reductions will naturally follow. Capacitor technology, originally focused primarily on small devices, is actually only about 25 years old. It took until the mid-1990s for kJ-sized capacitors to become available at pilot-scale production rates. From the standpoint of manufacturing experience, therefore, electrochemical capacitors are relatively new products, and we can look forward to costs decreasing as the industry matures.
We must admit, however, that it is fundamentally doubtful that electrochemical capacitors can ever reach cost parity with batteries as long as we compare costs on a strict energy density or specific energy basis. Batteries store energy in bulk, using the entire electrode mass and volume for charge storage. Electrochemical capacitors, on the other hand, use only the surface of the electrode material for that purpose. But despite this the market for electrochemical capacitors continues to expand, owing primarily to the attractive performance properties they offer that are not offered by batteries. As evidence of this, capacitors have increasingly been selected for applications both because of their performance characteristics and because of costs comparable to or even lower than those of batteries.
Do you have a question for our capacitor specialist in residence? Contact John Miller at jmecapacitor@att.net