Activated Carbons are the leaders of the pack in current supercapacitor development, but what's around the corner? John Miller explains.
Electrochemical capacitors have very interesting features because they store charge in a physical way. And because of this they are saved some of the problems seen with battery storage, where chemical change on one or both of the electrodes results in a volume, a structural, or even a phase change of the material, changes that are never completely reversible, supplying reasons why batteries wear out.
The physical charge storage of an electrochemical capacitor takes place in the electric double layer formed at the interface between an electrolyte and an electrode material when voltage is applied. The active ingredients are thus two: the electrode and the electrolyte. My focus in this article will be the electrodes and the materials from which they are made.
The most common and most commercially significant electrode material used in electrochemical capacitor technology today is activated carbon. Of the several, very different, requirements for a successful electrode material, perhaps the most obvious advantage of activated carbon is that not only is it very readily available, but that it is so at reasonable cost. A second requirement is that since the storage involved is a surface charge phenomenon, a material with relatively high surface area is very desirable. Further, since the electrode must be able to attract ions to its surface, the electrode material needs to be electrically conductive. It is likewise necessary for its surface area to be as available to the electrolyte, which is generally a liquid. Additionally, although high surface area materials are often quite porous, pore size distribution is critical, since the pores need to be large enough for the ions in the electrolyte to populate them. Again, since activated carbon electrodes are generally in a particulate form held together using a binder, particle size distribution and particle shape can be important.
Quite aside from these characteristics of activated carbon that make it suitable for use in electrochemical capacitor electrodes, where does activated carbon actually come from? A very popular source material for its manufacture is coconut shells. The shells are charred and put through an activation process that may involve chemicals, high-temperature steam, or gases. These processes actually consume part of the carbon, and in so doing create in it a great deal of porosity and thus high surface area. With a yield that is typically well below 50%, the remainder having been consumed, it is an obvious advantage to begin with a relatively low cost precursor material. Coconut shell is primarily, as happens, a waste material, the reason for its low cost. A recent startup company has notably turned to macadamia nut shells as an alternative. Other natural source materials for the activated carbon used in electrochemical capacitors include hardwoods, peat, coal, and crude oil hydrocarbons that are, so to speak, what is left at the bottom of the barrel. The primary requirement for a precursor is, after all, only that it contain carbon. Synthetic processes have also been developed for creating activated carbon. Some are quite exotic, requiring complex mixtures of chemicals or polymer materials from which all elements except the carbon has been removed prior to activation. Density of the high-surface-area electrode material, of course, is one of the properties most important for electrochemical capacitors. Low-density materials will generally not be very suitable—their use increases device size and thus cost and often its mass as well since electrolyte fills the voids.
An important metric for assessing an activated carbon or other electrode material is its Farads per cubic centimetre (F/cm3) value. One hears often of F/g, but this is a metric of little value (because low density material is quite useless). Another parameter to consider is the rate at which the material can be charged and discharged, i.e., its power performance. This will be dictated by surface area, pore-size distribution, particle size, and the thickness of the electrodes, among other things. Cyclability, and the leakage current as well, will further be determined by the degree of purity in the material. Purity determines the stability of the material as a function of time in the application, so that the physical charge storage in the devices persists as physical charge storage, with no side reactions (chemistry) occurring that would wear it out. Durability of the electrode material is critically important, but this depends as well upon the electrolyte that is used with the electrode. To store charge physically the two must work in combination, with no chemical reactions at all if those can be avoided. Despite the many parameters that need to be considered in assessing a material for use in an electrochemical capacitor electrode, however, F/cm3 must be seen as the first one to examine.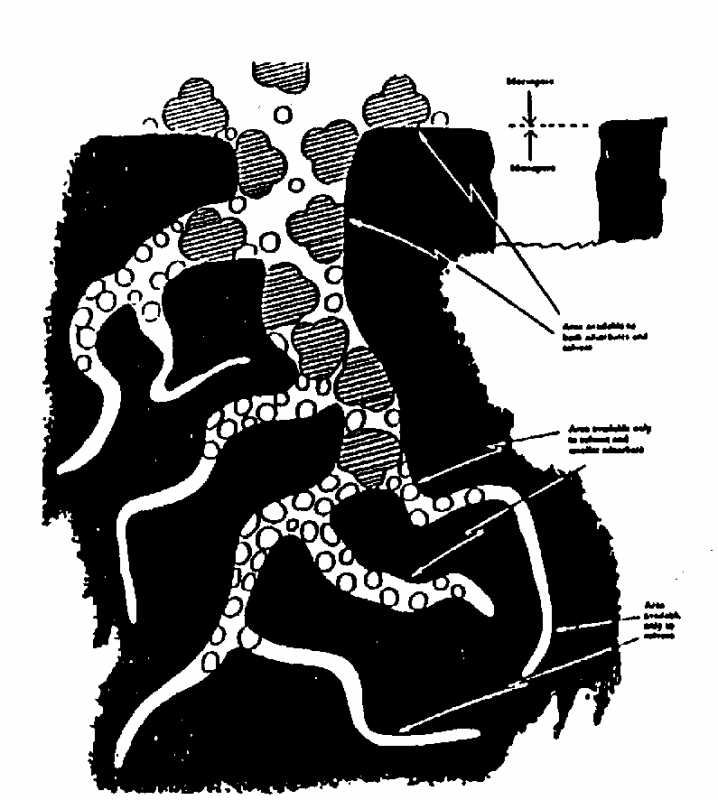 One point of real fascination is how perceptions of the structure of activated carbon have changed over time. Charge storage, again, physical charge storage, occurs at the carbon-electrolyte interface. Figure 1 depicts a cross-section of a complicated pore in a small carbon particle, perhaps on the order of 5 µm in diameter. The pore is widest at the surface and, like a river, narrows upstream, with small tributary streams emptying here and there into it. This model, attributed to Calgon Carbon Corporation, dates to the 1950s or 1960s and represents the common understanding of the structure of activated carbon material at the time. We have learned since then, however, that such a model fails to adequately represent reality. Figure 2, dating from 1990, does a bit better. It shows planes of carbon folded up into ribbons, a structure that creates high surface area. Plumbing features seen in the earlier model (pores shaped like a river or in the form of a tree root) have been discarded. Rather what we see are "slits" created by removal of carbon planes during the activation process. This later model explains the various phenomena more completely and accurately. Figure 3, even more recent of these attempts, displays twisted, turned, and wrinkled graphene planes that, structural defects and anomalies included, seem simply crumpled into the structure of the activated carbon. Surface area is certainly available and with a distribution of pore sizes, created based on the physical relationship among these graphene planes. The development of this more recent model owes a great deal to more sophisticated analytical techniques, and represents the understanding of the physical structure of activated carbon that is held today.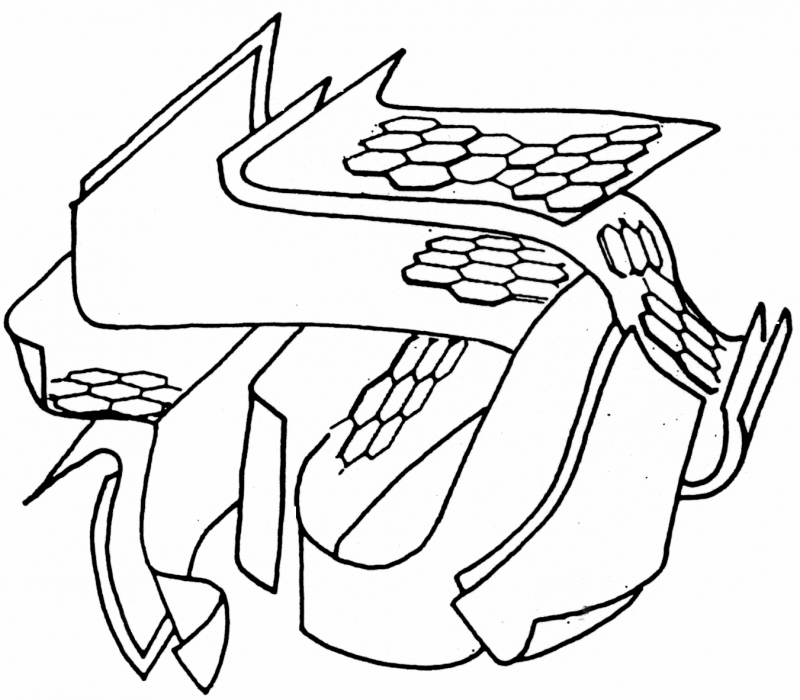 We do, of course, need to keep in mind that while the dimensions we are discussing here, those of graphene planes, may be less than 1 nm, this provides tremendous surface area, in excess of 2 000 m2/g. But when this surface is wetted with electrolyte, the actual ion motion that takes place between charge and discharge only displaces the ions in the electrolyte by at most 10 nm. In a charged state, ions are drawn from the electrolyte to the surface, bringing them within a nanometer or so, and when the applied voltage is returned to zero, those ions, having moved distances of no more than a few nanometers, return to an equilibrium distribution. Despite the enormity of the surface area involved, there is no gross transport required for charge to be stored in an electrochemical capacitor.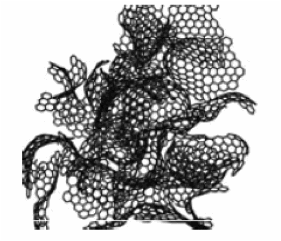 It is interesting to look at the recently published actual micrographs of graphene materials in Figure 4. At left is a micrograph of a plan view of vertically oriented graphene sheets grown from a nickel metal substrate. As can readily be seen, the dimensions of spacing on these vertically aligned sheets is on the order of 1 µm, approximately two wavelengths of visible light, an exceptionally fine structure (but coarse compared with structural dimensions in activated carbon). The height of the graphene sheets is clearly on the order of 1 µm. The micrograph on the right is a side view, a profile of the graphene standing up. In the mind's eye the structure recalls a landscape of potato chips, standing on edge but durably anchored to the substrate. It is well established that in such a structure the conductivity of the graphene is extremely high. Ballistic transport of electrons accounts for this high conductivity. Once the electrolyte has wet the structure, this micrograph appears like an exploded assembly drawing of what may actually be inside the activated carbon pictured in Figure 3.

Activated carbon is certainly the most popular material for electrochemical capacitor electrodes. It has high surface area, is electronically conductive, and its costs are well in line with its level of performance. But precisely because it stores charge physically, charge storage is quite low, on the order of only about 10 µF/cm2 of surface area for activated carbons. Other materials that store more charge are the so-called "pseudocapacitor" materials. The term pseudocapacitor unfortunately describes neither the phenomenon nor its mechanism for charge storage but simply indicates that such materials behave like capacitors (and the storage mechanism is not due to the electric double layer). The voltage on a pseudocapacitor electrode is proportional to the applied charge. As it charges, the voltage increases exactly like a capacitor, in linear fashion. One of the most popular pseudocapacitor materials, ruthenium oxide (RuO2), has likely been studied more than any other. Ruthenium oxide is interesting because of its very good reversibility, but this does, as it happens, involve an electron transfer, i.e., there is a change in the oxidation state of the ruthenium between the charged and the discharged material. The reaction involved is both very fast and very reversible. Ruthenium oxide, however, is quite expensive. As a member of the platinum family of metals and, in fact, a by-product of platinum mining, it can be available only at the rate that nature provides it. If demand for ruthenium were to arise, supply would not rise correspondingly, but cost certainly would. Although RuO2 has sparked a great many studies, in the end it cannot be practical or even, in terms of costs, prudent for commercial capacitor products. The success of any capacitor product based on it would be nothing more than the first step to its pricing itself out of the market. Thankfully, quite a number of other pseudocapacitor materials have been considered, including vanadium nitride (VN) and manganese dioxide (MnO2). Likewise, a host of polymer materials (polythiophene and polyacetylene) also behave as pseudocapacitors and have been extensively investigated.
The obvious competitive advantage of pseudocapacitor materials is their much greater charging than is the case with double-layer charge storage. Electric double-layer charge is ~10 µF/cm2, while RuO2 can be ~100 µF/cm2, or even higher. It thus becomes possible for much lower surface area materials to store the same quantity of charge. Further, some of these pseudocapacitor materials, except for the polymers, have much higher density than carbon, and thus do indeed have a volumetric advantage over those used in double-layer charge storage devices. One disadvantage of pseudocapacitor materials, however, is their lower reversibility. This has a very definite impact on cycle life and, as mentioned earlier, may also involve higher costs. Our tour of the alternatives brings us back, in the end, to activated carbon, a natural material, often a waste product, as the lowest-cost material that meets electrochemical capacitor electrode requirements.
What can we predict for the future about electrode materials? On the basis of current evidence, it certainly seems that activated carbon will continue to dominate. It is relatively low cost, has high surface area, excellent reversibility, and shows exceptional long-term performance. And the structure of activated carbon will certainly be improved in the future. Considerable work has already been done on the impact of pore size distribution and on the structure itself. We can also expect advances to be made on the surface condition of the carbon. With graphene structure there are oftentimes impurity elements attached on the surface. Sometimes these are firmly attached, providing long-term stability that will enhance the charge storage performance of the material. Pseudocapacitor material has also been used to decorate the surface of some activated carbons with the goal of increasing the charge storage per unit area. And there are other carbons to look at as well, over and above the graphene shown in Figure 4, which has demonstrated exceptionally high power performance, offering response times (charge and discharge times) well below 1 ms.
New forms of carbon have appeared, like carbon nanotubes comprised of graphene plates that have been assembled into cylinders with open (or sometimes not open) ends rather than edges. Interesting carbon structures have also been derived from metal carbides. These start out as, e.g., titanium carbide (TiC) that, when subjected to high temperature chlorine gas that removes the metal atoms, leaves an open-structured configuration. Likewise, there are nano-onions, very small diameter spheres with graphene in onion-like layers, and other fascinating shapes like nano-horns. While intriguing from an academic standpoint, the usefulness of these for commercial purposes remains to be seen. If in some way they provide performance advantages or enhancements of some type at reasonable cost they surely will find their way into capacitor electrodes eventually.
But at present it seems most likely that we will continue to rely upon natural materials, using processes that have been established by the activated carbon industry for its major market, which is not for capacitors but for use in air and water cleanup, where high surface area is used for remediation. There is also very active work involved on using activated carbon for different kinds of remediation work as well, including mercury removal from flue gases emitted during coal burning to generate power. In short, carbon the element is here to stay, although its structural form is bound to change as we gain more understanding. We should, perhaps, think less about where we find it as a precursor material than what in the end it becomes in terms of structure and purity.
The electrode material is half of the pair that accomplishes the charge storage in electrochemical capacitors. We also need the ions in the electrolyte to balance the charge in the electrode material, so that these go hand-in-hand as an effective charge storage system. The electrode and electrolyte are the active ingredients in these devices, where all of the action takes place. Of course, the design and packaging of the capacitor does influence its performance, particularly the long-term stability, and thus there is more than just the active ingredients that need to be dealt with properly to ensure a successful device. But the electrode and the electrolyte remain the starting points for any capacitor device that will have commercial significance. In this article we have considered electrode materials as to both their requirements and the many different ways those have been, and may in the future, be met.