John Miller explains how new carbon improvements are allowing supercaps to invade the space of conventional devices— which will have profound effects on performance and price.
The autumn 2010 issue of BEST reported on the development of an electric double layer capacitor (sometimes referred to by the product names "Supercapacitor" and "Ultracapacitor") with an ability to filter AC power and thereby function like a conventional aluminium electrolytic capacitor. The particular capacitor referred to in that article was a developmental device having vertically-oriented graphene nanosheet electrodes with a very special structure. Though fairly novel at the time, activity has since become increasingly focused on such very high power electric double layer capacitors with potential for filtering applications.
But why is this significant?
Electric double layer capacitors are known for their high reliability. If they were able to perform filtering, the likelihood is that they would soon replace wholesale all aluminium electrolytic capacitors now used in filtering applications: a product not known for its reliability. An additional and highly significant consideration is that the capacitance density of electric double layer capacitors is generally orders-of-magnitude higher than other capacitor types.
Electric double layer capacitors would, quite simply, be able to pack the same level of performance into devices of much smaller physical size. And with the dual advantages of high reliability and smaller size, market pull should be strong for such products in many present and some newly emerging applications. Further, remember that one of today's rapidly growing applications involves converting stored energy (for instance from batteries) into AC power plus the reverse process, AC to DC conversion. Aluminium electrolytic capacitors are, at present, a key component in power inverter circuits used to help effect such transformations. If these new electrochemical capacitors that filter can indeed meet industry performance requirements and maintain volume and reliability advantages, they may help to accelerate growth of energy storage technology, important for society in the many energy conservation implementations that range from transportation to electric micro-grids.
Noting that high-power performance and high-frequency operation are essentially one and the same, then what is really needed in a capacitor intended for filtering applications is an ability to be efficiently charged and discharged in very short times. For example, filtering 60 Hz power available from an ordinary wall outlet in the US requires 120 Hz operation, i.e., reducing the voltage ripple on full-wave-rectified AC power to produce smooth DC voltage. This, of course, requires charging and discharging the capacitor every 0.0083 seconds, the period of one cycle at a frequency of 120 Hz. Since clearly it takes an exceptional electric double layer capacitor to do that, substantial activity around the world has lately been directed toward such research and development.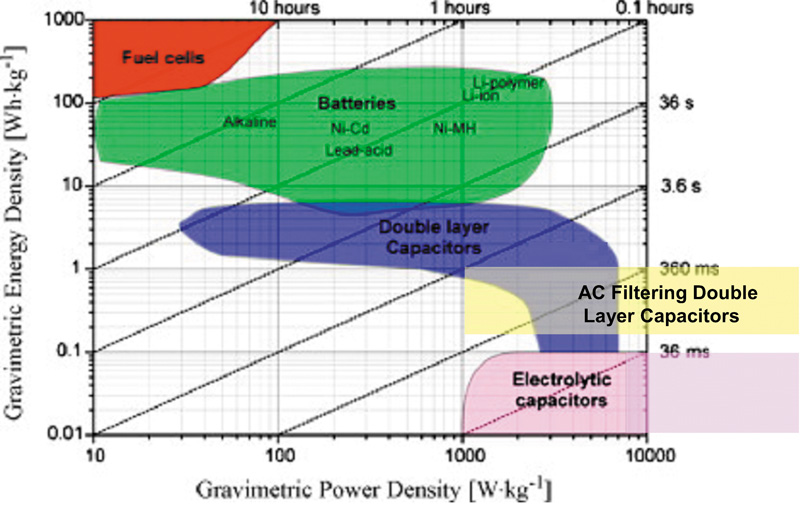 Figure 1 is a so-called Ragone plot that compares several technologies on the basis of their gravimetric energy and power density. Diagonal lines show discharge times. This comparison is single dimensional in that it ignores cycle life, cycle efficiency, operating temperature range, safety issues, failure modes, etc., which are also important in most applications. Nevertheless, a Ragone plot can be used to show the region where such electric double layer capacitors with filtering capability might reside. Batteries of various types sit in the large green area below and to the right of the red fuel cell region. Discharge times span a range from one hour to 1/10 hour to 1/100 hour (36 s), showing the range of performance offered by the different battery technologies.
The blue area below the battery region is the electric double layer capacitor region. While this technology has lower specific energy than batteries, it extends farther to the right, offering higher specific power. Diagonal lines show it to be able to discharge in less than one second.
The pink region represents electrolytic capacitors, which is below the electric double layer capacitor region and it extends far to the right, efficiently being able to charge and discharge in much less than 0.0083 seconds.
Yellow defines the region for the new electric double layer capacitor having AC filtering performance— it is above the aluminium electrolytic capacitor region and extends equally far to the right.
An important parameter not shown in a Ragone comparison is cycle life. For example, both an alkaline flashlight battery and an electrolytic capacitor are shown—the battery is able to deliver only a single discharge while the capacitor must deliver more than ten billion cycles during ten years of operation in a 120-Hz filter circuit.
The question, of course, is how can an electric double layer capacitor be made to operate at the ultra-high power levels of an aluminium electrolytic capacitor? For this there are two requirements. The first is that all sources of series resistances must be reduced to absolute minimum values. This means resistances having both ionic and electronic origins. The second requirement is that distributed charge storage must be totally eliminated, i.e., the electrochemical capacitor must be made to perform like a series-RC circuit (have a single time-constant). To reduce resistance sources requires the use of metal current collectors, ohmic connection between the charge storage material and the metal current collectors, use of a thin and open separator (or possibly no separator), use of an electrolyte with high conductivity, and so on.
While these advanced, high-operating-frequency capacitors still rely upon electric double layer charge storage at the interface between a solid and an electrolyte, they employ a very special carbon in their electrodes to minimise distributed charge storage effects. High-surface-area activated carbon is used in conventional electric double layer capacitors, which usually do exhibit distributed charge storage behaviour. One-, two-, and three-dimension external-surface-area carbons each having nanometer-size features have been investigated and reported in the literature to be able to eliminate distributed charge storage. The one-dimensional carbons typically are single and multi-wall carbon nanotubes, with numerous reports on efforts using them to approach the frequency response of an aluminium electrolytic capacitor.
The two-dimensional carbons typically are graphene as discussed in the autumn 2010 Capacitor Tech-Talk column in BEST. Graphene can be as thin as a single atomic layer, similar to a piece of paper with front and back surfaces exposed, which store charge on both of these faces as well as along the edges. The three-dimensional external-surface-area carbons are typically carbon blacks or other spherical nanomaterials including carbon nano-onions. The micrograph below shows examples of all three types of nano-materials, nanotubes on the left, graphene in the middle, and carbon black on the right. They all have external-surface-area primarily and each has been used and reportedly shown to offer high-operating-frequency performance.
In contrast with the many popular essentially-DC applications where commercial electric double layer capacitors are used today, for filtering applications one of the most important performance metrics is called the 'dissipation factor', which is a measure for the amount of energy lost during one charge/discharge cycle.
Should there be even only a very small amount of energy lost during charging and discharging while operating at 120 cycles per second, this will lead to a corresponding temperature rise and the emergence of thermal management concerns related to keeping the operating temperature below some maximum value. The ideal dissipation factor is zero, of course, which means the phase angle between the charging/discharging current and the charging/discharging voltage is exactly 90°.
This phase angle is measured at the filtering frequency. In practice a phase angle value of 90° is never realised— filtering capacitors generally closely approach this value but they never do reach it. Phase angle is critically important for capacitors used in filtering applications and constitutes a metric by which such capacitors should be compared. Performance comparisons among different capacitor technologies, irrespective of the capacitance values, can be directly made using this metric. It is a most important parameter to use when comparing different filtering capacitors, or the different ways of implementing high-operating-frequency electric double layer capacitors.
Several examples of two-dimensional external surface area carbons are shown in the micrographs above. Here vertically oriented graphene structures are grown from a nickel substrate to which they are directly connected, so that there is very little resistance between the graphene and the current collector. As shown, the graphene structures are spaced sufficiently far apart to obviate porous electrode behaviour that generally is observed with high-surface-area activated carbons due to their micro-porosity.

Many approaches have been used to synthesise special carbon nano-materials—the examples shown here used plasma-assisted chemical vapour deposition to convert methane gas into the nano-structured graphene solid. Process-control knobs provide opportunities to create specific graphene structures and external electric fields can be applied to align the structures as shown (right micrograph) in Figure 2.

Graphene nanosheet electrodes can be used to make electric double layer capacitors using the popular sandwich design. This involves placing two of the vertically-oriented graphene structures on nickel substrates opposite each other with a microporous separator between, then wetting the separator and graphene surfaces with electrolyte. Despite its conventionality, this design works extraordinarily well in that it can yield performance of nearly a 90° phase angle at 120 Hz. However, owing to the substantial thickness of the current collectors and the separator compared with the thickness of the graphene charge storage material, the active material occupies only a very small fraction of the total device volume. Thus, a conventional design is poorly suited for high-operating-frequency electric double layer capacitor devices.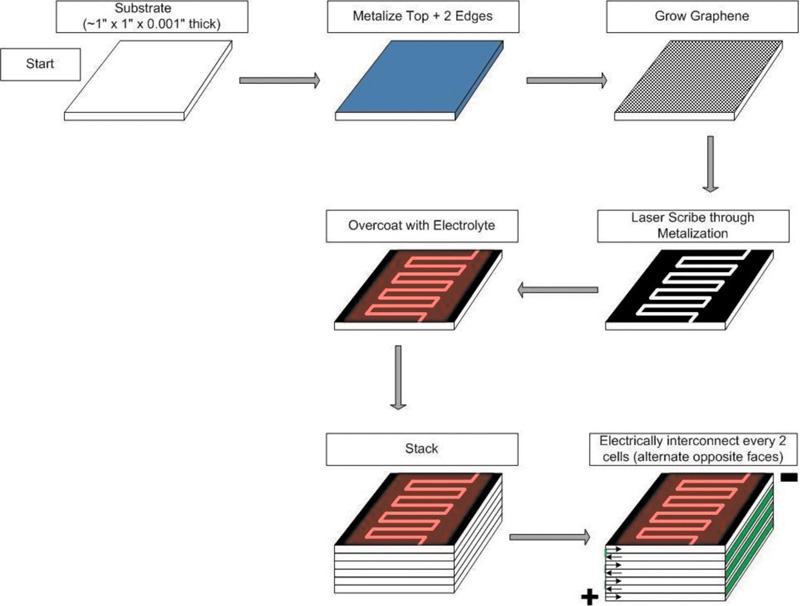 In the interests of higher volumetric efficiency one can in fact use a planar design, the approach shown in Figure 4. We start with a substrate that is an insulator, for example alumina. First a thin nickel metallisation of the surface is performed and then the vertically oriented graphene nanosheets are grown on top of the nickel. The surface can then be turned into two electrodes by creating a gap—physically removing both the graphene and the nickel down to the insulating substrate, as depicted in the figure. For instance, a laser can be used to ablate away the material and create this gap. Finally, when these two electrodes are over-coated with an electrolyte, an electric double layer capacitor cell is created. Note that no separator is used in this design. On a volume basis, this planar design has higher efficiency than the conventional sandwich design, which does require a separator and uses two thick current collectors.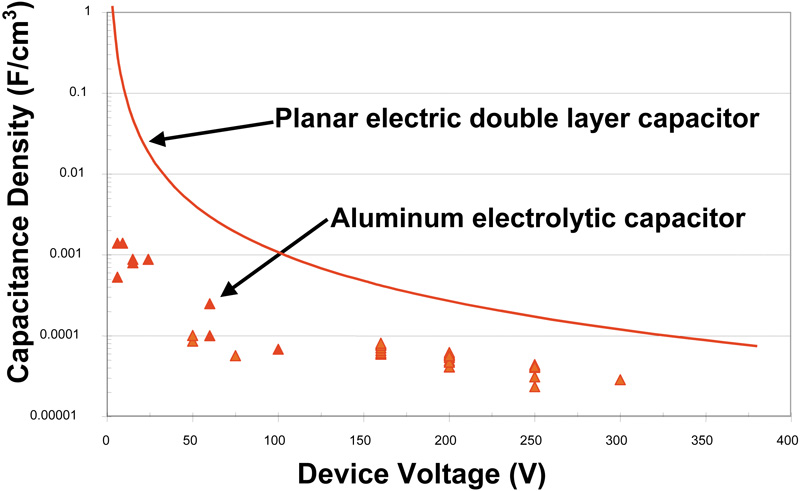 The advantage of a planar electric double layer capacitor is shown in Figure 5, which compares device capacitance density versus voltage for this capacitor design (solid line) with that available from standard commercial aluminium electrolytic capacitors (triangles). Parameters used to make the planar double layer capacitor projections include: 2.5 V cell operating voltage, 50 μm total cell thickness, capacitance per area of 500 μF/cm2, and all cell-gap-area losses ignored. As is clearly evident from this figure, the planar electric double layer capacitor offers significant volumetric advantages over aluminium electrolytic capacitor technology, each offering comparable frequency performance.
At 50 V, capacitors using this approach are more than an order of magnitude smaller in size than present commercial aluminium electrolytic capacitors with the same capacitance value. At low voltages, e.g., 10 V, there is at least a hundred-fold size advantage for the planar electric double layer capacitor. And at high voltages, e.g., 300 V, these electric double layer capacitors offer less but still at least a five-fold size advantage over aluminium electrolytic capacitor technology.
Value is often derived from using smaller-size circuit components, particularly in non-stationary applications like transportation or portable electronics. Electric double layer capacitors with filtering performance are expected to have very high value.
Even a comparison like this based only on size makes the electric double layer capacitor quite attractive as a substitute for aluminium electrolytic capacitors. A compelling case is made when reliability is included. The failure mode for an electric double layer capacitor is usually an "open circuit" while for an aluminium electrolytic capacitor it is often a "short circuit". The critical relevance of this to overall reliability is obvious. Assuming that the planar design calculations can be realised in product form, then both size and reliability factors will provide strong motivation to replace aluminium electrolytic capacitor technology with electric double layer capacitor technology.
Over and above graphene, there have also been reports in the literature of using carbon black, a three-dimensional form of external surface area carbon, to create high-operating-frequency electric double layer capacitors. This material has been shown to offer a phase angle near 90° at 120 Hz, with vertically-aligned carbon nanotubes likewise demonstrating similar performance. Very simple approaches have been devised to convert thin graphene-oxide layers into conductive external-surface-area graphene charge storage material, one involving the use of a low-power CD-writing laser to locally heat and reduce the oxide. Such two-dimensional charge storage material has been shown to offer quite interesting high-frequency performance.
The two major criteria needed to achieve AC filtering performance previously discussed, however, remain relevant. Very low resistance is needed along with a single-time-constant electrical response. A recent exfoliated-graphite electrode electric double layer capacitor paper reported reducing the series resistance to a very low value such that the phase angle at 20 000 Hz was 45°. However, the phase angle remained near this same approximate value down to 0.1 Hz— it did not approach 90° as needed for filtering. These results confirm the need to have absolutely no distributed charge storage along with a very low series resistance in a filtering electric double layer capacitor.
Returning to the Ragone plot, the emphasis here has been to tap the higher-energy-density characteristic of an electric double layer capacitor, yet greatly increase its power performance (move to the right) so that the device can filter like an electrolytic capacitor. There has been a misconception that simply reducing capacitance values of a standard electric double layer capacitor will increase its operating frequency. Yes, the RC-time-constant is reduced when C is reduced, but operating frequency is not substantially increased due to the effects just mentioned— distributed charge storage from a porous electrode material. One needs to have a single-time-constant response, generally provided by special external surface area nonomaterials, so that the electrode can be efficiently charged and discharged without worrisome redistribution of charge and its associated losses.
For electric double layer capacitor technology to succeed in filtering applications as an alternative to electrolytic capacitor technology, it will certainly require advanced electrode designs using special external-surface-area carbons that have by now established themselves as a viable option, whether in the form of carbon nanotubes, carbon blacks, or graphene structures.
The large number of research and development groups active today in this area suggests that we will indeed be seeing electric double layer capacitor products in the future that compete head-on with aluminium electrolytic capacitors. Importantly, these new capacitors should provide higher reliability and have a more compact size.