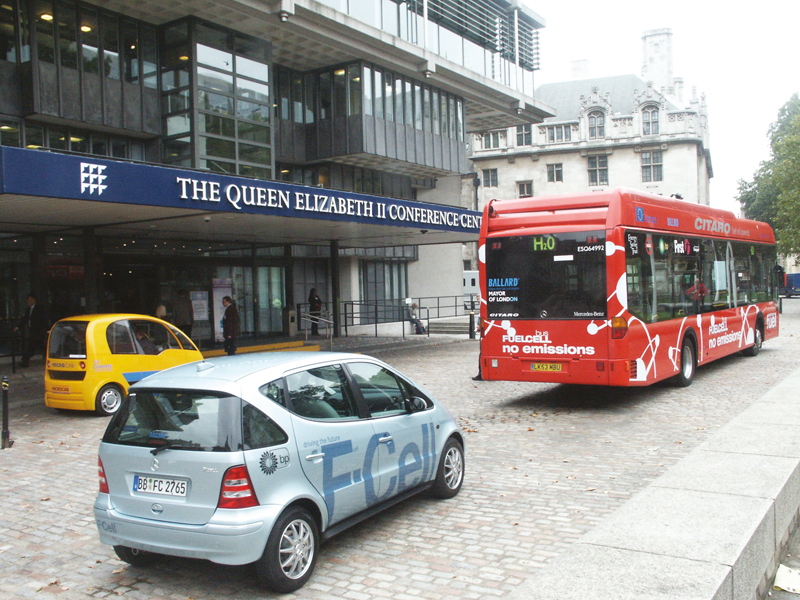 The great the good and those with safe harbour statements gathered in London in October for the ninth Grove Fuel Cell Symposium. Was there any cause for optimism? Gerry Woolf looked hard for evidence.
Fuel cell conferences are getting to be like fuel cell buses – or ordinary buses for that matter. Miss one and there will be another one along in a minute. The Grove meeting (organised by science publisher Elsevier) would, you'd think, be a cut above the rest – and it probably is, if you have sufficient time to spend with the myriad of scientists who've put together technical posters for it. And that's before you've looked around the exhibition and had lunch.
But sadly I'm only human and could barely spend a day and a half at this three-day event, which was held just opposite the Palace of Westminster (the heart of UK Government) where enough hot air is generated to power several worlds for the next 400 years, thus rendering fuel cells obsolete.
The Grove programme proved to be not unlike a carbon nanotube developed for the industry – over stuffed with hydrogen molecules, and expensive to boot.
One wonders why meetings of this calibre even bother to have plenary sessions – the kind where the great and the good speak, and some receive gongs (medals). You need so much time to look at the hot stuff. Having the likes of David King, the UK's Chief Scientific Advisor to the Government, was quite a coup. The message on climate change was not new (if you read the right papers) but it does send a shiver down your spine to see those slides which show rising CO2 concentration in our atmosphere, rising temperatures, rising sea levels and all the rest. I was sufficiently moved to write a second comment for this issue of BEST (see page 8).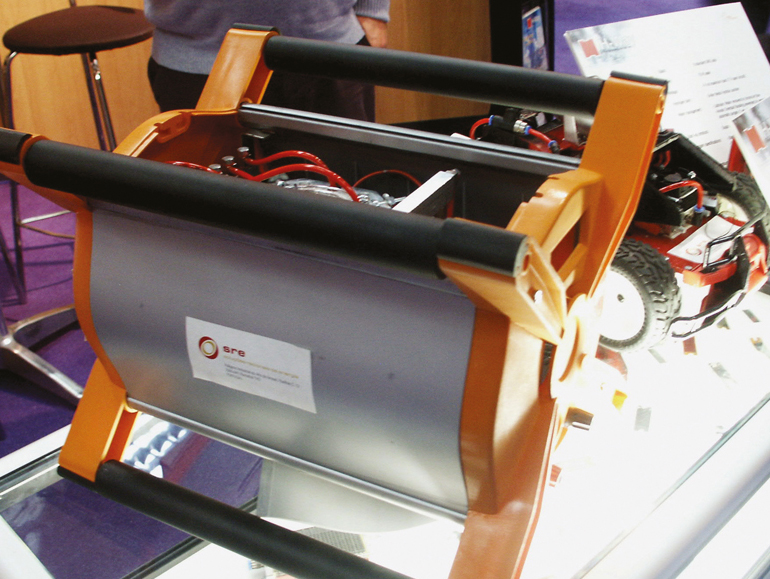 Whether fuel cell technology will make a difference is very unclear. In fact after one heard Werner Tillmetz's technology overview on 'Where we are today' you realised how little impact the fuel industry is having. Take cars, for example: the much-hyped over-sold and overblown market – just 100 vehicles in daily use today, and only 100 hydrogen filling stations worldwide. But we're in the embryonic stages of commercialisation, the pundits say. Buses are probably worse – just 40 in operation. So if you've been on a fuel cell bus it's probably more special than a flight on Concorde!
Stationary fuel cells fare better – 3,500 units operating globally, generating 130 MW of power in field trials – but this a drop in the ocean compared with the planet's energy needs.
Tillmetz's number one real promise was fuel cells for portable devices. Co-generation (as described in our Canada focus) gets some support in Europe, but nothing like as much as in Japan.
Industrial power could also be generated using fuel cells – some 12% of German energy comes from so-called 'Erd gas'; the methane could be effectively reformed at high temperature generating electricity at 40% efficiency. But there are so many ifs and buts.
Tillmetz believed the 9th Grove meeting could well go down as the Chicken and Egg Conference – low volume = high costs = no market – as fuel cell developers struggle to find a volume market in order to kick start the business.
With Intelec still ringing in my ears I was more than surprised to see William Ernst of Plug Power on the opening day's morning platform talking about the relative success of its Gencore 5kW system, which claims a cost of no more than US$23,000 to install – more than VRLA batteries in the short term, but less if you take into account the battery replacement costs.
All true, of course, but we've already seen telecom companies waver on replacing lead-acid with cheaper (than fuels cells) lithium systems. Plug Power may have telecom orders, but it is disingenuous of fuel cell operators to suggest that they may displace a commodity-priced back-up technology in the foreseeable future.
All credit to them for improving performance and reducing costs thus far – but telecom back-up is hardly the niche market they're looking for – and if I knew what was, well I probably wouldn't be writing about it here!
But there's no need to revisit that meeting. The exhibition floor was I'm afraid the usual collection of regional inward investment bureaux, the big and the not-so-big noises, and real product was scarce.
Voller Energy, a UK company, was there showing its VE 100 fuel cell powered battery charger – a prize-winning product (prize coming from the British Institution of Electrical Engineers) but, again, it's a company pursuing a market where lower-cost incumbent technologies will be hard to displace (unless you're the military).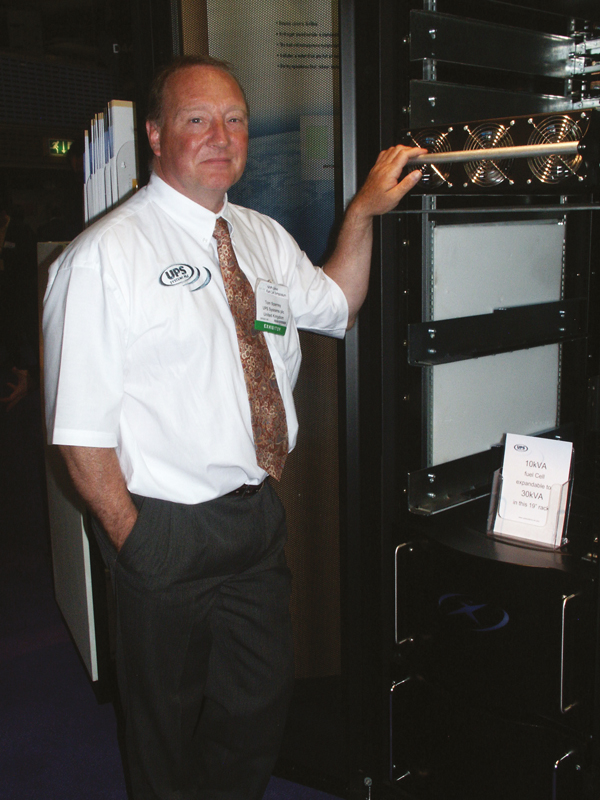 Another British UPS supplier, UPS Systems, was showing an arrangement running a 10kW PEM fuel cell from Hydrogenics, but the platitudes in the company's handouts – "a green alternative to batteries" – simply ignore the fact that much of today's hydrogen has been produced and distributed by decidedly un-green technologies. More C02 is being added to the atmosphere through production and distribution of hydrogen than is being mitigated by the fuel cells themselves!
Toys, of course, are a great way to get noticed. From Portugal comes H-Way – another maker of PEM fuel cells for charging. Wouldn't the perfect executive toy be a fuel cell-based mobile phone charger for the desk – they, have one! – and a bigger 100 watt system. And when you engage the purveyors of these toys with the awful truth… well, they really don't want to know!
As for the auto industry's presentation here in London, well coherent was something it was not.
You can take a ride in the Daimler F cell vehicle, but buried deep in DaimlerChrysler's over-long press release are the tell-tale words from UK boss Wilfried Steffen.
"Fuel cells are widely regarded as the long-term goal for zero emission vehicles, but DaimlerChrysler is working on a number of alternative systems that could appear much earlier." In fact it turns out that fuel cells are down to level five in the grand plan – petrol electric and diesel electric hybrids have suddenly gained fresh momentum, as has the development of carbon neutral bio diesel and biogas type fuels – technologies this writer was first explaining to the world over 25 years ago.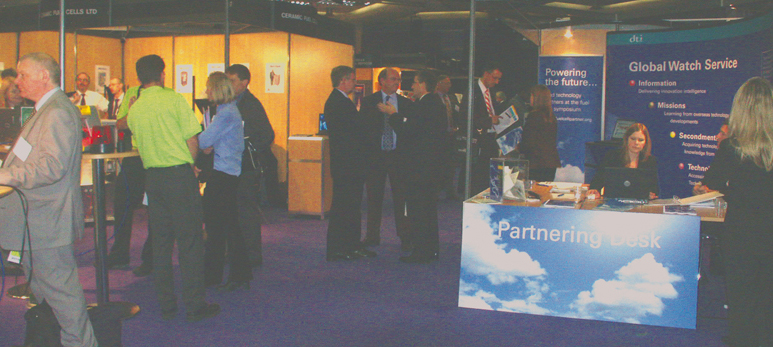 Back in the symposium, however, Honda's Yuji Kawaguchi was explaining the finer points of his company's fuel cell stack contained in the FCX vehicle delivered to an individual customer in North America in June.
The system is worth looking at in detail because it does contain a number of innovations which may improve durability and decrease cost. Tough, by how much we don't know. The stack utilises a novel membrane which operates at
-20ºC and uses stamped metal (instead of carbon) separators – they naturally have better electrical and thermal conductivity, and they're almost certainly easier to fabricate.
Please don't think I'm endorsing the fuel cell concept here, but what should give fuel cell pundits hope is that a company with the scientific and engineering credentials of Honda should be able to take the fuel cell knowledge base of today and produce stacks that work at a price no-one else could ever achieve. It's what the auto industry does best.
One thing was more than apparent in this three-day intellectual maelstrom of a conference. There is far too much duplication of effort, far too little standardisation of approach and analysis and far too much pursuit of both national and individual company advantage to make the kind of progress needed if hydrogen is to fulfil its role as the 21st century energy carrier that some believe the world desperately needs to ameliorate climate change.
It would be far better to hold one major international conference in 2006/07, a conference to help shape the research priorities and programmes to fill the gaps and holes in the knowledge base and show the best practices, than support all the 'get rich quick, bums on seats' fuel cell meetings that fill the calendar from now to eternity.
But that, I suppose, is too much to ask for.