When considering intellectual property protection for battery technology it is easy to focus on developments in battery chemistry, materials, and battery cell structures. However, US car maker Ford has been featured on bestmag.co.uk recently for its new US patent application US 2023/219440 for a charging trailer, which is towed behind an electric vehicle (EV). It also featured in news feeds for its roof-mounted battery box. Ben Lincoln of Potter Clarkson, who specialises in battery and energy-related technology, has been searching the patent databases to reveal what other inventions Ford has been developing.
Ford has been working on solving problems relating to the use of EVs in a variety of scenarios. In this article we will look at some of these patent filings.
In published US patent application US 2023/145383, Ford Global Technologies LLC describes a driver assistance system for a trailer-mounted battery.
The application, originally filed in October 2021, explains that improvements in electrified vehicles allow them to be used for towing trailers for expanded cargo capacity and for camping where the vehicle is likely to be driven longer distances away from charging infrastructure. Accordingly, it suggests that trailers may include supplementary batteries to supply electrical power for use by electrical devices in the trailer and/or as supplementary power for the towing vehicle.
The patent application describes a problem that may be encountered by a driver of an electrified passenger vehicle that is towing one or more trailer-mounted batteries. In particular, it is explained that existing charging facilities for EVs have charging points with a layout configured to accommodate single vehicles, thereby being inconvenient for vehicles towing battery-laden trailers. It acknowledges that charging facilities exist that have a drive-through configuration or that provide elongated charging points able to accommodate larger vehicles, but these facilities are much scarcer.
To address the problem of how to charge trailer-mounted batteries in a charging point meant for a single vehicle, it is explained that it may be necessary to unhitch the trailer so that the passenger vehicle does not block the aisles of a charging station.
The invention comprises of providing sensors in the passenger vehicle that perform a sensor sweep of the selected charging point. Then, after unhitching, the trailer uses an independent drive system to park itself in the selected charging point using driving commands calculated from the sensor sweep. (Figures 6 and 7 from US 2023/145383)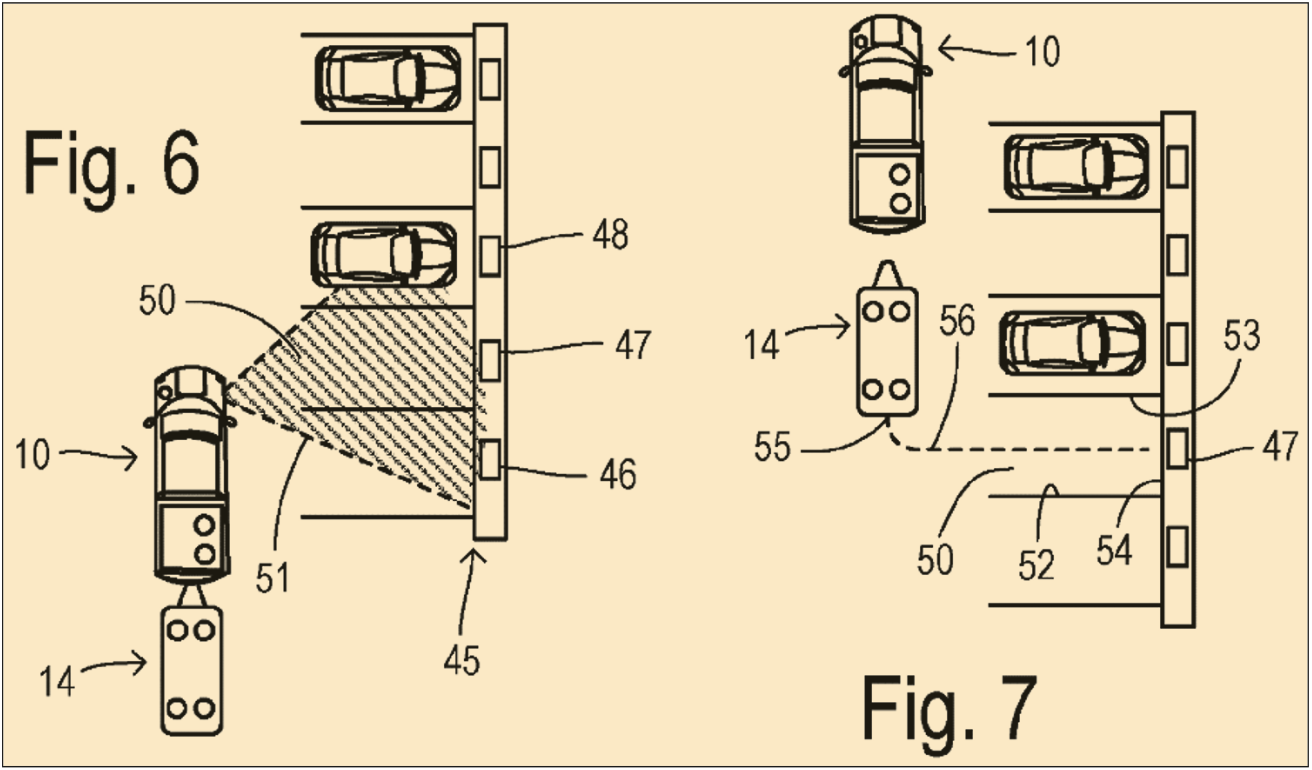 This patent application is yet to be substantively examined by the US Patent and Trademark Office. Ford has also filed patent applications in Germany and China for the same invention.
US 2023/104277 also relates to use of an EV with a trailer. An example is provided that addresses how to manage the state of charge of the battery when the towing vehicle is a hybrid.
Battery health impact from towing a trailer
The patent considers the impact of towing a trailer on the health of a battery of an EV. It says "One metric used to monitor or measure the impact of battery utilisation on battery health is Amp-hour (Ah) throughput. Higher Ah throughput associated with extended use in unfavourable operating conditions or high-demand applications such as towing a trailer may be associated with more rapid deterioration of the battery state-of-health (SoH)."
The patent application describes a method for controlling an electrified vehicle having a battery coupled to an electric motor to selectively provide propulsion to the vehicle, and an internal combustion engine that is configured to supply power to the electric motor and/or the battery. The method describes different operating configurations depending on whether or not it is detected that the vehicle is towing a trailer:
when the vehicle is towing a trailer (which is associated with battery amp-hour throughput exceeding an associated throughput threshold), the method sustains a state-of-charge (SoC) of the battery when the SoC is either below a first threshold (e.g. 70%) and above a second threshold (e.g. 30%) or below a third threshold (e.g. 17%); and
when the vehicle is not towing a trailer, the method operates to deplete the SoC of the battery when the SoC is above the third threshold (e.g. 17%) and sustain the SoC when it is below the third threshold (e.g. 17%).
The 70% – 30% SoC range is termed a "battery health zone" and the above-mentioned action is taken to reduce high Ah throughput over the vehicle lifetime. The SoC being below 17% is termed the "charge sustaining zone" where the internal combustion engine provides drive or charging. (Figures 5A, 5B and 5C of US 2023/104277)

Towing trailer-mounted batteries
US patent application US 2023/108029 also addresses a problem that may be encountered by a driver of an electrified passenger vehicle that is towing one or more trailer-mounted batteries. The application was filed in 2021 and discloses functionality for use with a GPS navigation system.
The driver assistance system helps a driver identify charging stations that meet desired charging objectives for the combined vehicle/trailer. The objectives may be a target state of charge, a target charge time or window or a geographic region. The system identifies options using, among other things, data on charging station layouts capable of accommodating the manoeuvring capability and the length of the vehicle/trailer combination and their charging capacities.
The system guides the driver to a parking location and provides instructions for obtaining a hook-up to a recharging station. (Figure 1 of US 2023/108029)

In 2011 Ford applied for US patent application US 2023/145131, which relates to the use of EVs at track days or closed course events.
The document explains that electrified vehicles are recognised for their performance characteristics, which are competitive with combustion engine-based high-performance vehicles. However, it has been identified that there are significant cooling demands if electrified vehicles are to meet customer expectations.
To address this issue, the invention is to provide a thermally conductive plate or heat exchange within a storage compartment positioned forward of a vehicle passenger cabin under the bonnet. In order to provide enhanced cooling during high demand operation or charging, the storage compartment may be filled with ice or dry ice.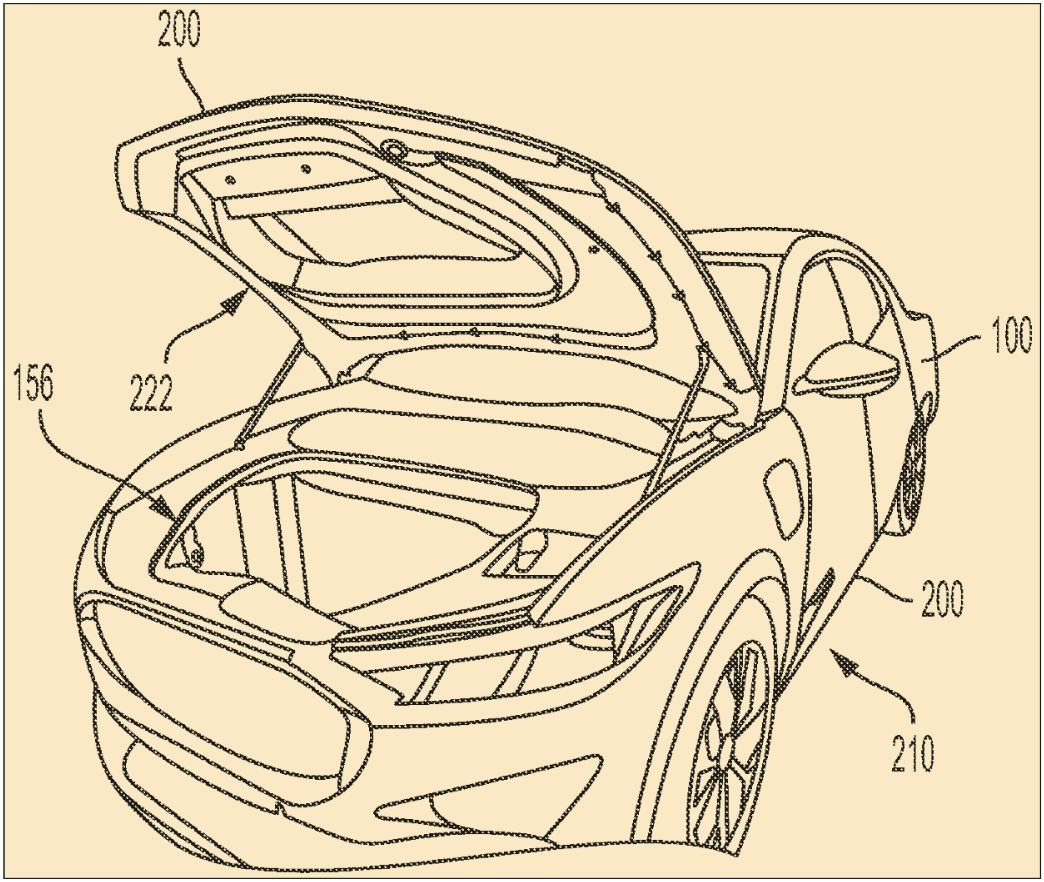 The plate or heat exchange has an associated conduit configured for circulating a working fluid from a vehicle cooling system, and a valve operable to control flow of the working fluid through the conduit. The valve may be controlled so that the working fluid bypasses the conduit when the storage compartment is used for cargo, presumably to avoid cooking the driver's shopping following a visit to the supermarket. (Figure 2 of US 2023/145131)
With the computer controlled power delivery provided by electrified vehicles it could be argued that driving could be less dramatic in the future. However, Ford has been addressing that issue too. US Patent US 11, 685, 366 B, granted in June 2023, has the title "Electrified Vehicle Performance Mode With Intentional Wheel Spin For Tire Heating".
The patent describes the problem that while traction control features may be disabled, all-wheel drive vehicles may still attempt to equally distribute torque among all four wheels to reduce or eliminate wheel slip/spin.
Further, it explains that wheel spin may be desirable to heat the tyres and improve traction and/or provide a visual exhibition of smoking tyres in a "peel out" or "burn out".
The patent defines a controller for regulating an electric motor and the wheel brakes of a vehicle. The controller is programmed to, during a first time period, control the wheel brakes to apply a braking torque to the wheels of only a second axle in response to brake pedal position exceeding an associated brake pedal threshold. Further, the controller adjusts the electric motor to apply torque to the wheels of a first axle to intentionally spin the wheels of the first axle in response to the accelerator pedal position exceeding an accelerator pedal threshold that is greater than the brake pedal threshold. (Figure 2A of US 11, 685, 366 B)

The sequential application of specific pedal positions thereby allows the user to perform burnouts. A flow chart in the patent provides a summary of the actions of the controller. (Figure 3 of US 11,685,366 B)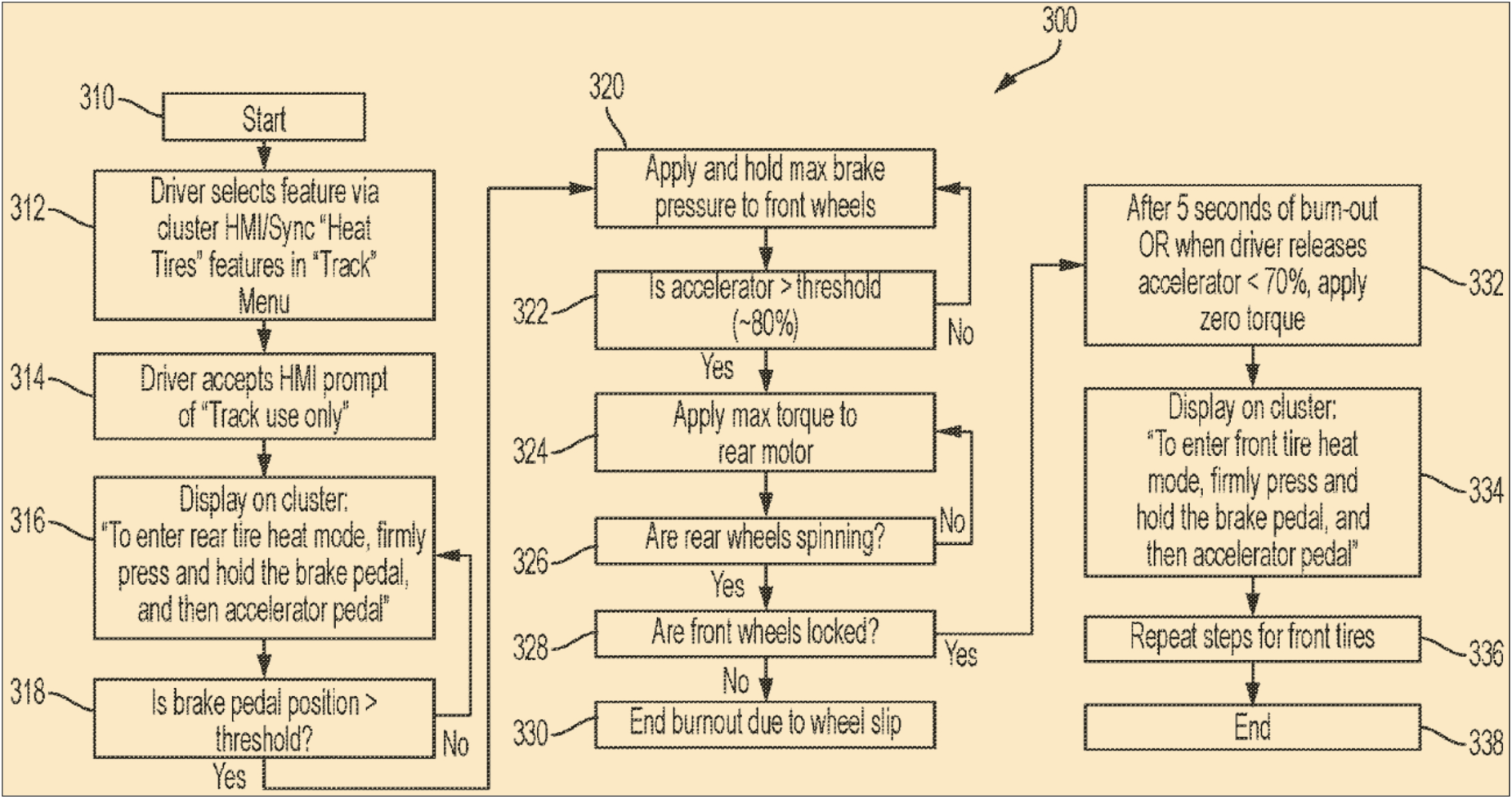 The patents and applications listed here represent a relatively small selection of the patent applications applied for by Ford. However, it is clear that Ford has a diverse R&D programme focussing not only on high-tech solutions in relation to materials and engineering challenges but also to solving real-world problems encountered by the customer and improving the user experience of battery-related technology.