It's depressing to learn of a company going bankrupt, but it's not always the end of the road— certainly not in the USA. Flywheel manufacturer Beacon Power filed for bankruptcy more than 18 months ago, but its technology was solid so an investment company snapped it up and is steering the company to success. Ruth Williams spoke to CEO Barry Brits about the past, present and future of the company.
Beacon Power developed a flywheel energy storage system for integration into the grid for frequency stabilisation. The company had initial success but ran into financial problems before it could be profitable. At this point it was taken over by Rockland Capital to be run with greater commercial focus.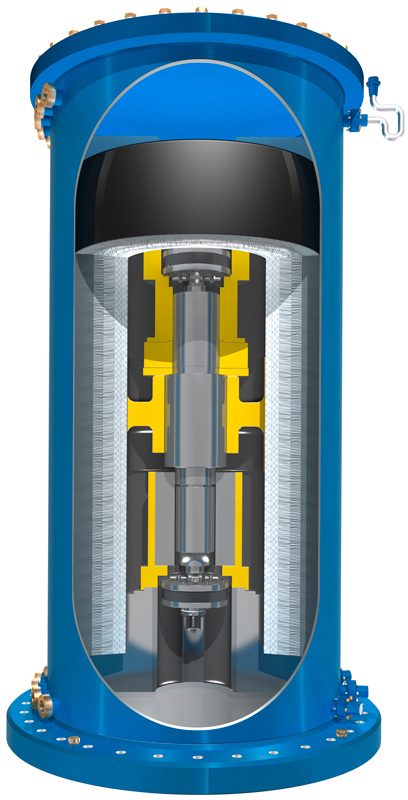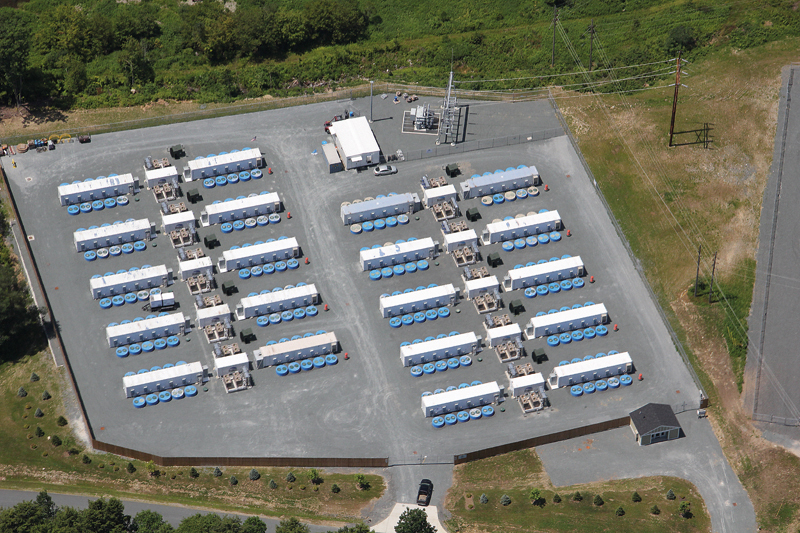 The flywheel is a kinetic system that absorbs and transmits power to and from an electrical grid. It spins at a high speed in an airtight container to store the energy as rotational energy that can be converted back to electrical energy by slowing down the flywheel.
Beacon Power's flywheels spin at between 8 000 and 16 000 rpm and can store up to 25kWh of energy. Each flywheel has a carbon-fibre composite rim, with a shaft that has a generator and motor all held within a sealed chamber to reduce friction and energy losses.
The basic flywheel delivers 25KWh from a 100KW motor, storing 15 minutes of energy. For a grid-scale system, ten 25kWh flywheels are connected to provide energy storage for utility applications to provide very responsive frequency regulation to the grid for better reliability of service. The energy storage system offers a capacity of between 100kW at a combined power and energy configuration and 150kW at high power. The energy delivered per flywheel is 25kWh or 12.5kWh at the same configurations.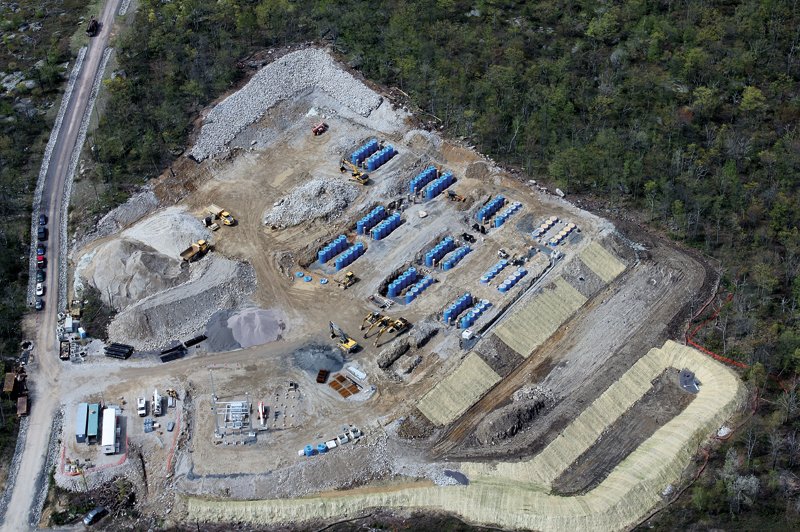 There are flywheel regulation plants in Stephentown, New York, Tyngsboro, Massachusetts and a third 20MW site under development in Hazle Township, Pennsylvania. Beacon retains ownership of the flywheels at each of its installations and receives an income from them by providing frequency regulation to the grid.
There was never any doubt over the value of the technology but a number of factors conspired to bring Beacon to its financial knees. Firstly, the company's 20MW plant running in Stephentown, NY had been providing energy to the New York grid since January 2011, but was not being paid an amount that reflected the level of service it gave. At the time the Federal Energy Regulating Committee (FERC) did not have adequate legislation in place to keep pace with the newer forms of energy storage technology. It does now.
Combined with the company being short-changed by the US Department of Energy loan guarantee scheme, at a time when DoE backed energy investments were already receiving negative press, meant the faith of private investors was shaken. Beacon could not raise sufficient capital to continue. A shortfall of a few million dollars meant the company had to file for Chapter 11 bankruptcy in October 2011.
The strength of the technology profile and forthcoming changes in US legislation to appropriately remunerate energy provisions, meant Rockland Capital knew acquiring the company for US$30.5 million was a no brainer of an investement decision. All intellectual property, as well as the technical know-how and implementation of flywheel technologies, has been retained.
Since that point, Rockland Capital could hardly fail. Barry Brits, CEO, has been at the company since March 2012 when Rockland Capital acquired the assets of the old Beacon Power Corp to become Beacon Power LLC. He talked about what has changed since the acquisition: "The company has grown up, it had already developed a successful technology and now we are growing as a commercial business that will be profitable."
"Now, as a private business, we remain focused on the technology and being confident on the long-term applications and how we can commercialise the flywheel technology. Secondly we are very focused on cost and what really makes sense from both the technology point of view as well as understanding our overall system costs from a capital investment perspective and an on-going project perspective," said Brits.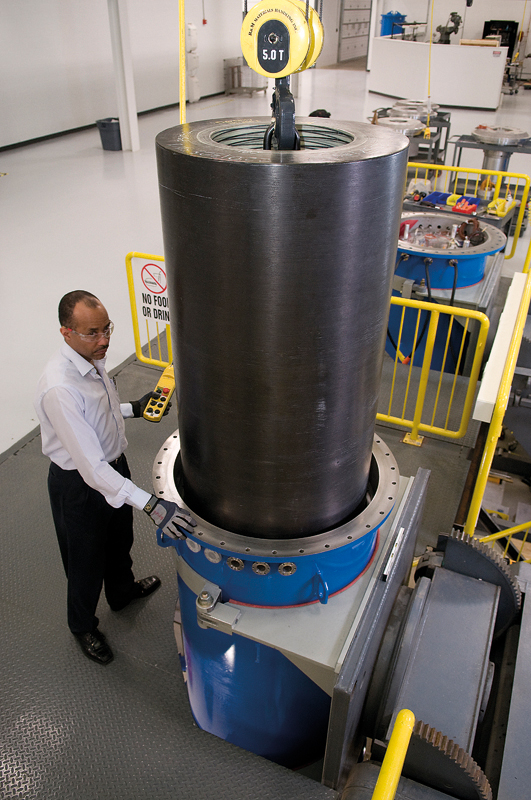 Aside from the management style, the biggest change for Beacon came when the FERC changed its tariffs. The previous system paid service providers for capacity alone irrespective of performance. Now performance is also recognised so any system receiving an analogue to digital convertor (ADC) signal is paid for how quickly it responds, as well as for capacity provided, because quicker more accurate response changes the value.
"The performance based tariff structure is important for us, as a new resource providing a higher quality of service, that we are now being paid for performance, not just the capacity that we were billing. It is an opportunity to have better economics from our service," said Brits.
One of the new tariff 'mileages' measures how quickly a company responds to the automatic generation control system (AGC) signal to correct frequency deviations. Companies are now paid a $/MW amount for capacity and a $/mile for speed of performance.
The FERC changed the tariff because it noted the previous compensation for frequency regulation was "unjust, unreasonable and unduly discriminatory" and it acknowledged the inherently greater amount of frequency regulation service being provided by faster-ramping resources.
"It is a fair method to compensate any company for the service they are providing. We are getting properly paid for the work we are doing, rather than getting paid for the amount of capacity we owned although providing a lot more storage than a resource that was less efficient but being paid the same."
These tariffs apply to the two operational flywheel sites Beacon Power has and has been an influential decider on constructing a third site. Brits said the original installation in New York has been the benchmark for building more. "The operating performance of our Stephentown 20MW plant has been a heavy focus of ours, it has been outstanding. We need optimum operating performance to take maximum value from the market."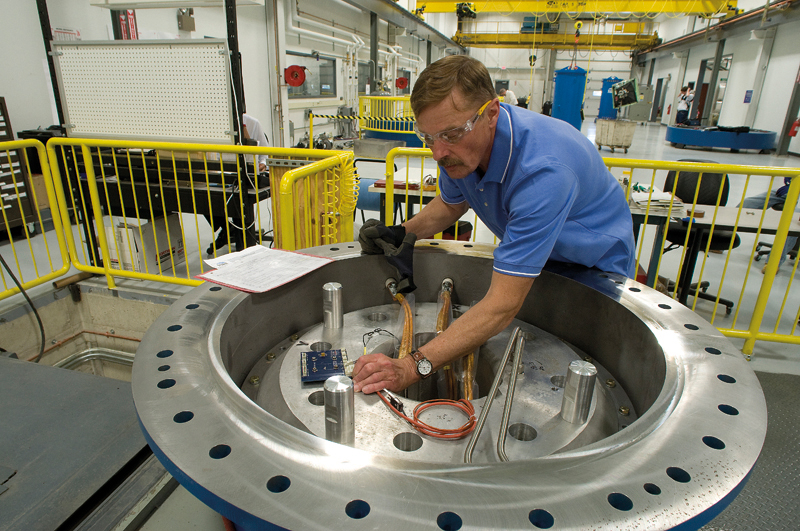 The Stephentown facility is made up of one MW blocks with a container that houses electronics for the ten flywheels that are on each side of the container. That makes up one MW and there are 20 of these on a site laid out over three acres of land.
In the last 12 months the performance of flywheels and components at the Stephentown site has been reliable to 95%, which is essential for rapid-response grid support. "By definition the flywheels will be needed for unpredictable events so we are demonstrating that with our Stephentown plant, as well as having very low operating costs," said Brits.
In Tyngsboro, Massachusetts a 0.5MW pilot project has been running since December 2012. It is interconnected to two system operators and according to Brits has been working flawlessly.
The construction of a third project a 20MW facility at Hazle Township, Pennsylvania had been under consideration before the acquisition, but it could only be enabled by an equity investment from Rockland, for which the company had to be certain of the value of the project as demonstrated by the two existing flywheel sites.
"The construction of the project in Pennsylvania was dependant upon raising capital, we had to be confident about the economics and technical formats," said Brits. This exemplifies the style in which Rockland is running Beacon as a commercial venture: The equity investment was only made after measuring the revenue stream the Stephentown installation was understood and ensuring both the cost and performance would be solid.
The Pennsylvania facility is due to be fully operational from early 2014.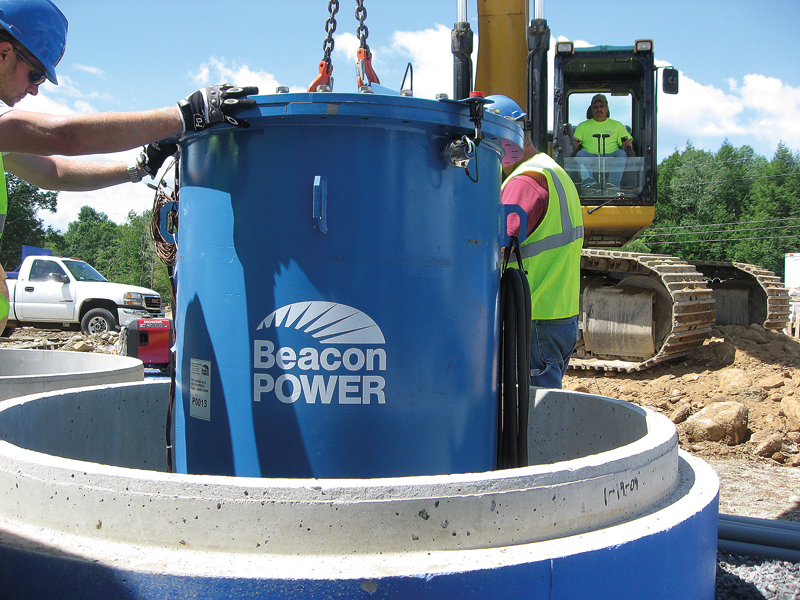 Beacon is now finding ways to lower the costs on its technology such as looking at manufacturing processes of the composite fibreglass container. Brits said: "We are continuing to develop technology but are very focussed on where commercial opportunities are, while being responsive to market needs – this is driving our development. We have invested money in finding cost reductions in the product line so we can be more successful."
"We want to increase efficiency from a production point of view by keeping the same product but making small changes to make it as flexible as possible to provide products of different sorts for large-scale electrical storage."
He added, "We are re-packaging the technology to use the stored energy differently – changing the electronics for example to alter the way the energy is stored. Or increasing the power for a shorter duration for some applications." Offering these options for the power control module gives greater flexibility to utilities as customers and will broaden the scope of appeal of the technology.
The fortunes of Beacon Power have drastically changed in the past two years. It is only possible to speculate that the company would have been successful if the frequency regulation tariff had always been as favourable as it is now. As it stands, everything being done is carefully considered to be in response to market needs and commercial opportunities – a recipe for success for any business. With growth potential in the power regulation market growing globally having proven sites is a beacon for what they can do and the value that can be offered to utilities.