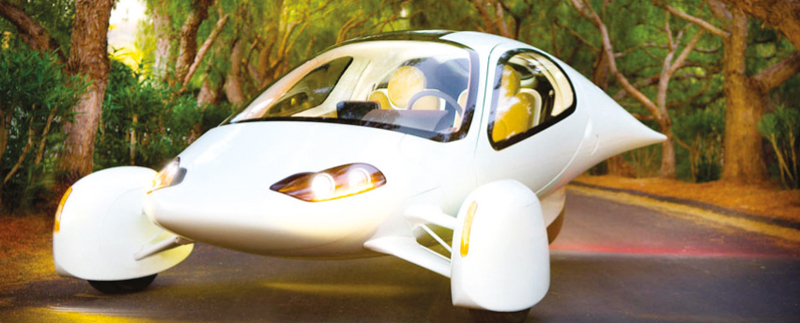 Leonard Greene, an environmental writer based in America's Midwest, muses on the press fests we call autoshows and why nothing really changes.
I had to chuckle at the reports coming out of  the Los Angeles Auto Show, held last November, where the  mainstream car industry gathered to indulge in yet another Little Jack Horner exercise in eating their annual Christmas pie. And sure enough, one after the other pulled out yet another of the same old plums, exclaiming with glee at each calcified morsel, 'Oh what good boys are we!'
Granted the pie on offer produced a bonbon or two worthy of  salivation. Honda's snappy FCX Clarity, the Japanese firm's first production hydrogen fuel cell vehicle, won the most raves for it's projected range of 270 miles, an average fuel economy of 68 mpg and a 25% boost in power-to-weight ratio. But the best ideas remain mere visions of sugar plums dancing on drawing boards. The best GM can say about its Chevy Volt is that they're working on it. (In truth, the entire industry is rightly in stasis awaiting the development of adequate batteries and fuel cells.) But their Chevy Equinox Fuel Cell vehicle, boasting a range of 180 miles per tank of hydrogen? Testing. Ditto for most of the other participating makers. Honda's CFX Clarity fuel cell, BMW's Hydrogen 7, Volkswagen's Space Up!, and Blue's zero emissions electric motor (with hydrogen fuel cell backup) are all — still under construction.
Mostly, it was the same cold, stale pie of calcified fruits on offer — and the same basic design and technology the industry has been cooking with over the last 30 years. The same marketing research, too ('People want SUVs'), producing the same marketing ('This is a cutting edge product because we say it is') yielding the same results ('See? They're still buying big cars').You know we're in trouble when the assembled Little Jacks  award the Green Car of the Year prize to the Chevy Tahoe, GM's best-selling SUV, supposedly because its  'improved' in-town mileage of 21 mpg proves that GM is really trying.*
But judging from what we're seeing at all these shows, it seems that mainstream auto companies just keep making cars that look like cars have always looked: like boxes on wheels. So, for that matter, are most of the mavericks behind the more promising startups like Tesla, ZAP, Phoenix, Rev and Think!. The New York Times' excellent feature 'Taking a Whack at Making a Car' (November 14) detailed what it called a new era of Henry Ford wannabes, scores of entrepreneurs now building what they are all sure will be The Green Car of the future. The blogosphere likewise pulses with news of this inventor or that, each as well-funded and cock-sure of their vehicle as they are naïve about the challenges of manufacturing, regulations and the realities of the auto business. But though they're undoubtedly generating excellent ideas, building remarkable prototypes, and sinking hundreds of millions of dollars in development, most innovators are likewise tweaking a design that's remained essentially unchanged over 100 years. No wonder we've all come to believe there must be some reason that a clean, practical, affordable energy-saving car has to be so difficult to develop, so expensive to produce, and so long in coming.
Enter Steven Fambro, a California electrical engineer who, having designed robots for Illumina, a San Diego biotech firm, decided he there was no reason he couldn't build — and produce in quantities — just such a car. Yes, like his many peers, he brought plenty of know-how and moxie to the task, even if that didn't include any experience with cars. Like the others, he had access to significant venture capital. What sets Fambro apart from his peers though, is that he chose to launch his efforts from a different perspective: how the car is shaped, rather than how it goes.
Working largely from a book on car design he bought on Amazon.com, Fambro has said in interviews that he decided early on in his study that the industry's focus on motive engineering might be misguided. Realizing that most of a car's energy goes not to moving itself but to pushing air out of its way, he studied principles of aerodynamics, as well as aircraft construction and composites.
In January of 2006 he and his startup, Accelerated Composites, announced they'd come up with a design that would utilize technologies and capabilities (aerodynamic engineering, aircraft construction and crash geometry as used in F1 racing cars) long used in other applications but not in cars. His proposed car would, he estimated, achieve an astounding 330 mpg (at 65 mph) utilizing a 12 horsepower DC motor, continuously variable transmission, ultracapacitors, and it would boast a drag coefficient of 0.055 to 0.06.
In March of 2007 the company (renamed Aptera Motors) unveiled the first working prototype, the Aptera Mk-0 at the TED Conference. Shifting design variables had resulted in a higher drag coefficient, and thus lower gas mileage, but the vehicle still presented as a revolutionary diesel-electric or hybrid, three-wheeled two-seater car that would achieve a top speed of 55 mph, and squeeze 230 miles out of every gallon. It would cost about $20,000.
Six months later, just as the LA auto show feted the latest batch of 'improved' SUVs, Fambro unveiled the re-designed, re-engineered Aptera Typ-1 as a production ready vehicle he plans to produce in both all electric and series hybrid models for between $20,000 and $30,000 sometime in the next year. The all-electric model currently boasts a range of 120 miles, while the plug-in series hybrid should get more than 300 miles per gallon within a range of more than 600 miles. The company says it (they?) will initially deliver vehicles in southern California, then in northern California and finally to other regions nationwide. (Note: interested California buyers can place a $500 refundable reservation deposit on www.aptera.com).
But as jawdropping as the numbers are, what really sets the Aptera apart from the herd of similar prototypes is the thinking behind it's admittedly extraterrestrial look. Like it's pod-lie styling or not, the Aptera has rendered some of the freshest ideas we've seen in the industry. Constructed of his own lightweight composites (patent-pending 'Panelized Automated Composite Construction', or PAC2©), the Aptera, at just 850 lbs, will be one of the lightest cars on the road, and boast the lowest drag coefficient. It may also be one of the strongest, since most of it—including seat structure, swing, and upper and lower control arms — will be constructed of super strong composites, some synthetic and some engineered natural products. (Reinforcement materials will include carbon, glass and Kevlar fibers). Locating the engine (an off-the-shelf one-cylinder affair made by a German company Fambro declines to name) in the rear enables Fambro to replace the traditional hood and fender with a swooping front end. Opting for three wheels rather than four (two in front, one in the rear) slims it down even further.
To date a number of serious technical issues remain unresolved, chiefly the question of whether or not an all-plastic car will survive crash tests, and even if it does, whether or not people will trust it enough to buy it. (He plans to install crushable foam as well as air bags into the seat belts; both would supposedly absorb most of a crash impact.)
Then there's the matter of the battery, details of which the company has not disclosed except to say that (quelle surprise) they're working on it. So far we know that, since the Typ-1e (electric) and the Typ-1h (plug-in hybrid) have different battery needs, the company may need to work with different battery manufacturers for the two models. The Typ-1e currently uses a 10 KWh pack, the Typ-1h a smaller one, since cycles and DOD are different for both applications. They plan to release further information regarding the battery lifespan and warranty policy well before production of the Typ-1e begins next October. Stay tuned.
Admittedly, Fambro is dreaming big, maybe even fantastically. Sure it looks like a Superfly on steroids but that doesn't matter. It doesn't matter does that it accelerates slowly, may not stay on the road in a gale, and might every well end up little more than a spit wad in a crash. Nor does it matter that, despite his bold claims (mass production within the year) he may not be able to produce enough of these, or find willing and effective distributors if he does, and or that power-obsessed Americans may not go for a one-cylinder car. What matters is that in believing a cheap, clean, green car is possible now, not ten years from now, and that we already hold keys to its viability, he just may have taken one of the boldest, bravest leaps into the future of automotive design we've seen in a hundred years. Will the car prove viable on the road, in traffic, and with consumers? Can he actually make enough of them at the projected cost to even find out? That Fambro believes he can may prove half his battle, and maybe ours too. It was Henry Ford who said 'Whether you believe you'll succeed or fail — you're right'.