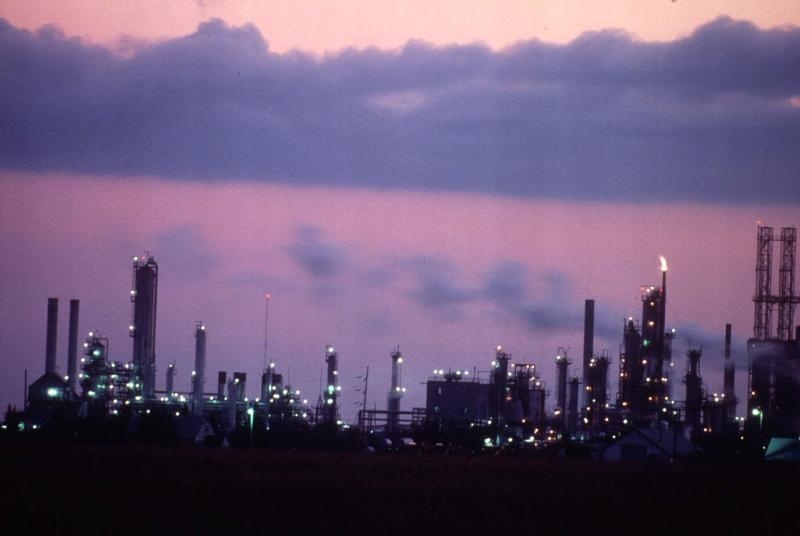 Leonard Green is pessimistic on US Climate Change Legislation
Early in June, not long after the first go round on a serious climate change bill reached fruition in the US House subcommittee, the weather in my part of the country suddenly got angry. Actually, it's been increasingly irritated for some years now… but in the last few weeks, it's given us more than the usual coltish spring surprises. Rain is welcome. Thundershowers we endure. Tornadoes, dangerous and sometimes lethal, are also a fact of life in the American Great Middle, even if they're also not exactly routine.
Until lately. This year, spring rains in this area morphed into summer storms of such violence they have nearly defied meteorological categorization. One upon another, every day, sometimes every few hours – freight train winds sheared off building facades, glass shard hail shredded crops, upended trees crashed into roofs and cars, streets flooded… and aging power infrastructure collapsed with dismaying regularity, multiple times in the same week and often, as on our block, long after the sun returned.
After the power cut out for the third time in four days on the aging trunk line serving my block — hours after the storm had passed, and the sun was smiling on its wreckage— and we faced another 15 to 24 hour wait for restoration, I strolled around the neighborhood, killing time, coveting others' comfort.
As is usual, surrounding homes, fully powered, blazed with not only lights, but an array of electronic gadgetry. Peering in windows as I passed, I began to notice, for the first time, the inevitable presence of two, sometimes three large screen TVs mounted on walls in various rooms – sometimes the same room in the same house.
Through other widows, I noted multiple computer screens dancing with video games, and well-appointed kitchens rumbling with an array of the finest appliances.
Watching evening joggers bounce along in the invisible cocoons of their iPods and strollers chatter on their cell phones, I tallied up batteries and chargers in walls, and wondered if any of them attempts to track the breadcrumbs through the chicken yard to the egg nest.
Start here: our power comes from a utility that burns ever more coal — which emits CO2, which alters the climate, which produces more dramatic weather, which batters an aging grid/infrastructure the utility has not upgraded because it needs to build more capacity to generate more electricity to power more of the energy consuming devices we have convinced ourselves we need to get through the day, the usage of which generates more demand, which overloads infrastructure, which breaks down on sunny afternoons— and blows out the lights.
Walking back to my block past houses looking ghoulish and abandoned in utter darkness, I marveled at this strange juxtaposition of circumstances. For the first time in years, the US Congress has come up with a solid proposal toward viable climate change regulation — the kind that could drastically effect the way we live and do business – even as the power keeps going off on sunny afternoons.
Change is coming, we're told. A climate/energy bill that could transform the way we live is now on the make in the House. Legislators for and against its various components, crowing their support or objections, are starting to talk about their "accomplishment" at this hour of "unique opportunity" to either shape the country's energy future or defeat legislation threatening consumer hardship and economic chaos.
After my walk the other night, though, I wonder. Obama may seem like a reformer, but nearly every president since Nixon has tried to initiate some kind of energy policy reform. That Obama's plans are more ambitious than any of his predecessors makes for considerable opposition from many quarters – including those who voted for him, now enduring the most serious economic downturn in generations.
Sitting in the dim halo of my trusty Colman lantern later that evening, I jotted down a few reasons why climate change regulation, the tough kind to be applauded or reviled, depending on your point of view, will likely not see fruition any time soon.
The Senate. Even if the climate and energy bill passes through the House — where it has a solid chance of doing so — the Senate's political makeup offers more opposition. Bills require more than a simple majority vote to pass, and the Democratic majority is slimmer. Cap and trade is much less popular in the Senate.
China. Or more specifically, the fact that the cap and trade measures on offer fail to confront big emitters like China and India, the US's chief competitors. Progressives may plead otherwise ("Everyone else will behave if we do"), but the country stands to lose jobs, manufacturing and trade to countries that will doubtless plow on at full economic throttle, emissions be damned. Obama can try to convince the Chinese to curb their emissions in order to continue trade with the US, but he plays a losing hand, given our dependence on Chinese loans.
The Red and Blue Coalition. Republicans are nearly united in rejecting all Obama's energy policies, particularly cap and trade. Only one voted for the climate bill in committee, three voted for Obama's stimulus bill, and none voted for his budget. Democrats from rust belt states and rural, agriculture-dependent areas, fearing imposition of untenable financial burdens on their constituents, likewise oppose many of Obama's policies. Together, they represent a powerful obstructive force.
Health Care Now. Polls show that a vast majority of Americans care far more about health care reform than energy policy — so many politicians, seeing a much clearer path to some kind of health care bill, are refocusing their energies toward that end. To all those who view the climate and energy bill as a lost cause, dangerous to the economy, or just ill-timed, passing health care reform seems like a more pressing matter.
The Public Does Not Care. A recent Pew report on ideological change in America indicates that while the public has shifted leftward on many issues, they've shifted rightward on the environment and energy — even as, by evidence of my nocturnal observations, they're consuming more energy, generating more emissions – and tangentially, wacko weather and infrastructural strain. People don't care how the electricity comes through the wires, from whence it came, whether it's clean or dirty.
That the political moment of possibility for climate legislation has coincided with a crippling recession may defeat current Congressional efforts, or produce something so full of loop holes as to accomplish little anyway. Or the administration may pursue troubling regulatory options few of us will like. In the meantime, we will continue to enjoy our humming air conditioners, dancing screens, handy gadgets and appliances – mostly produced in high emitting foreign factories – running on cheap power just like always. Until the next time the lights go out, or the bill goes up. Or both.