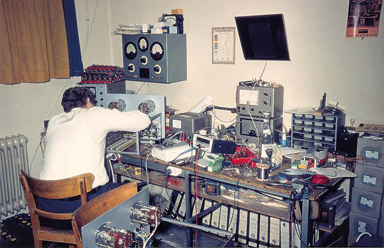 In honour of a triple anniversary year for Digatron, Ruth Williams visited Aachen to report on the company's history and secrets for success.
2013 is a year of celebrations for Digatron Firing Circuits. It is 45-years since Digatron was started in Aachen, Germany, 25-years since the acquisition of Firing Circuits in the USA and 20-years since the opening of Digatron China in Qingdao. Not to mention Rolf Beckers' 65th birthday.
As BEST readers know, Digatron designs and manufactures automated battery testing equipment and formation equipment for lead-acid and lithium‑ion cells, packs and modules. The business is equally portioned for both types of system and there is an equal demand from lead-acid and from lithium-ion customers. The business is divided between formation and testing equipment for automotive and industrial batteries as well as secondary cells and packs. Digatron can provide testing and formation equipment for batteries from cell phones up to submarines, meaning the range of expertise spans hundreds of thousands of amp hours.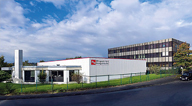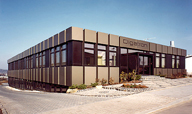 The current site in Aachen has been the headquarters since 1983 after outgrowing the previous site across town in Aachen. There are now three buildings on the site covering 4 500 m2 and it continues to expand with a team of 200 employees working for Digatron Firing Circuits group worldwide. The management of the group is still in the hands of the founder and chairman, Rolf Beckers.
From its humble beginning, Beckers had no idea the company would grow to what it is today, but just as it began in his father's house, the family connection continues. His two sons Ralf and Axel both work for the company: Ralf is the Marketing Manager supporting the international sales departments and Axel is in Qingdao working as Quality Controls & Technical Service Director.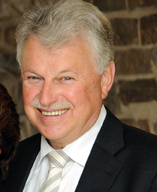 The company was formed in a true entrepreneurial style by Beckers when he was just 20 in what he calls the hobby cellar of his parents' home. Beckers was employed as an electronics engineer at a large computing company that was approached by Varta to make an automated test unit for checking the rated capacity of batteries. The company turned the work down but Beckers seized the opportunity and took it upon himself to design and make the equipment for Varta, which was Europe's biggest manufacturer of batteries at the time.
This initiative was the beginning of what is now a multi-million-Euro company but in his eyes it could have easily been different. Beckers said: "It was the right product, to the right customer, at the right time that allowed me to succeed." The combination of these factors is fortunate but it was Beckers own risk taking at leaving his electronics job to set up a company that made it happen.
At this stage, there were no other companies in Europe making test equipment like this so following the initial order, Beckers was inundated with customers. "After Varta came Chloride and after this was an avalanche effect," he said.
It was never his intention to remain in such a niche market, but the opportunities grew and the work kept coming in. "I was lucky because for bigger companies the market was too small to bother and small companies were afraid to export – they were not prepared for this kind of business."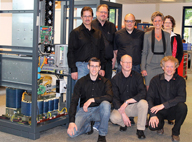 In the USA there were some companies making automated testing equipment, but only for domestic sales so Beckers had few competitors. He had orders from customers all over the world for the equipment. "In the mid 1970s I was exporting 60% of the machines, so I got used to exporting to countries world wide very quickly." The biggest export order was to Iran in 1975 for US$1 million worth of test equipment.
Beckers said the company found it had problems exporting from Germany to the US because US companies bought from domestic suppliers. To get into the US market, Digatron acquired Connecticut-based Firing Circuits in 1988. It was making formation equipment but principally the two would work well together. Beckers said: "This went well from the beginning, there were no problems." Now the site in Shelton, Connecticut, produces the same equipment as in Aachen but for the American market.
With this growth in global exporting, Digatron began building relationships with companies in China. In the 1980s it organised seminars for Chinese battery manufacturing companies to improve their performance, then having built up a solid reputation, began selling equipment into the country. Before 1982 the borders were closed to Western business, but when the country became open, Beckers saw the opportunity to do business there. "The Germans were good at this, they were in China at the beginning of the 1980s."
The Chinese market was mostly for industrial batteries because there were no cars in the country at that stage, so UPS, trucks and forklift batteries dominated the market.
Digatron began a joint venture with a Chinese company but this was not successful, Beckers said: "Chinese companies either wanted Western know-how or just the perks that came with having an association with a Western company."
The majority of companies who entered Chinese joint ventures met a similar fate. So in 2000 the decision was made to end the partnership and start a company in Qingdao, without the Chinese associate.
In 2009 TBS formed a joint venture with Digatron to manufacture TBS assembly equipment in Qingdao for the Chinese and Far Eastern market. The combined experience of the two companies provide a platform to supply their machines in these areas as well as offering local technical support and spare parts.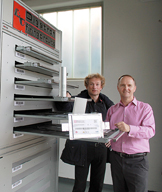 Having production facilities in three locations makes this a true global company, with the benefits of being able to sell into different markets without having to ship everything from Germany, saving on costs and time. Another advantage comes from having knowledge of the market being sold into. The equipment has to conform to local certification requirements, so anything being sold into Europe must be certified to meet CE standards, which means it must be guaranteed to conform to rules and regulations. The standards differ in different territories so manufacturing in China, the USA and Europe means knowing the relevant standards and manufacturing to them. It would be a waste to work to the wrong standard for the territory a product is intended for; the onus is on the manufacturer to know the appropriate standard and ensure the product meets them.
Added to this bonus of equipment designed to local specifications is the savings in shipping costs for such bulky bits of kit. The three sites cover most customer bases, meaning very little has to be shipped. Components and parts are sourced locally to keep the manufacturing costs low. Transferring the know-how proved easier than shipping components and equipment to multiple continents.
On a whistle-stop guided tour of the entire Aachen site, Ralf Beckers, Rolf's eldest son who works on the company's marketing strategy, explained the manufacturing processes.
All pieces of equipment are made to order with a standard range of kit used to construct them so everything can be modified to any specification. "The equipment is built from stock items of rectifiers, transformers and cabinets, which enables us to keep lead‑times short," he said. There are no off-the-shelf complete machines however because they will always be marginally different depending on customer requirements.
"A sales engineer will discuss the customer's application and specify the exact hardware and software solution to satisfy his requirements. Within reason, any requisition can be met with custom-built equipment," said Ralf.
For precision many of the parts are hand-made, especially in the early stages. The mechanical department assembles the equipment with the correct components of transformers, rectifiers, chokes and massive copper bars. The cables and wires are then connected by hand. Ralf called it an art form to get all the thick and heavy cables in the right place. "There is no way this could be pre-manufactured, it has to be hand made."
Many of the components are made locally, such as the transformers, which are made by a company that solely supplies to Digatron.
This is manual manufacturing to an industrial standard: Every step of the assembly process is documented to ensure accountability and control at every stage in production. With this, delivery times can be reliably calculated and all the information is recorded for the service department to supply after-sales support. Photographs are taken at each stage to complete the documentation.
The average order includes planning, a feasibility study, building the equipment and a week of calibration and testing. During the testing, a battery is put in for the first time and serial numbers are assigned to the circuits. Most machines are sold with data loggers for high speed data acquisition of individual cell voltage and temperature.
The after sales support is an area of the company that goes above and beyond what is offered by many manufacturers of any equipment, but something which Beckers Senior believes has to be done. "Selling the equipment is one thing but these are complicated machines, not coffee pots. It is high-tech and so we have to offer this level of service or the customers would not be happy," he said.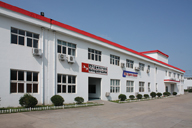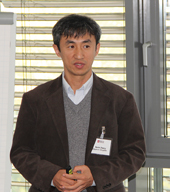 The service department, headed up by Rianne van Rooijen, really deserves a mention. Beckers described it as being operated as a company within the company and it is easy to see why.
The team has grown from five to ten staff in a decade, showing the company's gravitas on service. A telephone hotline forms the first line of service support, with engineers working alongside the telephone team to ensure requirements, even beyond the standard operations, are understood and dealt with; an in‑house repair service is offered to fix problems with units. Digatron offers full training with each product, so minor problems can be repaired on-site by the customer's own operatives.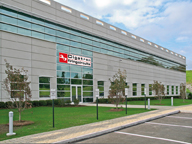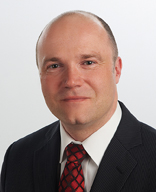 As well as the three global locations, Digatron has connections with companies in other countries to provide local support service for its machines faster than sending a technician from Germany.
Rianne's team deals with equipment being moved between sites or between companies, or when supplying new equipment they provide tuning and commissioning of the equipment as well as annual maintenance calibration for the units. Rianne said: "Most companies do not have such a big service department but I think it is very important. When a customer buys a unit from us, the relationship doesn't end, it goes on."
It is not just the service team that has engineers working in it, all staff have a technical background to ensure they understand what a customer needs from equipment and the systems. Tony Schröer, VP Sales, said: "We need lots of engineers because they can consult to find a solution to a very specific customer request rather than just trying to sell things. When we offer test or formation equipment it is important to understand how it works and what the results are."
A development Digatron's technical team is working on is an extension of regenerative testing that is already used in large high-voltage formation rectifiers to be useful in smaller ones. Equipment for cell testing with regenerative capabilities is being developed and will soon be presented to the world.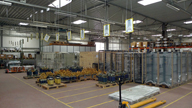 The benefits of a regenerative system are both on the OPEX and CAPEX sides. While grid feedback reduces electricity cost and heat emissions, the high quality of insulated gate bipolar transistor (IGBT) feedback eliminates the need to buy costly compensation circuitry.
Another project the company is involved in is a one MW energy storage system called LESSY (Lithium Energy Storage SYstems). Located in Saarbrücken, Germany, it stores power in lithium-ion batteries to improve grid stability and provisioning of ancillary services. Housed in a 40-foot container are 4700 40Ah lithium‑ion cells and a BMS provided by Li‑Tec. Also contained are the complete software controls and power electronics, provided by Digatron. It ensures the battery condition remains within the permissible range.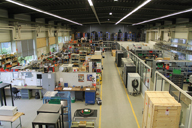 Having been in development since 2009, the project is now up and running. Digatron plans to use the knowledge it has accumulated from this project to work on future grid-level energy storage projects.
With his 65th birthday approaching in July, Beckers senior, or the Chief as he is known around the office, has no intentions of retiring. So what is the next step for Digatron? Well, it has recently signed a memorandum of understanding for a joint venture with Ador Powertron in India to begin a similar company as in China to produce formation equipment in India to serve the burgeoning battery manufacturing market.
As well as this, Beckers has an idea of how he thinks the company should grow. "I want the company to be the supplier of not only charging equipment but of complete turnkey solutions," he said. Digatron has already supplied systems for lead-acid batteries to customers in Serbia and Thailand as well as complete lithium-ion systems.
Although 45-years later Beckers puts his company's origins down to fortunate timing and luck, it is evident he worked to build the company from nothing and to continue its growth. Beckers may down‑play his role, but his staff are more than happy to wax lyrical that he re-invests profits to expand and move forward.
Kevin Campbell, Vice President International Business Development said: "Rolf has created from a garage start-up a hugely respected international business, now manufacturing exclusively across several continents, and yet, when he should be taking things easy, he vigorously pursues new product designs and continues to re-invest and expand globally. That's a huge commitment and a great achievement."
Beckers saw the potential in China and is now following suit with India, again seizing the opportunities as they come along. This confidence seems natural for a man who started his own business supplying equipment to the biggest battery manufacturer at the tender age of 20. By ensuring it has a solid reputation Digatron has been successful and by seeking out opportunities it should maintain this position ahead of the game.