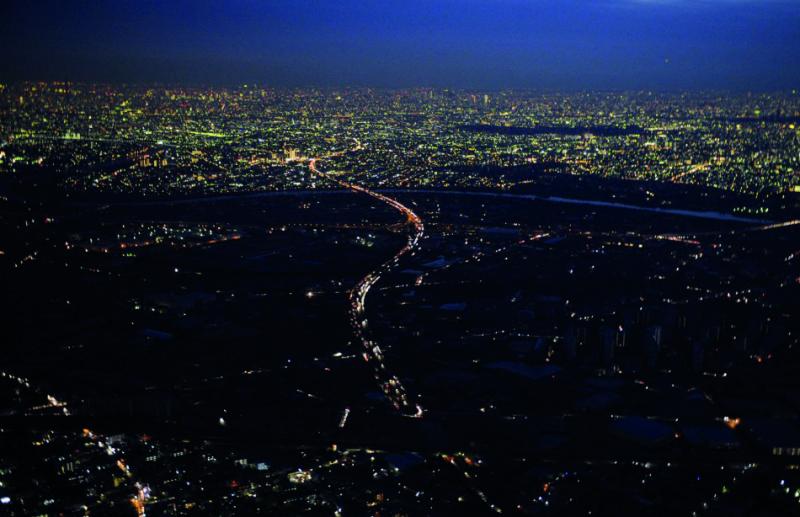 Rolling blackouts could mean big business for slow burning Atraverda, writes Gerry Woolf
I have to confess to a slight snigger when I've seen the term "Bipolar" in relation to lead-acid batteries. I naturally think of the psychiatric condition— the mood swings, the manic behaviour, the highs and the lows. I'm probably undiagnosed myself. I wonder how many high and lows investors at Atraverda have had because lead‑based bipolar technology has taken an awfully long time to come to fruition.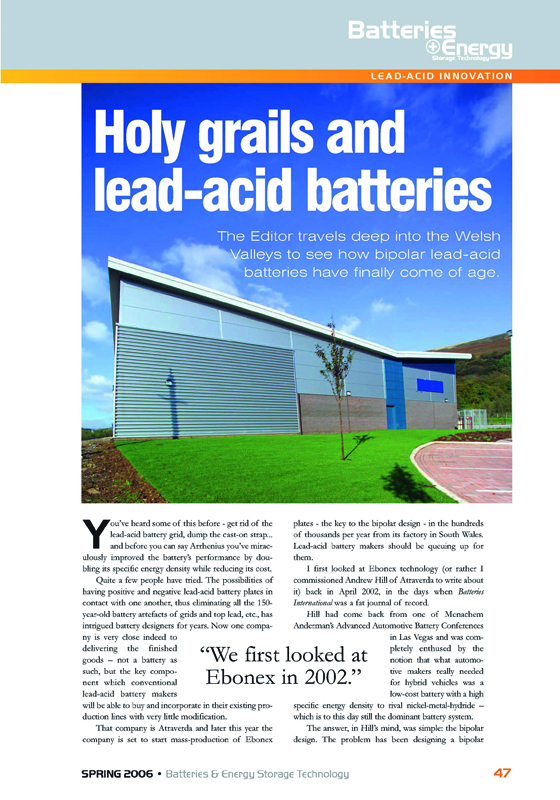 But I should know better. I've known that if you get rid of all that useless top lead in a lead-acid battery, then you'll reduce the weight of the product and thus increase the energy density. You put what's still a relatively low cost product into the same class as, at least, a Nickel metal hydride system. Build that perfect bipolar electrode, refine the system and you can touch theoretical lead‑acid energy densities of 45Wh/kg or more.
I've been tracking Atraverda's progress for more than a decade. The last report that appeared in BEST was in Spring 2006.
At that time, Atraverda was concentrating all of its efforts in optimising the manufacture of the titanium oxide material branded Ebonex, with which to make ready‑made bipolar electrodes, which someone else would combine in a new range of lead-acid batteries.
That someone else— someone to take the manufacturing risk— has proved, well what shall we say, elusive? There have been an awful lot of people going in and out of Atraverda's doors employed just for this task. Selling new concepts to the lead-acid battery making industry has never been easy. Lead-acid's more recent new kids on the block, Axion, Ecoult and Firefly (deceased) have had to manufacture to get noticed.
And so it is that with a new Chief Executive Officer, Graham Ryan, Atraverda is biting the bullet and going to become a manufacturer of Bipolar batteries. And to make batteries in any volume, it helps to have a customer. I met with Mr Ryan in London in May this year, where he is engaged in trying to raise £10million to get the large scale manufacture off the ground. Not a battery man by training, Ryan and, presumably, the venture cap backers have worked out that sometimes you need to do more then sell a concept… you have to build it.
So who is the customer? None other than Sharp Laboratories Europe: unsurprisingly, it's all part of a UK Government backed scheme.
Atraverda was chosen as the partner after the Technology Strategy Board launched the 'Materials for Energy' competition in June 2011. The Technology Strategy Board allocated up to £3 million to invest in "highly innovative, collaborative R&D projects that address the application and demonstration of materials technologies for use in energy generation, energy transmission and distribution and energy storage "
The two year project commenced in April 2012 and aims to develop an intelligent domestic scale Photovoltaic ("PV") Uninterruptible Power Supply prototype system, using Atraverda's novel, advanced battery, that is based around its light-weight ceramic composite bipolar plate material.
Well, it seems a lot smarter than putting solar panels on roofs and creating power factor problems for the electricity distribution companies— that's what happens in the UK now.
The system is to be designed and developed for the UK and European market, where there has been significant uptake of solar PV for domestic energy generation. The Department of Energy and Climate Change ("DECC") has forecast that around four million homes in the UK will be solar powered by 2020.
It's a simple enough concept. UK Powertech (see BEST Spring 2011 page 35) has developed such a system albeit with conventional lead-acid batteries and inverters.
The UK Government have probably got the market opportunity wrong, like they have so much else right now, it's the Japanese home market where there is a real need for domestic energy storage, following last year's tsunami. With the Japanese nation now weaned off nuclear energy completely, (the last functioning reactor was shut down in early May) Japanese homes and offices face years of rolling black‑outs.
BEST magazine ridiculed Nissan's ideas of using its Leaf pure electric vehicles to power apartments in blacked out cities last year. But needs must when the devil drives.
After power supplies were cut in the quake- and tsunami-hit areas, batteries installed in Toyota Motor's hybrid cars were used to charge cell phones. Toyota President Akio Toyoda has said the company is looking into whether it could add a power‑feeding function to its hybrid models.
Currently, home-use storage batteries, using lithium‑ion are still very expensive in Japan. One with a capacity of 2.5kwh costs roughly 1.8 million yen (£16K), according to a recent report on Nikkei newswire. By comparison, Nissan Motor Co.'s electric vehicle, with a battery capacity roughly 10 times larger, can be bought for 2.99 million yen (£24K) when government subsidies are included. Automakers, masters at cutting manufacturing costs through mass production, could play a part in lowering smart-grid installation costs for this kind of system.
But Atraverda's lead-acid solutions could cut a swathe through these prices. Ryan believes that on volume production the price of the company's bipolar system could be as little as US$150/kWh. So a like‑for‑like system battery could cost as little as £300.00, though a 6kW storage system is more viable for domestic use. Ryan and I chewed the fat about how low lithium‑ion prices might go in the shakeout to come. But they're never going to get that low.
And Atraverda is clearly happy to play on the fears of having large, potentially explosive lithium‑ion systems inside the home. And the Japanese government is making grants available to consumers who buy such systems. So out of adversity a new market has been created. Almost.
I have to confess I could almost see the conference powerpoint of the market opportunities that Mr Ryan might present if he were giving a talk at say, Shep Wolski's conference… yes, electric scooters and wheelchairs would probably be in there too, but domestic electric storage is new.
Atraverda plans to have its manufacturing plant running and producing 2 000 cells per month by the end of next year, if funding goes to plan. Ryan says I'd recognise most of the production line— only volume manufacture of the sealed electrodes would come as a surprise.
So it will be quite a few firsts in 2013. Manufacturing lead‑acid batteries again in the UK, (there's only Enersys doing things in any volume in Britain) manufacturing them and selling them to the Japanese and being the only manufacturer in the world offering the Bipolar design commercially. Would I put money in for this? Definitely.
Bipolar: a simple truth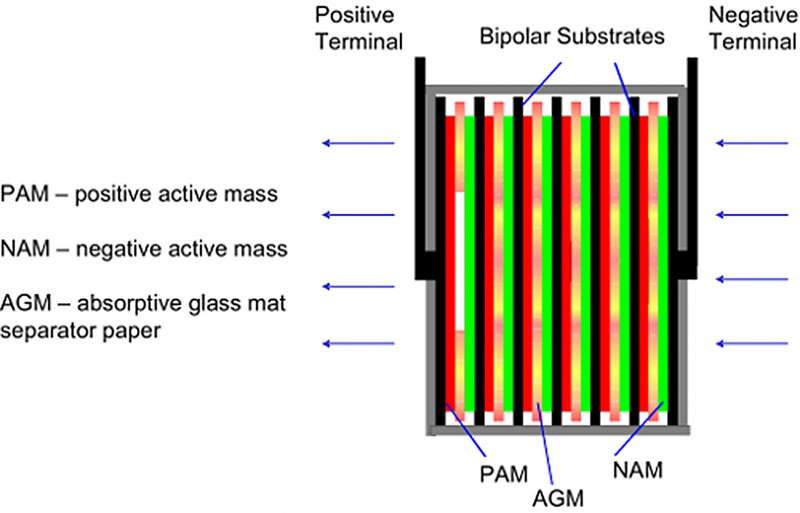 It doesn't get simpler than this. Conventional lead‑acid batteries have inter‑cell connections made up of solid lead between positive and ngegative plates. Not so in a Bipolar cell.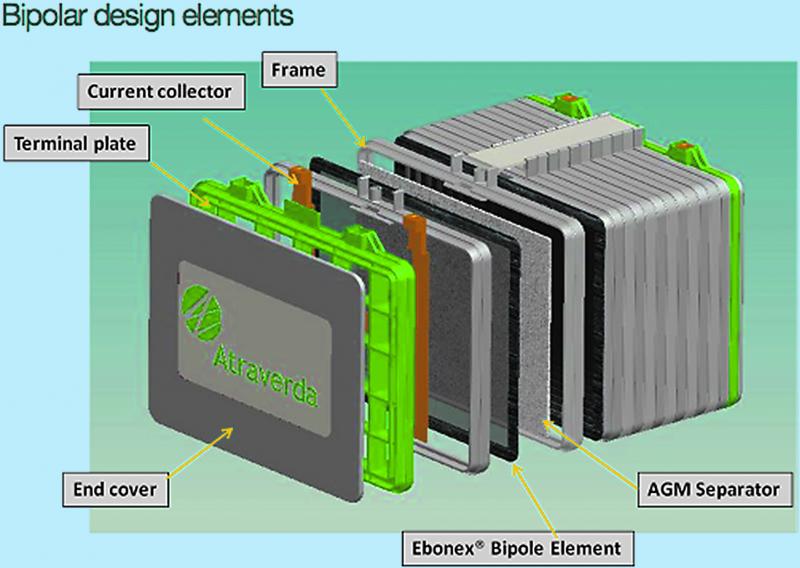 A single layer of conductive material, the Ebonex® Bipole Element, which serves as both the support structure and divider for the positive and negative electrode paste material, does the job. The use of individual plastic compartments for cells, straps and complex inter-cell connection schemes is also eliminated.
Each Ebonex® Bipole Element, when assembled with electrode paste material, forms a 2 volt cell. Through a dramatic reduction in the number of components and amount of raw material used in the battery, weight and size are reduced, overall energy densities are improved and low cost is maintained. "