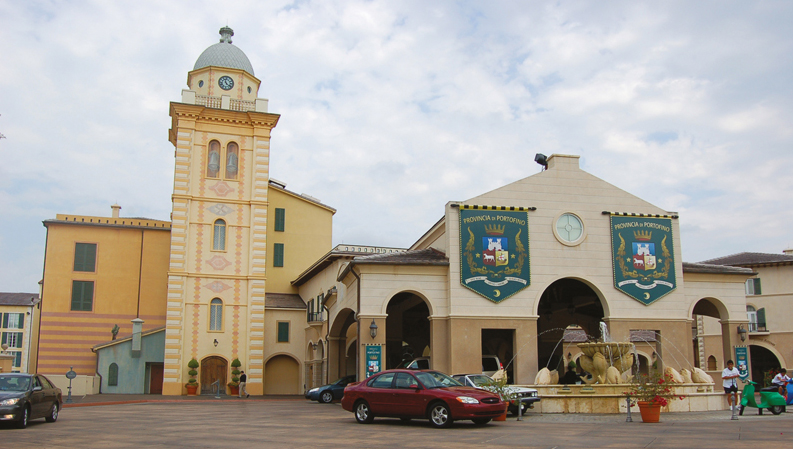 A lethargic audience – and acceptance of VRLA limitations – gave battery makers an easy ride at this year's Battcon meeting. But maybe that's because telecom standby as we know it could soon be history… The Editor reports.
You have to bow to the wisdom of your elders. Readers of the Spring 2006 issue (page 83) will recall an article written by esteemed battery consultant Ken Peters, who wondered whether I'd have anything to write about now that valve-regulated lead-acid batteries are made properly.
As I made the 15 minute journey (a sort of Battery Pilgrim's Progress) from my bedroom at the Loewes Portofino Hotel in Orlando, Florida to the conference rooms at this year's Battcon, I realised that he had a point.
It wasn't that the batteries aren't made properly (though some are still made pretty badly). The really scary thing was that nobody seemed to care any more – and perhaps it doesn't really matter. We have not reached the VRLA celestial city, but perhaps we are no longer in the slough of battery despondency either.
The likes of David Feder et al are (presumably) enjoying their retirement, and the current generation of telecom power people seem to have given up fighting an industry they know won't change.
Ten years ago the Battcon series was started by the Alber brothers, because they knew there was considerable disquiet among the user community concerning the operation of lead-acid batteries in service. It also gave the company the means to promote its products and services for battery testing.
In the early days, given the lack of understanding of VRLA realities and facts, battery product managers could have been lynched. But in 2006 what had once been a 'lively' event has been tamed like a well-policed 'red light' district. And Glen Alber had to agree with me. There were no hard-to-answer Q & A sessions. Battery industry representatives weren't put on the spot or made to squirm.
Given the pacifying effect of the venue – a sort of Italianate 'Westworld' complex, within striking distance of 'Mickey Mouse World' – perhaps this wasn't surprising. The only thing that was truly irritating was the extortionate price of the bottled water in the rooms. There wasn't much else that could irritate you enough to perhaps fire up the neurons that stimulate debate.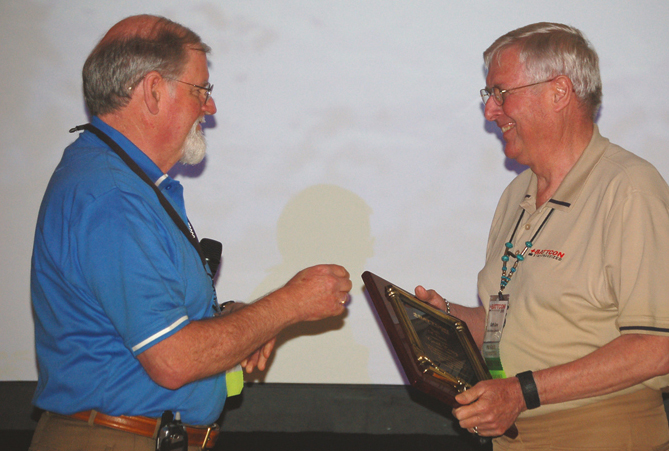 On the personal front there were a couple of sad notes. I learned that Phil Symmonds – one of the stalwarts of the electric energy storage community – had died, somewhat prematurely. And that his friend and collaborator Garth Corey of Sandia Laboratories, inducted this year into Battcon's Hall of Fame, was retiring. I think this was in part as a reaction to Phil's untimely death. There is more to life than batteries, Garth and I agreed. For him, it's time to enjoy those things. But that's two fewer friendly and familiar faces I won't see at battery events in the future.
So, pacified by the venue, tired by walks from bedroom to meeting room (this place certainly was spread out), I tried to extract what I could to entertain you, the reader. The tough part about this job (mine) is trying not to switch off when you hear the same repetitious stuff, as so often happen at these meetings, and remaining alert to spot what's often incrementally – sometimes infinitesimally – small. This year it was tougher than ever.
Jim McDowall is a master in managing to put a new spin on an old subject and get a plug in for his employers at the same time. His talk, 'The Shape of Batteries to Come', should I believe have been required listening for the folks who attended the Battery Council International meeting a week previously.
McDowall believes (and I happen to agree) that events in the slow-paced world of batteries, certainly for the standby power sector, are now picking up speed. And it's not just down to batteries. In part it's the same old depressing story of corporate business trying to do more with fewer staff, and in part a reaction to the fact that you can't find good hands-on technical staff anyway because there are so many employment opportunities for good blue-collar technical people. It's all a bit anecdotal, but you know it's true.
Through early retirements, natural wastage and forced lay-offs, companies everywhere are doing more work with fewer employees. The consequence for large battery users is that many technicians with specialised knowledge have retired, and maintenance crews are spread more thinly than ever across a widening spectrum of high-tech equipment.
At the same time both businesses and the general public are becoming less tolerant of service outages, whether in the form of a lost cellular call or a momentary power disruption that causes digital process controllers to malfunction.
Batteries are undoubtedly becoming more important, yet there is a paradox in that battery maintenance is both increasingly critical and increasingly unaffordable. These competing trends are making customers more open to the concept of higher-priced but longer-lived batteries, especially if they can offer significant savings in labour.
Not only are businesses changing, but so is the phone service itself. Nearly all my long-distance calls are made using VOIP technology. All the carriers in the UK are now trying to push this in order to sell their broadband packages. I'm sure it's a universal issue.
Powering broadband services (and backing them up) was a recurring theme at this meeting, and it has major implications for the battery business. The technology is too power hungry to be backed up for hours, but it will need some brief back up at the very least. McDowall summed it up aptly: "We're going to see a much more diverse series of duty cycles for batteries in telecom, with high power, short duration cycles becoming more common."
Of course this leads very nicely to a promo for
lithium-ion technology, which is what McDowall's employers make.
It's not just sophistry. It all links into what's happening in other battery markets, which you can read about in this issue too: the hybrid vehicle market and, to a lesser extent, the portable power tool market. Reliable, safe high-power lithium-ion has come of age; what we're reaching now is an early stage of implementation. More than a million hybrid cars are likely to be on the roads of the U.S. by 2010 and, as our report from AABC shows, the switch from Ni-Mh technology to lithium is less than 18 months away.
McDowall didn't really need to spell out much more. Go back to the early 1990s to see how quickly lithium-ion usurped nickel-metal-hydride technology in cellular phones and laptop computers. Combine this effect with a change in telecom system architecture, the continued desire to cut expenditure on labour and low up-front costs, and lead is under threat again.
McDowall had one word of warning. Most lithium cells in the market today are designed for charge/discharge work, while the normal requirement in telecom applications is for float. The potential exists therefore for cells to be used in a way they were not intended for in some types of equipment; they will thus have the potential for overcharging. Cells will eventually vent and go open-circuit. This could lead to lively discussion in the future.
You didn't have to look hard at Battcon to find the new world order in telecom infrastructure. Perhaps the best paper to show how the telecom companies are really changing things came from Curtis Ashton, a regular 'old stager' at these meetings.
The nature of back-up is changing, because what the domestic consumer wants from a telephone service is changing. If the consumer wants broadband, video and a telephone from a single circuit then back-up has to move closer to the customer.
Most of the telephony equipment in the central office (CO) is powered by commercial AC-fed 48VDC N+1 redundant rectifiers, backed up by 3-4 hours of batteries (typically multiple strings of flooded batteries).
Disappearing fast are the old-style metallic conductors (typically copper twisted pair) coming out of the CO regardless of the distance of the customer. More common today is digital loop carrier (DLC) which allows a few high-speed copper pairs – or more recently fibre optics – to be run from the CO to the DLC location (typically within 12,000ft of the customer), where all the subtending customers can be multiplexed back onto the high-speed link(s). This greatly reduces the cost of deploying telephony to customers living more than 18,000 cable feet from a CO by saving the cost of all the copper pairs for at least 12,000ft.
The multiplexer in the DLC cabinet, however, requires power, which is sourced locally from the utility. This feeds a much smaller (smaller than the CO) 48VDC N+1 rectifier bank, which is also backed up by eight or more hours of battery back-up (typically multiple VRLA strings). Can you see where this is going?
With the advent of the Internet in the mid-90s consumer demand for bandwidth grew, and traditional telephone companies looked at many different architectures to provide this service. For customers within three miles of a CO served on a direct copper pair, bandwidths up to 1.5 Mbps could be achieved by the placement of a DSLAM (Digital Subscriber Line Access Multiplexer) in the CO. These DSLAMs are fed with the common 48VDC power plant of the CO, and benefit from its back-up power.
Combining voice, broadband and video requires a very different approach, with much less copper in the circuits, and DSLAMs much closer to the customers; and for this reason, Ashton argued, the old idea of back-up begins to look irrelevant. If power is lost at the homes of the domestic consumers, it will almost certainly also be lost at the DSLAM.
So why back up? Ashton argued that, if it is only data going down the lines, few of the customers will have UPS systems; everything will therefore be re-booting at the same time, so nobody will be too put out by the interruption. If TV is on the circuit, that's another matter.
Go on to the next stage of telecom development to the consumer (the 100 Mbps pipe to the home). I'd feel a shiver running down my spine if I was an industrial stationary battery maker. The optical fibre can't carry much power, so that can only be backed up at the customer end. Ashton rightly asked who should be responsible for it: the telephone company or the consumer? It would be simpler in these situations if the phone company provided a much longer-life system. And if we're going along these lines, as Ashton rightly said, then why back up the plain old telephone service anyway, and why for eight hours ? Because the regulator says you must. Of course it doesn't make sense, especially when many homes have cordless phones that rely on an (unbacked) base station, and most of us have cellular phones anyway.
This was an interesting argument, but perhaps it was at the wrong venue. Ashton is thinking the unthinkable as far as back-up power is concerned, and I'm sure the technical and financial cognoscenti of the telecom world will do likewise in the very near future as it becomes harder to make money – what with disruptive technology, growing competition and an increasingly savvy public.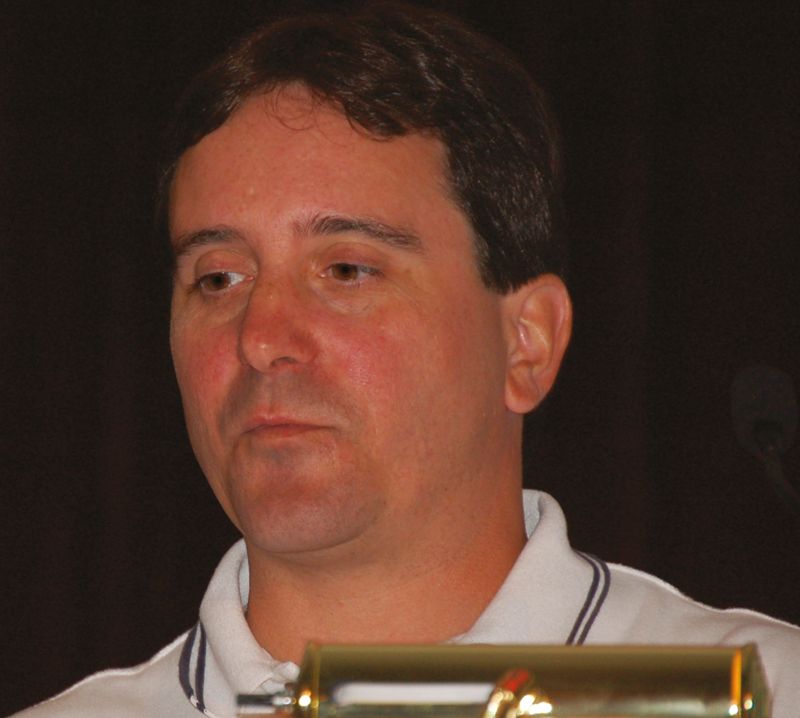 If the whole subject isn't on the Intelec schedule this autumn we're being short-changed. Looking through my notes from the meeting very little else seemed to cause much of a stir – for me, anyway. The desire to throw rotten tomatoes during a few presentations was certainly there – I never understood what the technology underpinning Bill Haewert's system was, and what can you say about front terminal ten-year life batteries other than "yes they work" – but perhaps the most contentious papers came close to the end of the meeting, from John P. Gagge of Enersys and Robert Malley of C & D.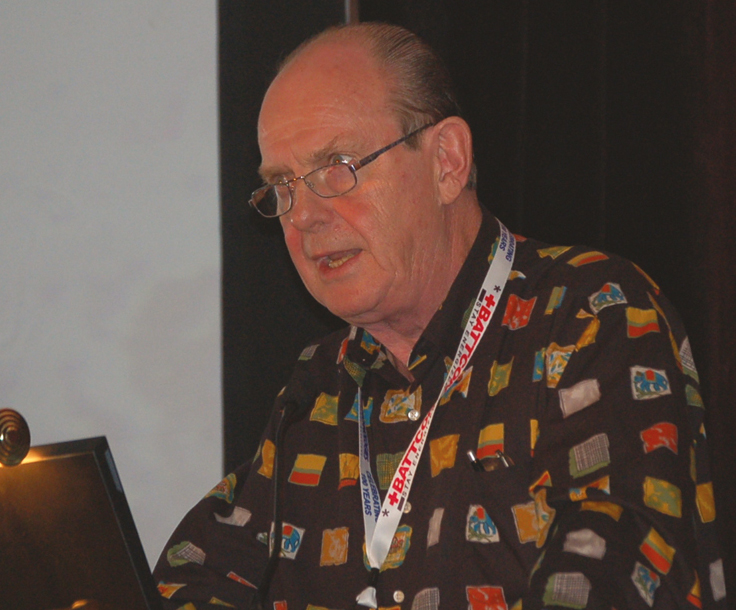 These days we're spared the mind-numbing techno–marketing from the boys at Alber, Midtronics and Megger about the relative benefits of their technologies in assessing the fitness of lead-acid batteries. And we're all more or less agreed that ohmic testing in its various forms can indicate change in a cell's condition, providing you carry out the test in a uniform scientific manner – same conditions, same instrument, maybe same operator(?).
On that basis it ought to be possible to have a baseline figure that the manufacturer of the battery can publish, using any or all of the technologies – something akin to your blood pressure when you're a fit and healthy 18-year-old, without a beer belly and all. People are certainly not all the same, but you'd think that identical cells coming off the lines of any one manufacturer would be.
Now if manufacturers could provide a baseline reading – of whatever parameter you chose, conductance, impedance or resistance – you the customer could use it as a stick to beat them with if the battery decided to give up the ghost prematurely. Of course you would.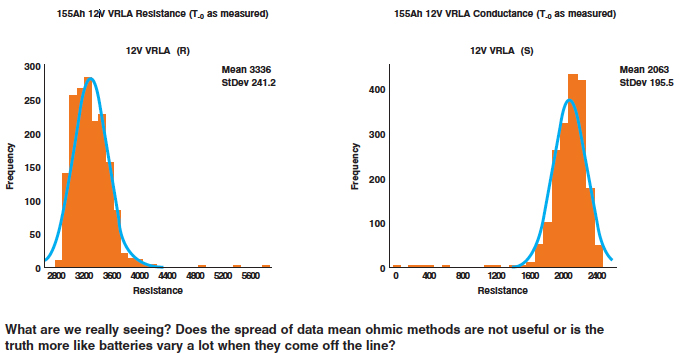 Well, to quote Mr Gagge's paper, "When looking at the VRLA marketplace, it is becoming more common for customers to request or even require that ohmic readings be supplied with quotations and/or cell shipments. This data, when supplied, can often be troublesome, inaccurate, and at times misleading to the customer."
It's not so much that it's troublesome to the customer. It's my view that it's troublesome to the manufacturer, because they can't explain the variation. Giving Enersys credit, the company did take 28,000 data points and measured resistance and conductance in 155Ah 12V VRLA cells (see graphs).
What you see is a normal distribution in the numbers but are we seeing something else, I'd argue; namely some variation in the manufacturing process, which manifests itself as a change in resistance and conductance values.
The company really couldn't provide an answer. Enersys carried out further tests by putting cells on float charge for 90 days and taking ohmic readings every 30 days. Again there's a shift in the numbers. What does this mean? It's hard to say.
This argument isn't going to go away. As telecom companies become bigger and stronger and waggle their accusing fingers at battery makers, they'll want answers. And Robert Malley of C & D wasn't providing any.
You can read the paper for yourselves, but it's the conclusions that I find disturbing. Statistically this study didn't amount to much – just six cells from three major battery brands were used; 18 cells in all. I don't know as much as some of you think I do about batteries, but I have a damn good grounding in statistics. The C & D people did a lot of number crunching but the findings were (thankfully for them?) inconclusive – no correlation between ohmic measurements and capacity. We got the usual variations in product life because the C & D study looked at a number of brands, so maybe Ken Peters' assumption that VRLA is no longer a contentious issue is a false one. The study found "wide variations" in the relationship between capacity and conductance between different brands of batteries – everything from a linear response to no change in conductance with wide changes in capacity. Correlation between capacity and conductance within brands was "poor enough to place doubt on replacing capacity testing with conductance testing", according to the study. I'm sure Midtronics is perfectly capable of fighting its own corner on this – you really can't shoot a technique down with such a small study sample – especially when one of your competitors has just shown how widely scattered ohmic measurements can be from just one manufacturer.
One battery maker, albeit a small one, is publishing conductance values – not, I think, to be churlish, but more likely because it is more certain about minimising its production variations. That company is Northstar Batteries. It took years for Richard Doll's epidemiology showing the correlation between lung cancer and smoking to be accepted as causal. I suspect that by the time lead-acid battery makers finally accept that ohmic readings can indeed play some important part in indicating battery life expectancy, we'll have moved on to different kinds of standby.