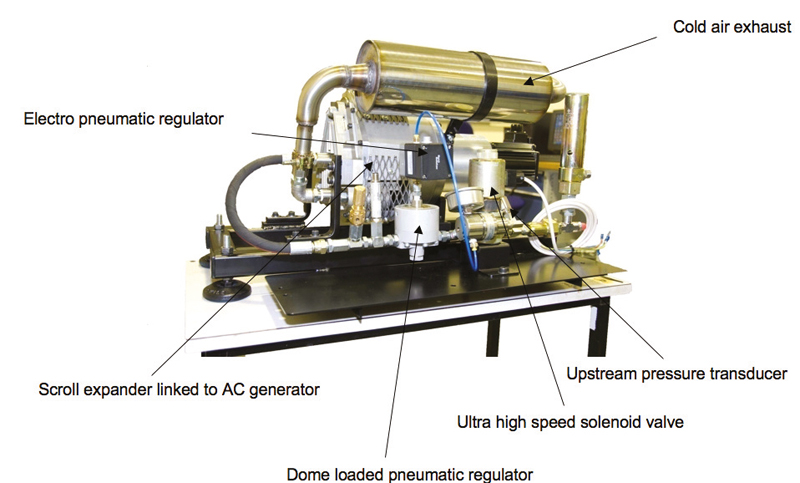 UK manufacturer Pnu Power has packed a CAES (compressed air energy storage system) into a pint pot for small standby power systems. Will this battery-free technology take off, asks the Editor?
Compressed air energy storage isn't new to readers of BEST magazine – it's in the realms of the "mega project" for reducing the running costs of gas turbines. But what if you could do it small scale and develop a standby system running on nothing more than compressed air? No batteries, no fuels cells, no hydrogen.
That's just what Energetix Pnu Power have done, ultilising an aerospace component known as a scroll expander (also known as a spiral compressor) which, when operated in reverse, can do work such as generate electricity, from no more than a few cylinders of compressed air. And fronting it all at Intelec this year was none other than Neil Bright, ex Exide. When a batteryman gets behind a non-battery driven standby system, maybe you have to take a second look? Technically, it is not much more complex than letting the air out of a balloon and letting that air power a generator.
On detecting a mains outage. the system opens a fast acting solenoid valve to allow air from the cylinders to pressurize the system. The air then passes into the scroll expander, the heart of the Pnu Power system, where the expansion process turns a generator which provides power to the DC that can then be converted for any voltage requirements.
Being modular, many devices can be connected to a common energy store to meet increased power requirements.
Likewise, additional cylinders maybe added to scale up runtime and further compressors maybe added to boost charging.
Pnu Power is unique in being completely battery free. The scroll expander has a very light inertia and due to it being a positive displacement device. it can be run up to full power from standby in under 300 ms. This small run up time is easily bridged with a small amount of capacitors. This would not be possible with a turbine type technology due to the excessive run up times they require to avoid damage. The light inertia, combined with ultra-fast response time of the electro pneumatic regulator, enables the Pnu Power device to respond to step changes in power instantaneously by varying the control signal.
As well as its light inertia, the scroll has several key advantages over other expansion devices:
I) The scroll has a very few components which gives it very high reliability. By comparison, a reciprocating-type expander would require at least two cylinders/expansion chambers to enable it to start from any given initial piston position and valving to make it function compared to a scroll which performs expansion from a single inlet chamber and self valves as a feature of the eccentric motion of the rotor.
2) Scrolls can be designed to operate lubrication free. This greatly reduces the need for maintenance and also means no exhaust filtering is required.
3) Scrolls are surprisingly robust for their size and are capable of delivering high power densities by operating way above their inbuilt pressure ratio. Their tolerance of high starting torques and high speeds means that for scrolls weighing just 8 kg for example and having an internal volume of 2 litres, powers of up to 20 kW can be extracted- in short it has very high energy density.
A 2kw system has been evaluated by Eskom, the South African utility, which until now has used a mixture of valve regulated lead acid and nickel cadmium in the standby role. But because of the huge variation in climate across the nation, it is difficult to develop effective maintenance strategies for these battery types.
On average for current network performance conditions in Eskom, the cylinders of the CAES system need to be refilled 4 times per annum. This is done with either a mobile compressor or the cylinders are replaced. The VRLA system needs a first line maintenance cycle four times per annum to
top up electrolyte level and second line maintenance once a year involving visual inspection. Every five years. its state-of-health is determined by means of a discharge test.
Does it make economic sense? The lifecycle costs for a lead acid system versus a CAES system installation shows break even at year 12 when the batteries reach the end of their life. The CAES system requires refurbishment in year 10 when the power converter and electrolytic capacitors are replaced.
Another typical comparison is with a NiCd system at a lower power level of 0.6 kW for 12 hour standby. This would normally require an 82 Ah NiCd system. The alternative is a 7.2 kWh CAES system consisting of the 2 kW PCM and 16 cylinders each having a water volume of 80 litres and filled to 300 bar compressed air.
The Ni Cd system does not require a battery room, but only a battery cabinet. Commissioning is simpler than with a lead -acid ystem, since these batteries are supplied ready for operation. It requires similar maintenance cycles than that of alead acid system, but has a longer life expectancy. The lifecycle cost for a NiCd system versus a CAES system installation shows breaks even at year 15 when the batteries reach the end of its life. This comparison shows that the cylinder cost has a significant impact on system cost.
Eskom's experience showed that compressed air energy storage is a viable alternative to conventional battery storage for standby power in utility systems. Technical simplicity and low degradation of components give it high reliability. The system required almost no maintenance, but it needed to be refueled. In typical utility applications the energy storage equipment is in standby mode for most of its operating life and, therefore, low standby losses and start-up reliability are more important selection criteria. If it is sold well, many standby customers will find this something of a no brainer solution. Are we going to have to change the magazine's title?