Batterietagung was an advertisement to the superior quality of German education philosophy as much its fledgling EV industry, writes the Editor.
If you've ever wondered where some of the billion Euros Angela Merkel has poured into supporting advanced batteries and electric vehicles these past couple of years have gone, you should have been with me in Aachen this February. Merkel may not be the most popular politician in Europe at the moment, waving the finger of austerity and cutbacks at the rest of EU member states.
But my visit to Aachen was proof positive that Germany is spending to invest. The crowning glory of all this was a reception in the city's town hall, built on the foundations of Charlemagne's palace. For those who aren't historians, Charlemagne made Western Europe a force to be reckoned with 1 200 years ago.
It struck this writer that if Europe is to remain any kind of force at all, it has to retain some mastery of science and technology. That begins with people. And people need education, training and research opportunities. The fightback is in evidence in Aachen.
The focus of the reception was to award a prize for the best poster at the two day 5th International Symposium on Advanced Battery Development for Automotive and Utility Applications and their Electric Power Grid Integration.
It's hard to be politically correct about this: the Great Hall was overwhelmingly German and Caucasian. German money has not been spent building factories to make large format lithium-ion batteries nobody is buying. It really is investing in people and there were a good 500 German postgraduates to show for it.
And the two leaders in Germany's electrochemical revival, who should take a large part of the credit in nurturing them, were there to take a bow.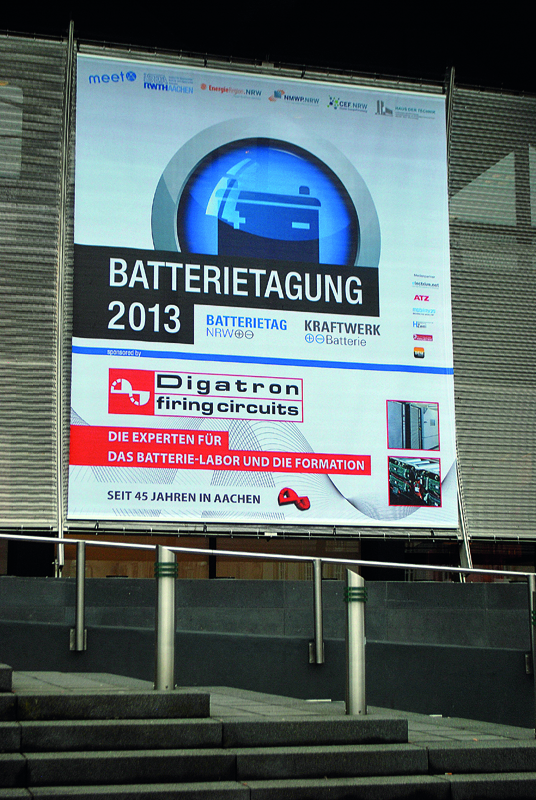 Martin Winter has held a chair in Applied Materials Sciences for Electrochemical Energy Storage and Energy Conversion at the University of Munster, since 2009 and Dirk Uwe Saur, who has a chair in Applied Materials Sciences for Electrochemical Energy Storage and Energy Conversion at ISTEA, part of the University of Aachen.
In simple terms, it seems like Winter takes care of batteries in automotive applications and Uwe Saur looks after stationary, but there's a lot of crossover. It's these two institutes, rather than battery manufacturing plants which are the power houses of Germany's electrochemical revival. Germany's advanced battery sector, such as it is, is a pipsqueak by comparison: Li Tec— the joint venture between the German conglomerate Evonik and Daimler— not seven years old and with a turnover of less than 12million Euros is probably the largest player. The company provides the 17.6kWh lithium-ion battery for the quirky Smart electric vehicle— hardly produced in the thousands.
But in Aachen,​ there's plenty of evidence of the city's involvement with battery and EV activity. Almost at the base of the supply chain (and a major sponsor of Batterientag) is Digatron, whose test and cycling equipment seems to be the first choice of the Aachen firms. Tony Schroer, Marketing and Business Development Manager, was more than happy to open the workshop doors in this the company's 45th year of operation.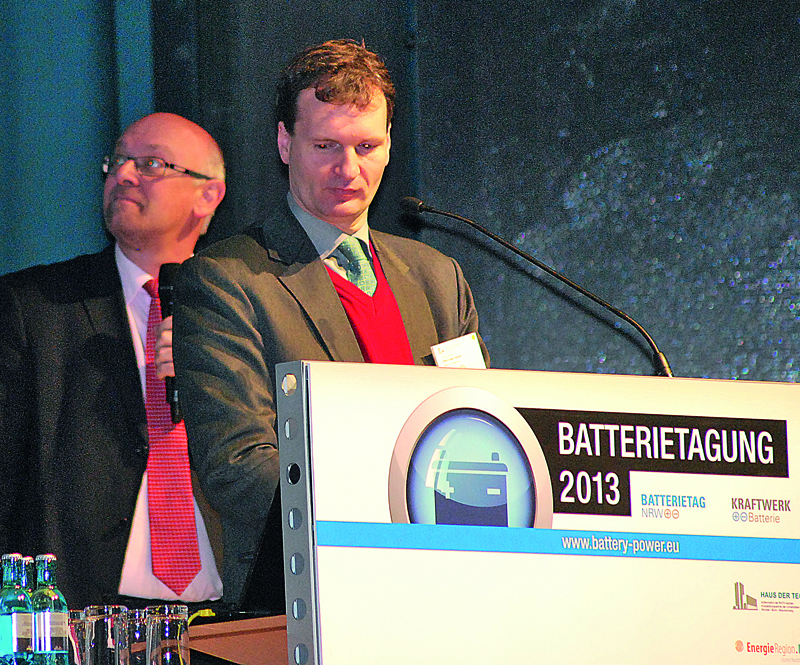 And ISEA, part of the University, roughly translated as the 'power and electric drives institute'— where Dirk Uwe Saur is based looks like one of its biggest customers. Why? Because of the size, breath and depth of its energy storage group. As well as training engineers, the Institute carries out multi client battery evaluations. The main building is surrounded by a two story ring of Portakabins, each one its own fireproof facility, equipped with environmental chambers and cycling equipment, providing secure and confidential facilities for those needing to evaluate batteries.
The group can carry out just about any kind of battery evaluation, from characterisation of batteries in a wide current and temperature range with regard to electrical performance and life time, to consultancy on the design of battery systems, integration into the application, appropriate charging regimes and charger selection, as well as on suitable monitoring and fault diagnosis.There's a full battery post mortem laboratory to discover the causes of cell failures.
Aachen is also the multi-national headquarters of FEV, the global developer of both conventional and electric drive trains. ISEA not only opened up its doors but its collaborators did so as well. It was hardly surprising to learn of the competence the FEV company has built up in the past few years as battery expertise has flowed out from the electrochemical temples and into the auto industry proper.
The company has developed a plug-in hybrid electric car based on a Fiat 500 chassis using a 12 kW lithium-ion battery and a 20kW range extender based on a Wankel (rotary) engine.
In addition the company has developed its own BMS system called Liion Man for rapid prototyping of battery management. FEV's battery test bench can carry out performance and abuse testing on packs up to 160kW at up to 800V at temperatures between -30ºC and +85ºC.
And it would be amiss of BEST to forget Ford Aachen, the only major research centre the US owned company operates outside of America.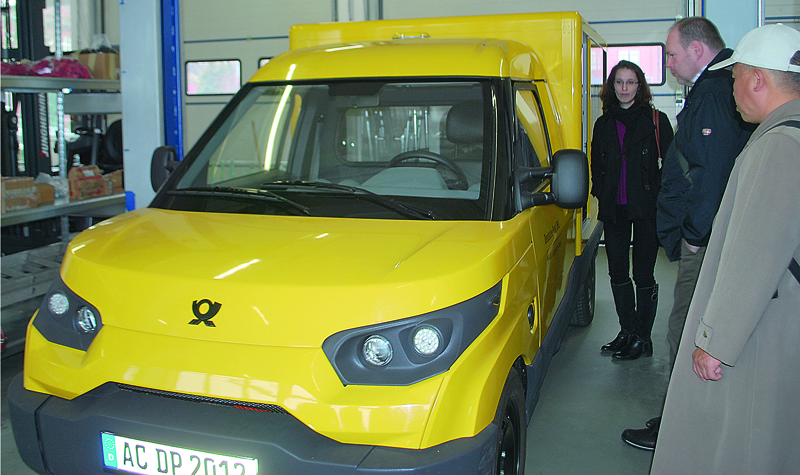 But the city has generated electric vehicle builders on a more modest scale. Take StreetScooter another spin-out company from the University of Aachen whose first vehicles are out on the road in Germany for the first time this year and are not actually scooters. The output is in fact a small electric delivery vehicle with a range of about 120kM.The company has a contract to build to pilot vehicles for Deutche Post and they should start going into service this July.
The interesting point about StreetScooter is the way it was developed. The consortium was founded in 2009 with EU funds. More than 80 companies took part in the StreetScooter's design and engineering, co-creating, and collaborating from scratch. Not a single large brand was involved, and many were small- and medium-sized firms. The process effectively turns traditional car development on its head. Instead of one manufacturer dictating its designs to suppliers, all the companies had equal status, and could provide input. And the price tag on the vehicle (without the battery) is remarkably low— around US$6 000. Today automaking is dominated by a dozen global brands. Tomorrow might just be different.
Whatever road vehicle electrification takes— microhybrids, pure EVs or otherwise, Germany will have created a workforce capable of contributing to its development and innovating. German automakers will not have a skills shortage of battery experts nor a shortage of electrochemistry tool makers.
It's better than having a series of lithium-ion lines built, with no orders to justify them running.