A report by Anthony Price on NGK's award-winning new manufacturing and assembly plants in Japan, which will produce 65MW of sodium-sulphur batteries each year.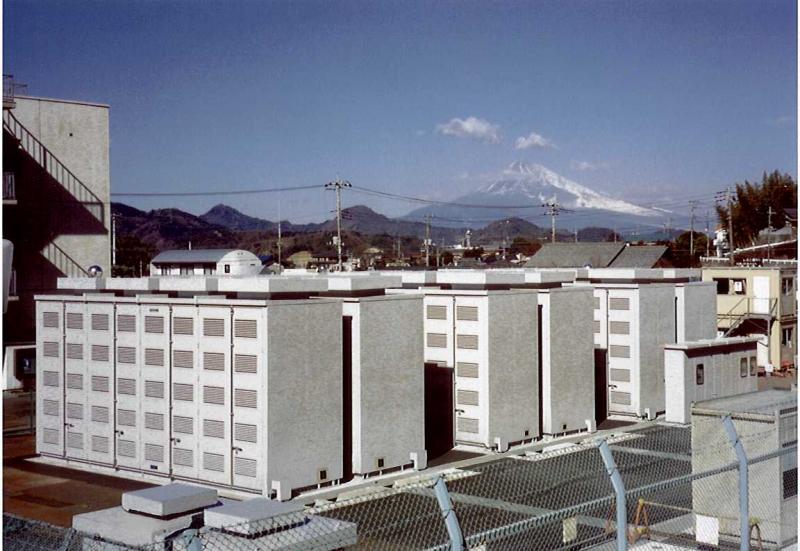 Tokyo Electric Power Company (TEPCO) and NGK Insulators Ltd received the Okochi Memorial Special Production Award for the development of the sodium-sulphur (NAS) battery in March 2004. The award is made annually for the most significant achievement in the fields of production engineering and technology, and commemorates Dr Eng Masatoshi Okochi, who died in 1952. NGK recently commissioned manufacturing and assembly plant and associated production facilities to produce up to 65 MW/year of its NAS system. The company anticipates an increase to about 200 MW/year by the end of this decade as the market expands.
NGK has a long industrial pedigree in ceramics and industrial goods. Its Power Business Group is well known in the power industry for its transmission insulators and transformer bushings. Other business groups produce ceramic products for the automobile, electronics and waste treatment industries and provide engineering services for water treatment facilities.
Although the sodium-sulphur battery story begins with electric vehicle development in the 1960s, the involvement of TEPCO and NGK in stationary applications started in the mid 1980s. At that time the Japanese power industry was experiencing very high growth rates in its summer peak load as a result of the widespread and growing use of air conditioning. Managing generation to meet this peak demand was a challenge, and several Japanese power companies developed pumped storage plants as an efficient means of ensuring full baseload utilisation of their nuclear plants, with a corresponding lower use of peaking plants for daytime use. TEPCO began looking at alternatives to pumped storage, as it was becoming increasingly difficult to develop new sites for such facilities. The company identified sodium-sulphur as the most promising utility-scale energy storage technology, and started an extensive R&D programme in conjunction with NGK and others. NGK applied its expertise in the design and manufacture of high performance ceramics to establish a commercial NAS battery production line.
Unlike other batteries, which have solid electrodes and liquid electrolytes, the NAS battery uses electrodes of molten sodium and sulphur with a beta-alumina electrode between them. At the high temperatures inside the battery (about 290-350ºC), the beta-alumina becomes an electrical conductor and allows sodium ions to move through it, completing the electrical circuit. NGK developed a high conductivity beta-alumina tube, and the lower resistance of successive models has contributed to the improved performance of the present cell, which is approximately 500mm high and 90mm in diameter and rated at about 630 amp-hours.
In April 2003 NGK opened its new NAS manufacturing and assembly plants in Nagoya and Komaki in Japan. Nagoya and Komaki are about 10 miles apart and the plants are operated as an integrated facility.
The key components of the NAS cells are manufactured in commercial- scale facilities in Nagoya. A high-purity alumina powder, sodium compound and magnesium compound are milled together, mixed and spray dried.
The spherical granules are transferred into a moulding press and formed into a test-tube shape, using pressures exceeding 2000 bar. High-purity materials are necessary to ensure high conductivity of sodium ions and to guarantee dimensional stability throughout the design life of the cell. The ceramic powder is sintered at 1600ºC in a process which takes about 20 hours, and up to 10,000 tubes can be produced each week. The new furnace built for this purpose has been designed both for high-quality output and for improved energy efficiency.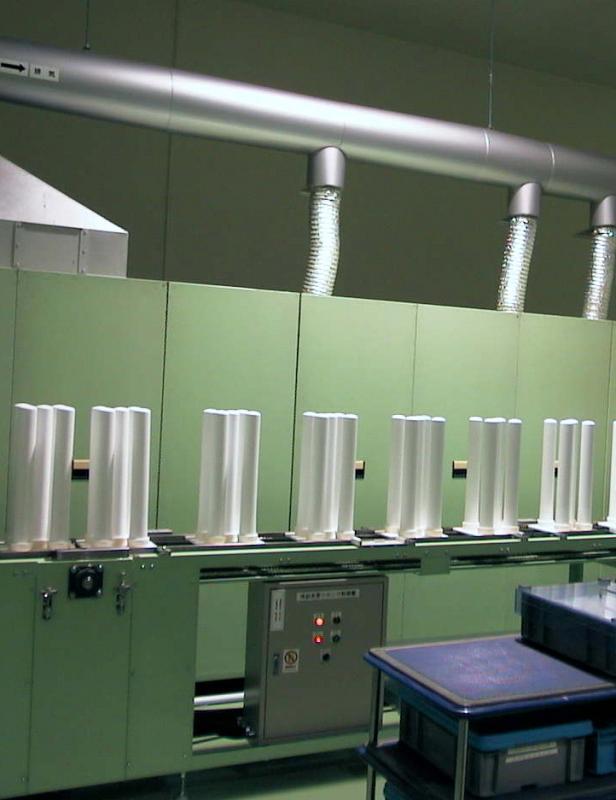 In fully automated and parallel processes, sodium cartridges are filled with the liquid element under a blanket of inert gas. Sulphur is injected into a carbon felt, which has been moulded to the correct dimensions, to form the positive electrodes. The sodium cartridge forms the cathode and the sulphur is the anode. These three key components-the two electrodes and the electrolytes-are then ready to be transported to the new assembly plant at Komaki.
The beta-alumina electrolyte tubes are trimmed, cleaned and inspected before being bonded to the other cell components. Again, fully automated processes add to the high quality procedures. CCTV is used for visual checks, and pressure tests are employed to ensure each tube is sound.A ceramic electrical insulator is sealed to the open end of the tube, and a safety tube is inserted inside the beta-alumina tube to reduce the amount of sodium and sulphur that could react chemically if the electrolyte tube was damaged. The safety tube limits the amount of sodium to the minimal quantity contained in the narrow annulus between the electrolyte tube and the safety tube.
In one of the few manual operations in the plant the sulphur electrodes, the beta-alumina tubes and the sodium cartridges are then united before the components are welded together with an electron beam and the cell terminals fixed to the top of the cell. Four cells are joined together before a final electrical inspection at operating temperature. The cells are then placed into the module assembly.
Modules contain 320 or 384 cells, placed inside a double-walled, thermally-insulated enclosure. Cells are closely packed together with an interstitial sand filling which acts both as a packing material and thermal insulation. Heating elements, which maintain the high operating temperature when in use, are included at the bottom and sides of the module enclosure. An automatic welding machine connects the cells, and fuse links are included in the internal wiring in order to protect the battery module when it is in service.
A vacuum is created between the inner and outer walls of the enclosure to minimise heat loss. When used in a full discharge peak shaving mode the battery is likely to be kept warm by its own internal heating. In a power quality mode, the standby heating losses are about 5% of rated power.
Finally the whole assembly is put through a complete discharge/charge inspection, before the completed modules are delivered to the customer's site and installed into a typical electrical equipment enclosure.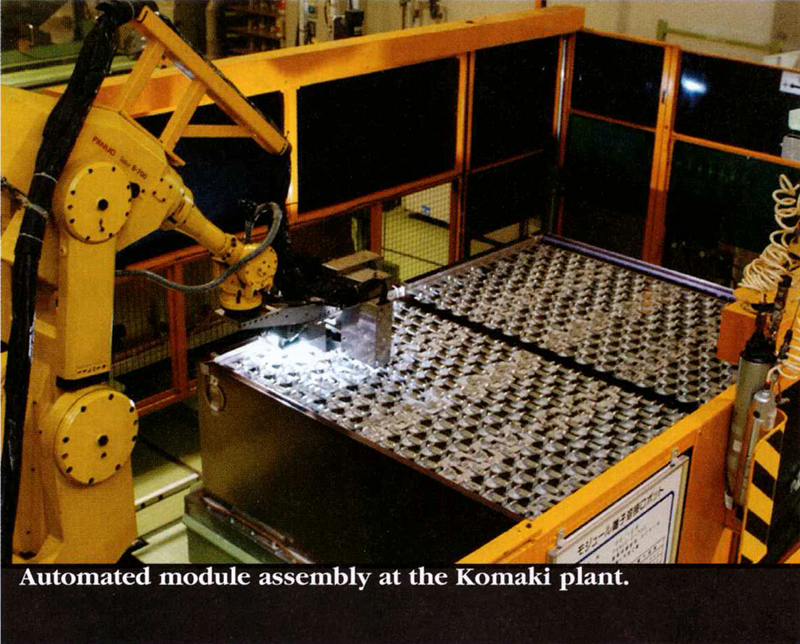 NGK currently offers three NAS module products. The cells are ranged in either in a series-parallel layout or all in series, with variations depending on the application of the module. The bulk energy or peak shaving modules have a nominal DC voltage of 64 or 128 volts, a nominal rated power output of 50 kW-ac and an energy capacity of 360 kWh-ac (320 cell modules) or 430 kWh-ac (384 cells). NGK also offers an alternative module, specifically designed for short-term, pulsed power applications, such as power quality. In this module, 320 cells are wired in series to give a nominal 640V DC. This module's nominal power rating is 50 kW, but it can be discharged at up to five times its rated power for short periods. This is referred to as a 'pulse power capability'. Various trade-offs apply to pulse power level and duration, and also to nominal power duration discharge. This characteristic makes the NAS battery a good candidate for applications close to a consumer site where the battery can be used for daily peak shaving, and can also fulfil the requirements of a power quality device.
NGK's team has established a very competent and efficient manufacturing process and produces an interesting energy storage product.
The NAS battery has a very strong technical pedigree and, under TEPCO and NGK's stewardship, it has established a reputation for reliable and competitive energy storage. As at April 2004 NGK has deployed more than 88 projects, representing more than 66 MW of capacity. Out of these, 36 projects are rated at 500 kW or more; two earlier projects are rated at 6 MW and 48 MWh, and one recent project is rated at 8MW and 64 MWh.
The management at NGK are optimistic that they can keep their plants busy, as NGK had no difficulty in securing buyers for its output last year. In addition to the original markets for load levelling the battery has expanding applications for power quality, ancillary services and the renewable energy market.
Individual staff are confident that their product is a world beater, and NGK is now planning to expand its customer base to include utilities and other large users of electrical power outside Japan.
With one demonstration project operating in North America, NGK wants to achieve more sales there and then open up the market in Europe. NGK and TEPCO have taken a long-term view of the utility scale energy storage market. They have invested significant sums of money into their advanced manufacturing and assembly facilities and, with proven technology, they are now ready to be a major supplier of energy storage systems across the globe.