Amid the plethora of lithium-ion battery testing systems devised to make the process of determining if a battery is ready for recycling or second use it can be easy to think "so what's new?" A Massachusetts, US start-up believes the answer lies in ultrasound. BEST speaks to Titan Advanced Energy Solutions' founder Shawn Murphy to find out more.
Demand for lithium-ion batteries shows no sign of slowing— but with questions over the efficacy of the materials supply chain, the need to establish a 'circular economy' starts to be more than just an industry buzzword and becomes a mounting necessity.
According to London-based storage recycling research group Circular Energy Storage, 1.2 million tons of lithium-ion batteries will have reached end-of-life within ten years. The group estimates that in 2030, recycling facilities could recover 125,000 tons of lithium, 35,000 tons of cobalt and 86,000 tons of nickel.
Additionally, industry analysts, WoodMac believes lithium-ion battery recycling will not reach maturity until 2030.
Step forward Titan Advanced Energy Solutions. The start-up's mission is to provide real-time intelligence on a battery's state of health (SoH), state of charge (SoC) and safety profile in a bid to keep batteries from landfills and ensure they are part of the much-vaunted circular economy, which will require the lithium-ion batteries of tomorrow to be repurposed, reused, or recycled.
Last November, the company closed a $33 million Series B round of funding to aid plans of accelerating the industrial-scale deployment of its lithium-ion battery diagnostics and battery sensing/management technologies. The company's Series A funding round netted it $10 million in 2019.
The company's funding to date includes nearly $1.1 million from the US Department of Energy last August. The cash was earmarked to develop an early warning system for lithium-ion batteries using ultrasound technology that could detect abnormal and hazardous battery conditions in real-time— hours to days— ahead of a dangerous situation.
The funding is the culmination of five years of hard work by the firm's founders Shawn Murphy and Sean O'Day (main image from left), who have steadily been engineering their breakthrough technology.
A new way of thinking
The idea to use ultrasound in determining battery health, capacity and SoC was first developed by the two technology entrepreneurs in 2016 when Titans CEO and CTO Murphy and its CCO O'Day examined battery diagnostics and management technology and asked: "Isn't there a better way?"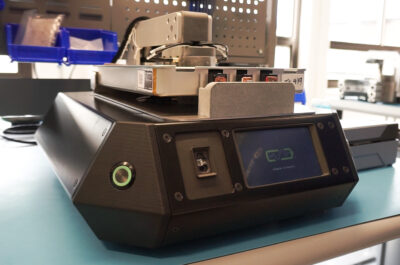 Titan now has more than 40 scientists, engineers, technicians, and product developers working on its battery management systems, which are designed to actively manage lithium-ion batteries in a broad range of applications from battery factories, electric vehicles, laptops, phones, energy storage systems and battery recycling.
Titan's battery diagnostics technology determines, within seconds, whether a battery is ready for use in a second-life energy storage system or needs to be recycled.
Today, Titan's solutions are being co-developed, tested and used by global auto manufacturers, multinational energy storage integrators and consumer electronics manufacturers in the US and Europe.
Interpreting

battery changes
Simply put, the technology works by passing an ultrasound signal through the cell or module. The signal changes depending on the state of the battery (charge, health, degradation products), which directly influences the speed of sound and frequency of the propagated signal. These changes will affect the reflection and transmission coefficients of the battery and its time-domain characteristics (e.g. amplitude, pulse length).
The mode of propagation is dependent on the application, such as static— where it is used as a battery diagnostic tool—, dynamic or an ultrasonic battery management system (U-BMS).
The company looks at those signal responses in many frequency ranges— from 500KHz to 5MHz—, temperatures and energy states. It then employs signal processing, machine learning (ML), and deep neural network mathematical methods to determine SoH, SoC, outgassing, swelling, and other internal battery defects.
The above measurements allow for early detection of thermal runaway and outgassing; key parameters in the firm's claims of increasing usable capacity/range by around 15%, and 50% increases in a battery's cycle life.
While the battery-dependent speed of sound through the cell or container—e.g. 1,200 m/s, which is slow compared to steel (about 6,000 m/s)— suggests a lot of space or liquid in the batteries, Murphy says the system treats it as an effective solid medium with an equivalent speed of sound.
Depending on battery size, it takes from three to 18 months for Titan to characterise a client's product(s).
There are many mechanisms at play within a battery, with velocity (time-of-flight) and frequency the most common ways to interpret changes in the medium, says Murphy. "The timing of the signal is based on the acoustic signal time-of-flight (ToF), which will change depending on the container/casing construction and the state of the battery. This variable is determined during the characterisation process by separating the response of the container walls from the response of the charging/discharging battery."
A typical characterisation of lithium-ion chemistry involves the study of acoustic parameters (such as transmit excitation and signal processing) for variable SoH, SoC and temperature readings.
The company has demonstrated the technology on NMC 622 and 811, LMO, and LFP lithium-ion batteries, as well as NiMH batteries. Murphy says the focus is on prismatic and pouch cells and modules, but the company has demonstrated the system on cylindrical cells as well.
The question then, is how does the construction of the cell affect the procedure and the interpretation of the readings? For instance, a spirally wound cell or a prismatic or pouch construction.
If cell construction of the battery is a pouch and/or prismatic variety there should be no problem in taking an accurate reading, says Murphy.
"Construction of the cell will affect the propagation of acoustic waves," says Murphy. "Each type requires a different approach to interrogate the medium and interpret the results. During the characterisation of the module or cell, we go through a very careful and thorough analysis where placement, coupling, quantity, and frequency of the transducer are determined for a given client. This is a cost-benefit exercise regarding sensor to cell or module ratio."
When asked if the container material and battery casing thickness would have an impact on the signal's quality, especially as this is variable, and often self-constructed by the final user, Murphy says it has little or no impact on the signal and is accounted for in the characterisation of the battery, which is a multi-month process.
"Our technology utilises sound in the 600kHz to 4MHz range and it typically comes into contact with the cell or container (which has a high speed-of-sound that can be equal or above 1,200 m/s), says Murphy.
"That way we can reduce issues associated with the acoustic impedance mismatch and use a short enough wave to gather high-resolution information about the state of the battery. So far with over 30 different types of batteries and modules, we did not see any interference."
However, cylindrical cells do not have a good sensor-to-cell ratio to be economical.
"In current configurations, which we are working on with EV OEMs, the electronics are placed at the end of the module or on the top, thus it is not interfering with our signal," says Murphy. "However, there are module designs that are not friendly to our signal."
Battery measurement methods
There are several methods of sending the signal through the cell or module— passing through both electrodes; the placement and number of sensors determining if the system observes small portions of the cell/module or larger areas. The signal from a sensor or set of sensors propagates through the whole cell. To create an image of the full cell area Titan uses multiple sensors and/or beam-forming techniques.
By passing the signal through the whole battery, the system can accurately measure the SoC of a cell or module to about a 0.5% error rate. As lithium ions intercalate into the anode the density of the battery changes, thus becoming stiffer. This change is clearly visible and understood by using ultrasound, says Murphy.