John Miller looks at the numbers that make SuperCaps the best choice.
Whenever a new energy storage technology is reported, almost inevitably the first questions asked, and the first data cited, focus on its "Watt hours per kilogram" (Wh/kg) figure. This refers, of course, to specific energy, a metric that dates historically to the days when very heavy batteries provided almost the only means available to store electrochemical energy. Despite, and almost in defiance of the emergence of newer energy storage technologies however, specific energy continues to be referenced without further consideration as the most important characteristic of any new technology, the gold standard of its worth or value.
To my way of thinking, however, this is all wrong. Specific energy is only one of many metrics by which the performance of storage technology can be measured, and in fact it may be one of the least important when it comes to assessing the performance for use in today's newest and most innovative applications.
In what follows I would like to discuss four different metrics that relate to the properties and parameters of electrochemical energy storage technologies, whether these be batteries or capacitors. The parameters or properties are: energy, power, life, and cost. The performance metrics related to them are critical for understanding energy storage technology as it is now applied in practice.
Energy
Specific energy, although the most commonly used metric, is really the least useful. It refers to, on a mass basis, the amount of energy that can be delivered during discharge, which in many contemporary applications is far less important than the amount of energy that can be stored during charge. The most obvious case in point here is in gas-electric hybrid vehicle applications during a stopping event. A far better metric for energy as a parameter would be energy per volume or energy density, as discussed recently by Gogotsi and Simon in Science (November 18, 2011, pp. 917-18).
Compared to volumetric energy, gravimetric energy density is nearly irrelevant. If a storage system is too large to fit in a cell phone, laptop computer, or city transit bus, what it weighs simply does not matter at all. Energy density, rather than specific energy, is what really counts in practice. It is correspondingly important, however, also to look at both the discharge energy density and the charge energy density at different rates. Some applications involve storage system discharge while others involve charge. One would like to know, for instance, how much energy can be stored at different charge rates or at different discharge rates, and one would like to know this on a volume basis.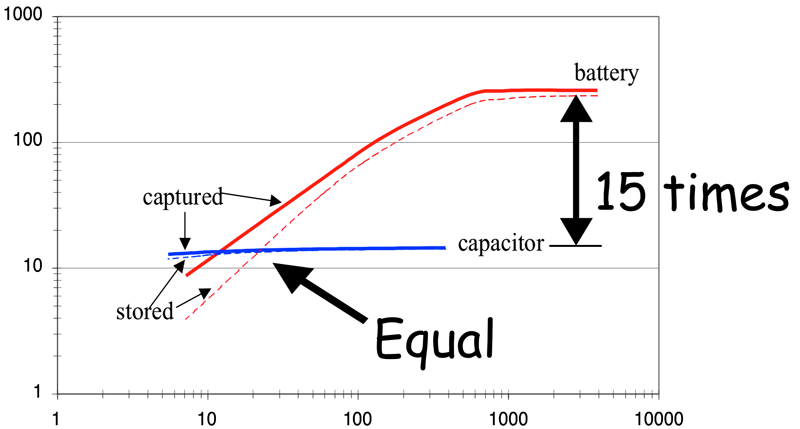 Charging performance: Figure 1 shows the specific energy of a 3,000F capacitor cell compared to that of a 12Ah lithium-ion battery cell for constant-current charging (y-axis = specific energy [kJ/kg] x-axis = charging time [s]). One can see that with long charging times the battery has much higher specific energy, while at shorter charging times like 20 seconds, the energy stored by both technologies on a mass basis is identical. At still shorter times, in fact, the capacitor has higher specific charging energy. But that is not the total story. When we look at charging efficiency (Figure 2), we see that at 20 seconds the capacitor is above 90% efficiency, while the battery is at only about 60% (y-axis = efficiency [%] x-axis = charging time [s]). This suggests that in a repetitive process the battery will be in far greater need of thermal management (for instance, an active cooling system) than will the capacitor, effectively reducing the specific charging energy of the battery system still further. This certainly demonstrates that during charging and for charging times of perhaps 100 seconds or less the capacitor has higher specific energy than the lithium-ion battery.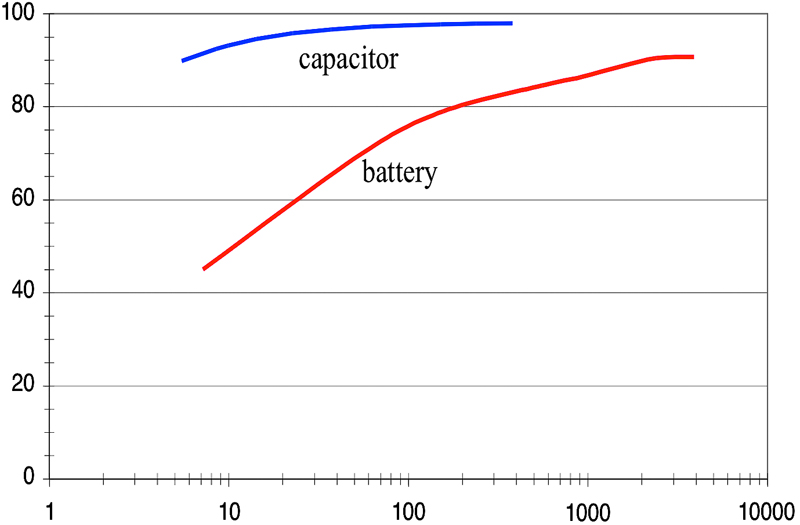 Ultimately, the most comprehensive energy parameter would be the charge and discharge energy density, both at various rates and over the range of temperatures under which the storage system will be operated. This would provide a complete picture of the energy characteristics of a storage technology over its specified operating temperature range. The specific energy figures most often reported for the discharge of a storage technology are really of quite limited value. Most important is the energy density for both charge and discharge at various rates and over the entire anticipated operating temperature range.
Power
Although specific power, measured as kW/kg, is what is most popularly reported, this is very possibly the least useful of all metrics. Specific power says nothing, for instance, about volume or about the efficiency of this operation or about how many times this can be done or whether this relates to charging or discharging.
One often sees so-called Ragone plots used to express the power-energy relationship of a storage technology. Invariably these Ragone plots are on a mass basis and for a full constant-power discharge. The relationship thereby described, however, is not only of very limited usefulness, but is in fact completely irrelevant with regard to the many evolving energy harvesting applications that key on charging rather that discharging. Energy stored during charging, not at all shown by the standard Ragone plots, is a most critical characteristic.
One particularly senseless and perverse power metric that is also often reported for energy storage technology, although it makes precious little sense to do so, is the matched-load power, i.e., discharging the storage technology at its maximum possible power. In a matched load the efficiency of energy transfer is exactly 50%. One-half the energy is delivered, while the other half turns to heat in the storage system. Matched loads are thus not only low in efficiency, but for applications operating only in the top half of the voltage window, they deliver absolutely no energy (remember that voltage drops instantly to one-half its original value when connected to a matched load). Reporting matched-load power performance for an energy storage technology is thus simply misleading. This concept does make sense in some continuous-operation, non-storage applications like driving loud speakers with a power amplifier where efficiency is not critical. But in applications involving stored energy, where efficiency is usually paramount, matched load metrics have utterly no helpful information to communicate.
The metric of real value for assessing storage system power, rarely if ever listed, is not the power itself but rather the response time of the storage system. This should be reported at different temperatures, including whether it is during charge or discharge. Response time is defined loosely as how long it takes to fill the storage technology with energy, or to empty the storage technology of energy. Generally the quantity of energy considered here is 63.2% of the total amount that the technology can store. Thus approximately two-thirds of the energy in a storage system can be filled or emptied during its response time. The discharge response time of a battery technology is usually much less than its charge response time. For capacitors, charge and discharge response times are typically the same.
Response time as a metric enables one to easily assess more critically the performance of an energy storage technology over a broad range of applications. For electrostatic capacitors, film or ceramic for instance, the response time might be 10-9 seconds or less. Electrolytic capacitors, the type commonly used to filter 100 or 120 Hz ac into dc power, might show response times of as little as 10-4 seconds. The response time of electrochemical capacitors runs typically about 1 second. For lithium-ion batteries, on the other hand, the figure expands to more like 100 seconds or greater, and for lead-acid batteries to beyond 10+4 seconds. Such characteristic times give us an idea of what sort of power performance can be expected from each of the technologies in various applications.
The system size needed of a specified storage technology in an application can be readily determined by comparing the response time of the storage technology to the duration of features in the power profile of that application. For example, if the application has charge or discharge features in its power profile that last for 100 seconds and if the storage technology has a response time of 10 seconds, then it is clear the storage technology can be fully charged/discharged when used in this application. Thus, one need only calculated the total energy in that feature of the power profile and use this to size the storage system. On the other hand, if the storage technology has a response time of 100 seconds and the power profile feature duration is 10 second, the storage system will need to be oversized by at least ten-fold to even function, and probably more likely oversized by 30 to 50 times to achieve acceptable efficiency.
Storage technology response time during both charge and discharge over its rated temperature is really the most important metric related to power. No normalisation by mass or volume is needed. One simply needs to know the minimum time it takes to fill and/or to empty the energy from the storage system. Storage technology response time(s) with the application power profile represents basic information used to engineer any power system having storage.
Life
One other of the most popular metrics, but just as useless, is cycle life, measured in numbers of charges and discharges. For batteries this is given in numbers from hundreds to thousands. For capacitors the comparable numbers will be in hundreds of thousands to many millions or even billions of cycles. Such numbers tell us simply that the technology does in fact cycle, while they say nothing at all about the rate at which this can occur, the fraction of the total energy removed/replaced during each cycle, or the efficiency of the cyclic process. More useful would be to look at "energy fade" or, still even more useful, the "response time increase" during cycling. These supply useful answers to the question of how a device is ageing.
More useful, perhaps, would be a metric that addressed the response time increase at different temperatures and operating voltage levels. The most useful metric would be the life distribution of the technology, reported as a function of temperature and operating voltage. Life distribution helps in understanding, for instance, whether the storage technology failure rate is increasing or decreasing with time and, more dramatically, whether one should expect to see catastrophic failures. Where cycle life is simply a number that says nothing about the performance of the storage technology during cycling, life distribution is the key to a much more sophisticated estimate of the technology's ongoing functioning and most useful when engineering a storage system to meet reliability specifications.
Cost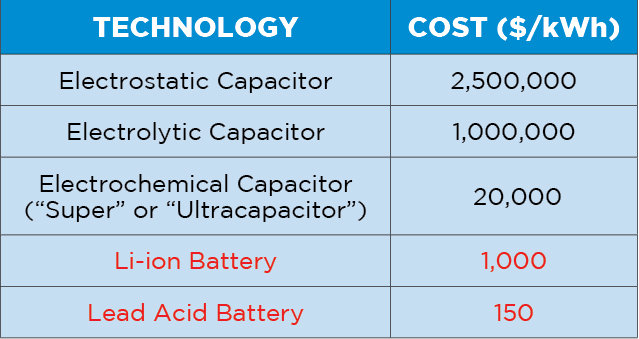 The most popular metric now in use for measuring storage technology cost is "cost per unit of energy," $/kWh. Table 1 lists three different capacitor technologies and two battery technologies, using dollars per kilowatt hour as the cost metric. Thus measured, the cost for electrostatic capacitors, e.g., film capacitors, is $2.5 million per kWh. Electrolytic capacitors, which are in almost every piece of portable electronics available today, cost $1 million per kWh. Curiously, despite such extremely high costs these technologies are still in comprehensive use today. Much lower in cost, a mere $20 000 per kWh, are electrochemical capacitors ("supercapacitors or ultracapacitors"), an amazing five-times cheaper than the more popular electrolytic capacitors. But the stark comparison to lithium-ion batteries at $1 000 or lead-acid batteries at $150 per kWh, suggests that $/kWh is not actually a metric very highly valued in some decision making.
A better metric for storage technology might be cost per unit of power, $/kW for instance, but while this would be more useful than dollars per unit of energy, it still has only limited value. Definitely better as a metric would be storage cost, i.e., what in fact are the costs to store energy with a given system. Better still would be the life-cycle cost, i.e., the cost of storing energy over the life of the application. Finally, the ultimate metric, the one I believe we should be using, is the payback period: what is the payback period for the storage that is used in an application? If the payback period is less than the life of the storage technology in that application, the choice to add storage is blatantly obvious. If, on the other hand, the payback period for the storage technology is longer than the life of the storage system or the application, then why add it? Rather than quantifying cost as $/kWh, which helps little in understanding the value of a storage technology, I suggest that the payback period provides the best indicator of practical value.
We have now discussed four different performance metrics for electrochemical energy storage technologies related to the parameters of energy, power, life, and cost. In summary, for the first of these the optimum metric for energy is the charge and discharge energy density (per volume) over the range of temperatures at which the technology will be operating. For the second, power, the most important metric is response time, that of both charge and discharge over the operating temperature range of the technology. For life, life distribution at all rated temperatures and voltages provides information that enables one to perform reliability engineering. And finally, for cost the important metric is not $/kWh nor $/kW but rather the storage system payback period. These four are the metrics we should be using to compare and to further exploit electrochemical energy storage technologies.