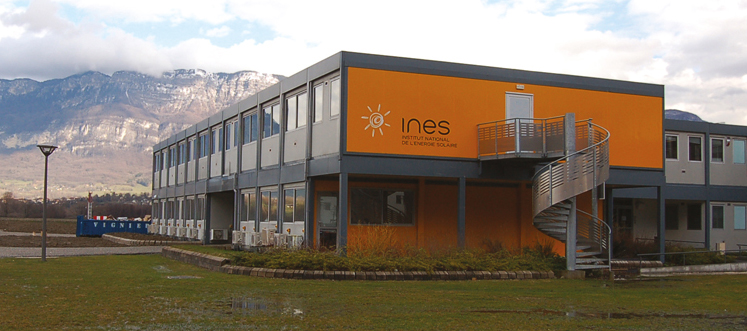 It's four years since the Editor paid a visit to Caderache in the South of France to meet the team of young ladies who are making a fresh contribution to the development of lead-acid batteries and solar power. But now they have a new home and a much bigger team, and the world of photovoltaics is set to benefit.
I've always had my doubts about 'local government' – certainly in the UK, where the dregs of the business community and the peons of public service can barely run a waste collection service and local policing.
So how nice to come to France where the region know as the Rhône-Alpes has decided to throw a few million Euros into developing a new centre
of excellence in solar energy – the Institute National Energie Solaire (INES) near Chamb-eray, about 100km east of Lyon.
That's not too far away from Caderache, the somewhat secretive home of French nuclear research where Florence Mattera, Marion Perrin and Elizabeth Lemaire have been working until now. It makes a lot more sense to co-locate expertise in photovoltaics with expertise in energy storage, which is exactly what has happened.
The move took place towards the end of 2006 and, from what I've seen, we're going to see a stream of activity and intellectual property coming out of this place which could have major benefits for battery makers and PV protagonists alike.
The 'centre' of this activity is a collection of what we in the UK would call Portakabins – temporary buildings on two floors – but this is a facility which is growing fast. There are about 60 scientists here now and there will be over 200 in a couple of years. And flexibility in the architecture is almost essential because the laboratories themselves will provide the consumption for a PV-driven microgrid with approximately 200KVa of PV panels and a variety of storage systems – primarily lead-acid – because it's low cost – but in the future, increasingly, lithium-ion. What they are creating is a giant patch panel of buildings, PV arrays and storage systems.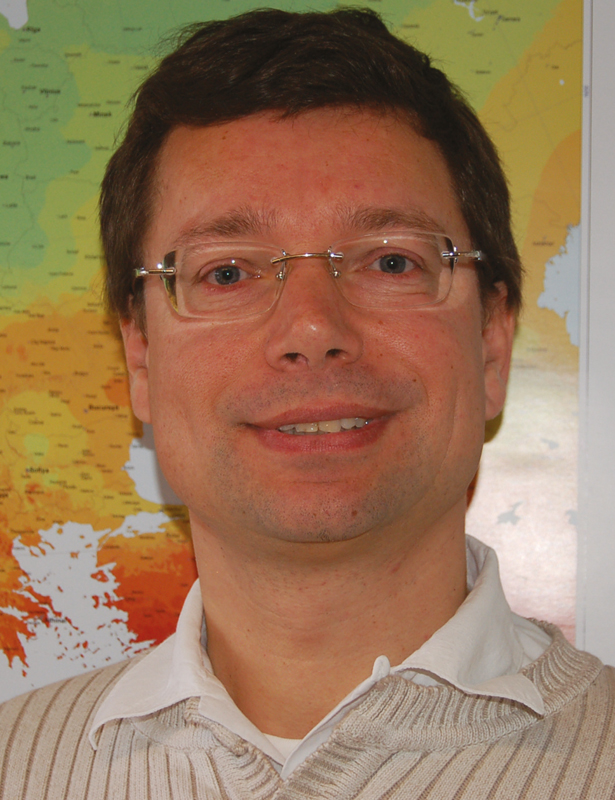 And according to Jens Merten, the 'chef du laboratoire', there are opportunities for other chemistries and other technologies to be evaluated – it's a little like the California Energy Commission energy storage demonstration set-up which BEST covered in our Autumn 2005 issue.
Merten, a physicist with a strong background in manufacturing PV film, decided that there was much more to do in the practicalities of establishing PV solar system in the two key areas – rural electrification projects in the developing world, and distributed generation in the developed world.
"Right now there are 120,000 users of PV systems in Thailand which doesn't work – they've got the wrong batteries," say Merten. But how many times have we heard that?
It's not simply about evaluating the right batteries. It's about setting up schemes to ensure that there is a technician to maintain batteries and systems, to explain to users the limitations of systems and so on. It's rural electrification and education. But it has to be paid for. And it's the batteries that will always cost more in the end, if the system runs for its lifetime.
Lead-acid battery companies have always been reluctant to do anything big here, because there's no money (or so they think) and it's always difficult to size the market.
Merten has his rule of thumb on this. With 2 billion people without electricity and an average of five people per household, and if you are able to service just 10% of that figure, there could be a market of 40 million customers; and with three batteries over a system lifetime, that's a lot of business.
There are more than business reasons to develop it. "If we don't help the rural poor in the developing world, they'll just migrate to the slum cities and eventually come to Europe, " says Merten. You'd never have imagined that batteries would form a brick in the wall of the immigration debate, but they do.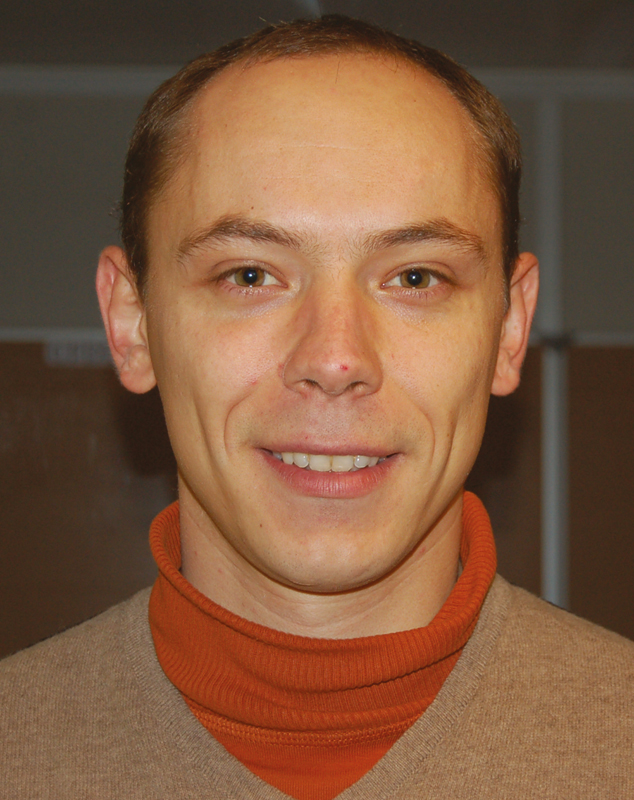 But it's distributed generation which has really caught the interest of the local regional government. There's a map on the wall of Merten's office which shows just how much solar radiation is useable in this part of the world. Stand-alone systems will be attractive, but a grid-connected system must be the way forward – a system which will enable energy stored in batteries to be re-injected into the grid. INES doesn't just idly talk about this kind of thing – they actually employ appropriately qualified engineers to think this through and design what's possible.
I met one of them – Frank Barruel – whose job it is to determine where on the microgrid one should connect the bi-directional inverters such systems will need – and how other electrical sources and sinks will fit into the system. Barruel's last project, in industry, was very similar: helping to design the vast power distribution systems that reside within the success story known as 'Airbus'. A microgrid is really not that different.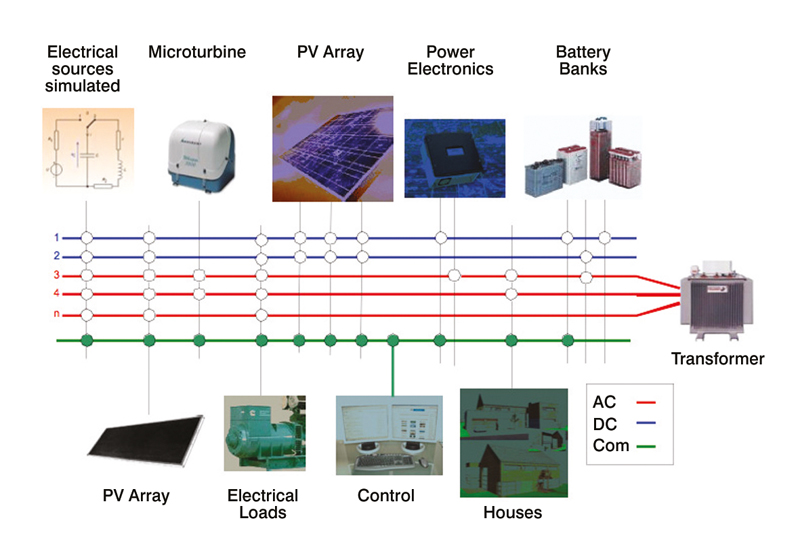 One soon begins to realise that there's nothing astonishingly new here – the power electronics, the batteries and the PV panels have all existed for a while. But there's precious little in the literature which will enable the average electrical contractor to work out how to connect everything together in an optimal way. This is what INES will be establishing. But there is much more than this to fix. You have to sell the concept to utilities.
Coupled with the fact that there is no provision for connecting distributed generation to France's power grids, you have something of a chicken-and-egg situation.
Much of Barruel's and others' work at INES is to work out whether existing grids could actually cope with power going back into the system. The good news is it can. And it can be beneficial to the system, providing reactive power and voltage stability in rural areas – saving money for EDF, the state-owned power utility. And, for the customer, no more voltage sags.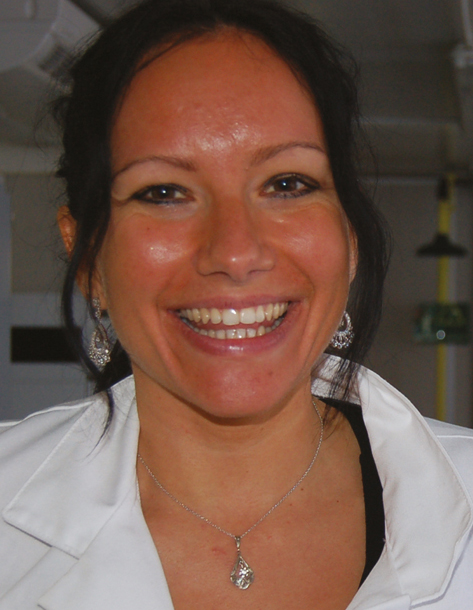 All of this hinges of having good energy storage systems to begin with. Florence Mattera, who heads the energy storage group, has expanded its activity considerably with a clutch of post doctoral students – there are now 12 in the team. At the time of my visit, Mattera's technicians were re-installing much of the battery cycling equipment, water baths, etc. into a new blast-proof bunker, specially built for holding a variety of battery chemistries.
As well as evaluating batteries, the INES battery team has been focused on the efficiency of charging; and it should be no surprise that connecting PV panels directly to batteries is hardly optimal. The group has been working on developing pulse charging technologies using both mathematical modelling techniques and experimental data. A paper was presented at 10 ELBC in Athens which shows that pulse charge and discharge regimes on lead-acid systems improve both capacity and ageing. This was explained to me in further detail by post-doc student Fathia Karoui, and it is exactly the kind of information the industry needs to know to get the maximum life out of lead-acid systems. But it's not just a finding – INES has a patent on its charging and discharging routines which they've successfully licensed to BP Solar, one of the biggest global players in photovoltaic systems.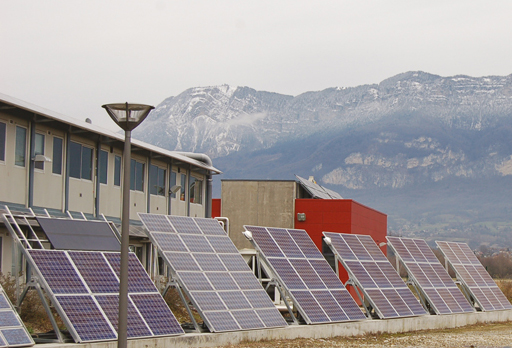 Once senses a certain camaraderie here among this group of young battery specialists. They are all very keen to make PV happen as fast as possible, and to make sure it is workable. The location of INES, set at the bottom of a steep valley in southeastern France, is a powerful reminder that climate change is happening. At the time of my visit (late February) the mountains should have a thick covering of snow. This year there has hardly been any, and the daytime temperatures have been in the mid teens.
Another recent recruit to INES is Dr Angel Kirchev – formerly with the Electrochemical group in Sofia. Kirchev is also able to roll out a practical development which the lead-acid battery industry should be beating a path to his door for – a low-cost (and we're talking pennies here) reference electrode which could be fitted to every cell to provide the perfect sensor for superior battery management.
"With such a device you've got control over the internal oxygen cycle," says Kirchev. "You have a much more exact measure of plate voltage. With this you can measure internal impedance better and you can have a better handle on thermal runaway – still a concern with lead-acid systems. Simple voltage and temperature measurements are not enough."
Mattera points out that while lead-acid is still important to INES, it's not the only chemistry they are looking at.
The INVESTIRE thematic network, which looked at the potential of various energy storage technologies, ably headed by Marion Perrin, came to a sound conclusion: lead-acid is certainly the lowest cost technology, but lithium-ion is the most reliable.
And in a country with a big player in lithium systems (SAFT) a number of collaborations are under way to determine the full benefit of lithium in both stand-alone and grid-connected systems. Capable of more than 1 million shallow cycles, the technology has been shown to be more predictable and more stable than lead-acid systems. However, there is so much attention to cell protection from over-charge and over-discharge that this does lead to significant power losses (as much as 11%), so the battery management still has to be optimised.
When one takes into account the up-front costs and the life of the total system (over twenty years) – when lead-acid batteries might have to be replaced several times – lithium-ion systems aren't that much more expensive, and may last the lifetime of the whole PV system.
A final validation of the contribution of PV and energy storage has to be building homes with such technology installed, and at this moment four such units (each of 40m2 floor area) are being built on the INES site. Each home will have a heating requirement of about 15kW and will have about 13kW of electrical energy storage, which will be provided as both lead-acid and lithium-ion systems. Architecturally it is also an opportunity to use new building materials in order to create the most energy efficient structures.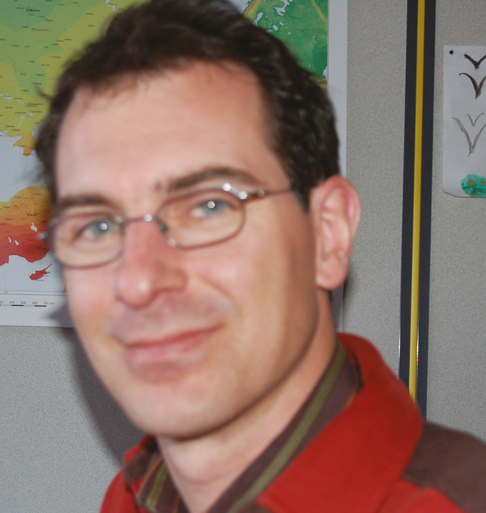 However these houses will never be occupied by people – they are just part of another mathematical model, in which energy demands for hot water, light and power will be simulated. It's all under the direction of Dr Benjamin Boillot who not only looks at the electrical issues of future home design but also at materials and their thermal properties. The homes will of course be extremely energy efficient, with triple glazing and ventilation to stop the building becoming stifling during the summer.
The homes will be connected to a mini grid – at this stage it is undecided whether each home should have its own storage system or one in common. The electric car is part of the dream here – there will be facilities to charge both cars and electric bicycles, and they even have plans to evaluate hydrogen storage. The experiments are likely to run for at least ten years – perhaps too long considering the urgency of the problem, but long enough to see how well all the components function together. There's a tremendous dynamism here and sufficient expertise to make batteries work properly in conjunction with PV so that the technology won't get bad-mouthed.
But is there time to disseminate all the findings to the government, the building industry, the battery industry and the public before the south of France – and indeed the whole of the Mediterranean coastal zone – becomes an inhospitable place to live? We can only wait and see.