A US Department of Energy funded programme has seen over 1 000 fuel cells deployed to telecommunication sites across America to demonstrate the usability and reliability of the technology as a backup power source. Ruth Williams reports on the progression of fuel cells in the United States.
It must be hard for the organisers of Intelec, the annual Telecom Power fest, to find much that's new and noteworthy on power sources. This year there was, but it was essentially economic, rather than technical. Whether it is a challenge to the dominant position of batteries and gensets remains to be seen.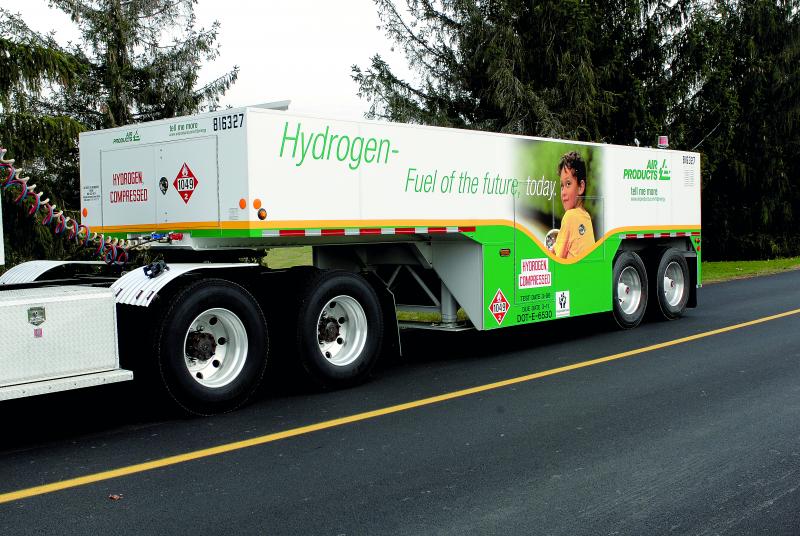 The barriers to acceptance on the commercial market for fuel cells have been cost, as well as the 'fear of the unknown' as opposed to the familiarity of generator sets. Now, thanks to a Recovery Act inspired programme, US companies have the opportunity to try out fuel cells at telecom sites, at a subsidised cost, to boost the numbers of fuel cells in operation thus increasing companies' familiarity with them.
This has the potential to change backup systems completely. Fuel cells could eliminate the need for diesel generator sets and reduce the number of batteries required at a site. Battery systems still need to be used in combination with the fuel cells, depending upon what an end‑user requires. A telecom site cannot be powered directly via the DC from the fuel cell, because power isn't available instantly. But the capacity in terms of available Amp hours can be reduced enormously, with significant savings in terms of footprint and cost.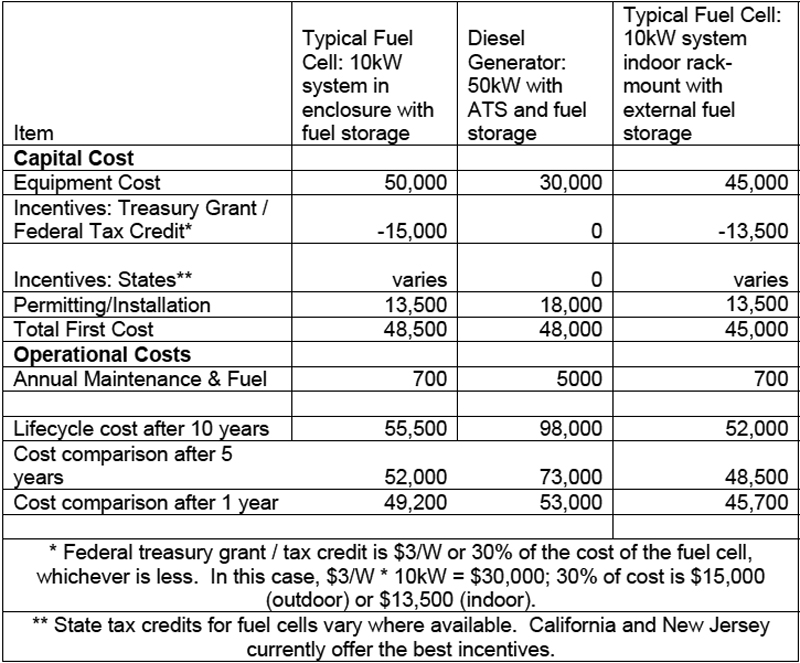 The initial capital expenditure of the fuel cells is offset by savings on battery packs, combined with lower operating and maintenance costs compared with diesel generators. Within the US, federal tax incentives are savings offered in the region of US$3 000, or 30% of the installed cost of the fuel cell, whichever is less. Varied state tax incentives are also offered to companies purchasing fuel cells.
These make the initial outlay for a fuel cell system comparable to that for a diesel generator set. Maintenance for a diesel generator is required quarterly and can cost in the region of US$5 000 annually, whereas a fuel cell requires only annual maintenance at a cost of around US$700.00.
These much lower maintenance costs, combined with lower installation costs, make the cost comparison after just one year lower than the cost of a diesel generator of the same power output. And after ten years there is a big difference of US$98 000 for a diesel generator with fuel and maintenance compared to US$55 000 for a fuel cell with maintenance.
While large-scale battery backup systems are bulky and heavy, and diesel generators, are noisy and emit fumes, a hydrogen fuel cell system can be situated anywhere, is silent and the only emissions are water and heat. Another advantage is the endurance of fuel cells against water, making them ideal candidates for use in areas subjected to heavy storms.
The only limitation to run time (and the overall amount of back up) is how much hydrogen can be stored at the site. The hydrogen needs to be stored in pressurised containers so the larger these are, the greater the cost. For this reason refuelling is seen as the preferable option with most companies offering 72 hours of back up power with an assurance of refuelling within three days to keep the cells running.
While fuel cell technology has been 'market ready' for many years it struggled to find a suitable market.
But the Hydrogen technology got a kick-start it sorely needed to accelerate the commercialisation and deployment of fuel cells. At the start of President Obama's first administration, the passing of the American Recovery and Reinvestment Act to restart the US economy awarded US$42 million to improve fuel cell technology and encourage uptake.
And a major beneficiary has been ReliOn — a developer and marketer of proton exchange membrane fuel cells (PEMFC) with over 1 500 fuel cell installations in 34 countries around the world.
ReliOn became involved with the DoE fuel cell programme following a solicitation put out by DoE under a programme called 'Market Transformation', it provides funding for commercially ready products to help them come to the markets by addressing non-technical barriers.
Mark Cohen, Vice President of ReliOn, explained the decision to participate in the programme: "We pride ourselves on making our products from a commercially based research and development focus, so we have stayed away from government funding for this reason. However, in 2008 we responded to a request for a proposal that the DoE put out which said 'if we gave you some funding, what could you do to put your product out in the market faster?'"
The funding from the DoE was used to deploy more fuel cells to ReliOn's existing customers. This was to increase the numbers of fuel cells in operation and demonstrate how efficient they can be. Working with customers such as AT&T and Sprint that already had fuel cells at many cell sites across the US, ReliOn was able to install nearly double the number of fuel cells for the same cost. Cohen said: "It has allowed the networks and carriers to have a larger base of fuel cells in their networks to prove to themselves it's a viable reliable option."
The response from customers has been the best that ReliOn could have hoped for, as Cohen explained: "They've said they want to order more now the programme has ended and they have seen the results of it. For us the best feedback is continued business rather than 'well thanks for the programme but we're not buying anymore.'"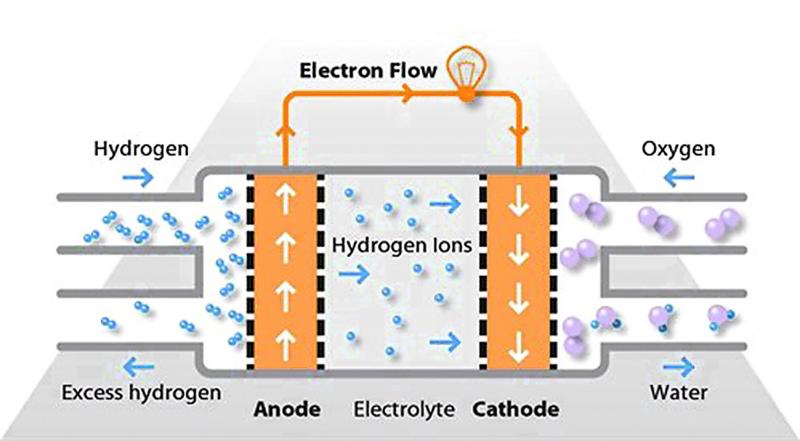 The idea of the programme is to get the technology or product to the market faster but also to enable other companies involved in building a domestic manufacturing and supplier base. ReliOn had had feedback from customers saying swapping cylinders was a downside of using fuel cells and limited their use "But if we could fill up a stationary storage tank – like one would with propane – then that would be an opportunity to grow the market." Said Cohen.
This was the catalyst for Air Products, a hydrogen gas supplier, to invest in a bulk supply system without DoE funding. Cohen said: "This is why this is effective as market transformation, it changes the game. It's doing a lot more than just demonstrating that something can be done, it actually deploys it."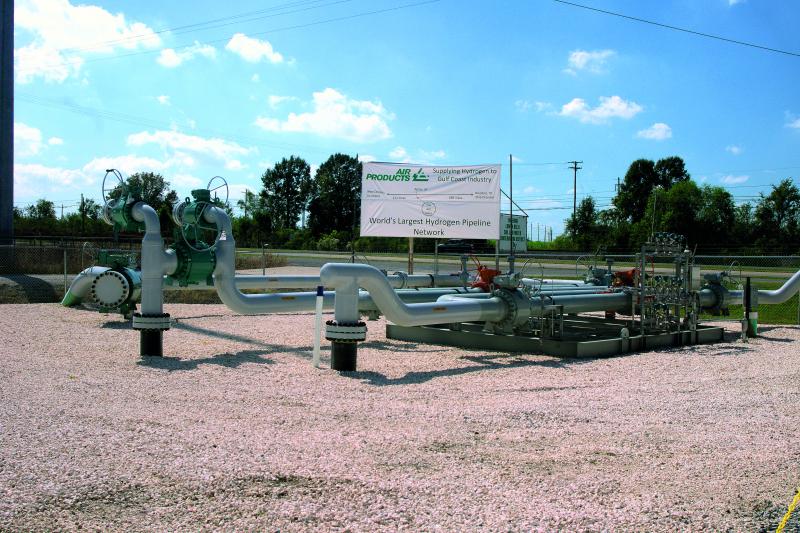 Air Products developed a model for bulk hydrogen refuelling which sees hydrogen cylinders remaining on site and refilled by a visiting fuel truck by re-pressurising the tanks to top them off. This bulk refuelling allows sites to run for several days on back up power.
The investment programme demonstrates the value of fuel cell technology and also demonstrates a commitment at government level to the technology. The market transformation is seen in action in the investment in hydrogen bulk delivery as implemented by Air Products.
It developed the short-truck bulk hydrogen refuelling delivery system to supply a wider range of sites, including remote locations, with hydrogen. It also extended its supply range in America by connecting two separate hydrogen supply networks with a pipe between Houston Ship Channel, Texas and New Orleans, Louisiana. This 180-mile segment brings 1.8 billion cubic feet of hydrogen each day to customers in Louisiana and Texas. There are more than 20 hydrogen production facilities along the 600 miles of pipes. It is the world's largest hydrogen plant and supply system.
The timing of this project was pertinent because there is a greater reliance on telecoms than before, in US and globally. The way in which people communicate has dramatically changed, over the past ten years the trend in the US, and the rest of the world, has been to move away from landlines to cellular phones and communications. This has caused the needs for back up power to change too because cell phones rely on grid power to operate the base stations instead of the low voltage DC power the land lines operated on.
On an international scale it is also a major issue because many developing countries now have cellular networks that did not previously have a wired phone line system. Many of these countries have unreliable grid power and experience regular power outages but still expect robust communications.
Added to this cultural change in communication has been a move towards legislation requiring backup power at cellular sites. In the wake of Hurricane Katrina in 2005 many telecommunication providers realised the growing need for backup power supplies at cellular phone sites.
Cohen said: "Commercial companies recognised that they needed to back up power, that's what happened after Irene and will definitely happen after Sandy, so you have a balance of commercial needs versus regulation."
The regulation came in the form of The Katrina Panel Order set up in 2007 by the Federal Communications Commission to study the impact of Hurricane Katrina on telecommunications and media infrastructure, including public safety communications, looking at how quickly service and infrastructure was restored; make recommendations to improve disaster preparedness and network reliability. Since Hurricane Katrina the needs for backup power have changed; the system must be more robust and take into account power outages that can go on for many days.
The Katrina Panel Order stated that cell service providers had to have a minimum of eight hours of back up power at sites in case of another outage like Katrina caused. The wireless industry began to fight the ruling and got lawyers involved to eventually block the ruling in 2008 before it came into effect. A loophole was found to prevent making it mandatory and so much time was then spent disputing the regulatory issues that a stalemate situation ensued and nothing was done. Despite no regulatory enforcements, cell providers have recognised themselves to needing more back up power. To have eight hours of backup power from battery packs would require 15-30 strings of batteries. This would be bulky to accommodate at a site and require maintenance as the cells deteriorated over five to ten years.
Cohen said: "In 2009, when the involvement with the DoE programme started up, customers were already in parallel, then Hurricane Irene happened and they saw the success of the backup and we expect the same to happen after Sandy."
The combination of looming legislation, increased power outages caused by storms and greater reliance on mobile communications means ReliOn's project with the DoE is positioned at a time when it can gain greatest momentum. As well as the aims outlined above, the project is intended to increase user confidence in a 'new' technology.
ReliOn saw the merit in becoming involved with the DoE because customers can be reluctant to rely their back up needs on something new but the assistance from the DoE meant that customers could have more of the cells for the same price and demonstrate just how effective the cells are.
Companies are naturally cautious to introduce new technology to networks that are critical to keep running, which causes reluctance to be early adopters. The project with involvement of the DoE demonstrates the performance of the equipment as well as cost effectiveness of the cells over time.
Challenges clearly remain, mainly storage, delivery and public acceptance. This is what the investment was to encourage, and it has been effective – Air Products has spent out of its own monies to invest in hydrogen supply systems such as the bulk delivery vehicles and piping. The costs have been high but are falling, as with any new technology, as it develops.
The installations at these sites have been effective at demonstrating the reliability of fuel cell technology and shown the successful and safe operation of over 1 000 fuel cell units at real world test sites across America. The end users have seen the benefits of the fuel cells and the investment from the DoE has increased manufacturing and support capabilities as well as mapping necessary changes and improvements for better fuel cells for the future.