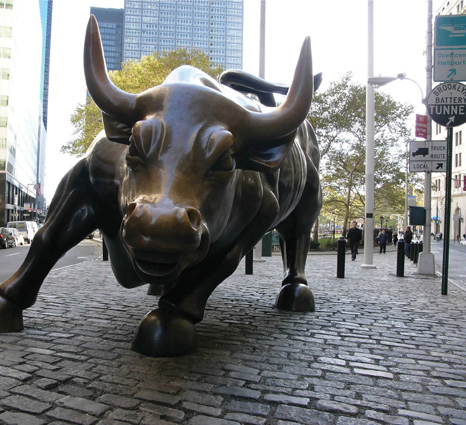 Lynnda Greene takes a close look at the American Recovery and Reinvestment Act and sees what's there for batteries
Recessions are bad, and this one, rooted in deeply rooted in credit abuses, is about as bad as they come. It's not that foundation upon which we've stood for so long is crumbling; we're learning it wasn't there at all.
But if the sky is falling, it's also raining money, if you're standing in the right place. And if you're making batteries in the US, where the Congress has just passed President Obama's $750 billion economic stimulus plan, it's about to rain hard.
Not only does the so-called American Recovery and Reinvestment Act (ARRA) plan to spend $80 billion on renewable domestic energy production and research, grid improvements, and green building/weatherizing projects, it also offers provisions to jump start projects through tax treatment, grants, and loans – even if credit markets continue in their congealed state.
Though Obama's New Energy for America Plan calls for creating five million jobs by spending $150 billion over 10 years, it is still difficult to put precise numbers on how many new green jobs the stimulus can generate, especially since some of the results will depend on decisions that the Department of Energy and the states make about how to spend the money.
But if President Obama's February 24th address to Congress was any indication of the direction America is heading with respect to energy, the cleantech sector is going to be greatly expanded in the next few years. His astute understanding of the crucial role storage will play in building both a new automotive fleet and a vibrant electrical grid that will utilize wind and solar power has likewise raised hopes that stimulus funding will help jump start a new domestic market for advanced batteries. Thus companies that have been busy developing new products in various segments of the alternative energy industry – stored energy even more than solar – seem well poised to weather the storm, and perhaps emerge strong and vibrant.
So what's in the bill for clean energy? Let's start with a general breakout, which looks like this:
Energy Efficiency and Transmission – $50 billion
Renewable Energy Tax Credit Extensions – $13 billion
Tax Breaks for Large-Scale Renewable Projects – $11 billion
Energy Efficiency Improvement – $9 billion
Renewable Energy Manufacturing – $1.4 billion
Department of Defense Energy Upgrades – $4 billion
Turn it upside down and shake out the pockets, and we find $3 billion for scientific research under the National Science Foundation, $2 billion for research within the Department of Energy, and $220 million for research and grants at the National Institute of Standards and Technology (NIST) within the Department of Commerce. Sift through the ARRA's change further and we can stack up $2 billion in grants that would support the manufacturing of advanced vehicle batteries and components, and another $400 million to support electric vehicles. It also allocates $300 million for a federal fleet of hybrid and electric vehicles.
Keep in mind that the stimulus funding will be in addition to money already allocated to dispersal through the Advanced Auto Loan program (ATVM) authorized by the Energy Independence and Security Act of 2007. Through the ATVM the DOE offers both grants and direct loans to support the development of advanced technology vehicles and associated components in the United States. To date the DOE has received more than 70 loan applications under the ATVM, which has authorized up to $25 billion in direct loans to help struggling green car companies survive the difficult year ahead. A123 Systems and Ener1, for example, are seeking $1.8 billion and $480 million respectively from the ATVM program to build next-generation battery plants in the U.S. Tesla Motors has asked for $400 million.
Another funding venue will be the DOE's Office of Basic Energy Sciences, launched last year, which has initiated various Energy Frontier Research Centers (EFRCs) to accelerate the rate of scientific breakthroughs in multiple advanced energy technologies, including direct conversion of solar energy to electricity and chemical fuels, chemical separation processes, energy storage, and energy utilization and transmission. Under this $100 million initiative, universities, national laboratories, nonprofit organizations, and for-profit firms will to compete, singly or in partnerships, to establish an EFRC. Research activities may be sited singly at a specific institution or in multiple locations through collaborations between institutions. As of December 5, the Energy Department received 260 applications for EFRC grants ranging from $2-5 million for an initial five-year period, from 3,800 scientists at 385 institutions. Funding for the program, which calls for $100 million to be spent on the centers annually, will by more fully facilitated through the stimulus package.
Academia, particularly, could well gain more funding toward clean energy technology research. Researchers at several American universities, led by Berkeley, Stanford University and the Massachusetts Institute of Technology, are already targeting the $2 billion in energy research funds contained in the Recovery Act. The research dollars, according to the Association of American Universities, a group of 62 schools that conduct research, will, they say, support the research of 15 senior investigators, each of whom would use the money to employ 15 to 20 graduate students.
So far, however, the sheer number of entities vying for funds has put into doubt just how the well or quickly the DOE will be able to disburse money among the most deserving companies. Many feel that while the stimulus can only help, there are some worrying unknowns, such as just how rapidly the Department of Energy can gear up a crucial loan guarantee program that would aid renewable energy projects. The department's history in timely funding dispersal is hardly promising. In 2005, the department was given the authority to issue loan guarantees, but more than a year passed before it was even ready to accept applications. To date, only a few have been actually granted. DOE officials say only that eligibility will be based on location of manufacturing facilities and engineering integration work in the U.S, and whether or not a company has reasonable costs associated with building or retooling a manufacturing facility.
Since assuming his office, the newly appointed DOE Secretary Steven Chu, himself a Nobel prize-winning professor, has revamped the department's entire protocol for disbursing funding. By the old department protocols, even the most fully advanced applications required several months for processing. But in February, the agency announced a series of reforms designed to expedite the dispersal of loans and loan guarantee funding for the long-delayed ATVM loan guarantee program. Application evaluation will thus begin upon receipt, an approach the DOE is calling "rolling appraisals." Chu has also reduced the amount of paperwork required for application, and added staff in order to reduce the time needed before funding decisions can be made to as little as four weeks.
Application process changes include:
Rolling appraisals of applications. Instead of delaying the consideration of an application until a far distant deadline, the Department will review them when they are submitted so that decisions can be made more quickly.
Streamlining and simplifying loan application forms and other paperwork.
Accelerated loan underwriting by using outside partners.
In cases where up-front fees may deter companies from applying, the Department will offer applicants the opportunity to pay the fees as part of the loan at closing.
Further reduction of up-front costs by restructuring credit subsidies so they are paid over the life of the loan.
Additional staff and resources to process applications.
Working with the industry to attract good projects into the loan guarantee program and helping them navigate the process.
A web site that will provide increased transparency in both process and results, as well as information to help applicants through the process.
The changes will mean that applications and allotments currently in the loan guarantee pipeline where they have languished for years, will start seeing money as early as the end of April.
The green light on a loan guarantee does not mean money in the bank, however. As the DOE explains, these offers may still require recipients to secure their own share of the financing – or meet other conditions prior to closing. Still, in order to avoid up-front fees as much as possible, the Department is revising the structure of some of the funding programs. Some of the costs will be distributed across the life of the guaranteed loans, and applicants will be given the opportunity to shift the fees to when the loan is closed. Some changes will require only consultation with the Director of the Office of Management and Budget, but a few will require legislative approval. Given the aggressive schedule for releasing money, there is little room for error, though. If all goes as planned, the DOE estimates that 70 percent of the stimulus money can be disbursed by the end of next year.
The hope is that the combination of government spending, and changes in the production and investment tax credit terms, will generate more green-tech investment from private investors. Watching from the sidelines, green-tech start-ups agree with the notion that government funds – some of which are expected to be in the form of use-it-or-lose-it grants – will not only stimulate capital flow, but also job growth.
But they also know that these billions of dollars in new investment capital are arriving at a very tricky moment. Given that the economy is in free fall, there is little time to get the money into the right hands, the ones holding the best, most viable ideas. Smaller start-ups realize they will have a tougher time convincing the big federal bureaucracies that write the checks, of their worth. Many entrepreneurs, wary of the recent history of Energy Department grants, worry that the bigger companies will be able to take advantage of long standing relationships with the government to make sure they are first in line for funds. Certainly, those that win the largest contracts stand to reap billions in revenue. Those that don't will have to radically adjust their business model and/or accept a new way of life. Survival won't be easy.
Considering the massive ambition, as well as the massive amount of money about to flow into the green-tech pipeline, asking the federal bureaucracy to be ready to move so soon after the congressional passage of the stimulus is probably asking a lot. This may be a learning lesson for all concerned. Certainly, companies are going to have to understand how to work with government; in particular, they are going to have to become expert at marketing to the Treasury and Energy departments, because they are now The Bank. All the same, policy watchers expect no small amount of improvisation – and error – as the different projects get funded. The absence of a master plan speaks to the uncharted nature of the undertaking. After all, Washington has not tried something on this scale since the Great Depression.
Battle for the Bucks
Not unexpectedly, a president who says clean renewable energy is important has set a whole new league of lobbyists salivating. After all, federal energy funding had reached its peak back in the Carter administration, which spent $7.5 billion (in 2008 dollars) on science in 1978 after oil-price shocks sent the cost of gasoline soaring. Funding hit an historic low of $1.6 billion, adjusted for inflation, in 1999, and has since climbed back to about $3 billion a year.
Though Congress designed the economic recovery plan with little detail, so the bill would avoid fights over funding for earmarks, the climate change lobby has been working feverishly to promote their interests (and clients) to legislators. According to a report by the Center of Public Integrity called the Climate Change Lobby, more than 770 companies and organizations hired some 2,340 lobbyists and spent at least $90 million to lobby for climate change issues in 2008.
"This is a lobbyist's delight," Steve Ellis, vice president of Taxpayers for Common Sense, a government watchdog group in Washington, told Treehugger.com. "Normally they lobby to get something into the bill and then they're done. Now they get paid to make their project get funded."
Encouraged by Obama's keen understanding of the stakes, American energy storage forces have wasted little time mobilizing their ranks. Last December fourteen U.S. technology companies joined forces in what they called the National Alliance for Advanced Transportation Battery Cell Manufacture, the purpose of which is to secure $1-2 billion in federal aid toward building a plant to make enough advanced EV batteries. to compete with Asians makers now dominating the market. The consortium is the most ambitious corporate effort to date to boost the ability of U.S.-based companies to meet what is expected to be surging demand by automakers for high-tech batteries. Participants include 3M Corporation, Johnson Controls Inc., Johnson Controls-Saft Advanced Power Solutions, ActaCell, All Cell Technologies, Altair Nanotechnologies Inc, Eagle Picher Industries Inc, EnerSys, Envia Systems, FMC Corp, MicroSun Technologies, Mobius Power, SiLyte, Superior Graphite, and Townsend Advanced Energy. Member companies hope the alliance, modeled after Sematech in 1987 by a group of U.S. semiconductor manufacturers to secure $1 billion in federal funding toward building of manufacturing plants, will give the industry a leg-up against Asian makers.
The US market for rechargeable lithium-ion batteries is, as they well know, currently too small to support any one company to build a plant on its own. That American companies outsourced nearly all battery manufacturing to Asia years ago, has only cooked their proverbial goose – case in point GM's selection of Korean LG Chem over US A123 to build lithium ion batteries for GM's Chevy Volt.
The cells will be manufactured in Korea and assembled into battery packs at a new facility that GM will build in Michigan. Robert Lutz, a GM vice chairman, has noted that LG Chem has massive support from the Korean government. "Korea recognizes that advanced battery technology is a key component of the country's competitiveness," he noted at the last Detroit auto show in January.
The Alliance hopes that by combining resources, and with the help of up to $2 billion dollars from the federal government over the next five years, they can catch up on the lead Asian manufacturers have in supplying nearly all batteries used in hybrid and electric cars. (The Alliance notes, pointedly, that foreign battery companies receive government subsidies.)
With China, Japan, and South Korea the leaders in lithium battery research, the Alliance is a significant development for the U.S., and may prove crucial in the nascent domestic industry's very survival. "A small, fragmented battery industry will not long survive in the face of determined Asian competition," notes Ralph Brodd, Nevada-based energy-storage consultant, who works with the Argonne National Lab. "(Other) countries understand that he who makes the batteries will one day make the cars".
The alliance's challenge will be to lower the greatest hurdle US battery makers face: funding construction of a large manufacturing facility when there are as yet no orders for the batteries. Federal energy laboratories, including the Argonne National Lab, are advising the alliance, and more companies are expected to join. Together, the consortium members estimate the plan to build the first large-scale lithium-ion battery plant in the U.S. could cost $1 billion to $2 billion, according to press releases. The consortium's plant would, if built, make battery cells of various chemistries and sizes for the consortium companies. Members would turn the output into finished batteries by adding their own proprietary electronics, which would control factors such as operating temperature and voltage, and then package the batteries to fit specific products.
Such concerted efforts and funding will, members hope, create jobs and (maybe) help push the all-but-bankrupt U.S. auto industry into a competitive position for the 21st century. But skeptics abound, noting nearly insurmountable difficulties – chiefly, the high costs and the fact that the United States lost the lead in battery manufacturing years ago when it opted to outsource battery manufacturing to Asia, where makers were located near electronics makers.
That Asian carmakers prefer to use Asian-made batteries in their hybrid models, complicates things, says Brodd. "If you manufacture everything in China, you lose control of the technology." Investors are reluctant to provide capital for American battery plants because US markets are still relatively small, and markets are still small in part because batteries are expensive, which is itself partly because they're currently made in low volumes.
The consortium intends to solicit as much as $1 billion in federal funds from the Obama administration by tapping loan guarantees contained in an energy-security act passed in the fall of 2008, which pledges as much as $7 billion in loan guarantees for advanced-battery plants in the US. The focus is to produce jobs and create a domestic supply chain, and the factories need not be owned by U.S. companies. Thus proponents say the consortium has a high likelihood of receiving U.S. funding because it gives the government a place to concentrate efforts and investment in battery technology without favoring any one company.
But even enthusiasts worry that massive funding and support may come too late. Several national labs and U.S. companies including 3M and General Electric Co. have been pursuing advanced battery technology for years. But researchers have been dismayed that the technology and processes they develop appear to be migrating largely outside the United States. Battery manufacturing has moved to Asia for many reasons, among them a better-developed supply chain and lower labor costs.
Mud Season in the Markets
Despite the boost from the government, experts say that the financing markets are still so mired in the congealed detritus of rotting assets that the stimulus provisions may not immediately restart the industries, which grew rapidly in the last few years but were forced to lay off workers and cut back projects after the banking crisis hit.
"Unfortunately, the tight debt markets will still keep many projects from moving forward immediately," Craig Mataczynski, president of Renewable Energy Systems Americas, a wind developer, has said in interviews. "When the debt market thaws a little, we could see a number of new projects move forward."
Another unknown is whether developers who receive cash for 30 percent of the project cost from the Treasury will be able to raise the other 70 percent they need to build their projects in the current market."
But despite all the economic turmoil, most insiders concur on one truth: lenders are going to have to lend to someone, even in a recession – perhaps particularly in a recession, when spending on something absolutely crucial to salvation, like energy, may be the only way out of it.
Trawl the green investment webzines and blogs, and we see not a few "green" venture capital funds are raising money – and spending it. Case in point, Element Partners, a VC firm that's part of the Draper, Fisher, Jurveston galaxy, which has raised a second fund of $486 million in the last quarter. Element spans the gamut of green ideas, from CoalTek, which squeezes out the water from coal so that it burns cleaner, to Deeya Energy, the Indo-U.S. makers of flow batteries for large-scale energy storage. That they have done so in such austere times is a sign that energy and resource efficiency remains high on VC priority lists. And as we noted in the last issue, while VC investment in clean technologies may decrease through 2009, analysts expect resumption of a steady if measured flow on investment dollars as the recession weakens.
When it stop raining…
While most players agree that the federal stimulus package will help greentech companies weather the economic downturn, some foresee some potential for dangerous co-dependence.
"It's critical for the industry to view the stimulus package and all the helping hands as incredibly temporary," Michael L. Goguen, a general partner of Sequoia Capital, told a Cleantech Forum in San Francisco recently. "We don't want a company to depend on the government. It's easy to be deluded into thinking that you are in a sustainable business because you've got all that money."
The need for government dollars reflects the importance of financing, which almost dwarfs the importance of technology development during this tough economic climate. And for now, most analysts anticipate that the government will need to increase spending on energy research by billions of dollars annually, to sustain momentum. Certain some wild cards remain in the air – chiefly the fate of US automakers, especially General Motors. The Obama administration is said to be working out some kind of "deal" as of this writing, but no one seems capable, by now, of even imagining what that might be as sales splat upon the earth.
But despite the seriousness of the situation, the problems bringing down the major auto companies (including the heretofore bullet-proof Asian makers) are hardly indicative of the general state of the stored energy industry; nor do they hint at prospects batterymen have been forging for themselves over recent years. Between the bolus of stimulus money being injected into the industry and the fact that lenders still need to lend to someone, things could be a lot worse.