Germany draws more than 20% of its electric power from renewable energy sources: it is dedicated to developing renewables and is now slowly waking up to energy storage to integrate renewables with the electrical grid. Assistant Editor Ruth Williams talks to Younicos about building the first 5MW battery park in northern Germany and asks "is it cost effective?"
Germany is undergoing "Energiewende",— a transition away from fossil fuels to renewable energy for a more sustainable future. It has the highest density of wind power capacity in Europe, with more than 23 000 wind turbines as well as millions of solar panels.
On a windy or sunny day solar panels and wind turbines can now theoretically supply up to half the country's electricity demand. None of that power is truly despatchable, so electrical energy storage, to firm up those renewables, is finally getting to see the light of day. The commissioning of Europe's first fully automated 5MW battery park to iantegrate renewable sources into the grid cements the country's commitment to its Energiewende mission.
Berlin-based Younicos, a company of environmental idealists, first came to the attention of the electrical energy storage world in 2009. The company designed and built a stand-alone energy network, with up to 100 % renewables, on the Azores island of Graciosa.
The system, built around sodium sulphur batteries has been developed over the past four years and guarantees a reliable supply for 4 700 residents' annual electricity needs. Younicos says in its mission statement: "let the fossils rest in peace" and has a vision of clean energy solutions for the planet.
Its latest project is a turnkey 5MW battery park in Schwerin, Mecklenburg-Vorpommern, for German power utility, WEMAG, which has nearly 800MW of capacity powered by renewable sources in the region and the duty will be frequency regulation.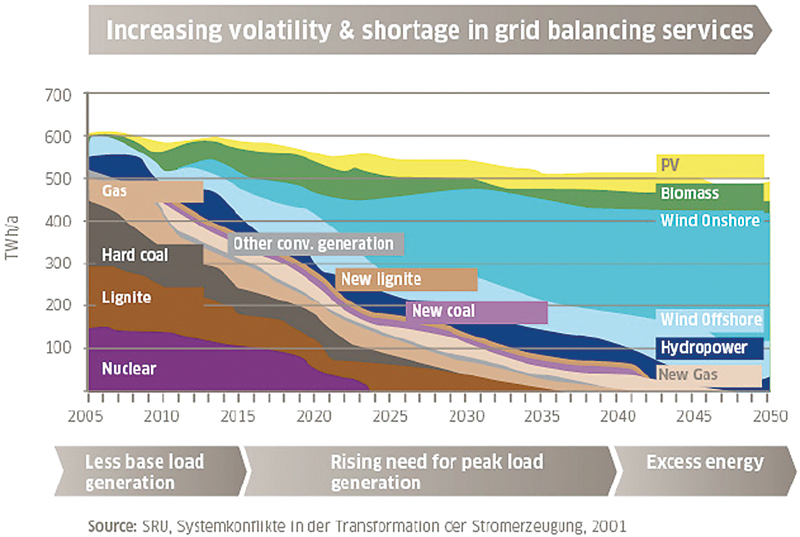 At the heart of the system are Samsung SDI lithium-ion cells that will balance the fluctuations in supply and load demand of solar and wind energy. The battery power plant will be connected to a 110-KV substation at Schwerin, to integrate it into the regional distribution grid and connect it to the next-level 380-KV high voltage grid. The building of the battery park is due to commence within the next month, and will take a year to complete.
While exact costs have not been disclosed, Younicos has a list price of €15 million for a 10MW plant, so the cost is going to be about half of that. As the first product of its kind, Younicos is eligible for a one off 20% subsidy from the German government toward the cost of building the battery park. This innovation fund to kick-start and enable the new technology comes from the Environmental Agency.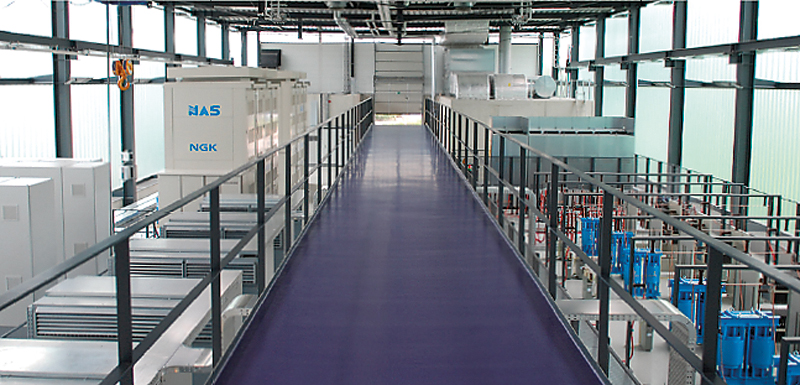 WEMAG will earn revenue by supplying capacity to the German electrical grid for frequency regulation. All energy suppliers, that are pre-qualified, can take part in the primary frequency response market and earn an income. The earnings fluctuate based upon a weekly auction system whereby companies bid per 0.5MW of capacity they can offer and the regulating authority will buy capacity bids until it has sufficient to fulfil its weekly requirements. The companies are paid for the amount they bid rather than a fixed price.
The only criterion for winning is the price, not level of service, so a battery supplying near-instant response, less than ten milliseconds, will be paid the same as a slower service. The prices fluctuate throughout the year, in the summer there is greater availability of renewable energy and some conventional plants are shut off so demand increases, however in the winter they are switched on and re-join the frequency response market lowering the prices.
The average price per MW for the past year has been between €2 500 and €3 700 but can be lower and higher than these amounts, purely based on the bids offered. The price is not fixed and is down to suppliers to bid a price for offered capacity.
The Younicos team of energy trading experts, wrote the business plan based upon a company 'winning' 40 out of 52 of these energy auctions. Based upon a 10MW model, Younicos predicts a company can earn €1.4 million per annum from the frequency response model. Looking at the average figures from the past year (as available on the regulators website: regelleistung.net), the 5MW battery earning an average of €3 100 per MW 40 weeks of the year would bring an income of €620 000. Therefore, based on current average prices, the battery park should cover its costs and be making a profit within 12 years— hardly an impressive payback. Younicos is optimistic that it will be profitable after nine years, taking into account the rising value of capacity.
Today's regulatory framework does not take into account the quality of service provided— it is purely measured on capacity. Philip Hiersemenzel of Younicos says this is expected to change, "It is likely the tariff paid will become higher not lower and will change to be based on the quality and speed of service provided." This has been the case in the US, energy suppliers are now paid for the speed of service as well as capacity provided.
The business plan has been solely based on earning money from frequency regulation, but there is also the potential to earn money from black-starting and voltage control.
Why have lithium-ion batteries been chosen for the project? For the energy transition that Germany is going through, the most in demand energy storage is short-term integrated with other services. Younicos has a trial site in Berlin with a 1.2MW hybrid battery consisting of 1MW of sodium-sulphur and 200KW of lithium-ion. This performed well but for commercial reasons, a pure lithium-ion battery was chosen for the battery park.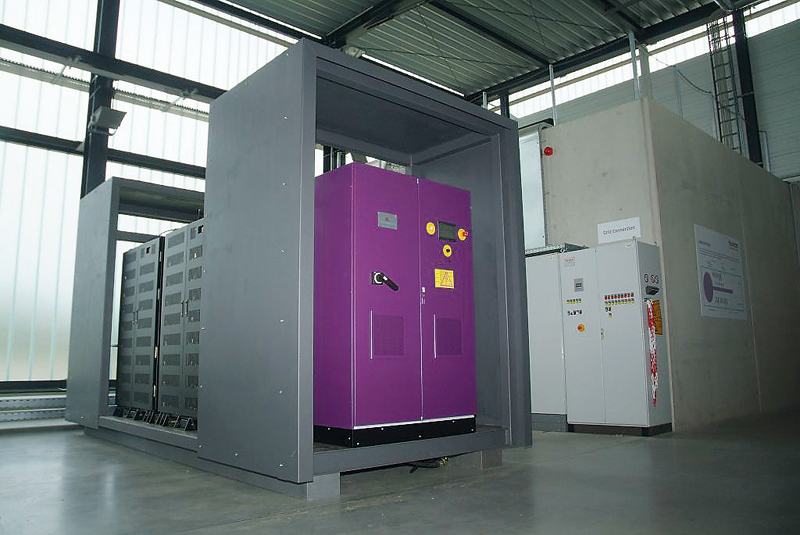 Hiersemenzel said there is no market at present for shifting large amounts of energy in the continental grid. "For frequency regulation we need to be able to respond within 30 seconds and supply for up to 15 minutes. The 'problem' with sodium-sulphur is that the C-rate is 6:1 for sodium sulphur and lithium-ion is 1:1. Technologically sodium-sulphur could be used just as well but it would mean paying for a lot of storage that just isn't needed."
Samsung is supplying the cells and were selected after a lengthy testing process. Younicos set up a laboratory in 2007 and has been continuously testing different types of cells from different manufacturers. Over 20 000 cycles have been run to age the batteries and measure performance.
"We tested cells from many manufacturers and found Samsung very reliable so formed a strategic partnership. The production of them is very recent, but Samsung has put its money where its mouth is by offering a 20-year guarantee and 97% performance warranty," said Hiersemenzel. This means if anything should happen to the cells, Samsung will repair or replace them for 20 years and cover up to 97% of loss of revenue should the batteries fail.
Although stationary batteries are a new field for Samsung, its reputation combined with this guarantee sealed the deal. Hiersemenzel said Samsung is ramping up its production to produce one GW/h of lithium-ion in 2014: half of that is expected to be for stationary purposes.
The batteries will be housed in a purpose built, 400 m2 hall with batteries and invertors grouped in modules offering redundancy and greater resilience. Hiersemenzel explained why this was chosen over a container-based system: "At Younicos, a lot of our expertise is with keeping battery cells in a way that ensures they last their 20 year life time and part of that means having controlled climate with air conditioning and constant moisture levels. On a large scale, this can be done much more easily in a hall."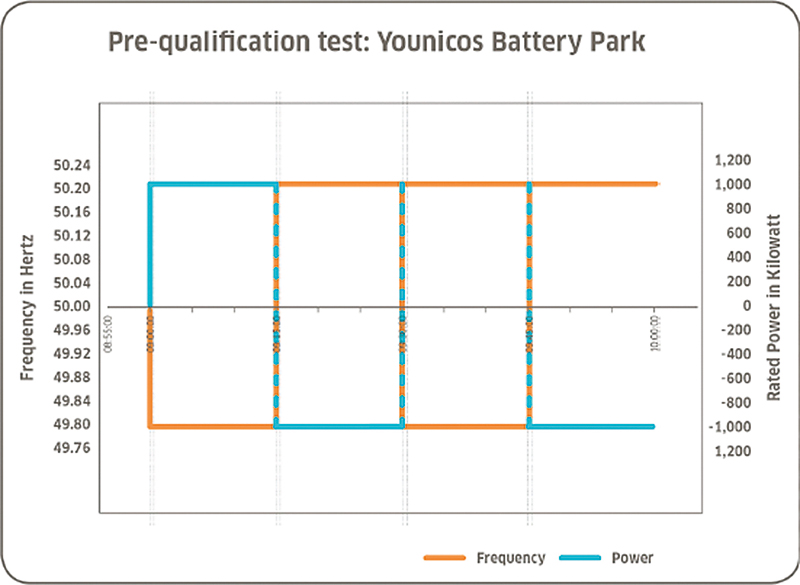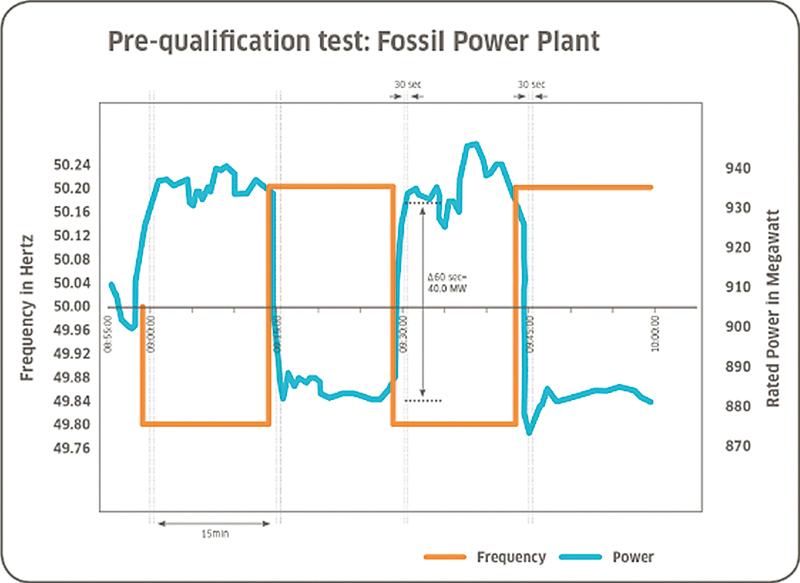 For this project Younicos is constructing the building that houses the batteries but in the future it aims to focus just upon the software and controls between the AC grid and DC power source. Hiersemenzel said: "We really look deeply into the electrochemistry of the battery from cells to stacks and racks. Each layer has a battery management system and we also have our own software, the battery power plant management software."
This software ensures all the cells are calibrated so the whole battery charges and discharges evenly to ensure it ages in parallel. As part of the fully automated system the power controls 'talk' to the grid to monitor when the frequency drops, or goes above 50 Hertz, it switches between charging and discharging to level the state of charge of the battery.
As a fully automated system the batteries should require very little on-site maintenance, Hiersemenzel said an engineer would need to visit once a week and the BMS should take care of the rest. "That is the beauty of German engineering, we've gone to great lengths in ensuring the operation of the battery is optimised in every sort of way."
Germany's Energiewende has put it ahead of the rest of Europe and much of the world with more than 20% of energy coming from renewables, but Germany is part of the pan-continental European grid, not a German grid. Across Europe there is around 8% of energy coming from renewables and even with that there is grid stability issues.
The announcement of the battery park has generated a lot of attention for Younicos. Hiersemenzel said: "A battery park is a good opportunity for municipal utilities, they can earn money from primary frequency response, secondary frequency response, use it for voltage control and black starts, plus it has marketing potential. Everyone is talking about energy transition and finally thinking about the need to store energy so having a battery power plant has marketing value for them as well."
The company is also talking to larger European utilities for more potential battery parks. In comparison to an energy storage such as a pumped hydro system, this is commercially ready to be deployed so could be on-site and running in 12 months.
So why is Germany leading the way in the energy transition? It began using wind power in the early 1990s and has had PV feed-in tariffs in some municipalities since the 1980s. As a country it has led the way with new technologies— the first AC grid was established in Berlin 120 years ago— this affinity for engineering combined with a concern for the environment has put the country at the forefront of renewable power use and integration meaning it is underway leaving other nations to play catch‑up.
Germany is clearly paying more than lip service to the idea of moving away from fossil fuels with a combination of wind power, biomass, photovoltaic and geothermal energy. But this will not be a realistic transition if it does not incorporate electrical energy storage into the mix. The Energiewende website, www.energytransition.de, says "In general, power storage is not expected to become a major issue until the end of this decade." But to achieve the target of more than 40% of power coming from renewables by 2020, energy storage may become a pressing issue much sooner than that.