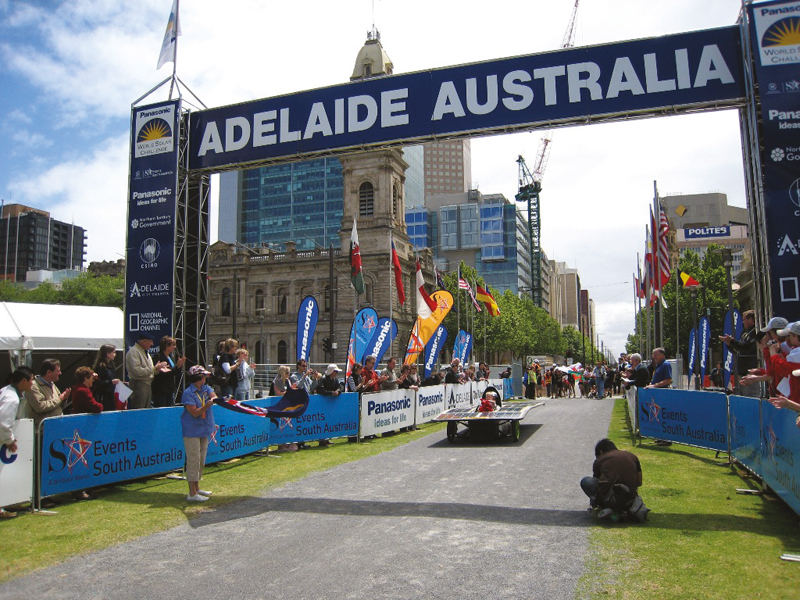 Not for the first time, David Rand reports from down under on the race that tests both batteries and solar technology. Not surprisingly, the best technology won.
As the premier competition for cars running solely on sunlight, the World Solar Challenge (WSC) is also arguably the toughest. With competitors travelling 3000 km along the Stuart Highway from Darwin on the north coast of Australia, through Alice Springs at the centre of the continent, to Adelaide in the south, the course passes through some of the most spectacular and inhospitable – temperatures in the Outback can exceed 50˚C – terrain on Earth. Rules stipulate that each solar vehicle, escorted by a lead vehicle and a chase vehicle, only travel from 8 am to 5 pm each day. Drivers and crew must camp out where they end up each night.
From its inception in 1987, the WSC has aimed to motivate the automobile industry toward placing lesser demands on the Earth's environment and resources. Specifically, the event encourages scientists and engineers to develop a synergy between battery power, lightweight materials and structures, elegant aerodynamics, high-performance electric motors and advanced power electronics in order to create new generations of more energy-efficient and low-emission vehicles.
The balance between environmentally friendly speed and endurance, coupled with intelligent management and strategic planning, lies at the heart of the WSC. Not only does the contest draw worldwide attention to the need for sustainable road transportation, but it also provides emerging green technologies with an impressive platform to demonstrate their capabilities.
Perhaps not surprisingly, the WSC has become something of a young person's adventure – the majority of entrants, hailing from a variety of schools and universities, range from their early to late twenties. And that's fine with Event Director Chris Selwood, who sees the influx of youthful talent as a double boon. 'The WSC allows the bright young people of the globe to come up with creative solutions to the problem of sustainable road transportation', he says, 'while at the same time accentuating the importance of lightening the carbon footprint of our personal travel needs.' And while the fruits of such creativity may not look especially car-like, with their arrays of solar panels resembling nothing so much as giant silicon chips on wheels, these young innovators are nonetheless driving forward, quite literally, a quiet revolution in energy efficiency.
WSC 2007 saw solar cars competing in either the Challenge Class or the Adventure Class. The former – the Blue Riband event – was a new initiative. Given that it is no longer necessary to prove that solar cars can go very fast (Nuna 3, the winner in WSC 2005, hit a top speed of 147 km/h), the maximum allowable area of solar panels for Challenge Class vehicles was reduced by 25% to 6 m2 compared with that stipulated for WSC 2005. The Adventure Class retained the 8 m2 limit. In addition, to bring the specifications closer to those of a normal family car, drivers in the Challenge Class had to be seated in a conventional upright driving position rather than lying back, a change that compounded aerodynamic design difficulties. They also had to be able to get in and out of the car unaided and in no more than 15 seconds. A steering wheel was mandatory, as opposed to levers previously preferred by many teams.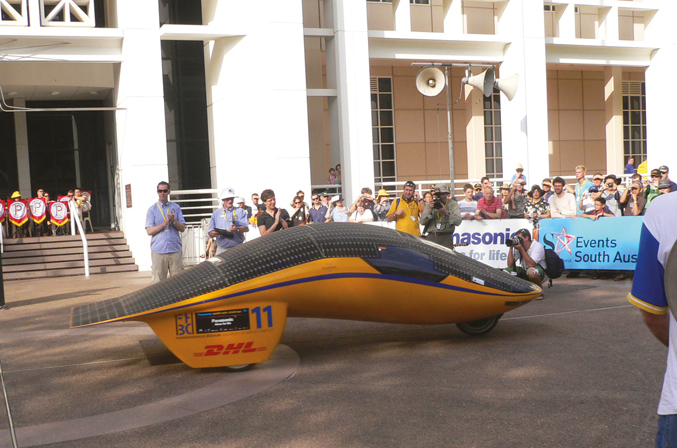 Competitors were allowed to decide on the number and make of cells/batteries, though the car had to travel the entire course with the same make and number as they'd been fitted with at the start. And though mains electricity* could be used for pre-start, thereafter, it had to be solar energy all the way. Weight determined the the battery pack's permitted size. The limits remained the same as for WSC 2005, namely, 30 kg for plastic lithium-ion (commonly, but erroneously, termed 'lithium polymer'), 30 kg for lithium-ion, 40 kg for silver-zinc, 70 kg for nickel-metal-hydride, 75 kg for nickel-zinc, 100 kg for nickel-iron, and 125 kg for lead-acid.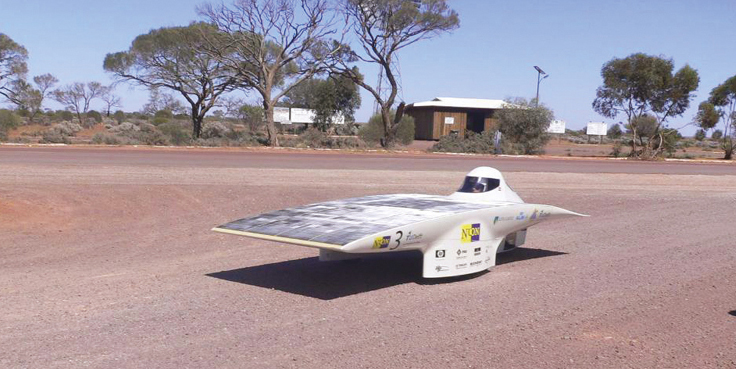 The allowable weight for each battery type was chosen so that, given the state-of-the-art, a pack with a maximum rated energy storage of 5 kWh would be available regardless of the battery type selected. This energy corresponds to about half a day's sunshine, or 300 to 400 km of 'solar driving' by the best cars. This figure, established in the inaugural WSC 1987, remains the benchmark against which ongoing improvements in battery performance during the course of further events have been measured. Obviously, all technical regulations have to be set well in advance so as to provide teams with sufficient time to develop and build their cars. This creates a particular problem with lithium batteries since, compared with alternative chemistries, their capability to store energy per unit mass is steadily increasing. For example, one WSC 2007 entrant employed plastic lithium-ion with a rated specific energy of 203 Wh/kg to give a battery pack of 6.1 kWh.* Clearly, in future, the weight limit for this type of cell will have to be reduced in order to stay as close to the 5-kWh rule as possible; the lithium-ion chemistry was the overwhelming choice (23 vehicles) in WSC 2007.
Approval could be granted to replace whole or part of the pack in the case of malfunction or accident. Should this have occurred, a time penalty was to be imposed (according to a CSIRO schedule based on battery type and weight) to prevent contestants from gaining strategic advantage through unfettered fitting of fresh batteries, e.g., during overcast skies, head winds, or hill climbs.
Panasonic World Solar Challenge 2007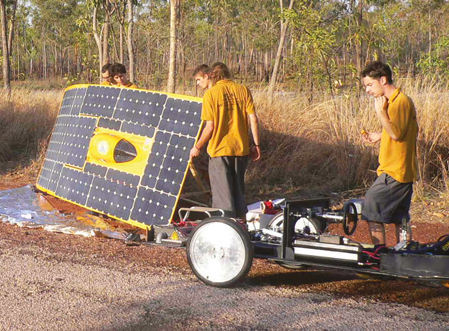 A total of 38 solar vehicles (19 in the Challenge Class, 20 in the Adventure Class) arrived in Darwin from 17 countries, with The Philippines, Wales and Venezuela being represented for the first time. Unfortunately, the Venezuelan vehicle had suffered major damage during transit to Australia. Despite valiant attempts by the team, together with friendly assistance from other competitors, repairs could not be completed in time for the start.
On
the 20th anniversary of WSC, one questioned whether further technological advances would be on show. Again, the event did not fail to disappoint. The Continuum, the car entered by the University of Michigan in the USA, certainly offered the most notable innovation. In addition to encapsulated solar modules of high-efficiency solar cells, parabolic mirrors were mounted in a section behind the driver's seat to collect light and direct it towards a line of solar cells. This novel in-vehicle solar concentrator system is capable of automatically tracking the sun to gather a significant amount of sunlight from a very small number of cells while the vehicle travels at speeds upwards of 130 km/h. Solar Team Twente,* from the Netherlands, also implemented the idea of incorporating a solar concentrator, but adopted a different approach. Their concept involved a tilting solar panel with additional Fresnel lenses.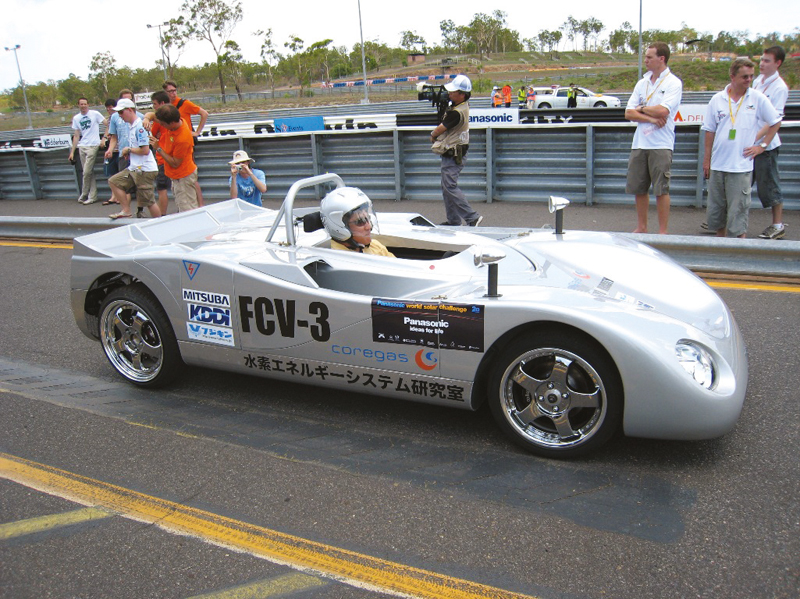 Unfortunately Continuum, which collided with its own lead vehicle some 7 km from the starting line, suffered significant damage to its canopy and front solar modules. Although the accident and repairs cost 10 hours of racing time, the car passed 25 others to finish in 7th position, some 12 hours behind the winner. Whether this creditable comeback was due to the use of a solar concentrator or to different attributes of the car remains a matter of conjecture. Solar Team Twente arrived home in 6th position, just 9 minutes ahead of the Michigan car.
Bad luck continued for the USA when, after covering 1864 km, Stanford University's Equinox blew a left rear tire. The car flipped over and crashed into a concrete barrier. The driver was not injured and although Equinox could still travel under its own power, officials considered it no longer safe for the open road and thus withdrew.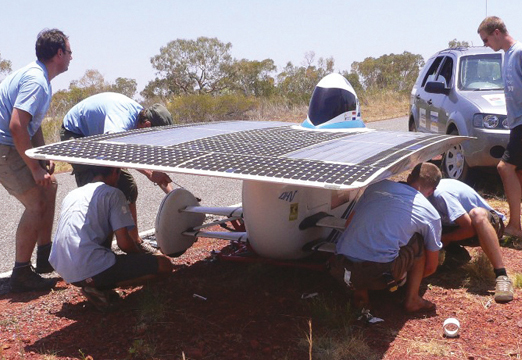 SolarWorld No. 1, sponsored by the German solar-energy giant SolarWorld AG, clearly focused on the new Challenge Class regulation that requires the driver to sit in a nearly upright position so that solar-driven vehicles would become more suitable for everyday use. The 'jelly bean style' car, constructed and crewed by students from Bochum University of Applied Sciences, provided the driver with the best seat in the competition.
Among the low-budget teams, special mention should be made of the entry from Wales. Gwawr ('Dawn' in English) was built by Graham Sparey-Taylor, a lecturer at the North East Wales Institute of Higher Education, to demonstrate that a solar-powered car may be engineered entirely from technology, resources and information sourced from within Wales. Yuasa (Ebbw Vale) supplied its lead–acid batteries, GB-Sol (Taffs Well) provided solar panels, and MoJo (Risca), gave advice on suspension systems. The project was supported by the Welsh Assembly Government's Accelerate Cluster Programme, which aspires to drive forward and develop the automotive sector in Wales by focusing on emerging technologies and niche market opportunities in the quest for sustainable transportation. Gwawr received a warm welcome in the hillsides en route to Adelaide.
High-budget entrants fitted their cars with costly triple-junction solar cells. These so-called 'tandem' cells can convert sunlight to electricity at over 30% efficiency by combining two or three semiconductor layers that absorb light energy in different parts of the electromagnetic spectrum. The most common design has a gallium-indium phosphide top, a gallium arsenide middle and a germanium bottom layer that, respectively, can absorb blue, green and red light. In good sunlight, such cells can supply Challenge Class cars with up to 1.8 kW of power.
Despite the introduction of a 25% reduction in array area, solar cell efficiency again proved to be the key determinant of a car's success. For the fourth time in succession, The Nuon Solar Team from the Netherlands raced away with the World Solar Challenge Cup. Nuna 4 completed the journey in exactly 33 hours at an average speed of 90.87 km/h. Remarkably, this was not far from team's own WSC record of 29 hours and 11 minutes (102.75 km/h). Moreover, TIGA from Ashiya University, Japan, with 25% more area of solar cells, was only 1 hour 40 minutes ahead in winning the Adventure Class.
Close behind Nuna 4 was Belgium's Umicar Infinity (34 hours 36 minutes; 88.05 km/h) with Australia's Aurora 101 coming in third (35 hours 17 minutes; 84.96 km/h). Given that the first two placegetters had employed triple-junction solar cells, performance of Aurora 101 was outstanding. The car used inexpensive silicon production cells that gave only 1150 W at best; it was, however, the lightest vehicle in the event and clearly the best aerodynamic package.
Technology Class … introducing hydrogen
As in former years, the WSC fleet was accompanied by vehicles taking part in the Technology Class, which is supported by Greenfleet – a not-for-profit Australian organization that specializes in reducing the environmental impacts of transportation and other greenhouse gas emissions. The 2007 line-up of 19 vehicles included pure-electric and hybrid electric vehicles, together with conventional internal-combustion-engined cars running experimental low-emission technologies such as bio-diesel, ethanol-petrol blends, and even hydrogen.
It has been suggested that the 'live laboratory' offered by the WSC assisted motor giants such as General Motors, Honda and Toyota in their later development of hybrid electric vehicles. Perhaps the same may hold true for the further advancement of fuel cell vehicles. The WSC continues to fascinate and we do well to remember PROVERBS 29:18: Where there is no vision, people perish.