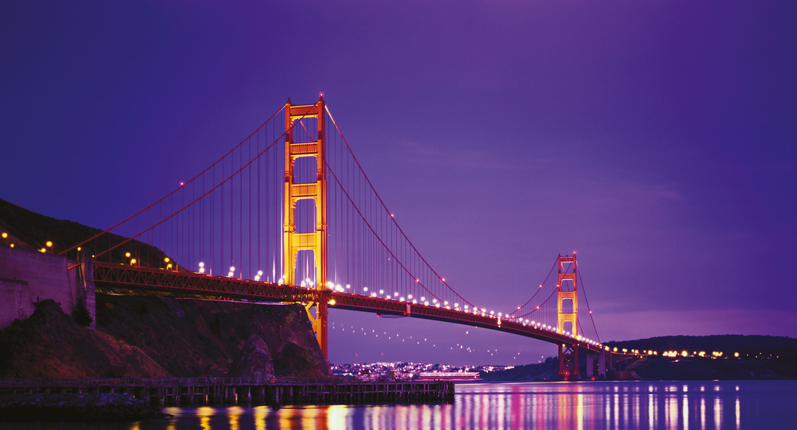 Menachem Anderman gathered together more than three hundred people in San Francisco to discuss the market and opportunities for advanced automobiles and their
The course is set. The engines are primed. And as far as advanced automotive batteries for hybrid cars are concerned, nickel metal hydride has won the first round hands down. Even though lithium ion batteries show a lot more promise in terms of energy density (which bodes well for future hybrid cars) and even though nickel is 17 times more expensive than lead.
In a year or so from now Panasonic and (to a lesser extent) Sanyo will be the only players in this market, which according to Dr Anderman's figures will be worth an astonishing $300 million. No one else will even figure in the equation.
How did everyone else in the industry come to let two companies dominate the future of the automotive battery market without a fight?
And is this the future of automotive batteries? Or even automobiles? Should you be concerned?
These are difficult questions to answer, but they do mean one thing: Dr Anderman's forum, now four years old, will run and run, although it may not need to be an annual event. Let me try to give you some answers, based on what I heard and saw and the conversations I had with players and pundits.
To even begin to look for answers, you must first play 'follow the leader' – and for now the leader is Toyota.
The past year has been one of global celebration for the latest version of the Prius, which has seen three variants to its nickel metal hydride batteries in just six years – and, as attendees to last year's AABC will remember, a virtual doubling of energy density, thanks to an improvement in the current collector path of its prismatic NimH cells.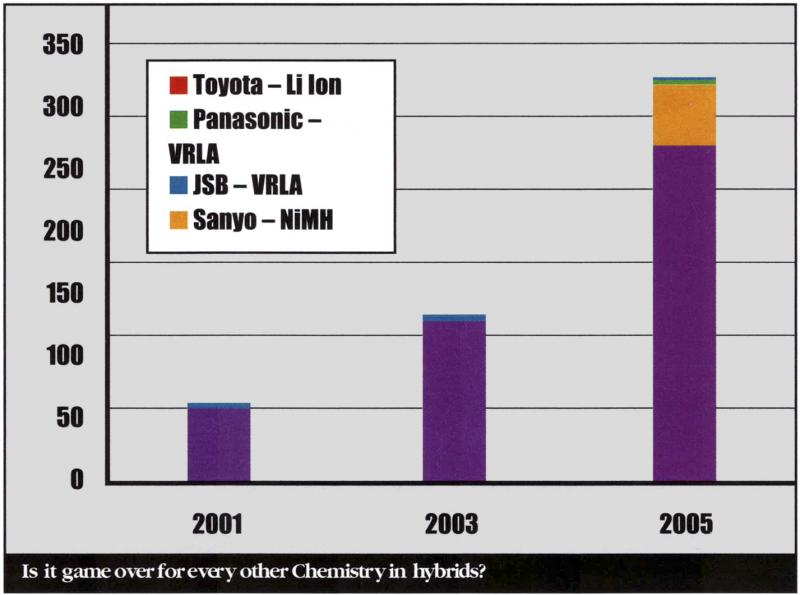 That one big improvement, on the face of it, has been sufficient to convince Toyota that it does not need to switch battery chemistry for this kind of hybrid – the parallel kind – for quite some while, even though the company is getting promising results from the lithium it's been trying out in the small stop-start compact known as the Vitz. You have to look at future models Toyota plans to introduce. They are SUVs and vans. I have to admit I'm confused, because the lithium improvements to justify such a switch are already here.
You also have to answer some questions about the whole hybrid proposition to begin with. Who buys them? And why?
Firstly, the hybrid is not a panacea for reduced fuel consumption and money saving, though Honda's Naboro Sato showed quite convincingly that sales of both the Prius and his own company's vehicles improve when there has been a hike in fuel prices. But hammering down the highway is not going to save you much fuel, though stop-start driving in LA or around London's M25 orbital will show the real benefits of the system. And the Prius is not cheap. With a waiting list over a year long, the vehicle sells at in excess of $22,000 and Toyota dealers in the US pack them with all kinds of added electronics like navigation systems, getting an even better margin from this, the plaything of the monied green geek. But it is the state of the art in hybrid architecture, and it's almost good business.
A manufacturer trying to save money ends up with a low-voltage, mild hybrid design, running on ordinary lead-acid batteries. Cue General Motors, and the Chevolet Silverado! The electrical part of its power train can only contribute some 10% of the overall traction power, because of the limitations of the energy storage components of the system. GM has decided to offer this vehicle as a truck, with the added benefit of 110V outlets in the cab and on the truck itself. But fuel economy is likely to be modest, with a saving of 10% or probably less, because of the way the vehicle will be driven by its rough, tough redneck purchasers.
I wondered what GM's Mark Verbrugge was thinking as he presented details of the Silverado to the San Francisco audience. Did he feel a sense of relief as he threw a morsel of business to the lead-acid community? A sense of contentment in the elegance of the design, given the limitations of the technology and the cost restraints of the design brief? Or deep down, a worry that this was a 'pussycat' of a truck which would 'bomb' with the public and set back GM's hybrid ambitions by five years or more? To me, a truck is something huge, gas guzzling and intimidating, like the Hummer or Ford's Trail Blazer. The GM offering was neither. But this isn't an auto magazine.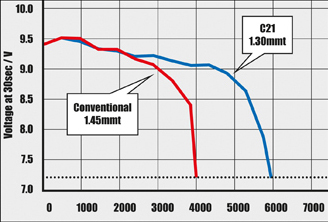 The public won't get its collective brain around the intricacies of hybrid architecture, and my guess is they'll only be impressed by vehicles with a bigger electrical contribution, which leads to a more substantial fuel saving in city and suburban driving. For now, that rules out lead-acid technology.
Which is more than a pity, because lead-acid is showing more than a modicum of improvement. Take the contribution of Furukawa, the smallest of the Japanese lead-acid battery makers. Mr Shogi Shiga and his colleagues have reported significant improvements year on year in the specifications and performance of lead-acid batteries that both he and the rest of us were convinced (or deceived) into thinking were destined for the 42 volt market. In 2002 there were improvements in Furukawa's battery thermal management; last year we saw a new electrical battery management system.
This year Furukawa incorporated the very latest ideas from the Advanced Lead Acid Battery programme, less than a year after they had been presented to the other ALABC contractors. Most importantly the company included improved grid designs, including a new grid alloy which Furukawa has designated C21. It is a PbCaSnBa combination, which shows superior performance at high temperatures and is 15% thinner and lighter in weight compared with conventional grids. The material doubles the life expectancy of conventional starter batteries, but the company was able to utilise the grid technology in a 192V battery design in a hybrid electric vehicle manufactured by Suzuki, known as the Twin. Launched last year and only available in Japan, it combines a 660cc petrol engine with a small electric motor. The Twin achieves a fuel efficiency of 32 to 34 km per litre of petrol. However it has very low sales targets – just 100 units – so it's a test bed, like the first Prius.
Suzuki's Twin ranks second only to the Honda Insight hybrid in fuel economy. Furukawa has only a year's real road test data, but the laboratory simulations suggests that the battery pack is good for three years or 60,000 km. At lead-acid battery prices, this really isn't bad at all.
Furukawa is also implementing a high-frequency pulsing device, developed by Lan Lam at CSIRO, to help minimise sulphation. With lead-acid science, if it's significant, Furukawa seem to run with it. The clear message was "Look, US auto industry: it's a high-voltage design using lead-acid, and it works!"
Furukawa wasn't the only manufacturer sporting improvements in lead-acid. Shin Kobe now appears to have a Gates cell clone of its own, to compete with the Orbitel/Cyclon/Optima designs. It's called Generty, but there was nothing earth-shattering about it in terms of performance, which may also account for its name.
Not counting the Rholab presentation from Allan Cooper (more on that in a separate article), there was just a single poster presentation from a Western lead-acid manufacturer – Eagle Picher, which is reviving the old Horizon design. That's a story for another issue.
JCI, Exide and East Penn were merely observers. Can you blame them?
There's an in-built resistance to lead on the part of auto makers now for this advanced role, and it's played out each year here. Part of this is historical, but the rest in shaped by the kind of science the US Advanced Battery Consortium wants to do.
Verbrugge for one is a mathematician, and doesn't seem to want battery people second-guessing the testing of batteries in automobiles. The specs for what's needed by the car industry are on the USABC website. In essence he argues: "Make your batteries, see if they meet the specs, then give us an equivalent circuit model for us to play with in our computers. If they show any promise, we'll get back to you."
Test the ideas in a computer model and you can quickly eliminate the directions to avoid. It's the modern way – no, the fast way – of doing things. Many other disciplines are already doing it this way, from pharmaceutical research to civil engineering.
Let me illustrate further. Why should we take any comfort from India and Pakistan agreeing to stop testing nuclear devices? They're far too smart – they now have computer models to test their designs!
You see, most of the battery science people come from the school of experimental science. The old school is hypothesis, experimental design, observation and eventually the application of positive outcomes. The new school has worked out that it will never fully understand the complexities of battery chemistries, so it uses the mathematical 'best guess' approach.
For now the lead-acid world doesn't appear to have those kinds of scientists. It's time it did. Lecture over: back to the meeting!
So what's so great about nickel metal hydride? Well there wasn't much new here that we hadn't seen in previous years. We explained the technical improvements last year, and they have been fully implemented in today's Prius. Even the technology's great defender, Naboro Sato, cautiously admits that we can probably see the limit coming in terms of performance.
In his summary of what's happening, Sato sees lithium coming up from behind, where it was just four years ago, with a factor of three improvement in specific power. The issue now is cost, and Sato was quite specific about where the cost reductions need to come: cheaper separator and cheaper electrolyte, which represent 30% and 11% of the cost of the product. With new suppliers of both batteries and materials there seems to be no lack of entrants into the lithium field to bring this about, so we should expect movement here.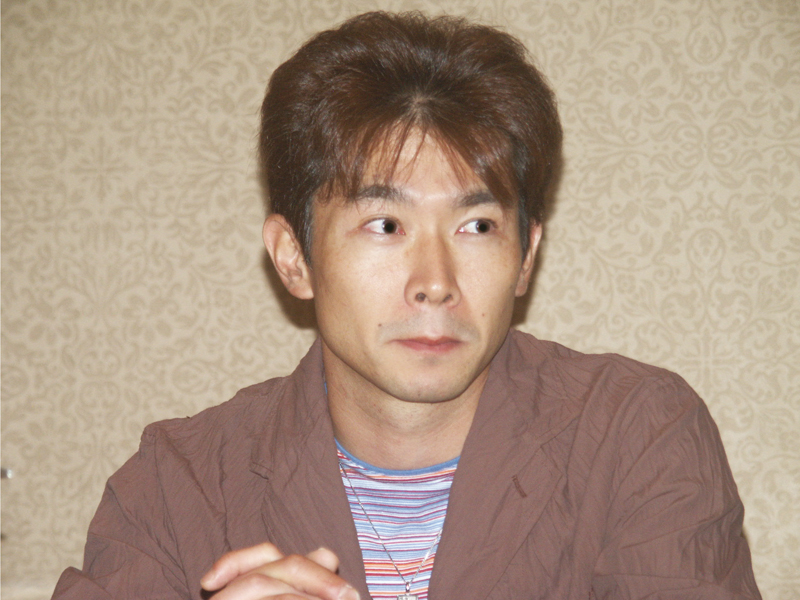 And who better to tell us this than Hideo Takeshita, the cool, self-styled observer of Japan's rechargeable battery market, who's watched that market for nearly a decade now and who cuts through the crap like no other Japanese speaker with both his overheads and his words.
Quite simply it's about who's making a profit now, and about who wants to stay in the game. In lithium the clear winner is Sanyo, by about $150 million. Sanyo is the battery maker to watch – but we're only talking about portable batteries for phones and the like.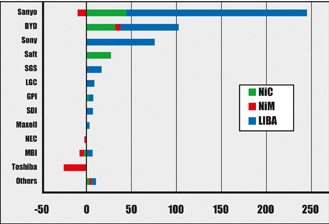 Now for the car players. OK, the profits from hybrids aren't there yet; but the desire for them is growing, and if the cost of fuel keeps going up, especially in the US, then the market will grow. The US car makers are cash-strapped and limited in experience with hybrids, but the Japanese have a potential market of 17 million vehicles in the US and maybe another 4-5 million in China.
Switching to lithium soon will be a good move, because the battery will be more compact. Takeshita estimates that the switch will happen in 2006-2007. But as I've already mentioned, that's not what Toyota is saying – and maybe with good cause.
Takeshita decided to dissect the lithium ion battery in the Vitz – you remember, the little town car with the lithium ion battery under the front passenger seat. In his words "it's nothing special" – it's a lithium nickel cobalt system, and quite safe. Get the cost down to $0.30/Wh and, Takeshita calculates, 25% of hybrids could have lithium ion in their battery packs by 2010.
Could it be however that the real expertise for lithium ion for vehicles lies outside Japan? Such as within SAFT or LG ? You only have to look at the performance figures for SAFT's high-power VLP series to see just what can be achieved – low temperature
(-30ºC) high discharge capability – albeit at a cost that only the US military is presently prepared to pay.
But Toyota et al are still banging on about safety. Now to our knowledge, Toyota has not had any problems with the lithium ion battery system in the Vitz – at least none that Katzuo Tojima, the company's senior staff engineer, would tell us about. His presentations were more a reprise of the nickel metal hydride improvement story which we covered from EVS 20 in our Winter issue. As I've suggested, the audience had already heard some interesting and convincing lithium ion presentations. And when it came down to the crunch question, i.e. when is Toyota going to move over to lithium, Tojima said they still needed to be convinced it was worthwhile.
One begins to suspect that the real reasons are political as well as technical and the company wants an indigenous Japanese source of high-power, low-cost lithium ion technology. For now, it doesn't have one. Hence the costly love affair with nickel metal hydride continues.
What about other technologies? The romance of ultracapacitors and lead-acid – a perfect combination of energy and power – is still talked about, but these two are like the cliffhanger in some technical soap opera: just when are they finally going to sleep together? And will we get to read the 'kiss and tell' story?
We may have to wait a few years yet. As the delegates slipped away on the Friday, I felt that some of the excitement of previous meetings in this series had been lost. But that, I suppose, is inevitable.
A lot of technology decisions have been made, and next year we should have sales figures and technical reports on the GM and Ford hybrid offerings as well more details of the extended Toyota range. The cost of fuel is unlikely to have come down, and lead, cobalt and nickel prices will still be on the rise. And whoever's in the White House, hybrid automobiles are here to stay.