Chinese battery maker Contemporary Amperex Technology (CATL) has received its second partial approval for its 8GWh lithium-ion cell production plant in Thuringia, Germany.
Contemporary Amperex Technology Thuringia (CATT) will be the firm's first plant outside of China to make batteries when assembly lines are started at the end of this year.
The construction of the plant, which began in 2019, is in the final stage and the installation of machines has begun.
Wolfgang Tiefensee, Thuringia's minister of economy, said he hoped the project could spark the emergence of a 'Battery Valley Thuringia' due to the first of CATL's supplier companies being based in the area.
CATT consists of two buildings: G1 is an existing building where cells are assembled to modules; and G2, a newly-built plant by CATT will produce the cells.
The approval from the state of Thuringia was issued to permit cell production of G2.
A total investment of €1.8 billion ($1.8 billion) has been made by CATL, which plans to achieve a production capacity of 14GWh and create 2,000 jobs in Germany in the future.
Global battery capacity
Last November, CATL broke ground on a 50GWh lithium-ion battery production base in Yichun, east China's Jiangxi Province.
The first phase of the project involves an investment of 13.5 billion yuan ($2.1 billion) and is a cornerstone of the Yichun city's plans to develop itself into a sustainable lithium-ion battery hub in Asia.
The plant is part of CATL's wider plans for increasing its energy storage presence.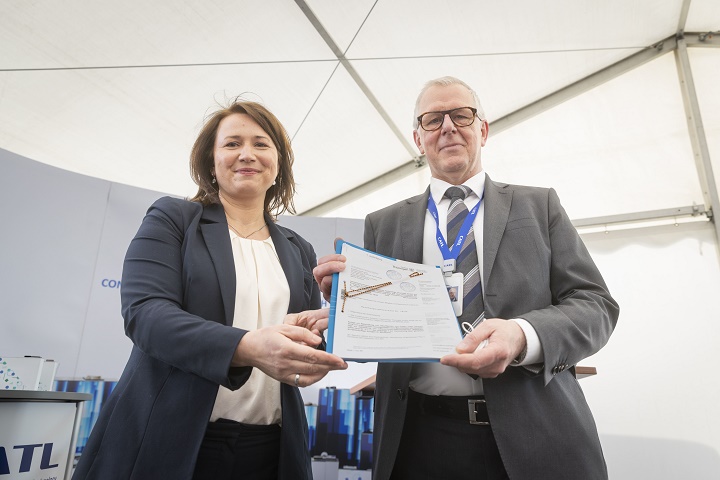 Image: Anja Siegesmund, Thuringia's minister of environment, energy and nature conservation hands the permit to Matthias Zentgraf, CATL's president for Europe