An almost academically pure parade of what's out there in all kinds of energy storage ideas, the 2009 Eurosolar meeting in Berlin left the Editor with a headache and no sense of the best ways forward.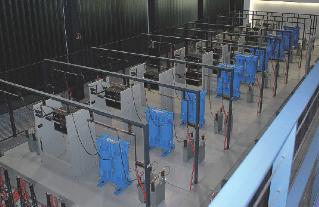 Energy storage— boy has it become a buzz phrase with bells on. Eurosolar— the German-based association for renewable energy, which has its roots in PV, took the theme to its heart year for its November meeting. My spoken German is rubbish and I dozed unashamedly at whole morning's political rhetoric led by the likes of powerful Green's like Herman Scheer.
If we could only harness all the talk and store it as energy! A lot of us are tired of the speeches now and want to see real projects happening with real results— not wonders from the corporate graphics department. This meeting was super eclectic— a science cabaret in fact with science "acts" from all over the world. These were not the usual sales pitches you find at far,far too many conferences. But there were no solutions either. The meeting took in thermal storage, from the relatively simple systems using hot water to completely reversible chemical reactions the recovery of latent heat and more. One became drunk on the sheer brilliance of ideas— but incapable of rating practicalities and nobody attempted to present much of a cost benefit analysis one on the other.
Neither was there any attempt to rate any one technology as superior or inferior to the other. What it did show this writer is that energy storage technology is becoming a multi beast competition— perhaps BEST's monitoring of what's going on in the electrochemical field is a tad too isolated.
Batteries, we believe are the key, (certainly for mobility) but this meeting didn't degenerate into a battery event… well it tried, but the presentations weren't really up to the mark, unless you're running the batteries B100 course at a second rate university somewhere.
I was beginning to wonder if I'd wasted my time and my carbon offset until, at the end of day two, I made the special visit to Younicos, a company you've probably not heard of (but I'm certain you will hear a lot more of) because they have a vision of how to use energy storage technology and electricity generation and they do a lot more than talk— they are spending money (their own) and metal bashing (or battery bashing) as we say— in the heart of Berlin.
There the company is evaluating lithium ion technology, Vanadium redox technology and sodium sulphur technology. Set out like a technical theme park, Younicos didn't disappoint. It has facilities the size of an aircraft hanger and more in which it has built a full size grid complete with a couple of megawatt –sized batteries from NGK. And the NGK people were there to explain the successes they've already had in Japan and elsewhere.
The purpose of the laboratory is to simulate power supply exclusively from renewable energy sources for
the island of Graciosa in the Azores. The test facility models the entire island power system, including generation, storage, transmission and consumption. In the test run, actual weather conditions prevailing on
Graciosa (sunlight and wind force) and the energy consumption of the island's inhabitants will be incorporated in the simulation on a real time basis.
In this way, the company will develop and demonstrate strategies for grid control and power management, so that networks with up to 100% wind and solar energy can be operated stably in any region in the world. After the test run in Berlin, its hoped that the system wil be put into real operation on Graciosa— but its by no means guaranteed.
Younicos is looking at Lithium-ion too but in a way I found more radical and incredibly innovative. The computer workstation is ubiquitous in any business— so too the telephone but both technologies have required a massive investment in cabling for both power and data.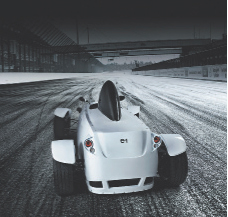 To some extent that network of cable has been eliminated through wireless technology, but the need for power outlets still remains— or does it? Younicos have designed a series of large portable lithium-ion power packs— about the size of a small office type UPS system— which can power all office computers for days at a time. Only a few charging points are needed. The small inconvenience of having to move the power packs to a charging point is more than offset by the reductions in the complexity of the electrical system in the office accommodation— it seems the only victims might be electricians who will no longer have to make complex and costly alterations to the provision of power outlets.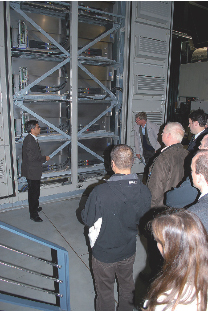 There seems to be a strong "because we can" approach to work of Younicos— for example, an electric scooter charging station— power backed by a Vanadium Redox storage system which is turn driven by a large solar array. One could only imagine what the costs of of establishing something like this is but the fact remains is that the organization has not only the power to dream but the power also to make dreams happen, which in other places, seems only possible with taxpayers money.
If you don't have your own private wealth or taxpayers' money, you are pretty reliant on venture capital and other rich investors, who have a narrower agenda. And in the battery business— that is the manufacture of batteries for rather narrow markets— power tools, camcorders and cellphones. It's only quite recently that "Energy Storage"— in the sense of firming renewables has appeared in on these firms agendas.
In Germany, despite what appears to be a cultural propensity to embrace "green thinking "with engineering excellence" the financial agenda can be dull.
Take Li tech battery, for example— a joint venture of Evonik and Daimler with a focus mainly on vehicles. The company has produced the typical electric testosterone demostrator track racing car and roadster electric based on a Porche roadster— not that different from the highly successful PR of A123
It has now entered a collaboration with Next Energy and Digatron firing circuits to produce large scale megawatt+ sized storage battery systems— buffering wind and solar is in now suitably cool with the shareholders.
But perhaps sticking to making batteries for vehicles is the way forward— certainly after you've seen and read German Government plans and targets for so called E-mobility. Describing the North Rhine Westphalia Region as a model for the rest of Europe, the regional government wants to see 250,000 EVs introduced by 2020, to relocate new E-automakers in the region and to expand the whole supply chain.
The project is far from being simply hot air— there's already an evaluation programme agreed on Ford's E Connect Van, in place well ahead of the vehicle's introdution to the market— this in partnership with the Cities of Cologne and Essen and of course, Ford Europe.
Looking back over the presentations in fulsome Europeak, one sometimes wonders what was actually said. What you the reader wants to know is "What's in it for me? Are all the projects and partners sewn up already? Can I sell batteries here? Can I build a battery plant and avoid local taxes? And I'm afraid I can't tell you any of that.
But we can leave you with the details of the local man who knows at the end of this article.
Not all presentations came from Germany. France has legislation in place to improve the energy efficiency of all new building— especially homes and the "Lionbat" pretty much explains exactly what it is— a means of integrating a lithium-ion storage system into domestic premises, storing energy from photovoltaic systems. It would comes as no surprise then than France's leading battery maker, SAFT, was involved in this project.
Despite energy conservation education, domestic electrical energy usage is creeping up in French homes, mainly because of the use of home computers. But there was no clear cut answer from the presentation. Could PV and lithium-ion represent a cost effective peak shaving strategy and a cost which would make sense to the domestic consumer? With or without subsidy? No answers and a distinct gut feeling from this writer that the study was far too academic in nature— everyone, from PV and battery makers to consumers and energy providers need quick answers—not years of modelling.
But trying to make a solid business case for the mass introduction of PV/battery backed systems is difficult and is more a case of "engineering accountancy" rather than science. The benefits of adopting the technology may accrue to the electricity provider— by being able to adopt lower voltage distribution and fewer transformers for example, as a presentation by Martin Baun from the Franco German Sol-ion project, shows.
This project has been running since 2008 and ends in 2011. How big a battery? How big a PV system? The Sol-ion system is based around a 5KW PV panel, a 4.6KW inverter and 2.3 kW of battery storage.
You can model and postulate all you like but the only way to make progress is to suck it and see. And that apparently is the next phase of the project— to evaluate 75 real systems. The writer wonders how transparent the results will be and whether the economics would add up outside of France and Germany.While power failures are less common in Europe, a big bonus in adopting such a system is improved power quality. In case of grid failures, Sol-ion systems can provide backup energy. One important advantageof the Sol-ion system in comparison to conventional backup systems is that not only the backup energy but also the PV energy can be used in case of grid failures.
The increase of the backup energy reserve (to 1 or 2 kWh) leads to an increase of the timespan of self supply and thus increases the probability of passing a grid failure without having to turn off any electric loads but the reservation of a part of the installed battery capacity for backup energy reduces the usable capacity available.
If nothing else, this meeting was eclectic and with many contributions coming from the network of Fraunhofer research institutes— there's enough evaluation of what's going on outside of Germany in many spheres of activity.
What was lacking was good Q&A and good knowledgeable moderation- powerful summing up of what's happening in so many different fields of activity. And please don't tell me that's my job!
Last point, the reference I mentioned earlier is:
Dr.-Ing. Frank Köster
Network Manager Future Fuels and Drives
e-mail: koester@energieagentur.nrw.de