The rolling blackouts caused by the war-damaged electrical grid infrastructure have compelled Ukrainian hospitals, government institutions, businesses and common people to find solutions to their power needs. In this regard, portable generators (PGs), battery energy storage systems (BESS) and solar panels (SPs) can provide the desired electricity backup, for some of the time at least. Frank Lev takes a closer look.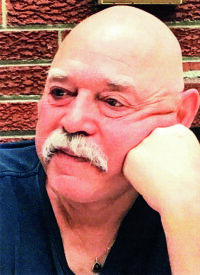 The Ukrainian population, including city dwellers residing in apartment buildings, cannot use petrol or diesel-run PGs due to their harmful exhausts and noise, limiting their options to BESS and SPs. Most of the older apartment buildings in cities rely on centralised steam supply for heating in winter and natural gas for cooking and boiling water. Typically, their electricity is used for lighting, powering refrigerators, TVs, small appliances, and recharging mobile phones and other electronic gadgets.
Battery energy storage systems
A relatively low-power BESS of 700 W and 220 V should meet the power requirements of a typical family living in a small apartment. Before the invasion and war with Russia, the Ukrainians used BESS products mainly for recreational purposes, such as camping and small cottages without grid electricity. The war has changed it all, making back-up power a matter of survival.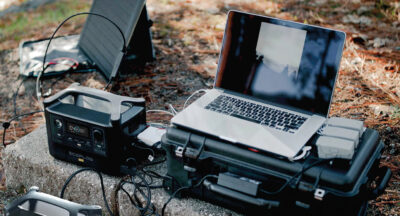 There are various foreign-made BESS units currently available in Ukraine, although in short supply, such as Bluetti, Jackery, EcoFlow, Xtorm, DEDRA and many others (Fig 1). Most of these products are imported by resellers and end users, as only Bluetti, Jackery and EcoFlow have official representation in Ukraine.
Available in Ukraine, EcoFlow RIVER Pro portable BESS has one of the world's fastest charging power capabilities. The RIVER can be recharged from 0–80% state of charge in under 60 minutes or fully recharged in 96 minutes, a crucial factor when the grid power is in short supply. The 720 Wh capacity of the BESS's battery can simultaneously power multiple devices.
This list is complemented by some Ukrainian products, such as Bandera Power and Dzherelo.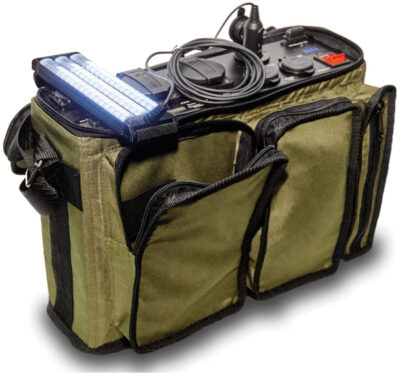 Bandera Power 180 (Fig. 2) is a portable backup power BESS used in bomb shelters, basements and other areas without electricity to provide lighting and feed/recharge small electronic devices. It has a 600 Wh capacity Li-ion batteries (LIBs) and power electronics capable of the rated output of 500 W at 220 V alternated or 12 V direct current. The unit weighs 6.9 kg, is built to meet military specifications, and can be easily carried using its shoulder strap.
Another Ukrainian product, LogicPower LPY-PSW-800VA, is an inverter with grid-compatible sine wave output, control circuits and sockets for plugging in power cables. The unit is supplied without a battery, leaving it to the end user to procure an external 12 V lead-acid battery.
In this regard, the system is very flexible, allowing for an enlarged-capacity battery bank suitable to support small electrical appliances for an extended time. The system works as a 560 W uninterruptible power supply (UPS) for grid power outages. The grid-compatible sine wave output makes the unit especially suitable for high-fidelity electronic equipment.
Ukrainian telecommunication centres must have reserve power for at least three days. Their existing lead-acid batteries were not up to the task and are being phased out by LIBs. Two of the biggest telecom companies in Ukraine have already installed 22,000 new LIBs, with many more to follow. With the increasing demand for LIBs, the support from friends of Ukraine abroad is intensifying. For instance, the Canadian government has provided funds for a 6.5-tonne shipment of 172 LIBs from Poland.
Five donated batteries reconnected tens of thousands of residents
Canadian cybersecurity firm eQualitie bought and shipped the batteries last December. Some went to a small internet service provider (ISP) in Chernihiv in the north of Ukraine. Just five batteries meant tens of thousands of residents remained connected to the internet. Overall, the shipment provided total capacity of 20,640 Amps or 247 kWh to local internet providers, allowing them to power their networks for an additional 10-12 hours through the power cuts.
The company is crowdfunding for another shipment of 150-170 batteries to help around 30 ISPs power their fiber optic networks during outages. It said even during the fighting seen in February–March 2022, the ISP Osnova was able to provide internet and cable TV services to more than 50,000 households in Chernihiv.
Dmytro Samsonenko, the director of Osnova, shared his experience via eQualitie of using donated batteries during power cuts. Its SBL batteries are connected to the EASUN ISOLAR-SMG-II-3.6KW-WIFI inverter, and system capacity is approximately 3 kWh (135 Ah at 24 V). He said: "The system is installed at the district-level node, which provides television and internet connection for 185 residential buildings in Chernihiv. The capacity of the batteries is enough for 16 hours of continuous operation of the equipment in the event of an outage of the node."
Makeshift battery banks
Makeshift battery banks of all types and designs are also used depending on battery availability, but despite all efforts, only 30% of BESS demand has been met to date.
Consumer demand is growing exponentially despite rising prices, which are expected to level off due to the Government exemption of petrol generators, electric motors, rotary electrical converters, transformers and electric batteries from VAT and import duty.
The shipping is protracted since the air freight of lithium batteries is virtually impossible, so the deliveries are carried out by lengthy and risky ground transportation from the nearest EU countries, where Poland is one of the most appropriate choices.
Portable generators
PGs have quickly become one of the most cherished commodities in Ukraine. They are extensively used in private houses, businesses, construction sites and many other places despite the noise, smelly exhaust and costly fuel. Of these, the most prevalent are the diesel/petrol PGs with a power rating of 6.5 kW to 10 kW and capable of continuously running for at least eight hours.
However, smaller units are also deployed. Unfortunately, Ukraine has no manufacturing capability to produce PGs and currently depends on imports from abroad. Despite PGs' almost inexhaustible supply, the demand is so high that perhaps only 25% of government institutions, private businesses and house owners have them.
Critical facilities equipped with industrial UPS
The hospitals and other critical facilities are equipped with industrial UPS systems comprising stationary diesel generators and battery banks to give them a necessary power back-up should the grid power be lost. However, not all hospitals have UPS and during wartime, numerous makeshift hospitals are deployed in areas without the grid as well.
Under the circumstances, the PGs have proved to be the most plausible source of continuous power for such applications. In some instances, SPs and batteries were also successfully used to supply electricity to small hospitals.
To mitigate the impact of blackouts on civilians, the Ukrainian government deployed thousands of special "Centres of Defiance" to provide its citizens with free access to electricity, mobile communications, internet, heat, water and first-aid kits. The operating centres are powered around the clock by high-output PGs and connected to the world via the Starlink satellite.
Ukrainians look forward to the war's end and rebuilding their electrical power infrastructure to resume everyday life without needing batteries and generators.
However, they want to start producing LIBs since they do have abundant reserves of lithium oxide, cobalt and nickel, the materials needed for LIB cathodes. And Ukraine's Zavalievsky graphite mine and processing facilities were used to produce graphite-based anodes for LIBs before the war and will resume their operation in peacetime. But as long as the rockets, drones and artillery shells destroy the Ukrainian grid infrastructure, more PGs, BESSs and batteries are still needed.
---
Translation company uses batteries to keep working
Translation company Protemos, based in Kyiv, came to rely on batteries for a while to keep its business running. CEO Volodymyr Kukharenko told BEST that electricity was supplied on a schedule of five hours on, four hours off. Buildings had different supply schedules.
Although electricity supply is more reliable now, the power cuts in the winter represented "a huge challenge for businesses," he said. "The first and obvious challenge is to ensure that the computers used by translators and project managers run smoothly.
"When there is electricity, we charge the batteries so that there is enough power to keep the translators and project managers working during blackouts. So, the first thing we had to splurge on was a portable power station."
It chose a BLUETTI AC300 power station with two B300 battery modules. Each module is able to run 20 laptops for four hours. "If there are fewer than 10 employees in the office, we even treat ourselves to the coffee machine and caffeine up," he said.
Losing electricity also means losing the internet, an essential tool for translators to do research, and for delivering their work. The company can switch to the 4G network, but that is slow and unstable depending on traffic. "And sometimes we don't even have any internet connection as the batteries that power the mobile phone operator's cell towers die," said Kukharenko.
Camping lanterns and battery-powered table lamps are also part of the emergency back-up.
---