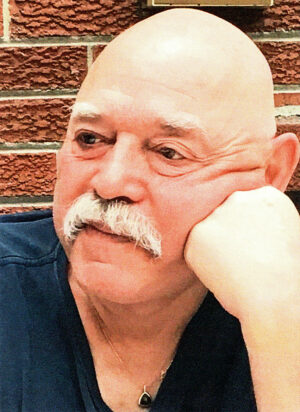 Once commercialised, solid-state batteries offer an alternative to lithium-ion without the safety concerns, range anxiety and cost. Automotive OEMs are investing money in R&D and the technology's development is progressing, as Frank Lev from Tavima Canada explains.
Automotive transport was and continues to be, a vast market for batteries because they are a paradigm-changing technology. For instance, lead-acid batteries have enabled vehicles with internal combustion engines, nickel-metal hydride has empowered cars with hybrid-electric drive, whereas lithium-ion has made electric vehicles (EV) a commercial reality. The demand for EVs is closely connected to the rapid expansion of lithium-ion batteries with which Tesla challenged the dominance of internal combustion engines (ICE). For an EV, the battery energy density is as important as the fuel economy for a conventional car.
A typical lithium-ion cell with a graphite anode has a gravimetric energy density of 250Wh/kg and a volumetric energy density of 600 Wh/cm3. A Lithium-ion cell with a silicon anode has 350Wh/kg and 800Wh/cm3; but to compete and eventually replace ICE vehicles, the EVs need energy-dense batteries with 400 Wh/kg, 1,000Wh/cm3 and improved life, safety, recharge time and price. Tesla aims at these performance targets with its improved 4680 lithium-ion cells.
Quenching the flame
One of the drawbacks of lithium-ion batteries is they need special design precautions to mitigate the safety risk of catching fire because their organic liquid electrolytes are flammable. Although relatively rare, lithium-ion battery fires happen due to an internal short caused by accidental deformation of the battery housing or electronically conductive dendritic growth on electrodes. The electric scooter fires in India recently destroyed three vehicles and caused human fatalities.
In contrast, solid electrolytes are not flammable. This feature alone makes them a coveted item for any lithium-battery technology. But most importantly, some solid electrolytes are impenetrable to dendrites, thus enabling the application of metallic lithium (Li-metal)— a material with one of the highest specific capacities of 3,860 mAh/g but highly susceptible to dendritic growth.
Henceforth, most emerging solid-state battery technologies use Li-metal anodes to increase their energy density. For instance, Sony's first lithium-ion cells had a Li-metal anode. Unfortunately, neither its separator nor gelled polymer electrolyte could stop the detrimental penetration of dendrites, and the cells failed. However, with the emergence of inflammable and dendrite-impenetrable solid electrolytes, the Li-metal batteries became feasible.
Michael Faraday was known to research ionically conductive solid materials, but an in-depth scientific development started not long ago due to the interest in solid-state batteries. The fascinating ability of some solid materials to conduct electricity ionically rather than electronically makes them applicable to solid-state batteries.
The list of materials that could be used as solid electrolytes is long and includes ceramics, glass, sulfides and oxides. The oxide-based solid electrolytes can use Li1.5Al0.5Ge1.5(PO4)3 (LAGP), Li1.4Al0.4Ti1.6(PO4)3 (LATP), Li3xLa2/3-xTiO3 (LLTO), Li6.4La3Zr1.4Ta0.6O12 (LLZO) and chloride conductors such as Li3MCl6 and Li2M2/3Cl4, where M may be Y, Tb-Lu, Sc, or In. The solid electrolytes can enable the high-energy lithium-sulfur (Li-S) battery by suppressing its life-shortening shuttle effect— the Achilles heel of Li-S batteries with liquid electrolytes.
Solid electrolytes
There are three categories of solid electrolytes: organic, inorganic and composite. Inorganic electrolytes such as ceramics have high ion conductivity of more than 10− 4 S/cm and high thermal stability but are extremely difficult to scale up. The ceramics must be sufficiently thick to be effective as a barrier to dendrites, thus impacting the battery's energy density. Also, batteries with inorganic electrolytes have shown poor power performance due to high contact resistance between ceramic electrolytes and electrodes.
In my article "The art of making highly conductive interfaces between active materials and current collectors," (published in the Winter 2022 issue of the BEST magazine), I described the difficulties and engineering solutions associated with solid conductor interfaces and the importance of compression to achieve low resistance. Although the solid electrolyte conductivity is based on the diffusion of the ionic species and is a different phenomenon compared to electronically conductive metals, it can also benefit from high compression.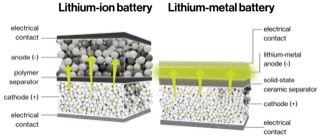 Composite electrolytes with organic and inorganic components demonstrate improved properties due to a synergetic combination of high ionic conductivity and good interfacial contact. An essential feature of a solid-state battery electrolyte is the ratio of electronic conductivity to ion conductivity, which ideally should be as low as possible to prevent the short circuit current between electrodes. The solid-electrolyte ionic resistance consists of bulk and grain boundary resistances typical for many polycrystalline electrolytes. The ionic resistance in solid electrolytes can be measured using an electrochemical impedance spectroscopy technique.
The solid-state batteries are not commercialised yet, except for the Blue Solutions subsidiary of the French Bollore, which supplies solid-state batteries for Mercedes eCitaro transit buses.
Those Li-metal-polymer batteries use an electrolyte comprised of lithium salts dissolved in polyoxyethylene copolymer and Li-metal anodes. The cathodes are iron-phosphate, which can be found in LFP batteries. The Blue Solution batteries have good electrochemical stability but operate at much higher than room temperature to increase the electrolyte conductivity. The performance of these batteries is similar to LFP batteries and is considered equally safe.
Recently, two eCitaro buses caught fire in Paris, stirring a lot of commotion. The cause of the fire is still unknown and may not be battery-related. All 149 eCitaro buses have been grounded until further notice.
Meeting application demands
Batteries are designed to meet application requirements such as battery size and energy rating. For instance, typical lithium-ion batteries for EVs have a 200kWh rating.
The manufacturing methodologies and techniques required for the competitive production of solid-state batteries rely upon the existing processes used for manufacturing lithium-ion batteries. The electrodes can be produced by blade casting, screen printing, electrophoretic deposition, ink-jet printing, spray coating, and die casting. Also, powder pressing, sintering, vapour and laser deposition, sputtering, evaporation, and extrusion processes are used.
The described manufacturing processes are complex and require deep pockets for adequate development. Fortunately, the leading automotive OEMs cooperate with, and support, solid-state battery developers financially and extend their vast manufacturing resources to them.
The scientific community is also committed to the success of solid-state technology; researchers at the German research organisation Fraunhofer Institute made a crucial step towards the realisation of solid-state battery technology. They developed a dry coating method for electrodes that do not use liquid solvents. The electrodes are entirely dry and ready for integration with the dry solid electrolytes.
Bipolar designs
Several developers are known to use bipolar architecture for their solid-state batteries. The solid electrolyte is highly suitable for the bipolar design because, unlike a liquid, it is not spillable, requiring less complex sealing provisions. Engineering experience gained from the bipolar lead-acid batteries could apply to solid-state lithium batteries.
Solid-state battery developers face numerous technological challenges, including, as mentioned above, conducting ions from solid electrolytes to electrodes with minimal impedance. Finding a suitable solution is so complex that some developers prefer quasi-solid options to a purely solid design. Although called solid-state, they are actually semi-solid as they integrate liquid electrolytes in their design. I am not a purist, and would welcome any plausible solution, irrespective of its electrochemical underpinnings, as long as it is capable of the following performance objectives:
Higher energy density
More assured unsusceptibility to fires
More extended battery life
Compatible cost
Another challenge faced by the developers is that solid-state technology must meet stringent requirements demanded by automotive OEMs; they must be suitable for fast charging and mass production. In the jaws of pressing deadlines and fund shortages, some developers may embroider their test results to attract investors. Such practices may backfire in the production stages bringing numerous unforeseen issues. The prototypes that worked well in the laboratory might develop problems when scaled up.
As many as thirty-five R&D companies are developing solid-state batteries worldwide, with Japan having 68% of international patents, followed by the US with 16% and South Korea with 12%.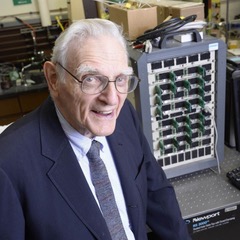 The following are examples of the collaborative work between automotive OEMs and leading researchers on all solid and semi-solid technologies:
Canadian electric utility Hydro-Québec in cooperation with Mercedes-Benz, Dana and Chinese Dongshi Kigpower, is developing the solid-state battery technology called Solid Glass. John Goodenough, an inventor of the lithium iron phosphate battery, is one of the co-developers. The technology uses metal-doped glass as a solid electrolyte. Projected commercialisation is for the end of this year
Partially owned by VW, QuantumScape is one of the significant solid-state battery developers with demonstrated fast charging capability and high charge retention after 800 cycles. The cells are not flammable and fully functional over a wide temperature window. The demonstrated energy density is more than 1,000Wh/cm3. The technology uses a ceramic electrolyte and Li-metal anode formed at charging. The company plans to upgrade single-layer cells to multi-layer cells and start mass production in 2024

BMW, Ford and Volta invested in Solid Power of Colorado, US. It is known to produce 20Ah multi-layer solid-state batteries consisting of solid sulfide electrolytes, Li-metal or silicon anodes and NMC cathodes. The claimed energy density is 390Wh/kg with a silicon anode and 440Wh/kg with a lithium-metal anode. Series production of 100Ah batteries is scheduled for 2026

Supported by Comau of Stellantis, British Ilika is going ahead with a full-scale plant for its Goliath solid-state battery manufacturing. It plans to ramp up production capacity from 50kWh/year to 2MWh/year by 2023. Ilika uses an oxide electrolyte solid-state technology and has plans to introduce a bipolar design for third-generation pouched batteries
Samsung SDI presented a prototype of a solid-state battery capable of 800 kilometres and 1,000 cycles. The technology is based on the undisclosed solid electrolyte and possibly on a Li-metal anode. A pilot line is under construction near Seoul, South Korea. Samsung intends to finish developing large solid-state battery cells by 2025 and start mass production in 2027
Toyota announced that it will start producing hybrid electric vehicles with solid-state batteries in 2025. Toyota is probably the only OEM that plans to use solid-state batteries in a hybrid EV due to the high cost of these batteries, making a battery EV too expensive. In contrast, the battery is much smaller and less costly in a hybrid vehicle. Toyota says that a hybrid application would be a good test for the battery's endurance as it will undergo more cycles. Toyota claims to be the first OEM to unveil the solid-state battery-equipped EV, the ICE range extender notwithstanding. Toyota keeps its battery technology close to its chest, so little is known other than the solid electrolyte is sulfide-based
Murata of Japan will soon begin mass-producing solid-state batteries for smartphones. Murata combines lithium-ion technology with laminating techniques from multilayered ceramic capacitors and uses oxide electrolytes. The batteries have good performance and are stable. Murata plans to commercialise its smartphone batteries and upgrade them for EVs
ProLogium of Taiwan has signed a cooperation agreement with Mercedes-Benz to produce next-generation EV batteries. The technology is Li-metal with a solid-state oxide electrolyte which demonstrated about 460Wh/cm3 in 2021. The ProLogium battery uses a bipolar design enabling it to reduce battery weight and cost
The American C4V will start producing a semi-solid battery capable of 400Wh/kg and 800Wh/cm3 in 2025. Initially, C4V will supply nickel and cobalt-free lithium metal phosphate batteries
Japanese Sakuu and automotive supplier Musashi Seimitsu developed a 3D printer to mass produce solid-state batteries with an energy density of 1,200Wh/cm3 by 2023, a significant improvement to the existing EV batteries of 600-800Wh/cm3. The non-printed Li-metal solid-state batteries achieve 800Wh/cm3 and 97% energy retention after 200 cycles
Mercedes, Stellantis and Hyundai have invested in battery startup Factorial Energy of Woburn, Massachusetts, US, which is developing quasi-solid Li-metal batteries containing some liquid electrolyte to reduce its ionic resistance and improve manufacturing. The existing 40Ah cells have 350Wh/kg and 770Wh/cm3. When fully developed, they could reach 400Wh/kg and 1,000Wh/cm3. The cells are not entirely inflammable but have a much higher threshold than Lithium-ion batteries

SolidEnergy, of Singapore, has GM, Hyundai and Honda in its corner. Last year SolidEnergy demonstrated a large 107Ah cell capable of 417Wh/kg and 935Wh/cm3. The SolidEnergy technology is semi-solid. It uses a protective layer of a solid polymer-ceramic electrolyte on the Li-metal anode and a liquid electrolyte on the cathode. This hybrid technology enables it to resolve numerous design and production challenges. The company plans to start deliveries in 2025
Yole Développement's solid-state battery report for 2021 graphically illustrates the deadlines of the competing OEMs.
ICE use cools
Many countries are less than a decade away from discontinuing ICE vehicles and starting the transition to battery-driven EVs. More than 20 million EVs are in use worldwide despite the range anxieties of their drivers.
Once commercialised, solid-state batteries will provide an ICE-comparable drive, more assured safety and increased charge acceptance. Automotive OEMs are committed to solid-state batteries and are investing money in development and commercialisation. Solid-state technology development is progressing at an assured pace, with the mass-market entry expected in 2030.
However, not all developers are ready to walk the plank; some, like Fisker, a high-end electric sports car OEM, have abandoned their solid-state battery plans. The firm's CEO Henrik Fisker has articulated his frustrations with the solid-state development, saying: "It is kind of a technology where when you feel like you are 90% there, you are almost there until you realise the last 10% is much more difficult than the first 90%, but you do not really know that until you get up to 90%."
But despite Fisker's lack of enthusiasm, many solid-state battery developers announced that they have already advanced beyond the 90% and look forward to successful commercialisation before 2030.