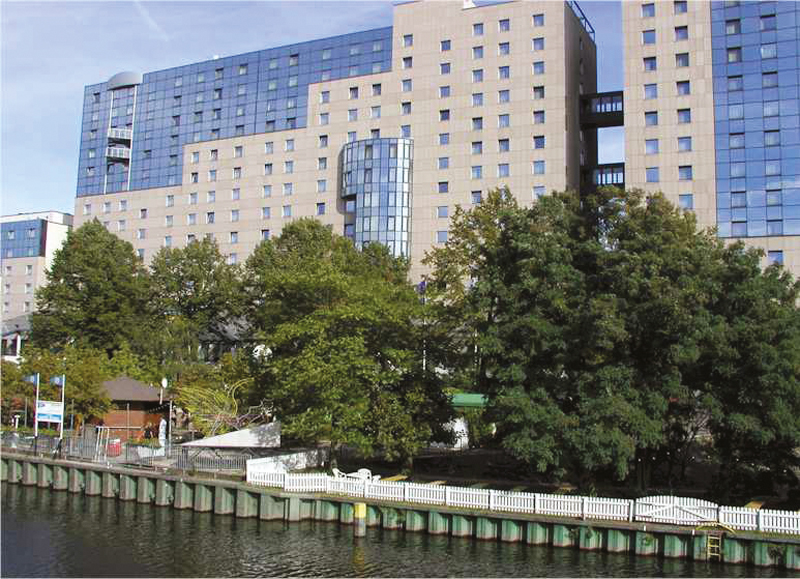 With good solutions to VRLA shortcomings proven, Gerry Woolf is surprised as Telecom providers prevaricate on their uptake. Quite simply, the customer doesn't come first.
It turned out that staging this year's Intelec meeting in Berlin, just as the German nation was going to the polling booths, was an astonishing metaphor for the battery industry itself.
Inasmuch as the German electorate was split over whether to elect Angela Merkel or Gerhard Schröder as leader of the nation, the telecom industry seems split over which direction to take telecom power – and it's not just on batteries.
For years telecom operators have bemoaned the fact that lead-acid batteries delivered far less than their makers promised. The battery industry took note and delivered alternatives – even the embryonic fuel cell industry took an interest. In a fast-moving technology like telecom you'd expect change, wouldn't you?
Of course you would. This is the industry whose keynote presentations tell you how far they've come in 20 years, and how state-owned monopolies were broken up and coupled with fast-moving microelectronics. We've gone from a world dominated by fixed lines and voice transmission to global communications available from anywhere, with devices which fit in the palm of your hand delivering billions of e-mails and text messages sent every day. I know, you've heard it all before – except Ulf Bossel's forthright attack on fuel cells and US energy policy (see page 124). But has the telecom power world changed? Having been absent from two Intelec meetings because of conference clashes, I was curious to test the water for myself again.
Intelec's exhibition floor said much. No less than five fuel cell companies, and four companies offering lithium and nickel chemistries; but lead-acid still dominates with the Chinese companies, ShenZen and Coslight offering VRLA technology with as much showmanship as any North American or European business. And there
are even re-invigorated European lead-acid battery
companies – BAE Berliner batteries, rescued from bankruptcy by the Dutch IGB group (see news, page 12).
And in the conference rooms? It used to be that that revered IEEE meetings were straight-laced technical meetings – but now money talks. There were far too many unashamed sales pitches, which irritated many delegates who pay good money to come here and learn – not listen to "reverse peristalsis", as our vet says.
Despite all the challenges from all the newcomers, lead appears to be holding up well. Despite all the moans and the gripes over poor performance at raised temperatures, the high costs of sending out crews to change batteries and everything else I've reported in reams these past ten years, it still doesn't look like telecom companies – especially mobile telecom companies – will pay the price for rock-solid standby power using chemistries which are better suited to adverse temperature conditions. At least not in Europe.
What spelled this out for me, and I suspect others, came when I put a question to Heinz Becker, Vodafone's 'big cheese' for base stations in Germany.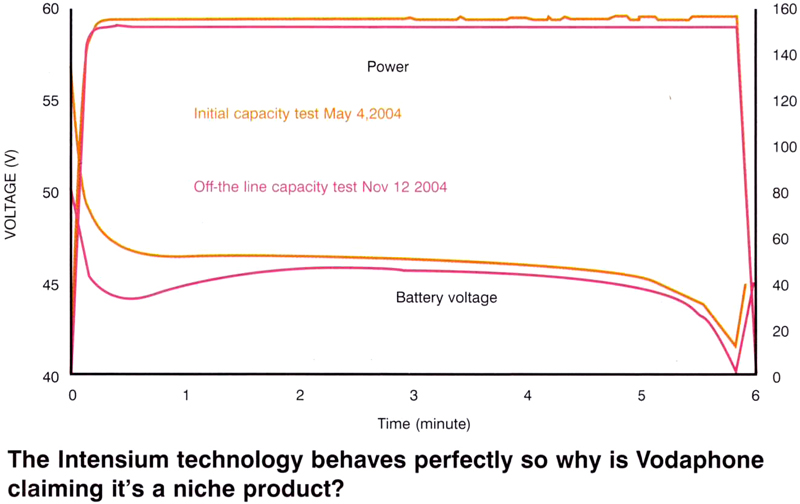 Vodafone has carried out a field trial of the SAFT Intensium 1 lithium-ion system in one of its 10,000 base stations in Germany. Becker didn't pull any punches over his disappointment with VRLA – the shorter lifetimes, the problems with weight loading on the roofs of buildings when there are multiple cabinets, the increased amount of equipment in cabinets as a consequence of upgraded networks. It was a big come-on, you would have thought, for the job that SAFT designed Intensium for: in its first and now third generation product to deliver back-up power reliably, in much less space and now with just as much autonomy as you reasonably need.
It looked like SAFT was 'on a promise'. But we've all had evenings with the opposite sex that were just like that. The Intensium system behaved perfectly – its internal resistance remained stable over dozens of discharges, it delivered almost all of its capacity and showed no signs of deterioration or drop off in voltage.
So is Vodafone Germany going to switch over to SAFT's Intensium system I asked, given this A+ result?
Er, no. "It's a niche product," Becker replies. A what? So what was all the preamble about? You don't need to go into dialogue with the telecom companies to work it out.
In Europe at least, better back-up does not earn revenue. The means to send video clips of teenage thugs beating up their peers across the network, or winning goals from major soccer matches to avid punters, who can't wait to see those goals on proper screens, does.
Our power grids are stable – for now. And if a base station goes down because of a power failure, well it's just tough.
Now I'm told that our American cousins are taking a different view. All the TV advertising to persuade customers to switch networks is centred on network reliability – can you get a signal? – which in the USA is as much about power outages as overloaded networks. And after two major natural disasters, selling reliability might just make a difference to customer loyalty. So you'd think that if the mobile operators are taking a different view, they'd been investing heavily in lithium and even fuel cell technologies for back-up. But they aren't yet. I wonder when they will?
Patrick Ing of Tyco gave a clue as to when the
fixed-line businesses might. The issues are lack of space in telecom central offices and the need to increase battery autonomy.
Ing's argument for lithium battery introduction is a subtle one – in large operations, operators might be persuaded to replace not a whole lead-acid battery with lithium-ion, but they might go for just a single string. So how well would two different chemistries work together, and what practical problems might arise?
Strangely enough, Ing's replacement scenario doesn't involve substituting lithium for classic short life VRLA, but those wonderful Bell laboratory designed round cells, which have lasted for more than 40 years!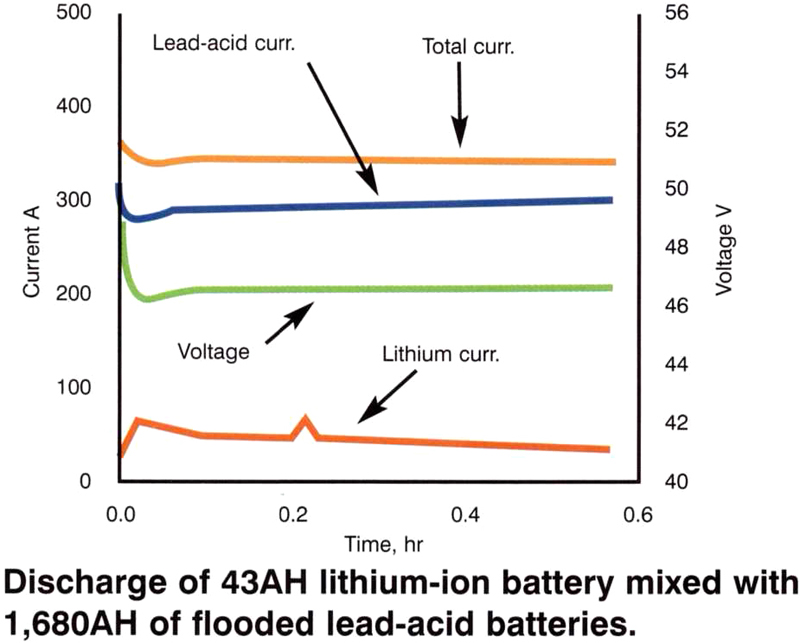 In the scenario described, each round cell string can provide 1680 AH for ten hours – but it weighs 8,600lbs. However, it can be replaced by six frames of 48 Volt 50 AH lithium-ion batteries which provide more reserve capacity with much less floor loading. And all the alternative strategies – like putting extra lead battery strings somewhere else, and then linking them to the battery room – are probably too expensive.
For Tyco this is just a suggestion for one of its customers – at the time of writing, it hasn't happened. But how would the chemistries of lithium and lead-acid work together?
If anything, its proponents claim it actually helps out the remaining lead-acid strings on a discharge. Lithium helps by holding voltages up because it doesn't exhibit the coup de fouet effect, where the voltage drops immediately on discharge. This could be helpful too because protection devices, inserted in the system to cut power when voltages are dangerously low, won't embarrass the service provider.
In practice, Ing said, the lithium string would deliver most of the load current to begin with and it's only when the lithium string voltage begins to fall significantly that lead begins to pull its weight, as it were. The upshot for users of the mixed chemistry strings is that, on very short power outages, lead-acid strings won't be stressed much. And during test discharges to estimate capacity, they'll be stressed even less.
There are other issues too, including taking into account the existing battery chargers and the two issues which make lithium batteries potentially hazardous (overcharging and over discharge) but all of these issues can be solved through current limiting devices and
fusing. But it all has to be thought about – simply putting lithium batteries in alongside lead-acid isn't going to be plug-and-play – but neither should it have to be plug and pray!
Tyco's lithium batteries can be built into high-voltage strings – a facility which Avestor's products don't yet have. One thing is for sure: while there are more lithium players in a future scenario, telecom operators won't be able to switch suppliers as easily as they can with lead-acid. Maybe that's another reason why customers are reluctant to commit – the old issue of marketing getting one over on standards. If you use the Avestor technology then you can only replace it with Avestor technology, and so on.
But let's get back to SAFT, and more particularly an excellent presentation (which should have been titled 'There's more than one way to skin a cat') from Jim McDowall. It demonstrated the determination of the alternative battery technology companies who want to take a slice of the telecom battery market which is still 98% lead-acid.
Now as well as having batteries in all those cellular network cabinets, the real item of interest is the transceiver itself – and they tend to run hot, so air conditioning is a must. Now that operators have learned so much about the limitations of VRLA, the air conditioning is set to operate at 25ºC. But what if you change the batteries to lithium-ion and let those batteries bask at 35ºC? The electronics and the batteries will cope, but can you save money?
Undoubtedly you can, claims McDowall, on the basis that the air conditioning will run less often and, overall, it should require less servicing. McDowall estimates the cost saving for running the air conditioning 10º hotter in a hot climate is around €200 per annum and in a cool climate about €160 per annum.
The financial model presented showed the air conditioner being removed and replaced after five years when running at 25ºC, and then the VRLA batteries are replaced at seven years. All that labour and fiddling about.
Put a lithium system in at just over four times the up-front cost of VRLA and you're ahead of the game. And the clear notion is it's all going to get worse, as operators cram their cabinets with 3G transmitters and lord knows what else, increasing the thermal load. So you are going to have to work the air conditioning that much harder.
A brave try, Jim, but will it work?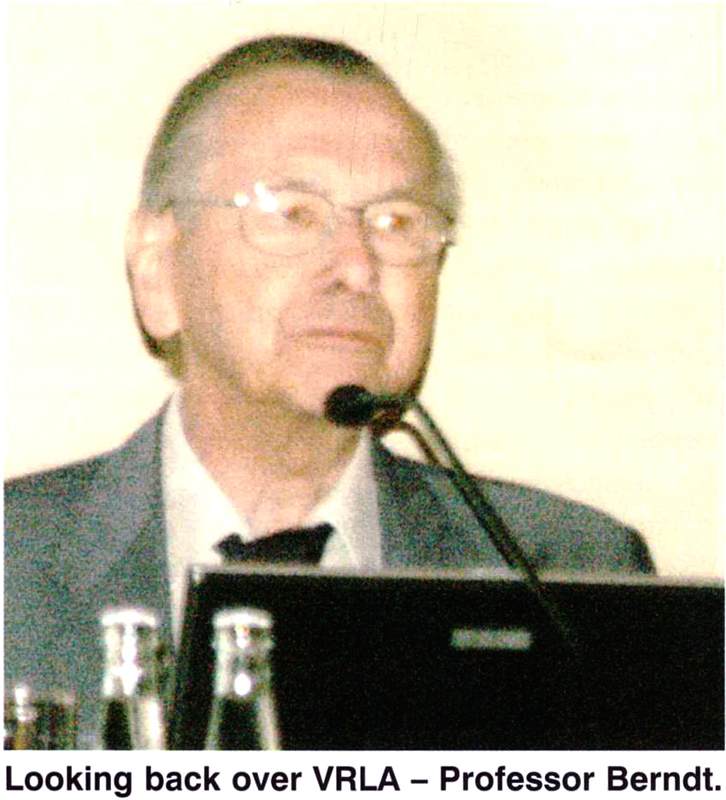 What did the lead industry say to counter all of this? Not much really. There were no battery workshops. Deiter Kobel of Exide took a look at the issue of hydrogen build-up in telecom cabinets – the big surprise was that the hydrogen was distributed evenly in the cabinet, and not concentrated at the top. Professor Berndt took a look back over VRLA but the only man looking forward was Andrew Loynes of Atraverda, the development company of the bipolar battery concept based on so-called Ebonex bipolar plates. The beauty of the battery design is that it has been optimised to get as much unnecessary lead out as possible, i.e. the cast-on strap and the conventional grids. In so doing the weight is reduced and the energy density is increased.
Now with this new chemistry challenge flying over the lead-acid community's heads like so much flak, at least Loynes came equipped with a model of the battery designed for a telecom application – a 48 V 100 AH design. With so much unnecessary lead removed, Loynes could offer an energy density of between 100 and 150 Wh/litre.
Topologically the Atraverda people have worked similar magic – they have created a design which gives the same level of autonomy as the Avestor LMP system and has the same external dimensions – admittedly it's heavier but not as much as you'd think, compared to a conventional lead-acid battery: a 64% improvement in capacity with only an 8% increase in weight.
The interesting thing about Atraverda though is that it does not intend to become a battery maker – it plans to licence the platemaking technology to other battery makers. Becoming a new battery maker is fraught with problems.
Atraverda plans to have a line running next year, and maybe the bipolar design will finally see the light for telecom users in 2007.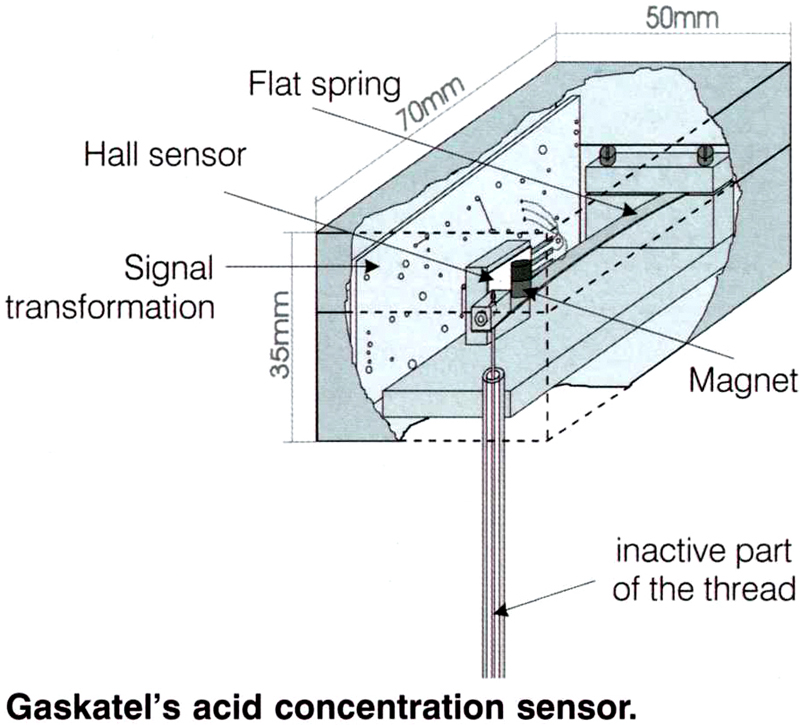 A most interesting side-issue came from a German company called Gaskatel, which had come up with a new sensor for measuring the concentration and temperature inside lead-acid batteries.
Called Densoflex, the main part of the unit is a plastic thread which swells on increasing acid concentration. In the prototype, the swelling causes a magnet to pull against a spring and the change is picked up using a hall sensor.
The technology only works with flooded cells though, and it would have been nice to have seen a device that would work with VRLA – but that's Gaskatel's next move. More information for battery testers to add to their measurable parameters; but does it make any more sense?
Given the hard time that lithium makers have been given now that they've delivered their offering for improved reliability in standby, one begins to wonder if anything makes sense.
The fuel cell makers received lots of interest for sure, but on the evening of the conference dinner I began to see why.
The conference dinner was held at the Deutsche Technische Museum; the part we saw was a tribute to German railway engineering and railway modelling. Halfway through the meal, we were invited to go and look at a giant digitally controlled model – nothing but the best Fleischmann locomotives and a Lens control system.
We were all enthralled – Culli-more would have been in raptures, but my modelling habit is 'controlled'. I discovered that even sensible men like Oli Vigerstol of SAFT have an enthusiasm for model trains – and then, of course, the penny dropped.
One way or another, we're all engineers – we're all curious and we like to play. So if you let us have access to new and better technology, we behave like excited children and we show great enthusiasm. But do we buy anything? Well that's all down to those maternal figures in our lives – the purchasing departments – an extension of the personae of our mothers (and wives). We can throw as many tantrums as we like, but the answer invariably is NO!