Lithium-Ion battery consultant Rick Howard looks back over nearly four decades of lithium-ion cathode development and shows how we got from the basis of intercalation to the whole gamut of materials available to battery makers today.
In the beginning: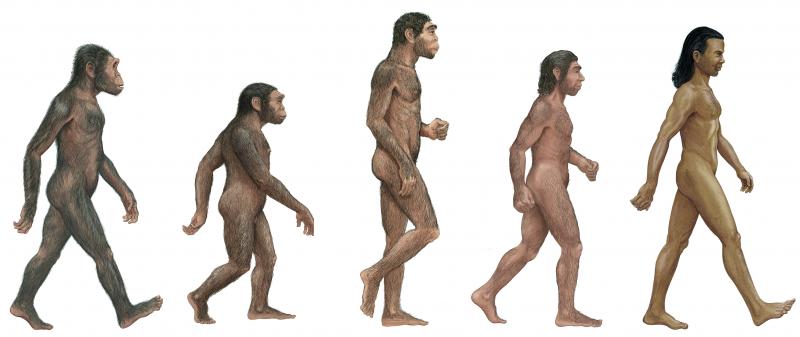 Evolution, as Darwin taught us, occurs due to environmental pressures: the adaptable will thrive, the inflexible will die out. Homo sapiens' family tree has 4+ million year old roots, with many dead limbs representing failed sub-species. But where do we define the first step, that "Aha!" moment? Is it walking upright, increased cranial capacity, or perhaps tool use? In paleontology we find only approximate answers to these questions, but in the history of Li-ion battery technology, there are ample written records to document progress. Evolution in the laboratory proceeds far more rapidly than in nature, and in 40 years the original compounds have been shed from the tree, new branches have formed (and withered), and growth continues.
We can trace this technology back to 1973 and the announcement of Li intercalation into electrochemically-active TiS2 by Whittingham and co-workers. TiS2 is the prototype Li-ion cathode intercalant, exhibiting a layered structure with sufficient spacing to fit Li+, and because inserting Li does not cause a phase change, the cathode is reasonably stable during charging and discharging. This reaction has an open circuit voltage (OCV) of ~2.5V and provides enough energy to entice utilization in niche markets.
Despite considerable research, especially at Exxon, TiS2 cells were never commercial successes. The obvious anode, lithium metal, did not meet safety standards even in the 1970s, and pairing TiS2 with a Li metal oxide (or similar) as the Li+ source resulted in very low voltage cells. Other layered chalcogenides, such as MoS2, suffered from similar flaws and underwent irreversible phase changes during intercalation. Nonetheless, the rechargeable Li battery concept was proven to walk upright, the first stage of evolution.
Emergence of working tools:
The premier researcher of Li-ion cathode materials has been, and continues to be, John Goodenough, and he has mentored several prominent scientists in the field (Thackeray, Bruce, and Manthiram, among others). Goodenough and his teams collaborated on the development of LiCoO2 (LCO) and LiNiO2 in 1980, LiMn2O4 (spinel) in 1983, and the olivine family, exemplified by LiFePO4 (LFP), in 1994. More recently, Dahn and Thackeray succeeded in activating Li2MnO3 in separate 2001/2002 efforts. This line of materials has a laminar structure similar to LCO but operates at higher voltages with 50% greater energy output. The following discussion chronologically follows the development of these several materials by compositional and structural modifications designed to enhance stability and cycle life.
First steps:
Although LCO was discovered as a cathode intercalant in 1980, it lay fallow for a decade until Sony opened the commercial Li-ion market. Why not LiNiO2, which was discovered simultaneously? This is the less expensive material (Co is a strategic metal, selling for 3-5X the cost of Ni) and operates over a similar voltage range. The reasons for the lack of competition are three-fold. First, phase-pure LiNiO2 (LNO) is at best a lab curiosity, impossible to make in commercial volumes due to the thermodynamic stability of 4LiNiO2•NiO, an omnipresent impurity. This non-layered phase hinders Li diffusion, leading to lowered capacity and increased fade during cell operation. Second, LNO has a steeply sloping potential curve, putting greater strain on the powered device near the end-of-charge and possibly shortening its working life. Finally, delithiated (charged) LNO is less stable than LCO, thus the chances for an "event" (battery slang for fire and/or explosion) are enhanced. If TiS2 is likened to Australopithecus, fading out in pre-commercial history, then LiNiO2 must be akin to Homo habilis, with useful traits but ultimately an unmarketable dead-end.
Not that LiCoO2 is without faults. Its safe utilization limit is about 55% of theoretical capacity (circa 145mAh/g); beyond that, the oxide layers in the structure start to destabilize and expel O2. Further, stretching the charge limit above 4.2V causes resistance heating. Consider the implication: an overcharged LCO cell is hot, contains an electrolyte with organic solvents, and produces nascent oxygen – the description of a small grenade! Scientists love a challenge, however, and sought ways to prevent LCO structural collapse and dangerous decomposition when Li content is low.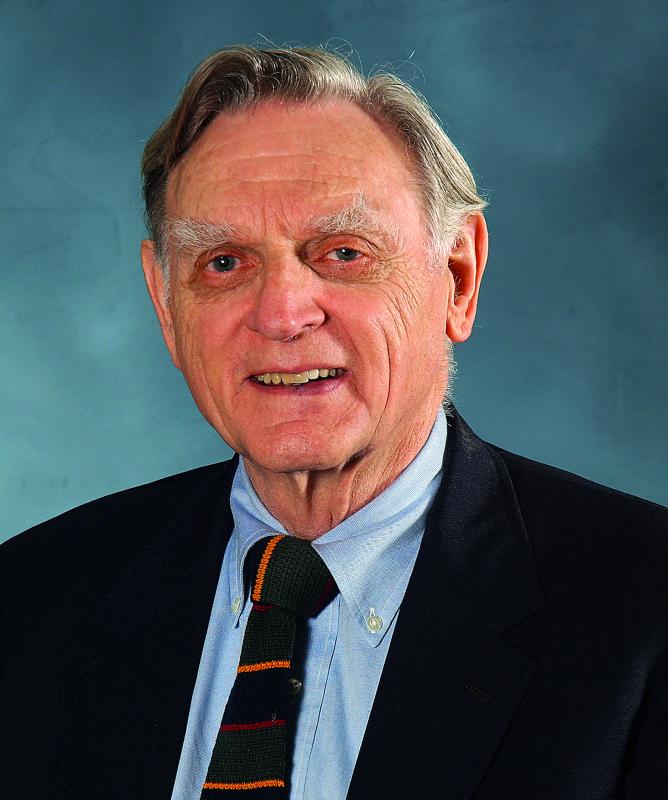 Examine what happens to LCO as Li is extracted: some Co is oxidized to Co+4 (approaching CoO2) and there is less Li between the oxide layers (like charges repel). Both are thermodynamically unstable situations. An interim solution replaced a fraction of the Co with another trivalent metal, such as Al, that would not further oxidize, thus providing a stable "pillar" that would keep the inter-layer distances constant. But not so fast: Al+3 is uncomfortable in the orthorhombic LCO structure, which leads to small pockets (domains) with a different phase that interferes with Li+ diffusion. Stabilization attempts with +2 (Mg) or +4 (Ti) cations resulted in even more lattice distortion (due to ionic charge and, less strongly, size differences with Co+3): single dopants (or better, modifiers) sharply reduced LCO performance, especially impacting capacity.
Optimum LCO today provides ~160mAh/g capacity when charged to 4.2V, and rate capability has improved significantly in the past 10 years. What happened? Researchers realized the necessity for a charge balance with Co+3 to maintain structural integrity, and now use equimolar (<2mol%) amounts of Mg+2 and Ti+4 for enhancing safety. Although successful and widely used, this material resembles an upgraded Homo erectus: its day in the sun is nearing nightfall, and use is slowly declining due to high (and fluctuating) Co costs and the emergence of equal or better performing intercalants with superior safety factors at high charge potentials.
When two species from the same genus intermingle, the offspring are frequently more robust than their predecessors. This proved the case with LCO and LNO: in the mid-1990s, scientists discovered that LiNixCo1-xO2, with 0.15≤x≤0.30, had capacities approaching 190mAh/g without increasing the charge limit above 4.2V. It appears that adding Co to the LNO structure minimized Ni mixing into the Li layer, and electrochemical cathode output jumped. Was this a reprieve for the LNO family? Not immediately, because the breakdown of charged LNCO is even more vigorous (that is, a bigger bang) than LCO, and safety concerns prevented pure LCNO adoption.
Fast forward a few generations of experiments with LNCO, until 2003/04. It was discovered that Al+3 modifier is well tolerated in this mixed Co/Ni intercalant, with a minimal capacity penalty. This combination succeeds because Ni supplies high capacity, Co provides structural stability, and Al imparts thermal stability. The winning formulation, LiNi0.80Co0.15Al0.05O2, known as NCA, had slow commercial acceptance: high voltage decomposition of NCA is still a dangerously energetic event. Eventually this activity was attributed to the presence of Al oxides, which raised surface areas. The cure was affected by increasing NCA preparation temperatures and annealing particle surfaces, followed by rigorous particle size reduction and classification to 'standard' values (median ~10µm). NCA is now the cathode material of choice in 3Ah 18650 laptop cells, although the use of Co still raises pricing concerns. NCA can be likened to Homo robustus, a viable family branch with the possibility of replacement by an even stronger limb.
Even more recently, the combination of Co and Mg+2 modifiers (plus proprietary elements) further boosted the performance of LNO. The LNO-NiO solid solution is alternately stated as the mixing of Ni+2 in the Li layer, with several percent Ni in the wrong location. Incorporating modest amounts of Mg+2 prevents Ni migration, as Mg+2 is the same size as Li+ and shares the Li layer, leaving Ni no place to go but where it belongs (assisted by Co). As above, Co enhances capacity (to >200mAh/g), and the other transition metals benefit rate capability (usable capacity claimed at 100C discharge). This is a pre-commercial material (a gene-controlled Homo sapiens?), although the promises of enhanced performance and safety are intriguing.
First tools:
Numerous attempts to prepare the Mn analog of LCO in a battery-stable form were unsuccessful. As Li is depleted, there is a structural change from orthorhombic to cubic spinel. (Without going into crystallographic theory, the structures are very similar, involving only a minor layer shift.) These phase changes result in cracks throughout the crystal and electrochemically isolated fragments; the effects are manifested by a rapid loss in capacity when the material is repeatedly cycled between (usually) 3.0 and 4.2V. Thackeray, working in Goodenough's labs in the early 1980s, discovered LiMn2O4 (commonly called spinel or LMO) is a workable intercalation compound, but was dismayed at the rapid capacity fade. What was happening, and how to fix it?
Spinel is an unusual compound, in that it contains an element (Mn) in 2 oxidation states, +3 and +4. The latter ion does not participate in cell redox activity, but acts as a structural stabilizer. Mn+3 is oxidized during Li+ extraction and reduced when Li+ is re-inserted, thus is necessary for electrochemical activity. But this ion is also the weak link in spinel: Mn+3 readily disproportionates into Mn+2 and Mn+4, a reaction catalyzed by acid (trace acid is always present in commercial Li-ion electrolyte). Mn+4 thus produced 'precipitates' in the crystal lattice and is effectively removed from redox reactions, while Mn+2 is soluble in the electrolyte and eventually reports to the anode, where it is absorbed by the SEI layer and interferes with Li+ migration. As expected, these reactions are accelerated at higher temperatures: fade at 550C is roughly 2.5X faster than at ambient. Stoichiometric LMO will squander as much as 1% of its capacity per cycle due to Mn+3 loss; acceptable RT fade in commercial cells is <0.02%/cycle.
The key to reducing Mn+3 disproportionation is to prepare spinel with Mn+3:Mn+4 ratios <1, but there is a functional tradeoff. Lower [Mn+3] means decreased capacity, and LMO is already performance-challenged: theoretical capacity is only 148mAh/g, and initial working capacity rarely exceeds 120mAh/g. The first practical solution was to augment LMO Li content 5-10%, as the spinel lattice will accommodate some 'excess' spinel without losing structural integrity.
Unfortunately, Li1+xMn2O4 species exhibit marginal 105-110mAh/g initial capacities, and cells with augmented LMO operating at elevated temperatures (40-600C) still undergo rapid energy loss unacceptable in commercial applications. Modifying spinel with multi-valent cations also reduced capacity fade, but created lattice faults that even more drastically impacted output. For example, incorporating roughly 5mol% Al+3 into the spinel lattice drops fade to circa 0.01%/cycle, but first-cycle capacity likewise plummets to an unattractive 85mAh/g. An unlikely modifier, Cr, substantially decreases Mn dissolution and extends cycle life, but the toxicity of Cr caused immediate pruning of this twig.
Does shortened working life relegate spinel to the role of Neanderthalis, unable to compete with Homo sapiens? There will always be the issue of low capacity/energy versus other intercalants, but spinel does offer better rate capability (that is, superior power output) compared to competing micron-sized species. In the mid-1990s, it was discovered that coating spinel particles with non-reactive metal oxides protected the material against acid attack: this will be explained in the following cathode article. A more recent development is LiMn1.5Ni0.5O4 (LMNO4), a high-voltage material with greatly improved stability and enhanced capacity, also with the cubic spinel structure.
The oxidation potential of Ni+3 is high enough to force the disproportionation reaction Ni+3 + Mn+3 →Ni+2 + Mn+4 (1) completely to the right during the high temperature (700-8500C) formation of LMNO4. Therefore, the resulting capacity of LMNO4 is entirely from the 2-electron Ni+2/Ni+4 couple, and has similar theoretical value (147mAh/g) as LMO spinel. Note, however, that there is no Mn+3 in LMNO4, which sharply reduces Mn dissolution and extends cycle life. Other attributes include a boost in working capacity to >130mAh/g, low fade, and the typical high rate capability of spinel. Adding Co+3 to obtain LiMn1.45Co0.1Ni0.45O4 enhances conductivity and results in even better rate capability, with only 0.15%/cycle fade during 5C discharge.
There are hurdles to overcome: LMNO4 requires a 4.6V charge to achieve full capacity (raising the possibility of electrolyte decomposition), and small amounts of impurities (from failure to achieve an exact 3:1 Mn:Ni ratio) will reduce capacity and exacerbate fade. This material is under critical evaluation for power applications, such as hand tools and possibly HEV batteries: research indicates good capacity retention and moderate power fade at elevated operating temperature. Perhaps Neanderthalis has a future?
Another hybrid, with staying power?
In the late 1990s, several researchers combined the three active transition metals – Ni, Co, and Mn – in what became two sub-species on the same branch of cathode materials. These compounds, isostructural with LiCoO2, have the general formula LiNixCoyMnzO2, and the dual limbs are defined by x = z and x ≠ z. The objective was to combine the higher capacity of CoNi-type intercalants with the greater stability of Mn+4-containing compounds, taking advantage of reaction (1), above. This explanation will deviate from chronological history for clarity.
Start with the simplest family member, LiNi0.5Mn0.5O2 (that is, x = z, y = 0): LMNO2 has proven less proficient than LCO (capacity <140mAh/g with 4.2V charge), and rate capability is reduced due to lack of Co, which slows Li+ diffusion (Co-containing laminar intercalants have moderate-to-poor abilities to sustain capacity at >2C discharge). An advantage is LMNO2's stability at higher voltage: it exhibits a reversible capacity of 180mAh/g with 4.6V charge, with a relatively small exotherm due to O2 loss. While there is a substantial price advantage by eliminating cobalt, LMNO2 is very difficult to prepare as single-phase material. If the Ni:Mn ratio is not exactly 1.0, there are two results: excess Mn, and spinel domains appear in the orthorhombic structure, or excess Ni, and Ni contaminates the Li layer. Further, even with the appropriate Ni:Mn ratio, there is 8-10% mixing of Li in the transition metals. These imbalances result in lowered capacity and higher-than-desired fade. Finally, the poor conductivity of partially lithiated LMNO2 causes electrolyte solvent degradation at potentials >4.2V, slowing Li+ transfer between electrodes. Despite high hopes and sound theory, this twig has withered before any appreciable growth.
At the other end of the branch is the most complex fruit, LiNi0.33Co0.33Mn0.33O2, commonly known as L333. This species displays performance equivalent to LCO, but with one major improvement: safety. Incorporating modest amounts of Co into the LMNO2 structure raises the decomposition (oxygen-loss) temperature, making these materials more resistant to overcharge and less susceptible to 'events'. Of course, removing 2/3 of the Co doesn't harm the marketability (although prices are currently similar, due to production volume differences), and L333 has been touted as an LCO replacement. Battery manufacturers are a conservative lot, however, and have proven unwilling to trade a known success (LCO) for one with undocumented handling and lifetime characteristics. The safety advantage doesn't outweigh resistance to change, and this fruit is slow to ripen.
L333 did provide valuable information to cathode material scientists, and allowed the definition of transition metal roles therein. Nickel contributes capacity (remember the 2-electron Ni+2 ↔ Ni+4 couple), cobalt enhances conductivity, and manganese (all Mn+4) lends stability to structure. Capacity measurements indicate that Co+3, although key to electrochemistry in LCO/LNCO, has little participation in LiNixCo1-2xMnxO2 cathode activity. That quickly led to formulations with less Co, seeking the minimum possible while providing acceptable conductivity. A recent offspring in this family, and the most robust, is LiNi0.45Co0.10Mn0.45O2 (L929), with a capacity exceeding 200mAh/g after charging to only 4.2V. While development is ongoing and commercial volumes are small, L929 is a promising scion on the LCO family tree.
Weaker offshoots of the LiNixCoyMnzO2 branch feature Mn- and Ni-rich compounds, with the idea of reducing still further the risk of oxygen loss and subsequent fire/explosion or enhancing capacity to >200mAh/g. The detailed formulation is Li(Ni+2)x(Co+3)1-x-z(Mn+4)x(Mn+3)z-xO2, where x ~ 0.3 and z ~ 0.5 for best performance. Capacity is somewhat better than LCO, ranging up to 190mAh/g because Mn+3 contributes to the redox chemistry, but fade accelerates for the same reason, and high Mn content reportedly leads to gassing. Capacity is even higher (but so is fade) as x increases. Very recent advances show that adding a few mole% 'excess' Li to these materials, especially those with high Mn content, extend cycle life and increase capacity to ~225mAh/g, with up to 30% more energy output. A possible niche for these cathode materials is in applications requiring greater energy but relatively short working lives (<200 cycles).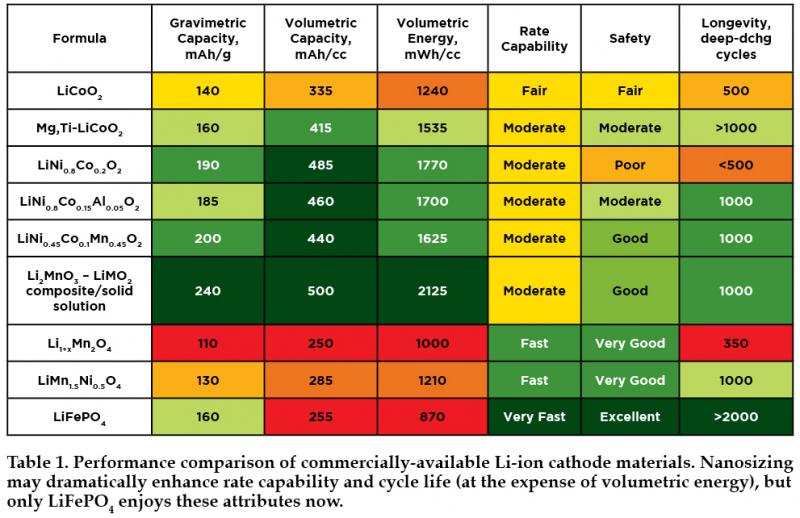 Summing up LiNixCoyMnzO2's place in cathode material evolution, it has advanced to at least the Iron Age, although there are weaker sub-species of inferior alloy. A new, not-quite-commercial development is the addition of ~5% 'excess' Li into these compounds, enhancing conductivity ~100X. Is this enough to allow the high-end members of the LiNixCoyMnzO2 family tree to compete successfully against LCO and establish a viable branch? Or will a modern Home sapiens 'ex machina' overtake, for example, augmented L929, and secure its extinction before it comes full flower?
Permanent settlements:
The next evolutionary change in cathode materials occurred when Goodenough and co-workers moved away from hunting for refinements of layered structures and settled on a new, more stable material – LiFePO4 (LFP), from the olivine family. Olivines, like LCO and its derivates, adopt orthorhombic structures, but instead of oxide layers providing Li+ bonding sites, phosphate groups form the intercalation channel boundaries. This arrangement is remarkably resistant to capacity loss brought on by structural degradation: intra-crystal cracks found in well-cycled spinel that result in electrochemical isolation are absent in LFP. Indeed, there are LFP claims of 5000 deep-discharge cycles at 1C while maintaining >80% of initial reversible cell capacity, and lengthy life with continuous 20C cycling. LiFePO4 will lose Fe when the cell environment exceeds 450C: the Fe is reduced on the anode, interferes with Li+ migration, and fade accelerates, as usual with Li-ion cells. But have we advanced to modern-day Homo sapiens with olivines, or are there performance weaknesses that keep LFP and its analogs in the Bronze Age, successful within a limited era?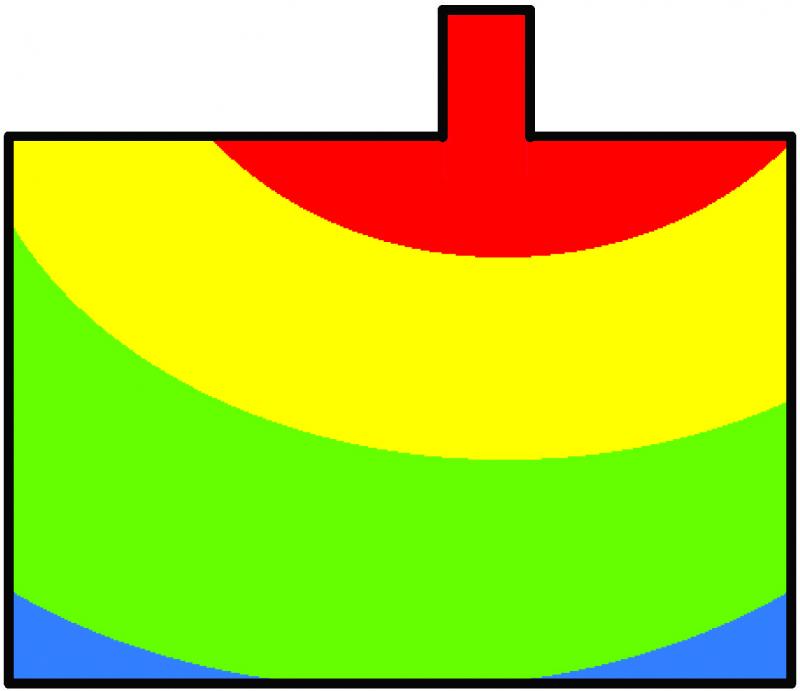 There are two olivines of immediate commercial interest: LFP and its emerging Mn brother, LiMnPO4 (LMP). Let's compare these intercalants and contrast them with the standard, LCO. Theoretical capacity for olivines is 171-172mAh/g, surely competitive with LCO if deep-discharge cycles are possible. Instead, early experiments reaped a poor crop of electrons, attributed to slow Li+ diffusivity through olivines' 1-dimensional intercalation channels. For LFP, the problem worsened with the presence of Fe+3 impurities that disrupted the crystal structure, creating blocked intercalation channels and inert domains within particles. Discharge capacities at 'normal' rates (C/5-C/2) were at most 125mAh/g, and fades exceeding 1%/cycle were common. The barrier for LiMnPO4 was subtle but even more devastating: as Mn changes oxidation states, the structure is subject to Jahn-Teller distortion, and the olivine lattice is quickly corrupted. Further, LMP has an even lower Li+ diffusion constant (roughly 2 orders of magnitude) than LFP. Reversible capacity was no more than 60mAh/g, and was lost altogether within 20 cycles. Finally, theoretical calculations indicate delithiated LMP loses oxygen below 3000C, and lab tests verified O2 evolution from MnPO4 at <2000C, casting doubt on LMP's safety. Is there a way to irrigate the fields and produce a crop that would sustain fledgling commercial interests?
In this case, rather than add a modifier to enhance output, the answer is to take away, reducing particle sizes to the nano region. Successful olivines are platelets less than 100nm thick, averaging no more than 50nm along the y‑axis, which is also the direction of the intercalation channels. Nano-LFP capacity exceeds 160mAh/g, although LMP performance is lagging, producing <130mAh/g: published data suggests that even thinner platelets (<50nm maximum) are necessary for LMP. An added bonus is the tremendous rate capability of nano-LiFePO4, producing usable capacity up to 100C (full discharge in 36 seconds). Still, the low charge potential (3.4V) and density (<1.8g/cc) of LFP means it is energy-challenged relative to LCO: the combination results in 40% less energy from LFP in an equal-volume cell. LMP has a more attractive 4.0V discharge plateau (potentially 17% greater energy with deep discharge), and may ultimately replace LFP, but process development is necessary to enhance output, and heat generated during rapid discharge is worrisome. In applications requiring power bursts, such as portable tools or HEVs, olivines, especially LFP, are a good fit, but they do not compete well against high-capacity cathodes with long run times.
A budding member of the olivine family is LiCo0.8M0.2PO4, where M includes Fe and at least one other metal. This 4.8V cathode material, while still under development, has 60% greater volumetric energy density than LFP. The elevated charge voltage requires a more robust electrolyte than is currently available; for example, first cycle efficiency is no better than 80% with standard LiPF6 solutions, and fade is ~0.2%/cycle. Still, this is a significant advance, offering great potential for greater energy with high power. If we consider olivines to represent the Bronze Age, it is certainly a modern era.
There is some controversy about modified LiFePO4: will small amounts of admetals (or dopants), from Mg+2 to Nb+5, actually enhance Li+ diffusion into the particles, or is the production process responsible for metal phosphides that form a highly conductive network along the grain boundaries? Data from studies of micron-sized modified LFP (that is, 1-10% admetal) show better capacity retention but lower initial output, suggesting that the modifier strengthens the olivine structure (perhaps by lessening Fe+3 impurities), but still creates dead zones within the lattice that trap lithium.
The use of high-valence dopants at <1% levels may well enhance electronic conductivity, similar to semiconductor technology, but a definitive study separating the effects of conductive coatings and modifiers/dopants is lacking. Such a series of experiments will be difficult to complete, since LFP must be prepared in an inert or mildly reducing atmosphere at >6500C, which is conducive to reduction of surface phosphate to Fe2P. So the debate continues: more about olivine coatings in a companion paper.
Homo sapiens – state of the art:
While likening the development of Li-ion cathode materials to the evolution of mankind, the most recent branch of intercalants arose from genetic engineering more than natural selection. The driving force was, not surprisingly, an insatiable thirst for longer run time (that is, greater energy) from each cell, but there were constraints. Commercial cathode materials of ca. 2000, mostly LCO derivatives and augmented LMO spinel, produced greater capacity and energy when charged to ≥4.3V, but this led to shorter cell life and was unsafe, liabilities too great for cell manufacturers. While some researchers refined multi-metal LCO analogs, as described above, others used Li2MnO3, a highly stable but electrochemically inert species, as the origin for a new family of intercalants. Alternately described as composite materials or solid solutions, these compounds can be represented by the formulae Li[Li1-2x/3MyMn(2-x)/3Nix-yO2 or xLi2MnO3•(1-x)LiMxNiyO2, respectively, where M is one or more modifiers (M = Co, Mn, Mg, Cu, Zn, etc). Although non-stoichiometric with respect to Li (there is >1 Li per unit), metal ratios are adjusted such that Mn is present only as Mn+4 and Ni as Ni+2.
While this family has a laminar configuration similar to LCO, x-ray scans reveal the presence of a Li2MnO3 super-structure, confirming the origin of the species. During the initial charge, both Li (reversibly) and O (irreversibly, as Li2O) are removed from the lattice, and nearly 100% of theoretical capacity (>300mAh/g) is available, due to the structural integrity of delithiated compounds afforded by Mn+4. In practice, the extreme potential (>5V) necessary to completely extract Li+ and O2– results in electrolyte decomposition. Such composites, however, produce nearly 250mAh/g capacity when charged to 4.6V, and are surprisingly stable at that potential (even at 550C).
Three material or mechanical developments enhance the growth potential of these cathode materials: nanosizing, including mesoporous structures, to boost rate capability and capacity, electrolyte solvents that don't decompose during 4.6V charging, and composite anodes like Si/C and Sn/C with robust Li storage capacity. Low cobalt content is also a cost benefit; indeed, small amounts of Cu may replace Co entirely and still preserve good conductivity. Both 3M and Argonne National Lab (through licensing) are engaged in commercializing these materials, attracting great attention from manufacturers of EV and laptop batteries for next-generation products. To date, these composites or solid solutions are the ultimate in cathode material evolution, but don't bet against creative technologists nanosizing these intercalants and developing Homo superior.
A caveat about nanosizing high voltage/high energy materials, in an effort to boost rapid discharge performance: reducing particle size will increase surface areas and decrease tap density. The former may complicate slurry processing by increasing viscosity, thus mandating lower solids content to facilitate electrode coating. The latter will lower the amount of active ingredient that will fit in a fixed-volume cell; early work indicates at least 33% reduction in tap density when 10µm (average) particles are processed to sub-micron size. It remains to be seen if the benefits of nanosizing will outweigh the negatives.
Evolutionary startups:
When Nature rolls the dice on new species, some will inevitably come up snake-eyes and have limited viability. This is also true of cathode materials.
A prime example that proved impractical for commercial applications is vanadium oxides, although it must be said that several valuable theoretical studies have originated with this family. Compounds including V2O5, V6O13, and more recently, Li1+xV3O8, have very short cycle lives, albeit high initial capacities (~300mAh/g) coupled with abundant energies (~800mWh/g).
The fatal flaw with vanadium oxides is the multiplicity of oxidation states, from +2 to +5, which is the source of the high capacity but also causes several phase changes during Li intercalation and extraction. The stress of volume changes during phase transformations inevitably leads to cracks in the cathode particles and electrochemical isolation of an increasing fraction of the material. Only Li1+xV3O8 has found a commercial niche, primarily in back-up batteries used a few times per year, an acceptable schedule when cathode working life is <50 cycles. Vanadium oxides: another evolutionary branch stuck in the early Bronze Age.
A candidate in the LCO mold was LiFeO2, which offered a huge cost advantage and (theoretically) equivalent capacity. Unfortunately, the Fe oxidation change from +3 to +4 during delithiation causes a large Jahn-Teller distortion that is not entirely reversible. The result was a double whammy: Li+ diffusion interruptions from disintegrating particles and blockage at phase boundaries. LiFeO2 never evolved past Australopithecus and is long extinct.
There are a few sub-species struggling to emerge, although it is premature to say if they will gain market acceptance or die out. These include NASICON compounds (Li metal silicates or sulfates), complex (non-olivine) phosphates, simple MOx/MSx species, and even more complex Li2MnO3 composites with LMNO4 spinels. NASICONs and phosphates exhibit low gravimetric capacities, due to the bulky SO4/SiO4/PO4 groups, and may not have the energy to compete with other materials. Non-lithiated cathode materials (oxides and chalcogenides) have probably struggled in vain: the hazards of Li metal anodes preclude their use in rechargeable cells, and the poor first-cycle efficiency of these compounds is an onerous penalty to pay.
It is just possible, but improbable, that researchers will discover a low-voltage Li source to pair with nano-sized materials of this type and solve both problems. Judging by the data from LMNO4-composite studies, these materials, like their spinel component, may be susceptible to poor electrochemical performance due to inexact metal-metal ratios. A wide potential range, to 4.8V charge, may also be problematic, despite excellent capacity, exceeding 200mAh/g.
Summary:
In pre-history, Australopithecus had to hunt for food, just as early TiS2 cathodes required a lithium source for energy. Both species are untenable in the long term, and now extinct, although each initiated evolution to better things. Neanderthalis and primitive Homo genuses also lacked staying power, just as intercalant ancestors were denied commercial viability due to safety and energy standards. Orthorhombic L(Co,Ni)O2 compounds and cubic LiMnO4 spinel were the starting points for many of today's Li-ion cathode materials, but ultimately proved flawed. Modifying materials by adding stabilizing elements (Al, Mn, Ni, Mg, Ti), mating unsuccessful compounds (LiMO2 species), or refiguring the structure (laminar → olivine orthorhombics, that is, 2-dimensional → 1-dimensional Li+ diffusion) led to more fruitful chemistries, just as early Homo sapiens established civilization in the Bronze and Iron Ages. Finally, modern science has produced genetically enhanced intercalants, perhaps Homo superior, by crossing inert Li2MnO3 with multi-metal LiMO2 compounds or customizing LiNiO2 with several modifiers, to produce high energy cathode materials. The next evolutionary stage is likely mechanical in nature, reducing particle size to enhance capacity, energy, and power outputs, or there may be an entirely new Homo species evolving in the lab. Either way, Darwinism lives on, even outside biology.
About the author:
W. F. "Rik" Howard has 20 years of industrial Li-ion materials experience, and now consults from his home office near Philadelphia PA. Email: rikhoward@aol.com
or Skype: batmatman.