Fearing people have been misinformed on the process of lithium battery production, Rick Howard endeavors to right the wrong by charting lithium's less simplified journey from mine to battery.
The US Science Channel runs an information series titled 'How It's Made', providing a behind-the-scenes look at manufacturing everything from doughnuts to drive trains. In 2008, the show provided an unsatisfying overview of battery production (with Li metal anodes and polymer electrolyte) that provoked more questions than it answered (can be found on YouTube How it's Made channel www.youtube.com/watch?v=k-sAVZoVLag). Later infomercials were similarly unrevealing. A video of Team Orion's Li-ion polymer (LiP) cell assembly illustrated the process mechanics, although only with succinct titles and no explanations (www.youtube.com/watch?v=6vBH6zlrXuM). Technology Review's brief account of Leyden Technology's LiP production showed a few nitty-gritty items but was short on details (www.youtube.com/watch?v=t_72pVVmgcY). These and other on-line clips reveal only a fraction of the many steps that culminate in a rechargeable or primary lithium cell. This is unsurprising because of the proprietary nature of cell components, chemistries, and manufacturing processes.
Lithium's journey from its geologic presence in brine fields or mines to components of primary and secondary batteries spans geography, science, and engineering. In a previous BEST article (Summer 2012), I gave an overview of the origins and manufacturing of lithium chemicals. Here I will describe the chemical processes required for critical cell components (Li-containing cathode materials, electrolyte salts, and foil) as well as the engineering involved in battery production, with the caveat that every company has a 'secret sauce' or procedure that prompts them to claim their product is superior to the competition.
A few hundred million years ago, the Pacific tectonic plate, in its inexorable drift eastward, collided with what became South America. This slow-motion impact created many wrinkles (now known as the Andes Mountains), and in the process, trapped pockets of seawater. In some locations, these ocean remnants were coincident with Li-containing ores, and because marine water is slightly acidic, alkalis were leached from the rock. Similar events produced Li-containing brines in western China, near the Himalayan foothills, and the US Southwest, east of the California-Nevada border: such deposits account for roughly 65% of global lithium production. Happily, these salt solutions are found at or just below ground level, thus easily accessed, and the richest source is in Chile (about 1 500 ppm Li).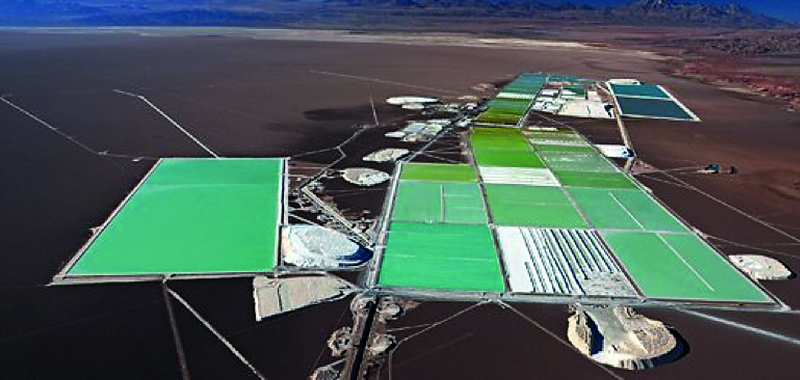 Lithium chemical production starts by pumping brine into shallow evaporation ponds (figure 1), where the salt concentration gradually increases until it is high enough to remove impurities by adding precipitation aids. (Note that most Li salts have the greatest solubility among the alkalis.) Along the way, halides (bromides and iodides) also drop out, as in the orange-brown ponds below. A critical exception to Li salt solubilities is the carbonate: it is the least soluble alkali salt among its peers, and this property allows producers to add Na2CO3 (soda ash) to the final ponds and harvest Li2CO3, the starting point for all Li chemicals.
Although less efficient than brine extraction, Li chemicals are also derived from several ores, most notably in western Australia, which provide about one third of the world's Li supply. Li-bearing rock is mined, crushed, and acid-treated to extract alkalis. After the solution is concentrated by heating to remove water, the process is similar to the brine treatments above, yielding Li2CO3.
The technical grade carbonate is recrystallised as necessary and becomes the starting point for all downstream Li chemicals. In the simplest processes, the carbonate reacts with an appropriate acid to produce a new compound, which may be further combined with another moiety. For example, common Li-ion electrolyte salts are produced as follows:
Li2CO3 + 2HF → 2LiF↓ + H2O + CO2↑
After filtering and drying the LiF, it is dissolved in anhydrous HF, gaseous PF5 (or BF3) is bubbled through the solution, and LiPF6 (or LiBF4) is left after the HF is pumped off.
LiF + PF5 ← → LiPF6
Subjecting LiPF6 to prolonged vacuum will reverse the reaction. Therefore the salt always has some (<50ppm) HF contamination, much to the annoyance of Li-ion battery manufacturers trying to protect their cathode material and maximise cell cycle life. Unstable at Li-ion voltages, LiBF4 solutions are the standard electrolytes in high energy density carbon monofluoride cells operating with low current at 2.8V, commonly found in military and medical applications.
An electrolyte used in primary thionyl chloride and copper-chloride cells is LiAlCl4, prepared from a LiCl/AlCl3 melt. Similarly, LiBr is the electrolyte in sulphur dioxide batteries. These 3.5V, 3.3V, and 2.8V cells, respectively, are not sold in the consumer market, due to toxicity. They are especially effective at temperatures down to -60°C. Other cell types incorporating Li compounds for small volume markets include LiI and LiClO4 (electrolytes in long-lived, circa 3V medical cells).
Glass and ceramic manufacturers are the major consumers of Li2CO3. They blend the carbonate with powdered inorganic oxides or thermally-decomposable compounds and heat the mix as hot as 1800°C, forming a homogenous product. Li-ion cathode materials are produced similarly. Transition metal (Ti, Fe, Mn, Co, Ni, and combinations) hydroxides, oxides, or phosphates are intimately mixed with Li2CO3 (sometimes with costlier LiOH) and reacted at 700-1000°C, typically in a belt furnace or rotary kiln. The resulting intercalants, which may be doped or coated with a few percent of stabilising metal oxide(s) like Al2O3 and MgO, are milled to size (5-10μm median) as necessary.
Finally, there is a demand for lithium metal as anodes in primary and polymer electrolyte rechargeable batteries. LiCl, which may be crystallised directly from concentrated brine, is fused with KCl (55:45 ratio, respectively) at 450°C, and the metal is formed electrolytically. Ingots (typically 10kg) are shipped in light oil to battery manufacturers, who extrude the metal as 500-750μm foil before roll-pressing to the desired anode thickness (10-30μm).
Now that the lithiated cell components are identified, let's walk through the battery manufacturing processes, starting with Li/MnO2 primary batteries. These are more energetic than same-sized, use-one-time, toss-in-the-recycle-bin alkaline batteries because they contain more active ingredients and operate at a higher voltage (3.0V versus 1.5V).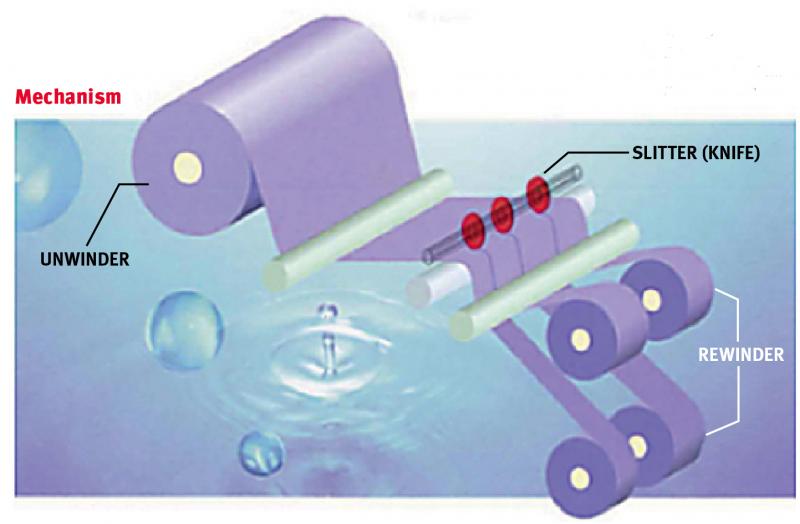 The cathode material is derived from the same MnO2 found in alkaline cells, but is heat-treated at 400-450°C to drive out occluded water, which would adversely react with Li. Cathode preparation starts with the MnO2 vigorously mixed with an aqueous polymer suspension, which provides sufficient cohesion for coating onto a paper or porous polymer separator. Coating may yield a continuous strip or, more commonly, intermittent rectangular patterns called patches. The damp sheet passes through a 70-90°C drying oven and thence onto a master cylinder up to several hundred meters long. Next, the dried electrode roll is fed into a calender – two parallel stainless steel rollers weighing several tons and positioned 20-60μm apart – which presses the coating to the desired thickness (about 75μm). From the calender, the electrode sheet – very flexible, thanks to the polymer binder – may be rewound or passed to the slitter (figure 2). This operation produces compacted strips whose width (less a few mm) corresponds to the height of the cell casing. Large and small rolls are kept under vacuum, and perhaps warmed to 50-70°C, during gaps in the production schedule, to prevent moisture pickup.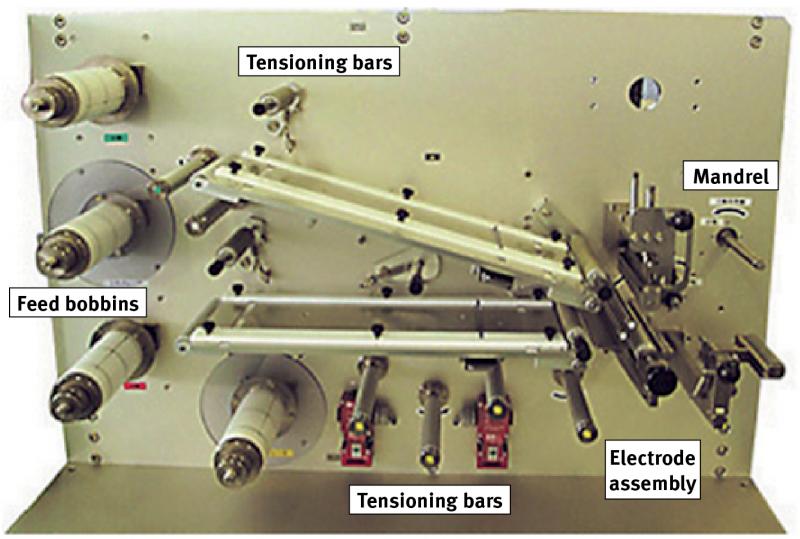 The most complex cell production step, winding, marries the cathode strips with similarly-sized lithium foil ribbons, sometimes with another separator between. Figure 3 depicts a relatively simple pilot-scale winder: bobbins hold the electrode and separator strips, spring-controlled tensioning bars take up the slack to prevent misfeeds and wrinkles, and all ribbons converge at the assembly bar, where the sandwich structure is fed onto the mandrel. A retractable knife edge (or chopper) cuts the wound films (called jelly rolls) to the correct length. Finally, metal (Ni, Cu, or Al) tabs are glued or ultrasonically welded to each electrode, for electrical connections to the cell's positive and negative poles.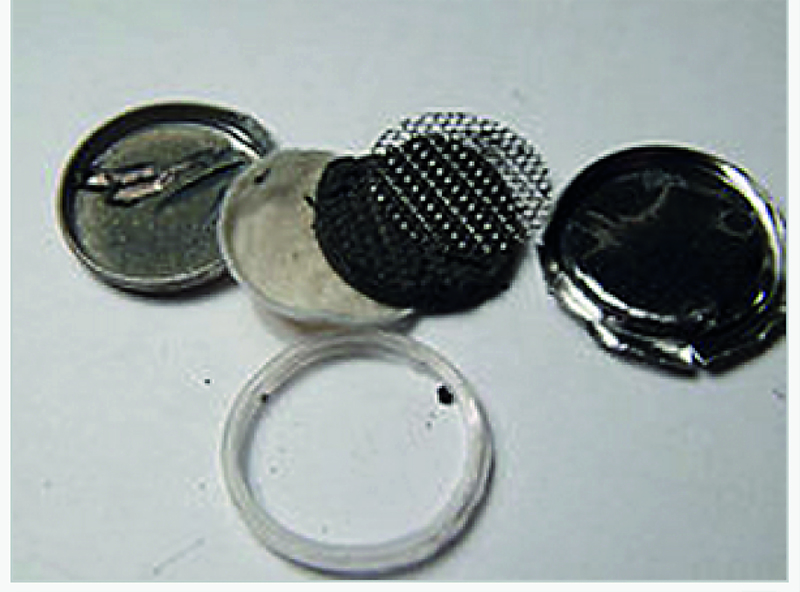 After the tightly-wound jelly roll is inserted into its metal or plastic case, the cell moves to a filling station where an automated syringe injects a metered volume of electrolyte. A cap, the exterior positive pole, is crimped or epoxied in place, and the cell is quality-tested for open-circuit voltage and impedance. Finally, satisfactory cells are labeled and boxed for shipping.
An alternate cell design, frequently used in medical applications and small hand-held devices, is the button cell (figure 4), a primary lithium battery. Rolls of cathodes and lithium foil anodes are prepared as described earlier, and circa 1.8cm discs are punched out. Together with the separator and current collector, cells are assembled by pick-and-place robotics, electrolyte is added under an inert atmosphere, and the cell halves are crimped together.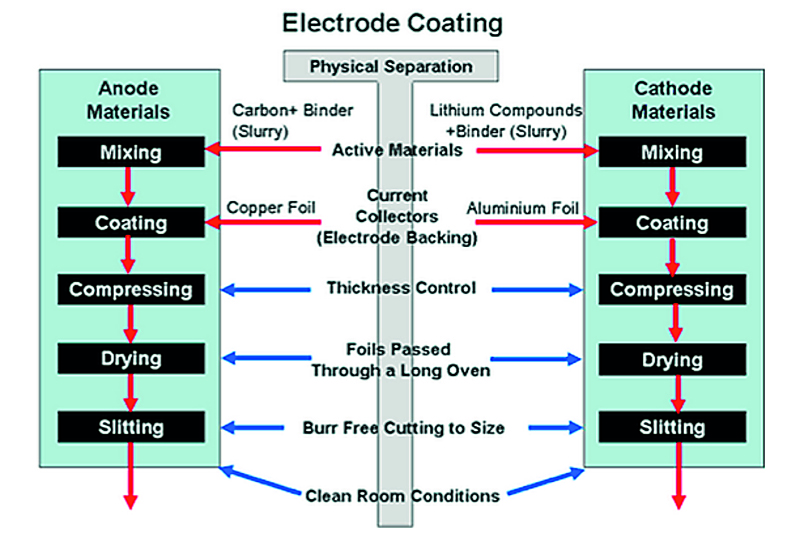 Due to the harsh environment of higher voltages, Li-ion technology demands a more exacting manufacturing process (figure 5). The electrode production schematic reverses the calendering and drying steps, and does not include the cathode's carbons, but otherwise depicts Li-ion electrode preparation.
Aqueous electrolytes are out, the list of acceptable electrode binders is short, and electrode slurry preparation is more rigorous, although the assembly steps are nearly identical to those of equivalent primary lithium cells. Most important is the necessity of keeping moisture away from production: a few hundred ppm of water in the finished cells can be the difference between a 1500-cycle marketing success and a 300-cycle commercial flop.
Li-ion cathode formulations include 2-5% conductive aids, 3-5% binder, and circa 93% active ingredients (lithium metal oxides or phosphates). Electrode conductivity is ensured by including some combination of carbon black, graphite, and carbon nanotubes or fibers; the binder (for now) is polyvinylidene fluoride (PVDF), possibly as a copolymer. Unfortunately, the solvent of (limited) choice is N-methyl-pyrrolidone, a high-boiling (204°C) tertiary amine with mutagenic and hygroscopic properties; other solvents are, at best, marginally compatible with economic manufacturing processes and safety standards. Slurries are prepared by metering cathode and carbon powders into an energetically stirred polymer solution: complete dispersion— uniform wetting of all particle surfaces— is necessary for acceptable slurry transfer onto Al foil (the current collector). Graphite anodes (with Cu foil) are prepared similarly, if more gently to prevent particle breakage that will negatively impact ionic conductivity.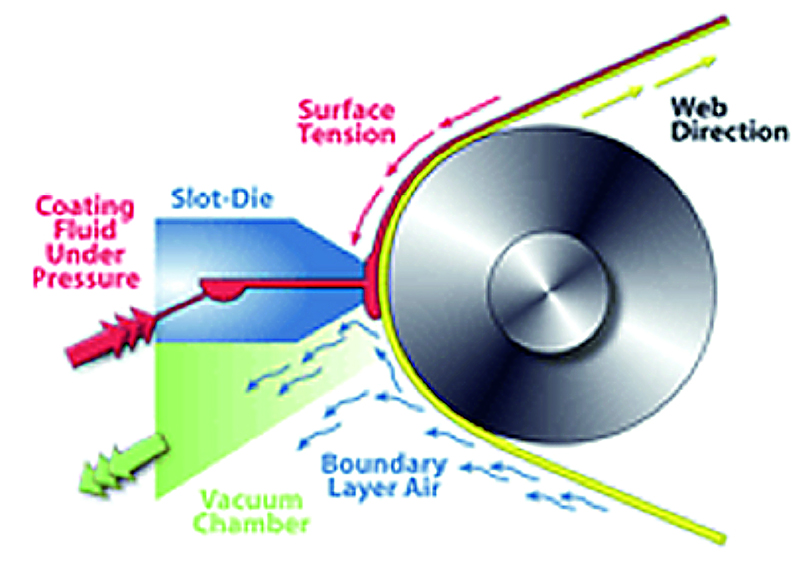 Slurry rheology varies somewhat, depending on the type of coater: slot-die heads (figure 6), with pressure feed, allow higher slurry viscosity and therefore greater solid content than roll‑to‑roll contact coaters (figure 7). Wet electrodes with 100-200μm coatings are immediately passed through a drying oven, and cell assembly proceeds as described above, until the electrolyte station is reached.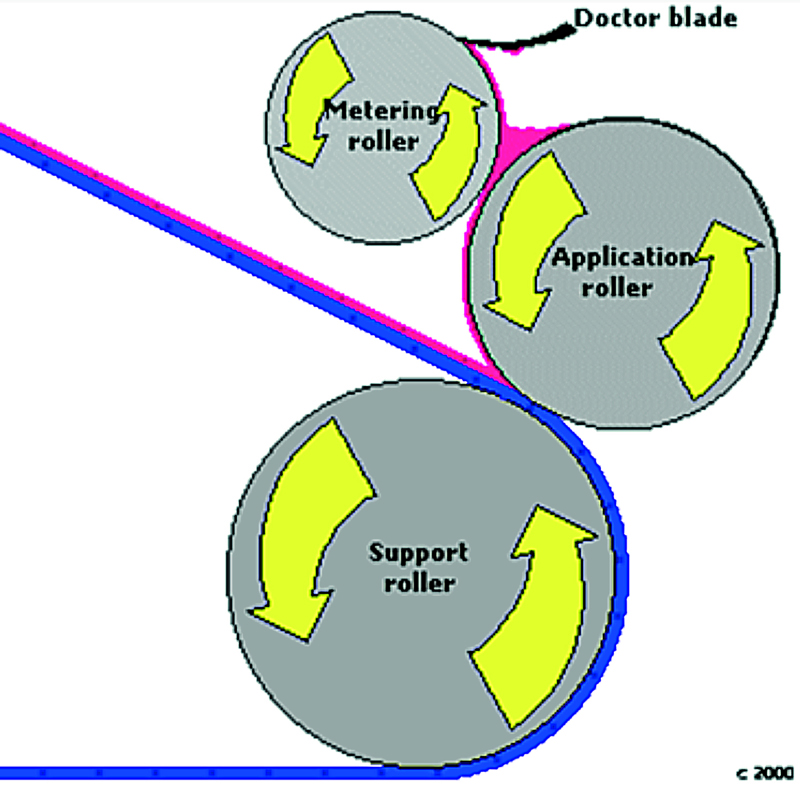 After the jelly roll is inserted into the cell case, a lid is fastened in place. This piece has a 0.2-0.3mm fill hole, allowing a mechanised syringe to inject a measured volume of an organic solvent/salt solution, accomplished in vacuum or under an inert gas blanket. A small cap is then placed over the opening, and the cell is ready for its first electrochemical experience. This step is the formation cycle, a single charge-discharge sequence that creates an anodic passivating nano-layer from decomposed electrolyte, which prevents further solvent degradation. The reaction is accompanied by minor out-gassing (carbon monoxide, ethylene, and mostly carbon dioxide) that exits through the still-unsecured fill hole. Cells that meet quality standards for capacity, open circuit voltage, and impedance pass to the final assembly step– bonding the fill cap to the lid– before labeling.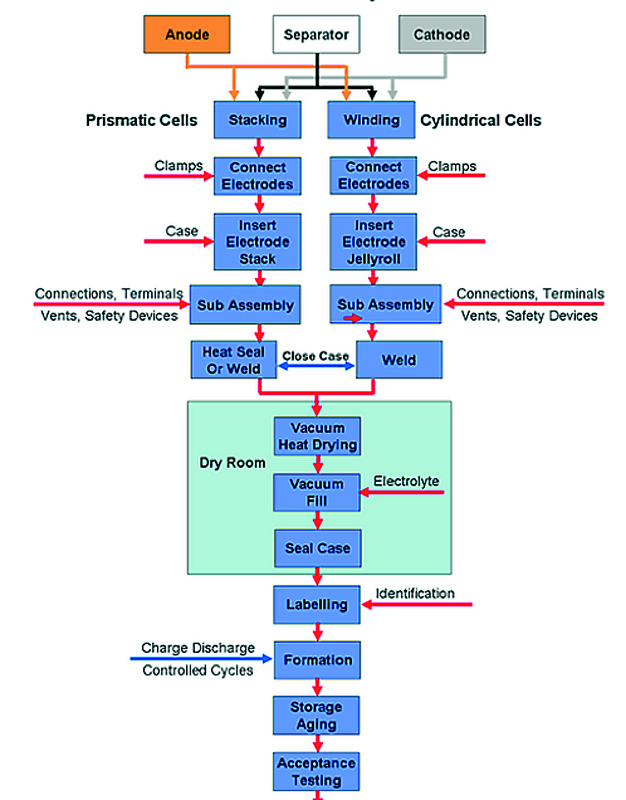 The best-known Li-ion configuration is the 18650 cylindrical cell (18mm diameter, 65mm high), although units with generally greater energy output are available in prismatic form. Such cells, designed to maximise performance from what may be limited volume, feature stacked electrode leaves segregated by a separator that is usually a continuous strip winding its way between electrodes. The prismatic case must be more robust than the cylinder, in order to maintain stack pressure, it requires one electrode lead per leaf, and is assembled with robotic pick-and-place hardware. The additional components and equipment complexity make prismatics less economic than cylindricals. Figure 8 shows the assembly flow diagram for both cell types, with minor variations between producers.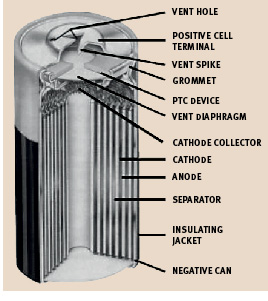 Figure 9 is a Li-ion cylindrical cell schematic. This design includes a diaphragm safety vent: if pressure builds up in the cell, indicative of overheating, the membrane balloons and is pierced by the vent spike, allowing offending gasses to bleed off before an 'event'. A scored metal or plastic disc with low-pressure tolerance can serve the same purpose. Another safety mechanism is a separator that softens and loses porosity at elevated temperature, thus cutting off electron flow before thermal runaway.
Safety, of course, is the highest-priority concern of Li-ion manufacturers, and the recent airline battery fire has once again brought the scaremongers out of the woodwork, even though this was a (roughly) 1 in 10,000,000 cell occurrence. What causes these cells to smoke, burn, or, with yesterday's technology, explode? The answer lies with the active cathode material, which features a high oxidation state metal oxide (for example, LiCoO2). As LiCoO2 is delithiated (that is, the cell is charged), 50-60% of the cobalt is oxidised to Co+4, a thermodynamically uncomfortable situation for the metal. The only way for Co+4 to relax back to Co+3 is to give up some oxygen, but at room temperature, this is a very slow (kinetically-controlled) reaction.
Those readers with a chemistry background will remember that kinetics accelerate at higher temperatures, and if the battery is overcharged, or charged too rapidly, it will get hot, thus facilitating oxygen loss. A quick summary: we now have heat, fuel (the electrolyte solvents), and oxygen, the three necessary ingredients for combustion. Lithium battery fires can generate enough heat to melt and even ignite aluminum casings. If there is no venting capability, as in test cells from the early 1990s, then we have a sealed container, akin to a small grenade. Note: cells containing lithium iron phosphate are much less susceptible to 'events', as the phosphate moiety holds its oxygen to a much higher temperature than metal oxides.
There are two dominant causes of Li-ion failure modes: trauma and circuitry flaws. It is easily understood that crushing or penetrating force can create direct electrical contact between cathode and anode, that is, a 'hard' short, where all the cell energy is expended in milliseconds. Most Li-ion cells are now designed to withstand such injury without bursting into flame, and safety standards allow smoke but no fire. Printed circuits and electrical connections are not as robust, however, and something as innocuous (to the cell) as persistent minor vibration may cause a crack in the wiring and allow uncontrolled charging. If the incoming current is prolonged or great enough, it will overcome the passive safety devices and cause solvent combustion, even though the cell is functioning completely to specifications.
This completes the lithium journey from natural resource to battery manufacturing (with safety overtones). There are a surprising number of scientific disciplines in the Li-ion industry, from geology and physics to chemical and mechanical engineering. Looking back at decades of development effort and the lengthy journey from weak salt solution to megawatt modules, it is surprising how inexpensive this technology is (despite pundits' claims). And if a fraction of the many scientific publications in this field bear fruit, future cells will boast even better performance, at a lower cost, than today's Li-ion batteries.