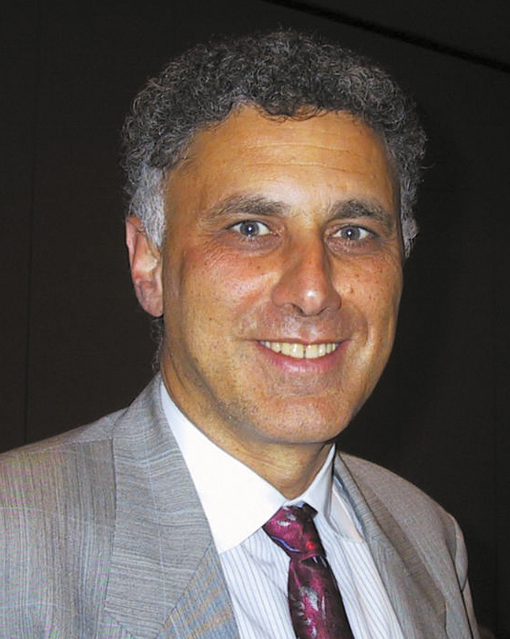 The Editor reports from this winter's AABC meeting in Pasadena, California
Practice makes perfect. Now that Menachem Anderman's Advanced Automotive Battery Meeting takes place twice a year, it has acquired some of the characteristics of its lead sponsor— Toyota.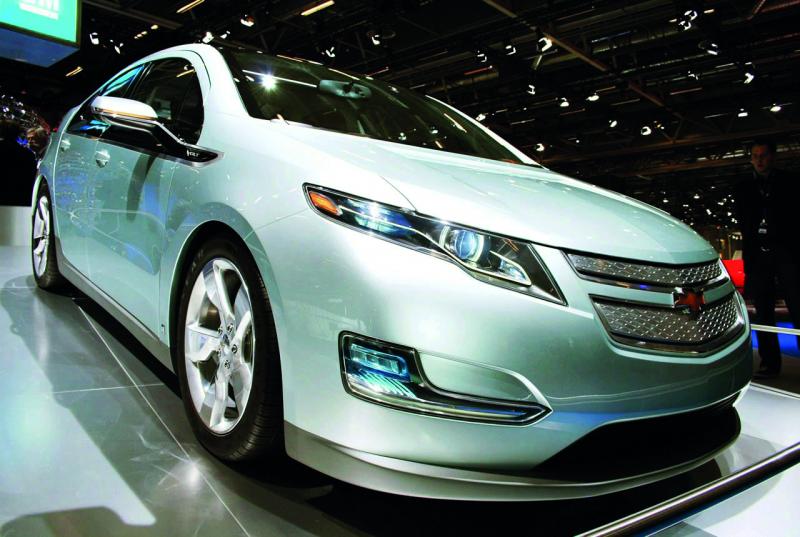 Not too many new models from that company, year‑on‑year but a series of continuous improvements on existing ones which is probably why both are so successful.
In terms of stage management and catering, little could be faulted. As a networking event, superb— you could meet everyone you'll ever want to meet in advanced automotive batteries and then some.
But there's no question in this writer's mind that the technical sessions seemed more 'corporate' than ever— no startling revelations on the shortcomings of anyone's products, no astonishing presentation of any new materials or batteries which will dramatically reduce costs and help make "electrified" cars that much cheaper to make so we'll all go out and buy.
The meeting also had something of a valedictory flavour for GM and Nissan—makers of the Volt and Leaf respectively. Both vehicles have been showered with awards and praise but to the " EV/hybrid officiandos" these cars are not without their shortcomings.
However, to bring these vehicles to market is still an achievement. For now, the sales figures are hardly amazing. In December 2010, GM had sold 326 Volts while Nissan had delivered a mere 19 Leafs (or should we say leaves?)
Whether they sell in sufficient numbers long term is something else and this will have a major effect on the fortunes of everyone at the show.
For first time, Anderman's meeting was pure lithium‑ion— no other chemistries or technologies were discussed (not even supercapacitors). Whether this reflected the desires and prejudices of the sponsors or the organiser, I'm not sure. But Dr Anderman told me he thinks the European market is probably going to be a more dynamic one for pure EV and hybrid sales.
And I think he's probably right. One thing is for sure— "electrification" is just one of a number of tools the auto industry can use to reduce emissions and improve fuel economy on its vehicles and perhaps that's one thing the battery industry needs to take on board— the future of automotive isn't exclusively ours.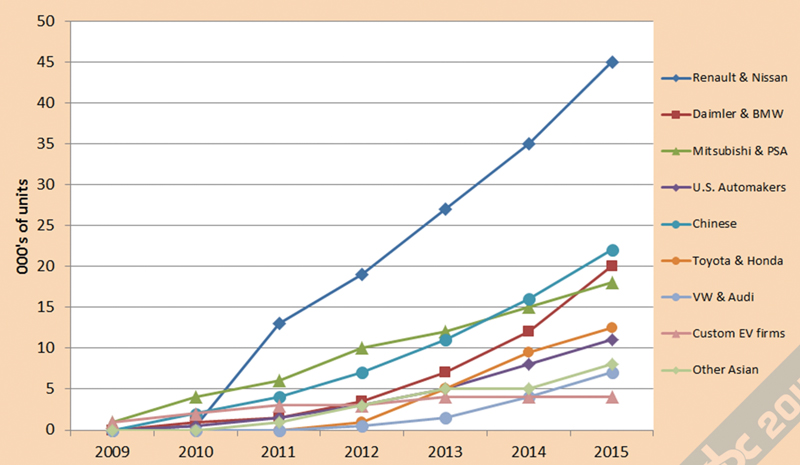 And there was another concern in the air— or was it simply the low grade stench of probable oversupply of lithium‑ion cells for a market which is still in its birth stages or possibly a market which faces sudden infant death syndrome?
Regular readers of my review of this event will know the pattern of this meeting— a day of tutorials for the newbies, a one or two strand battery symposium, followed by the wide ranging "conference".
Star act of the week is of course Dr Anderman himself with his own overview of the EV/PHEV battery market. We've been here before many times and I must admit I am now being seduced, or is the right term radicalised, by Dr Anderman's thinking. You've seen his charts for the last few years (if you've been a BEST reader) — the incremental positive slope of all the curves .
Its all based on the good Doctor's mighty humpback whale of a report, the latest variant of which was published last month.
Yes, there is a market there and it will be worth nearly US$800m by 2015. That's a lot of batteries and most of them will be in HEVs— not EVs. And that figure has hardly changed in the last couple of years.
While it's a big number, I'll stick my head on the block and say it's a rubbish return, truly dreadful, considering all the investment that's been put in, especially by you the American taxpayer and private investors, with more than 70 cell makers out there and maybe the same number of players offering BMS systems, packs and more.
We don't have a precise figure on the size of the investment but BEST magazine is not alone in commenting that lithium‑ion for the hybrid and electric car market is now in hype mode or bubble mode and bubbles burst.
A few searches on Google confirm this: The first which I found with a company called Roland Berger Strategy Consultants confirmed a significant over capacity between 2014 and 2017 and predicts there will be just six to eight global players surviving. They weren't alone.
Then there's all the interesting share price surges in lithium mining companies, departures of one or two senior officers from one big name company and one begins to wonder whether the air is indeed coming out of the bubble because existing technology is rising to the challenge of emissions reduction.
As most of us know, it's California that's leading the charge toward zero emissions vehicles and greenhouse gas reduction and as Tom Cackette of CARB told the meeting, California standards are being used almost as a benchmark for the rest of the US.
But Califonia's future standards could easily be met by making improvements like adding turbos, improving transmissions and frictional reduction. The scary fact is you don't need to have an electric drive to clean up your emissions with the incremental improvement the US Government is looking for in the next decade— just a 3% performance improvement year on year.
The US auto industry could do an awful lot by simply reducing vehicle weight, no other technology is needed— you only need to take out 18% of the weight to do that for models yet to be designed and introduced in 2025.
Nothing comes without a cost. Improving greenhouse gas emissions performance at just 3% per annum could lead to an incremental price increase per car of US$753-00. But that's probably a better deal for everyone rather than Government having to subsidise EVs hybrids and fuel cell vehicles.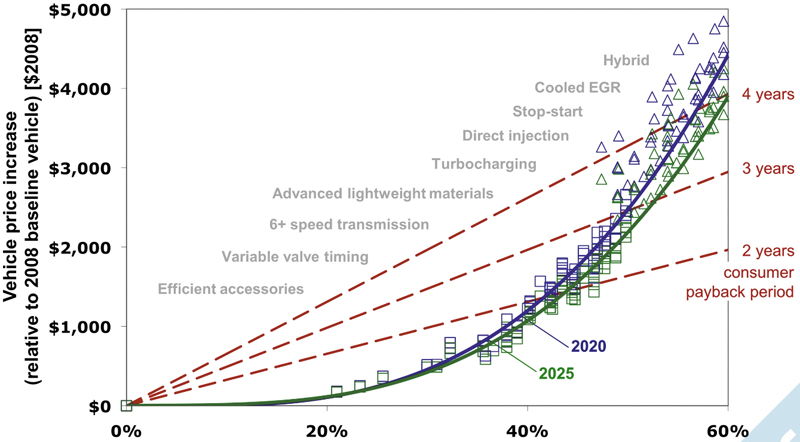 And all this takes us to 2025, which still seems a long way out to make any firm predictions. Another scary fact for the battery industry is that if a Federal standard on greenhouse gas reduction stays with the very very modest reduction level, even hybrid vehicle sales can stay modest. Only if the USA goes for a really bold 6% reduction of greenhouse gas reduction year‑on‑year is it necessary to invoke a lot of electrification like the Plug in hybrid. The Chevy Volt is thus a vehicle ahead of its time and the need for it is questionable,
You begin to see that it's politics and economics which are driving this much much more than the electrochemical issues we worry about— energy density, safety and calendar life. Somebody has to pay to clean up the car and its you and me, in either the purchase price or taxes.
Who am I, a mere Brit, to comment on US Politics? From what we see on this side of the pond, given the current state of the US and the global economy, I can't see increased taxes on gasoline going down too well or increased prices for automobiles that don't give the customer a fast payback on fuel economy.
Dr Anderman is not usually eminently quotable but BEST loved his almost 'Churchillian' line. "Has there ever been in the modern history of capitalist countries a new product for which the mainstream customer paid more for less?" It's the old arguments about electric range again… Those EV PHEC sales aren't going to happen for a long time.
And if you thought the auto industry is in love with electrochemistry, from all the new vehicle offerings you read about here and elsewhere, then think again. This author smells duplicity in the air or is the Auto industry merely keeping its options open? Anderman always invites interesting speakers to his events and John German, Programme Director of the Think Tank known as The International Council on Clean Transportation, who summarised what improvements were still possible— once again light weight materials are key part of the fuel economy improvement greenhouse gas reduction.
And even while improvements on performance in hybrid technology are coming down in price, its going to take a really massive demand for greenhouse gas reduction to get EVs and PHEVs into the market, according to the US Environmental Protection Agency and National Highway Traffic Safety Administration Technology Assessments.
But it is consumer behaviour which remains the biggest unknown.
While Mr German could show charts and graphs which show the real cost of fuel falling as a percentage of disposable income, he asserted that most consumers show little evidence of rational decision making when it came to vehicle purchase. Uncertainties about future fuel savings made paying for more technology a risky bet. This meant the industry produces less fuel efficiency while consumers demand features, performance and utility.
It getting to be a bit like wedding day nerves. The Auto industry and battery industry are now ever closer to seeing the widescale introduction of EVs and HEV models. But is it really going to happen? Between Anderman, Cackette and German, there are clearly deep concerns about how the hybrid market will develop and that's before we even concern ourselves with which battery technologies will succeed.
Anderman has always been skeptical about pure EVs as long ago as his days on the California Air Resources Board in the mid‑1990s. Battery performance may have improved but pricing really hasn't and that's at the core of his doubts.

His estimates of a cost for 24kWh battery pack, (suitable for pure EVs already announced), in a plant producing some 50,000 packs per year, is in the order of US$12,000—15000. Easily half an electric car. Of course on much smaller number of packs, costs could be nearly double, which means cells and pack makers will be incurring considerable losses, if they're not already. Throw in limited driving range and long charging times and it's a loser. But a terrific discussion subject.
This writer still wonders how pure EVs managed to get the attention of the Auto industry again when hybrids and plug in hybrids seemed to be the order of the day.
As for Plug-ins, well the jury's still out. And likely to remain so for a while. You need gasoline at a crippling price (for Americans) at US$7-00 (though in the UK its nearly US$8.50 per gallon) to break even and I can see the headlines now. Of course you need your batteries to be the best of the best to fulfil the hardest duty cycles of all… there's less space for the battery.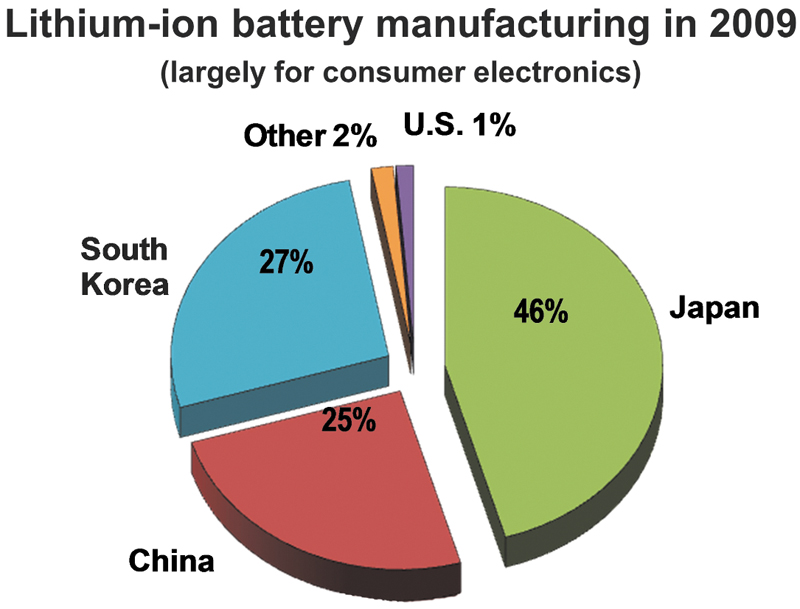 And what chemistry will they be: NMC cathodes or LMO cathodes. Or LFP cathodes? What kind of packaging: Cans or pouch? And, this writer thinks more importantly— what SIZE of cell.
Less than 5Ah, so you can supply the world of IT, boys' toys and the world of EV, or greater than 50Ah? All I'll say is a 50Ah cell as a range extender for an IPad is not really on and if you can't find enough cars to fit them in, then who you gonna call?
Without doubt these are the most important questions that no one could answer at this meeting— not even Dr A, who posed them in his presentation.
Perhaps the most telling comments came from Stephen Popiel of Synnovate research, AABC's tame consumer research people. Never mind what Nissan and Renault and all the other automobile people have to say.
Are they going to buy our 8***ing vehicles? I hear you asking, as you view your Excel charts on capital expended so far?
The truth is: "probably not". Whatever they might say about caring for the environment and being 'Green' they care about money even more. They are greedy, risk averse people who want you the industry to pick the cost of the risk and government to do the rest.
And when you hear this from the market research guys, you begin to take with a pinch of salt what you hear from the corporateas And begin to wonder what its all about.
For example, it is impressive to see the collaborative efforts of Audi and Sanyo to produce the Q5 hybrid. But is it really worth all the effort to produce a vehicle with just 3km pure electric range and just 20% less CO2 than the conventional Q5? At a cost of around US$60,000 (European prices) its not that expensive as luxury cars go. But it doesn't seem to wow me as much as the Prius did on its launch.
I felt the same too for Hyundai's presentation of how the company evaluated batteries for calendar and cycle life.
In the light of everything the audience heard about the fact that GHG emissions can be reduced without electrification, that the buying public were fickle on their automobile purchase decisions and there were still considerable issues on price, safety and battery life yet to answer, what was really astounding was just how much money had already been committed in the USA alone!
David Howell of the US DOE listed nine US battery manufacturing operations with a total investment value of US$2.75 billion, underwritten by the US taxpayer. Two of the new facilities were at lead-acid manufacturing plants (East Penn and Exide) who will probably see a return on the US$168m they received because of the relative strength and maturity of that segment.
That's not including the half billion invested on US battery materials recycling and the like.
Now lets compare what the US Government is hoping for in EV sales—by 2015, 800 000 EVs globally with a total battery value of US$8billion. Ultra conservative Anderman's numbers are a fraction of this and he is including hybrid battery sales— a comfortable US$ 0.8 billion.
This ten fold difference in market size estimates is seriously worrying: And it seems there are major differences in thinking on the future of low emission vehicle development between different agencies in the US administration.
Now take into account the market split by country in lithium-ion (albeit for batteries in consumer electronics) and you learn that the USA had just one percent of the global volume in 2009, with Japan, South Korea and China taking pretty much everything else. It beggars belief that US firms will overtake all these nations in lithium-ion production in the next four years.If EVs and hybrids take off in the USA, it looks like US citizens will be swapping dependence of foreign oil to dependence on foreign batteries.
Given the past duplicitous nature of the Auto industry in the USA, which has lobbied both for and against EVs (and at the same time) the uncertainties over safety life and cost of lithium‑ion, the low cost of gasoline, the alternative emissions reduction technologies and the probability of a the next US administration cutting subsidies and Government spending, we may have already seen the peak of the tide in US HEV and EV activity. No wonder Menanchem Anderman sees a brighter future for electrified vehicles (and their batteries) in Europe. We'll meet in Mainz in a month or so to find out more.