Germany has a solid history of making cars, now car making is changing Germany must change to keep up. Ruth Williams finds out what one state is doing to protect its auto industry and generate a new battery business at the same time.
The electrification of vehicles is heralding major changes for the entire car industry. There is speculation about where these electric vehicles will be produced and who will lead the market and technology. The German state of Baden-Württemberg has been world renowned for its production of automobiles for decades and intends to continue.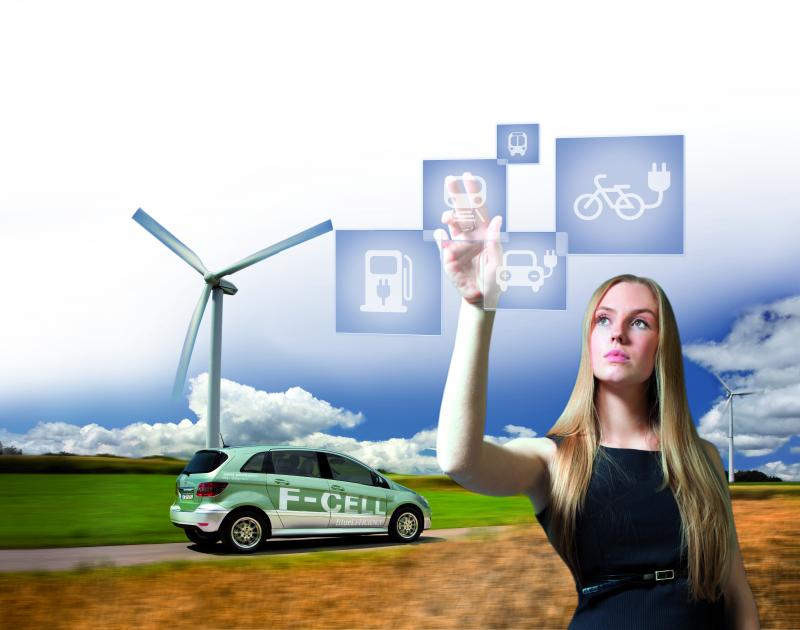 Home to Daimler AG, Robert Bosch GmbH and Porsche, car manufacturing is a major contributor to the state's economy. Baden-Württemberg doesn't just want to be a player in the game – it wants to maintain its leading position producing cars and batteries as well as designing them. The industry needs protecting and Baden-Württemberg is giving its all to make sure it stays.
Baden-Württemberg in southwest Germany has over 300 automobile production plants, as well as 400 suppliers and manufacturers of electrical parts. The industry employs more than 300 000 people in the state and is worth around €70 billion annually.
The area has remained successful because of its foresight for market trends and heavy investment in research and development to stay ahead of the game. This is precisely what is happening in the state now. The next epoch of transport is set to be electrified and the power will come from advanced batteries and this is what Germany must develop to be competitive. The state of Baden-Württemberg does not have a history of making batteries and recognises it is behind China in the lithium-ion technology stakes but it is determined not to lose out to competition from Asia. If Baden-Württemberg is to keep up, its heavy investment in research and development will need to be successful. This is central to a state-funded project called e-mobil BW, part of a national initiative for advancing electric mobility.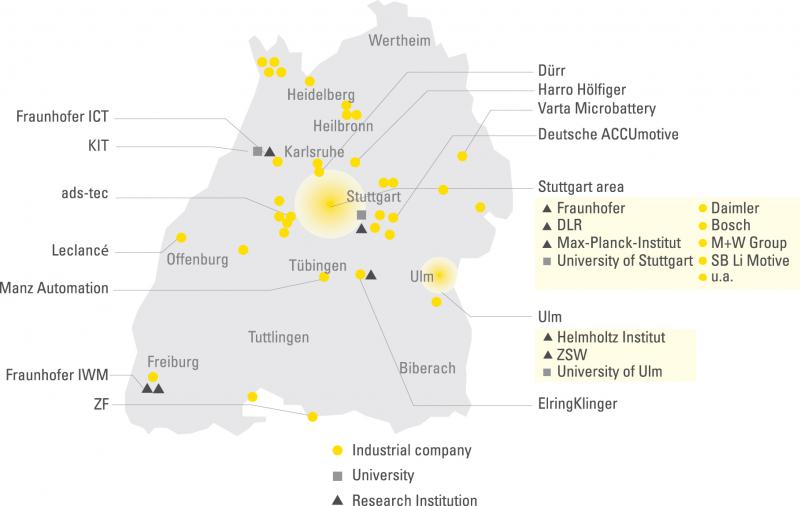 In 2009 the then Minister-President of Baden-Württemberg, Günther Oettinger, who is now in the high Commission of the EU, first decided to open a state-funded agency to offer advice and help for smaller companies in the automobile industry to deal with technological changes. This was the start of e-mobil BW.
The main task is to support the emerging technology shift towards electric mobility and to pave the way for industrialisation of electric vehicles. It began by establishing the agency and further worked on developing and extending the research infrastructure to enable and encourage a transfer of knowledge between industry experts and academia.
Dr Wolfgang Fischer of e-mobil BW said: "At the beginning the thinking was about how the state could accommodate the technological change, and considering how many people work in the industry, it is a cultural change also." Many people in Baden-Württemberg are employed in small and mid-sized companies. These were the focus because the larger companies had been thinking about the forthcoming changes for years, but the aim of the state was to help the smaller and mid-sized companies. "Normally they don't have the resources or the time to make the changes. Many of the companies have about 100 people working for them and not a lot work in research and development, or in strategies." Fischer continued.
The project is funded by the federal government which has invested more than €50 million on the project. It is run by the state government, which since 2011 has been led by the first Green Party Minister-President of Germany Winfried Kretschmann. Dr Fischer said: "All parties are very convinced of the importance of electro-mobility and believe that e-mobil BW is a good thing for the future of the country."
Dr Fischer said the automobile industry is very sensitive about crisis and consequently the carmakers are in a good position to be prepared for the change. "It's a question of investing. Carmakers have invested a lot in research and development for years, this is typical for Baden-Württemberg – not just the companies, but the government and universities." This attitude and foresight means the car industry in Baden-Württemberg is prepared for the market changes in the years to come. Dr Fischer said: "Significant sales won't come in the next five years, but I know from our automobile companies they see the problem and see the future of the market so see the value of investing for electro mobility."
The large companies based in the state are supporting the project. Bosch and Daimler AG have begun a joint venture developing traction electric motors based in Baden-Württemberg. Bosch has also opened The Robert Bosch Centre for Power Electronics in association with two universities (Reutlingen University and the University of Stuttgart). A lot of Euros will be spent over the coming years to advance the teaching and available courses in the fields of microelectronics, information technology, power electronics.
New university courses have been proposed to equip students with the skills to support and develop the future of industry. The state's universities offer more courses on electric mobility than anywhere else in the country.
There are nine research universities and 39 dedicated to applied science, including electric engineering and electric mobility. With the universities involved in the research and development it is clear the progress will be made from public and private efforts for the benefit of the whole state's economy.
Traditionally Baden-Württemberg has had an export-orientated economy and with few natural resources it relies upon secondary production for exportation. Dr Fischer said: "We don't just want the research and development of future cars to be here, we want the production as well. The focus for the e-mobil BW project is very much researching production technology."
Lowering costs in electric mobility is one of the major challenges of production, especially for the battery. The federal government dedicated €40 million in January 2012 to progress the development of batteries for production.
True the batteries could be imported from overseas and continue to have the cars built domestically, but why not make them in Germany?
Dr Fischer explained that at present most automobile batteries are imported from Asia to go into the vehicles made in the region. "At the moment we don't have any battery production but we want to have it. We have a lot of research institutes working on battery technology but we don't really have makers. We have a lot of companies doing parts of battery production but not companies making whole batteries. Yet."
The plan is that the whole of the cells as well as the battery system can be made in Baden-Württemberg. With an existing infrastructure for automotive manufacturing and high levels of skills, production of the cells will be possible and competitive. Institutes are undertaking work across the region into fuel cells and lithium battery technology.
A national centre for a German network of excellence for lithium-ion batteries, known as KLiB (Kompetenznetzwerk Lithium-Ionen-Batterien) has been founded in Ulm, Baden-Württemberg, for this purpose.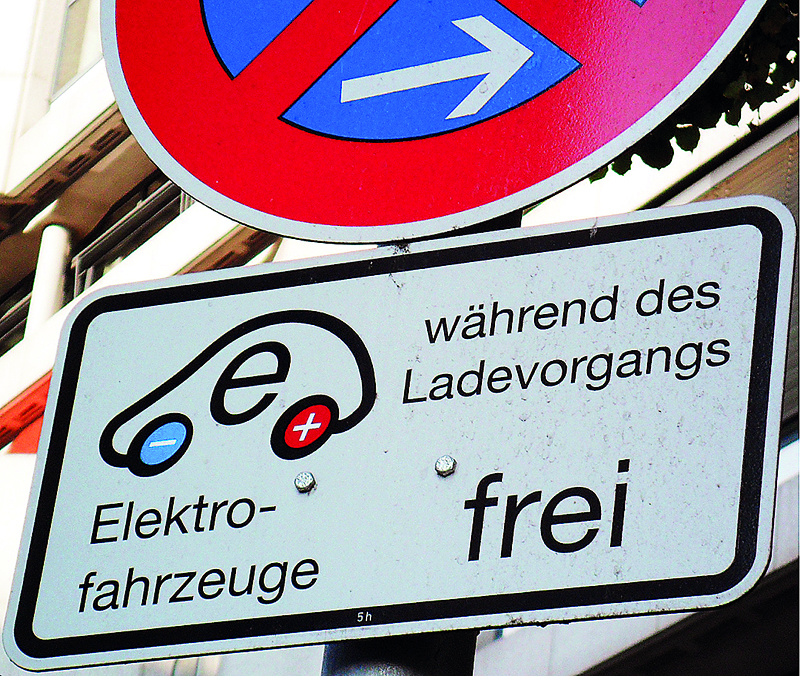 The state-funded facility will have investment from 25 industrial partners. The facility will look at all aspects of lithium‑ion batteries from development to sales. The research will benefit the participating companies and German institutions that are involved in lithium-ion cells.
Ulm also has the Centre for Solar Energy and Hydrogen Research (ZSW), Ulm University and the Helmholtz Institute for Electrochemical Energy Storage. Combined these make it a hotspot for advanced battery research and development.
Another collaboration of interests is the Fuel Cell and Battery Alliance Baden-Württemberg (BBA-BW), which has 70 members from business, academia and the public sector working to promote fuel cell, battery and hydrogen technology. Its aim is to support members developing products and to jointly develop marketing strategies for fuel cell and advanced battery technologies and their applications.
Dr Fischer believes that while electric cars are currently expensive, getting people using them will be instrumental to their eventual uptake: "What we try to do is have a growing number of people using electric cars to get them used to the technology. Then in a few years when we have worked to lower the costs there will be a real market for electric cars."
Dr Fischer described another fleet project headed by Bosch Software Innovations with the aim of helping smaller companies access electric vehicles: "In the region of Stuttgart we have a lot of organisations with very small fleets of 10-15 vehicles who wouldn't be able to integrate electric vehicles without incentives. So with this project a small company can get a car, the infrastructure and access to fleet management to make sure the cars are in motion as much as possible."
The charging infrastructure across the state is still in its infancy. Dr Fischer commented: "Studies show that people charge mostly at home or at work – so one question is, do we need a public infrastructure?" Clearly for car sharing the answer is yes as the cars are always on public roads. "In inner cities the problem is not energy supply, it's parking space. If you build up a charging infrastructure you have to reserve parking spaces. All cities know this problem."
This project seemingly covers all angles of the future of electric vehicles from development and production to their use and public acceptance. Baden-Württemberg has prepared for the anticipated transportation issues of tomorrow, but only time will tell if this is sufficient to safeguard its industry.
Contact details:
e-mobil BW www.e-mobilbw.de info@e-mobilbw.de
The fuel cell and battery-Alliance Baden-Württemberg (BW-BBA) info@bba-bw.de www.bba-bw.de is a network of over 70 members from business, academia and the public sector with interests in batteries and fuel cells to develop, test and market batteries and fuel cells for electric vehicles.
KLiB Kompetenznetzwerk Lithium Ionen Batterien info@klib-org.de www.klib-org.de is a platform for industries connected to the value chain of lithium-ion batteries aiming to gather the competence of the research and production industry. The aim is to strengthen the technology and manufacturing base in Germany to become the global leader in battery manufacturing.
Helmholtz Institute for Electrochemical Energy Storage www.helmholtz.de is set to be the basis for future high-performance battery developments. Located at Ulm University in Baden-Württemberg, it will pool the expertise of commercial and educational institutes in electrochemistry for electro mobility.
Centre for Solar Energy and Hydrogen Research (ZSW) info@zsw-bw.de www.zsw-bw.de is a non-profit foundation founded in 1988 to utilise a transfer of knowledge within the fields of renewable energy and energy conversion to market-ready technology.
The Robert Bosch Centre for Power Electronics (RBZ) www.reutlingen-university.de is a newly established research and teaching network in which the Bosch Group, Reutlingen University and the University of Stuttgart have joined forces.
Battery development nationwide
On a national scale much is being done to keep the automotive industry alive, including the valuable battery components. The NPE (Nationale Plattform Elektromobiliät, or National Electric Mobility Platform) formed in 2010 is a joint council of the German government and all the carmakers, technical organisations and research associations related to automotive engineering in Germany. The NPE has a three-year plan for the development of advanced batteries for electric mobility.
Batteries are extremely important in terms of value chain so the manufacture of batteries and cells is paramount to being successful in the manufacturing of electric vehicles. The German government recognised that establishing Germany's own competitive cell and battery-manufacturing capability is a key enabler for developing electric mobility in the country and is therefore it is a funding priority.
The five areas the project addresses are material development and cell technology, innovative battery design, safety and testing, battery life, and process technology for mass production. There is a €601 million investment over the three year period with greatest funding going to research institutes.
These projects are aimed at establishing the specification needed for Germany to develop a globally competitive integrated cell and battery manufacturing capability. Ploughing so much money into research and development of battery and cell technology is the way the country hopes to outstrip out nations that are further advanced in this field. The goal of the project is for Germany to become the leading supplier of advanced batteries and components.
The NPE is looking at lithium-ion technology for battery electric vehicles, range-extended electric vehicles and plug-in hybrid electric vehicles. Beyond this it is also looking at post-lithium-ion technologies such as lithium-sulphur, zinc-air and lithium-air systems to ensure Germany is at the forefront of battery technology for several generations.