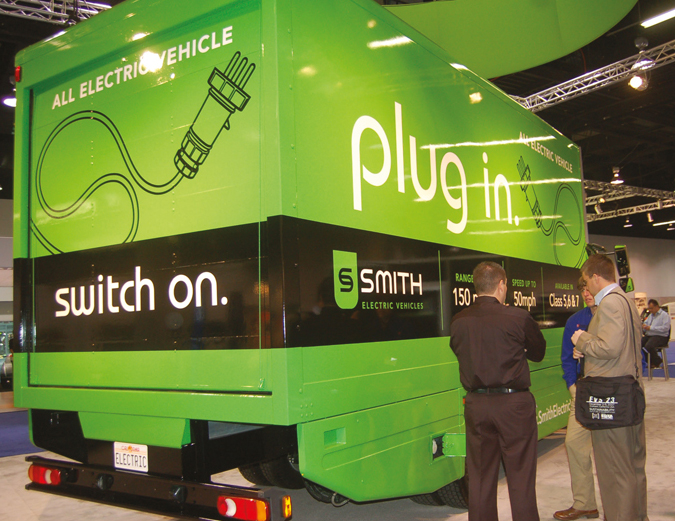 Anaheim may be a fantasyland, but if the offerings on view at the International Electric Vehicle Symposium (EVS 23) in the city's convention centre last December are any indication, it seems that what was once just a dream for many EV related businesses is rapidly becoming a reality. The editor reflects on what was probably the best EVS in many years, and the fact that Plug-in-Hybrids may be the answer to all of our problems.
The momentum was palpable. It might have going in many different directions, but it was definitely moving. There were too many delegates (over 1500) and exhibition space was over-subscribed, but refreshing was the plethora of component suppliers and battery makers from all over the world. Whatever hype percolated through the hall emanated less from the big three US automakers than from a general enthusiasm for a technology that seems to have come into its own for the general public, as well as the industry.
As usual there was far too much rhetoric on saving the planet, improving air quality and making a better world. These things may come (or may not) but what really matters now is making money from the most appropriate technologies to do the job.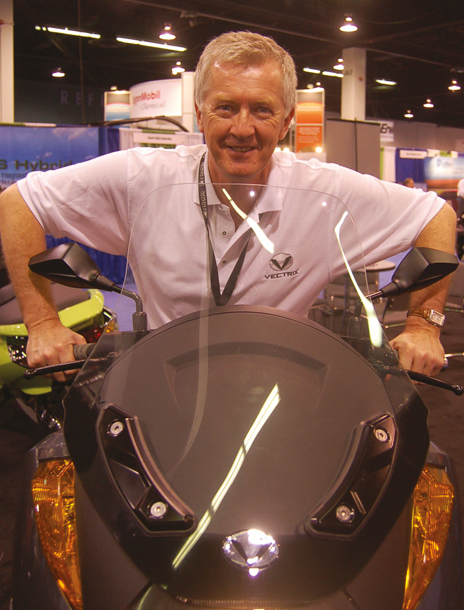 And the most important of those technologies is? Batteries. Too right. Otherwise I wouldn't be there. From what I could tell, that was why everyone else was there too. Plug-ins, after all, had definitely captivated the most interest – that was a given. But the one component that would make the plug-in a reality – the battery – represented the real kernel of technological interest throughout the entire event. On the first day of the conference, your scribe managed to get himself positioned close to the front of the battery session. By day two, however, a line reminiscent of a queue to the last functioning brothel en route to the Somme in 1916 snaked outside the small seminar room and down the hall.
Your scribe then used his influence to get the battery sessions moved to a larger room– but even so, the reports seemed lacking in any form of technical debate one might have got from a meeting such as hosted by the Advanced Automotive Battery Conference. In truth, the battery papers, save those given by scientists and engineers from Argonne and other US national laboratories, were little more than 'infomercials.'
Some rendered new ideas, but most seemed to offer little more than Argonne papers repackaged as editorial inside some new multimedia battery publication. Everything else felt like advertising. Likewise frustrating was that one had to link this packaged verbiage to what one saw and heard on the exhibition floor.
If I learned anything at the conference, it might be that one of the best reasons to buy a Prius is simply for the opportunity it represents to tear out the original nickel metal hydride battery pack and show Toyota executives that American know-how in batteries can do a lot more than your best buddies at Panasonic could ever achieve.
As well as being a very agreeable vehicle to drive, the Prius has become a plaything for innovators, even businesses happy to write off the cost, invalidate the warranty, rip out the batteries and have some fun. It's not unlike the phenomenon of all those peripheral products that have grown up around such devices as the Ipod. A good product not only sells, it inspires others.
So who's been inspired? The usual suspects, I'm afraid: A123, Enerdel, Altair nano systems and Electro Energy. Trying to make sense of the meeting is always hard.
Gone are the good old days when participants could get their hands on papers in hard copy format. This time we were given a CD containing more than 224 papers in PDF format. In your scribe's humble opinion, however, only about twenty were worth examining in any detail once you'd dumped anything concerning hydrogen, electric motors and touchy feely verbiage such as 'building awareness of alternative fuels with disadvantaged members of society.'
And if you could only take one paper to your desert island? Well, that would be the US Department of Energy's Overview of Energy Storage R&D STATUS FOR FY 2006.

There's no surprise that in something so near (and yet so far) from the market as the PHEV, the overriding issue is cost. In fact, so thorny a conundrum has this one issue become within the industry, I'm almost inspired to launch a battery meeting of my own entitled 'Cost Cost Cost– how to drive battery development costs down.'
For PHEV batteries, the cost and the underwhelming performance at low temperatures appear to be major barriers for the car's ultimate viability for the mass market That the impact of deep and shallow cycles on the overall battery life remains so little understood is likewise a turnoff to makers and consumers alike.
The beauty of the US government agency papers was that their scientists had done the hard work of comparing apples with pears and converting all the units so you're actually dealing with oranges.
What's known? The advanced energy storage technologies for HEV applications are further along the road than those for PHEV applications.
Hardly a surprise, given that PHEVs have only been of interest for about 18months. The R&D technologies supported by the DOE span several development phases, including those of material development (as seen in the case of the Li Metal/Li-ion polymer system), cell development (for the graphite/Mn spinel system), battery development (for the graphite/iron phosphate system), and cost-reduction (for ultracapacitors and low-cost separators).
Though hardly a secret, the best of what the US government is actually doing (however under-funded, in my opinion) is the so-called DOE developer programme for a so-called Freedom car. The DOE works with industry through cost-shared projects to develop electrochemical energy storage technologies that would supposedly meet Freedom CAR/USABC (advanced battery consortium) technical goals.
The USABC provides technical and programmatic management of these projects, whose cost is shared by the individual developer at a minimum level of 50 percent. The technologies include lithium-ion batteries and ultracapacitors, and separators, since separators contribute significantly to the total system cost. Some of the current development activities are listed in Table 3.
Reducing the cost of the end product is the primary objective of each project. The Johnson Controls Saft (JCS) lithium-ion 40 kW power assist hybrid contract is focusing on low cost manufacturing. The Compact Power, Inc. (CPI)/LG Chem 25 kW power assist system lithium-ion system uses low-cost spinel cathode with a gel-polymer electrolyte, and a laminated cell design. EnerDel is developing very high rate and potentially low-cost materials for lithium-ion batteries for the 25 kW power-assist systems.
The list also includes projects on low-cost separators by Celgard and Ultimate Membrane Technologies (UMT); and on ultracapacitors by Maxwell, and NESSCAP. Additional R&D involves the thermal management of battery systems, since poor thermal management can lead to degradation in battery performance and a substantial increase in cost, a reduced cycle/calendar life, and an increased chance of encountering abusive conditions. It includes the thermal analysis and characterization of cells and modules through simulation and testing.
The DOE's technical assessments of all of these programmes probably represent the best overall validations of how good any of the commercial claims are. Elsewhere, it's hard to make practical sense of technical claims being made.
There was a lot of interest in battery module designs coming out of GS Yuasa, though the chemistry was not new (LiNiCoMnO2). The company has developed a new 6 Ah lithium ion cell, the 'EH6' optimized for HEVs. The maximum output power after a 10 second discharge is 1,200 W (3,600 W / kg) at 50% SOC at 25 °C and 120 W at 50% SOC even at -30 °C. (So much for the low temperature issue.) Even better is, supposedly, the calendar life. The company reckons the modules will still have 70% of their capacity after fifteen years or 10,000 hours of operation – according to a battery model. And there's the rub; these are just predictions. Don't even bother asking the obvious questions 'How much?' and 'When can I got hold of them?' You're never told.
What looks like a very strong advanced front runner in terms of performance is the
LiMn2O4 – spinel (LMO) cathode and Li4Ti5O12 (LTO) anode couple used by EnerDel. This came across in a paper from Paul Nelson and Khalil Amine from Argonne National Laboratories and the company itself.
It had done the EVS 23 party trick better than most; it replaced a standard Panasonic NiMH pack in a Prius with a design based on the above chemistry, which took up less space and delivered more performance. Argonne chose to model a high performance sports sedan using battery data obtained by EnerDel. For such a vehicle to achieve high fuel economy, the engine has to operate close to its peak efficiency, which requires that the battery have high power to accept charging at a high rate. Argonne compuer modelled a battery that could discharge at the 100-kW rate for a 10-s burst at 90 percent open-circuit voltage, so that the overall battery efficiency would exceed 97 percent for most vehicle-driving cycles.
The battery chemistry has exceptionally low impedance so it was anticipated that it could operate very well between 100% and 10% state of charge. The Government laboratory computer modeled three vehicles, each with series powertrains and simulation test weights of between 1575 and 1633 kg: a hybrid electric vehicle (HEV) with a 45-kg battery, a plug-in HEV with a 10-mile electric range (PHEV10) with a 60-kg battery, and a PHEV20 with a 100-kg battery. The vehicle simulation tests showed that these vehicles could accelerate to 60 mph in 6.2 to 6.3 seconds and achieve fuel economies of 50 to 54 mpg on highway fuel economy test (HWFET) cycles.
Such a vehicle, according to the Argonne team is very doable: firstly, the battery electrode materials are inexpensive and for the car, well, there is no transmission, the engine and generator may be less expensive since they are designed to operate at only one speed and power. EnerDel's own paper highlighted the low temperature performance on this chemistry, something that we've already mentioned as a problem in PHEV battery technology. Or is it?
Most conventional lithium-ion chemistries cannot perform at low temperatures without a large degradation of capacity or power. In addition, systems with carbon based anodes risk the possibility of lithium dendrites forming when discharged at low temperatures. This phenomenon is not a risk with the LMO/LTO chemistry since the nominal voltage of the LTO anode is approximately 1.5 V, providing an electrical potential that does not allow for the formation of lithium dendrites that may lead to shorts in the cell.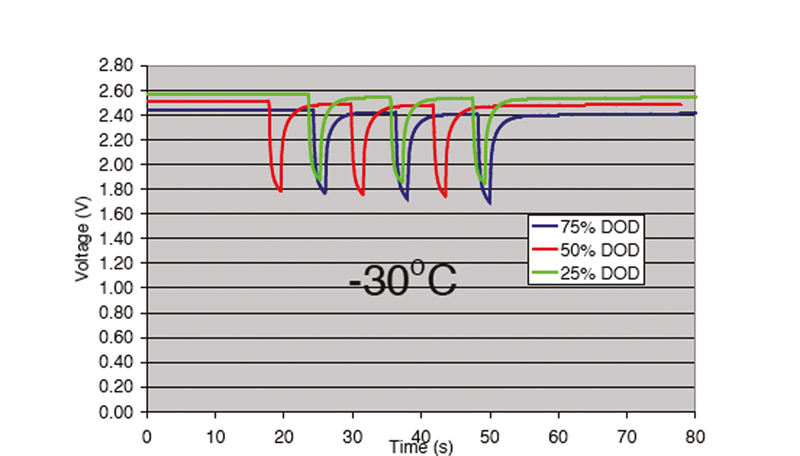 The chart shows the power capability of the LMO/LTO cell at -30oC. The test was conducted at three different depths of discharge (DOD) in order to determine the effect of DOD on power capability. From 25 % DOD to 75 % DOD, the LMO/LTO cell was capable of delivering the required 5kW of power for three separate pulses at -30ºC. The capacity achieved at -30ºC is more than 90 % of the capacity achieved at +30ºC. The company says 'This low temperature capability of the cell provides a useful capability of the cell over a wide range of operating temperatures making the LMO/LTO cell chemistry suitable for automotive applications.' To my recollection, this seemed like the first time a company's puff presentation contained a serious understatement. This is pretty much a clincher for selection by auto OEMS, I'd have thought.
Other 'infomercials' disguised as technical papers told us little that was new. Andy Chu of A123, emphasized what we've already heard about the company's doped nano phosphate technology: safety. But the serious performance issues of the moment – cost and low temp performance – went unmentioned.
The general consensus, though, seemed to be that lithium ion chemistry is simply the only choice for hybrids and PHEVs moving forward; but precisely which lithium chemistry will emerge as the overall winner remains a matter of conjecture.
Even if you have chosen the right chemistry, there's still the issue of building packs properly. Kurt Kelty of Tesla Motors didn't hesitate to tell the truth about their own battery packs for the company's outrageously expensive electric roadster. 'We did quite a few Fourth of July tests to understand how lithium ion cells (of every stripe) failed and what happens to adjacent cells in a tightly-packed system,' he said. 'We began to understand the problem more than a year before the famous Sony/Dell fiasco, and set a corporate requirement that no such cell failure would lead to thermal propagation in our ESS.'
He related that they then had to figure out how to make their system mass-producible, even at tiny roadster production volumes.
'Manual cell connection would be unreasonable. We went through something like seven generations of design before we had what we considered to be a good, safe, reliable design. We validated this design with outside testing laboratories, and we demonstrated safety to the various cell manufacturers to convince them that they were not at undue risk of liability were they to sell us cells. We demonstrated overall ESS safety in a series of tests to meet the United Nations requirements enforced by the U.S. Department of Transportation. This enables us to ship our battery packs around the world.' Yes, but at what cost. (? I added this, to give some kind of closure to the explanation, but delete if you care to.)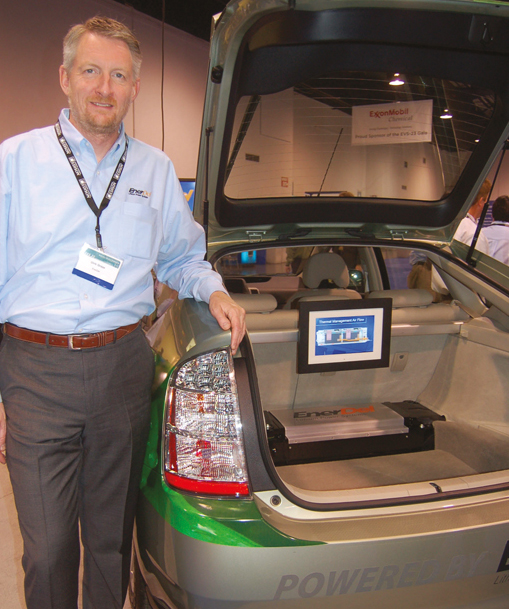 Looking ahead, let's suppose the issues surrounding PHEV batteries get solved and the industry gets the cost of them down. PHEVs are manufactured in their millions. But will we have we solved all of our problems? Uh, well, actually no. A study carried out by Joel Danforth of Global Energy Intelligence looked at the issues surrounding electricity capacity in the Los Angles district and the impact of PHEVs on the load. Worry not, there's plenty of energy. The Los Angeles Department of Water and Power had an excess energy capacity of 33,938 MWh available over the 24 hour period of July 24th, 2006 – its peak demand day. During this worst-case scenario of maximum load, the LADWP had enough spare capacity to fully power a PHEV fleet of 3.39million vehicles using 10 kWh batteries. So far, so good. But then you discover that generation mix isn't quite so good – in fact, it's not good at all.
While base load power in the metropolitan area is derived primarily from coal and nuclear sources, the bulk of the capacity available to a PHEV fleet in this scenario would be from intermediate and peaking power plants in the LADWP supply – essentially fossil fuel sources. Under the scenario examined, the PHEV fleet would lead to increases in CO2 emissions of 25.6%, SO2 emissions by 3.2%, and NOx emissions by 2.9%.It's not just the car fleet that has to change. It's everything about energy as we know it. And that's well beyond the scope of EVS, or even BEST.