They were warned it would be tiring – a UK Government-funded rocket-powered trip around the latest US energy storage activity. Bob Bailey, secretary to the International Power Sources Symposium committee, reports.
The pursuit of an all-embracing elixir for electrochemical energy storage was the quest that drove seven UK scientists to embark on a ten-day mission to the USA during November 2004.
As if under the cover of the US election hype, a small team – led by Professor John Turner of London South Bank University, co-ordinated by International Power Sources Symposium (IPSS) and sponsored by the DTI Global Watch Service – slipped into San Francisco at the start of an intensive review of current US developments in electrochemical storage and renewable energy.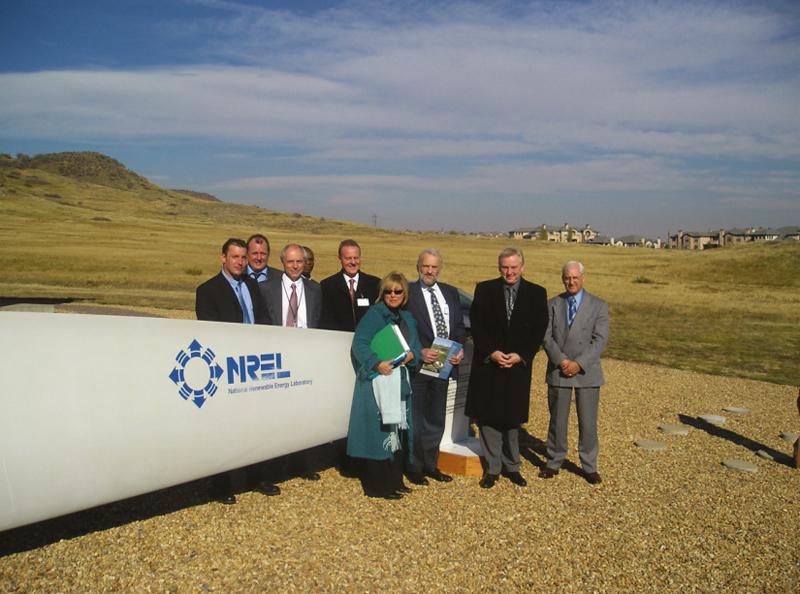 But it was never a covert operation, with months of preparation having gone into the planning, choice of subject matter, team selection and deciding whom to visit. More to the point, with the ever-present high state of USA security, would the UK mission be allowed through the gates? All the doors ultimately proved to be open, thanks to IPSS contacts and through the help offered by British Consulates across the country.
Technical expertise was drawn from military scientists working for QinetiQ and DSTL, GS Yuasa's chief European technologist, BT Direct Power and Eaton Powerware (previously Invensys) and the DTI.
The necessary travel passed relatively smoothly but matters of security were manifest from the start, on occasion consuming much time and effort – both at airports and entry on to some of the USA's premier research and development sites. With so many flights, not a single domestic transfer went by without the co-ordinator or leader, or indeed the whole team, being called out for special scrutiny by the Transportation Security Authority. The TSA has gained something of a reputation across the US but the experience of the mission team, although somewhat weary of extra 'patting-down' and having to explain why we had all amassed so many battery CD ROMs and brochures, was that it was dealt with efficiently and in a spirit of good grace.
Of course, strict adherence to a means of identification prevailed wherever we set foot in Government and military establishments. But having visited several it seemed odd that there appeared to be little consistency of approach – each adopting its own specific criteria, or keeping them guessing! These hindrances soon became just part of the daily routine as the team got down to meetings, presentations, listening, sharing ideas and learning more of how the USA approaches, researches and funds its endeavours to advance the science of electrochemical energy storage.
The start in San Francisco was frenetic as the mission team was driven out and around the Bay area; by request the first visit was to the development company NanoGram Corporation, which was using advanced and novel processing methods to improve the performance of batteries and fuel cells. Examples were viewed, in particular the use of 'unique nano material and process platform technology' based on a CO2 laser pyrolysis which allows uniform powder coatings to be applied to a substrate. With this technology the particles forming the coating are said to be less than 100nm in size! NanoGram indicated that it is now creating an intercalation/insertion battery as a power source for implanted cardiac defibrillators. It was a great start to the day, but we wondered who would be first to need the defibrillator!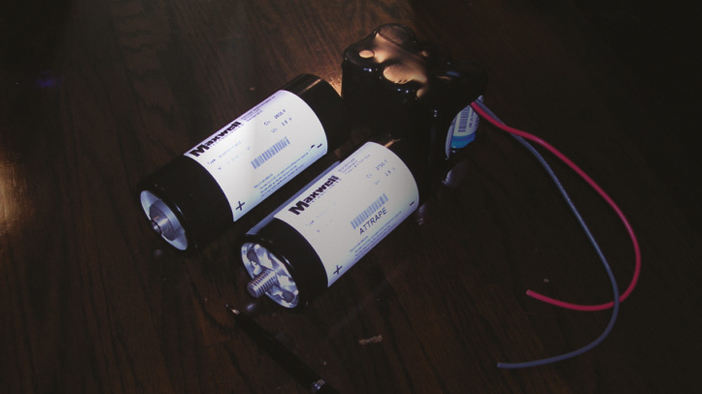 S
till at maximum concentration level the mission sped back to Berkeley to hear at first hand of the development work in which PolyPlus had been engaged, thanks to the support of USABC and through the DARPA Palm Power programme. Its results had only just been made public, so the team were fortunate in the timing of their visit – during which it was explained that the company has now successfully developed a protected lithium anode.
This battery chemistry is revolutionary but at an earlier stage of development. PolyPlus has devised a way of protecting lithium such that it can be stabilised to water. A process has been developed which allows a coating of a lithium-conducting glass to be placed on the surface of a lithium-sputtered coating or lithium foil. This coating now enables a number of lithium metal battery technologies which were previously difficult or impossible to achieve because of the reaction of lithium with water. The two main chemistries being focused on by PolyPlus are now lithium-air for land applications and lithium-water for marine applications. Lithium-sulfur had also been investigated by PolyPlus but appears to be less of a focus now because of the higher energy densities available with the lithium-air system.
It is claimed that optimised cells will be capable of providing specific energies of 1,000 Wh/kg. It is initially envisaged that these will be primary cells but it is expected that the technology may be adaptable to secondary cells with little or no loss in capacity. Additional development work would be needed to optimise the air cathode for a rechargeable system, and the lithium hydroxide would need to be held at the cathode to enabling recharging.
This technology is in its infancy and the company estimates that it may be another three or four years before it has a battery pack available at a sufficient level of development for assessment by the military. This development time could be shortened if a partner company were found to accelerate the production of batteries from this exciting technology. The other stimulant is of course funding, and should PolyPlus receive significant levels of additional finance this would accelerate the development period.
PolyPlus has also investigated lithium-sulfur chemistry, again utilising its coated lithium anodes. The work is being supported by the US DOE as a potentially cheap alternative battery chemistry for EV and HEV applications.
Working together and establishing business from research spin-offs seems to be an accepted principle as Government, military and national laboratories support the creation of high-tech developments in electrochemical storage systems.
A further case in point is Sion, a battery manufacturer in Tucson, Arizona which had developed a lithium-sulfur battery. The specific energy of manufactured cells is currently 350Wh/kg for a 2.5Ah prismatic cell. It is expected that 400Wh/kg could be readily achieved by constructing a 5Ah cell, since the packaging weight will become less significant at this scale. The company is predicting specific energies of 450Wh/kg in the near future and is aiming at 600Wh/kg as a long-term goal. The 600Wh/kg target is based upon the rule of thumb that approximately one-third of the theoretical specific energy can be achieved in an optimised battery system.
Developments in ultracapacitors
From high energy density to very high power density. The next stop was Maxwell Technologies, a leader in the development of ultracapacitors, located in the ever-attractive San Diego region of southern California. Here the mission team was shown a variety of ultracapacitors and given examples of typical applications, including light rail vehicles, hybrid buses and trucks, and forklift trucks.
Ultracapacitors have very high power density (up to 9kW/kg) but much lower energy density (around 5–6Wh/kg) and are very useful in applications requiring short-term bursts of power – but they are less good at providing a longer-term power source. However these characteristics make ultracapacitors extremely interesting as part of a hybrid vehicle system, since they are excellent for providing rapid bursts of power to meet an acceleration demand, and are also a very good way to recover energy from regenerative braking.
The lifetime of a typical ultracapacitor was stated to be in the order of 20 years. The assertions made by Maxwell were tested by the mission team through questions and discussion at many of the subsequent visits, and its claims received broad agreement from staff at Energy Power Research Institute (EPRI) and Sandia National Laboratories as well as the military establishments at TARDEC and Fort Monmouth (CERDEC).
Moving on yet again, the mission team enjoyed a scintillating meeting with EPRI and the Energy Storage Association (ESA), learning at first hand of the need for greater electrical energy capacity and of storage, load levelling and integration of mini grids.
It is recognised that the overwhelming majority of stationary battery systems in the USA, as in other nations, serve as emergency back-up to ensure critical loads are supported in the event of unexpected loss of mains supplies. However during the past few years a small but growing acceptance of other purposes for energy storage has been established in the USA. At present this movement is concentrated in a fairly small but influential group of organisations and companies, most of which are represented in the ESA.
The driving force for the development of these applications is the recognition that the future sources of electrical energy and the way it is distributed will be fundamentally different from those established in the past century. The state authorities in certain areas such as California have recognised this and are encouraging demonstration programmes and feasibility studies that will enable the establishment of new infrastructure. At other levels economic incentives, such as the carbon levies applied in Europe, are not being implemented and this is hampering the general movement towards such technology at present.
It is accepted that the performance requirements of many of the applications are diverse, particularly with respect to the power, discharge period and number of charge and discharge cycles experienced through the life of a storage system. As a result it is highly unlikely that a single energy storage system will emerge that will provide an optimum solution to all applications.
The apparently confusing array of options for energy storage that is being developed may be part of the cause for a slow uptake in commercial activity. It is a significant opportunity for companies that have the range of expertise to make impartial and objective assessments of individual customers' requirements.
However in conclusion it would seem that there is no single energy storage technology that clearly has the potential to dominate the immediate or future marketplace. The diverse nature of energy storage requirements means that different technologies will be able to occupy discrete niches of the market. Whilst the potential value of energy storage is recognised by relatively small, but very motivated groups within the USA energy industry, the economic/regulatory incentives are not yet in place to encourage the take up in mainstream activities.
The demonstration plants for each technology have arisen as a result of unique situations that maximise the benefits of the Battery Electric Storage System (BESS). This does not necessarily demonstrate any relevance to more general usage of such systems. That said, a great deal of preparatory work has been done by activists in the field such that market growth could be very rapid once a tipping point is reached.
High-performance, high-cost batteries
During the visit to Fort Monmouth (CECOM) the mission team received presentations on several lithium-based and other battery chemistries used for military applications, including primary Li/SO2, Li/CFX and Li/MnO2 and rechargeable Li-ion, and NiMH cells. From discussion it would seem that no significant improvements in performance over commercial batteries are available. However a view was expressed that Zn-air systems are seen as a range extender for many of these battery systems.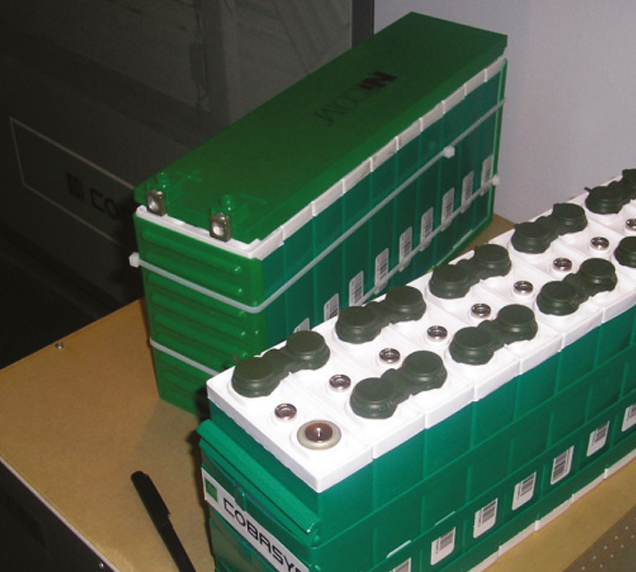 There is an opinion that the well-known nickel-metal hydride lithium and lithium ion batteries may have reached a plateau of development, although they are finding applications where their higher costs are acceptable – particularly in military applications.
The visit to Sandia and most of the other DOE labs suggests that for electric vehicle and hybrid applications the battery of choice is based on SAFT's high-power VL8 P cells. It was also apparent that the Department of Defense laboratories are also working with the national laboratories to develop this battery technology based on SAFT's high power lithium ion cells.
Further visits were made to DOE's National Renewable Energy Laboratory (NREL) in Golden, Sandia Laboratories in Albuquerque, MIT in Boston and several military establishments as well as Cobasys in Detroit where research and development as well as practical application was evident.
Lead-acid batteries are an old technology but their performance remains competitive, and may be susceptible to improvements of the order of 30% compared with current energy densities. They are still one of the most cost-effective forms of electrochemical energy storage and are extremely reliable. One of their major inherent disadvantages however is their weight.
Lead-acid batteries are heavily used for most applications requiring power storage – renewable energy, micro grid systems, UPS – and nothing that the team was shown demonstrated that a change in this approach was imminent.
Batteries based on lithium chemistry are widely regarded as the primary competitor to lead-acid battery technology. They are favoured in many applications, particularly non-portable systems and military uses, as well as in some hybrid-electric vehicles and military vehicles.
Increasingly it is the energy storage system that the users/markets are seeking, rather than the storage technology at the cell level per se.
Where the USA differs radically from the UK is in the amount of available funding. Federal and State agency funding for the research, development and demonstration of electrochemical energy storage technologies and systems, although quite low compared to the funding available for fuel cell and hydrogen infrastructure research and development, is vastly in excess of that available in the UK.
What is equally evident is the interaction that takes place between the key Federal Govern-ment agencies (the Department of Energy, Department of Defense, Department of Transportation and the National Aeronautical and Space Agency) on electrochemical energy storage.
The holy grail remains improvement to both energy density and power density at an acceptable cost. This dichotomy will need to tempered with renewed rigour in research, and a commensurate degree of patience if the electrochemical energy storage conundrum is to be significantly advanced.
To register to attend the dissemination seminar, to be held at the Corn Exchange, Brighton, UK on 18 April 2005, call Louisa Quilter on +44 (0)1664 501551 or e-mail louisa.quilter@pera.com