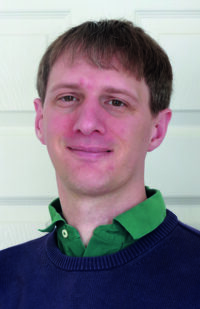 Expanding our understanding of battery materials, how to optimise them further, and how to make new ones based on abundant raw materials will be key to aiding the world's transition to net-zero carbon emissions. Doctor Peter Baker— instrument scientist at the ISIS Neutron and Muon Source, and co-investigator on the Faraday Institution FutureCat project— explains how muons are advancing our knowledge in two-millionths of a second bursts.
Now more than ever we need to change a wide range of human activities and support significant innovation— at the forefront of which is energy storage. Transformation and developments in battery technology are critical enablers for several sectors of the economy.
Taking the electrification of transport as a narrow example, enormous increases in battery cell production are being seen around the world as electric vehicle (EV) registrations grow from around three million in 2020 to a predicted 145 million by 2030. That growth relies on many factors, including accessible raw materials and the development of production capacity. Underneath those general requirements, the diversity of requirements for different kinds of transportation is becoming more evident in how different cell chemistries are being developed to address them. Of course, everyone wants their battery to be excellent at everything, but the order of those priorities changes from vehicle to vehicle. An e-scooter, a lorry, and an aeroplane are obviously very different vehicles used in very different ways and their demands on battery technology change accordingly.
However, in the context of addressing climate change and limited natural resources, a further requirement is likely to override all the others: battery production needs to be done in a sustainable way, firstly by using abundant materials and ultimately heading towards a circular economy in battery materials. Several related developments will be needed to tackle this difficult and multi-faceted problem.
One necessary direction for these developments is expanding our understanding of current battery materials, working out how to optimise them further, and learning how to make new materials based on raw materials that are more abundant.
Harnessing muons
One of the key properties for a battery material is how quickly ions can travel through it— the microscopic equivalent of charging and discharging. Several experimental techniques are widely used to measure this, including bulk ones like impedance spectroscopy and cyclic voltammetry; or local ones like nuclear magnetic resonance (NMR), which allows the study of atomic nuclei.
It is widely recognised that the diffusion of ions through a material can be a complicated process. A spectacular example of this is the variety of results obtained for lithium iron phosphate (LiFePO4), where different techniques give diffusion coefficients ranging over nine orders-of-magnitude, due to multiple diffusion pathways with different energy barriers; defects that block the pathways; and poor transport between particles. Because of this, it is important to compare the results from multiple techniques to get a full understanding of how good the ionic transport can be and what aspects of the material could be optimised to improve performance.
Muon spin spectroscopy is a technique that is quite similar to nuclear magnetic resonance (NMR), where positively charged muons are implanted into materials as fully spin-polarized probe nuclei, avoiding the need for strong magnetic fields or radio-frequency pulses to make measurements. Muons are sub-atomic particles like electrons, but 200 times heavier and with a mean lifetime of 2.2 microseconds. In the same vein, positively charged muons are akin to heavier positrons. These particles are formed naturally when cosmic rays interact with the upper atmosphere and roughly one muon per second passes through you from these cosmic rays.
While the absolute number of muons made by cosmic rays hitting Earth's atmosphere is enormous, to study materials we need intense beams of tens of thousands of muons per second incident on a typical sample size of around 2cm2 and just 1mm deep.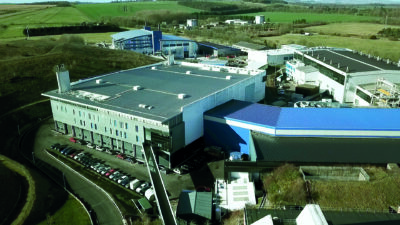 To make these beams requires a particle accelerator like the one at the ISIS Neutron and Muon Source at the STFC Rutherford Appleton Laboratory in the UK, which accelerates protons to 84% of the speed of light. As the protons pass through a carbon target, a small fraction interact to produce pions, which decay into muons. Muons produced from pions decaying at rest are spin-polarised due to the underlying particle physics and they can be transported down beamlines to instruments.
Nearly all experiments at ISIS are performed with positive muons as they can be made in greater numbers and have more spin polarisation. At ISIS there are five muon instruments, each with different features making them suitable for particular types of experiments.
When the positive muons arrive at the sample they stop, within one nanosecond, at positions in the crystal structure with higher electron density, such as oxide ions. In the time before they decay their spins are affected by the magnetic fields they experience within the material. These fields can come from magnetically ordered electrons, paramagnetic moments, or nuclear magnetic moments, each giving distinct signals.
Measuring battery materials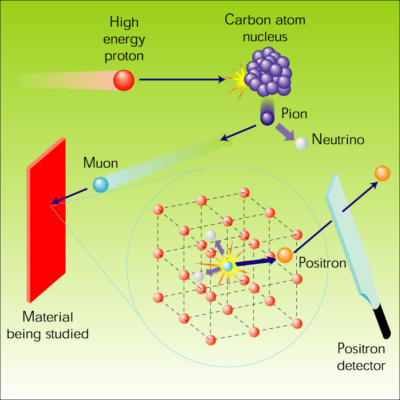 For measurements of battery materials, the fields from nuclear magnetic moments are the most important. Like NMR, the measurements rely on the ion being measured having a nuclear magnetic moment that, when it moves, changes the magnetic fields the muon experiences, flipping the muon spin. Fortunately, all lithium and sodium ions have a nuclear magnetic moment. For ions with less abundant moments, the measurements are more difficult, but still possible.
The positrons produced when muons decay are most likely to be emitted in the spin direction at the moment of decay. By collecting data over millions of muon decays, which is facilitated by positron detectors surrounding the sample, we can detect which direction the muon spin is in, and follow their behaviour within the sample over 25 microseconds after implantation.
To draw comparisons with other techniques, one can imagine the motion of ions in a material such as a tennis ball being hit back and forth over the net during a match. The muon measurement is like the umpire overlooking the court counting the rate at which the ball goes over the net as each point is played. NMR is more like a tracker fitted to the ball itself and bulk techniques are like reading the tournament results in the following day's newspaper.
Better battery materials
The technique of using muon spin spectroscopy to study battery materials was pioneered by a group from Toyota's Central Research and Development Laboratories who have long used ISIS and other muon sources around the world in their research.
Their breakthrough study used muons to determine the self-diffusion coefficient of lithium ions in LixCoO2 and, by studying the temperature dependence, the energy barrier the ions overcome as they hop between sites. These measurements also highlighted that in paramagnetic materials, i.e. most cathode materials, it is far easier to separate the paramagnetic contribution to the signal than it is in NMR analysis.
One route to increased sustainability is using raw materials that are more abundant. Concerns about the long-term availability of lithium and a desire to make cheaper batteries have seen increased interest in sodium-ion batteries. These are just as easy to study with muons as lithium-ion materials. While the properties are largely similar, the ionic motion is generally slightly slower and the energy barriers affect on the motion somewhat larger.
Magnesium is also interesting to study as a divalent ion because it offers the possibility of using a metal anode for higher energy density. It is more challenging to study with muons (and NMR) because only 10% of magnesium (Mg) ions have a nuclear magnetic moment. This makes the measurements slower but otherwise just as effective.
The energy barriers in the Mg cathodes studied so far are larger than in the equivalent lithium and sodium, Li and Na, cathodes, but small enough to allow realistically sized particles to (de-)magnesiate at useful rates— although other challenges, such as material stability, still remain before these materials could be used widely.
Solid-state development
Ex-situ measurements of individual materials are useful for understanding how different materials compare to each other but material performance on cycling is undoubtedly of greater significance. Recent developments of cells that allow materials to be cycled while the muon experiment is performed have enabled this type of study.
For example, one of the challenges facing solid-state battery development is finding materials that avoid interfacial strain as they are charged and discharged, which ultimately leads to capacity fading and increased internal resistance.
The NASICON-type materials LiM2(PO4)3— where M is Titanium in the cathode and Zirconium in the electrolyte— have lattice-matched structures to minimise the interfacial resistance. While this system is fully rechargeable at higher voltages, below around 1.1V it ceases to be rechargeable.
Muon measurements on discharge showed a decrease in the ionic motion of about 50% at that voltage. The distribution of magnetic fields also changed and that suggests a structural change that will require further investigation.
These measurements can also be made in-operando and on cathode materials. This has recently been applied to NMC811 [LiNi0.8Mn0.1Co0.1O2], a material that is being used in the latest high-performance electric vehicles.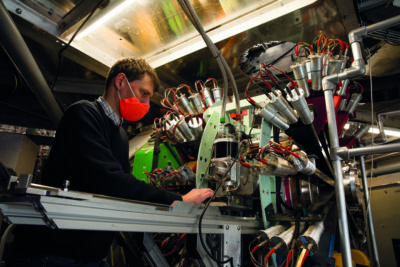 The rate of ionic motion changes smoothly on charging and discharging, more smoothly than was predicted for LiCoO2. There was also evidence in the magnetic field distribution for the structural changes that occur as the lithium site occupancy changes, helping to relate these results to other probes that can follow the charging and discharging process.
Technical developments of the instruments and beamlines that are currently underway will increase the data collection rates significantly, and the ISIS facility will soon be undergoing a series of modifications as part of the Endeavour Programme. For ex-situ measurements, this will mean both higher throughput of samples and the opportunity to measure in greater detail.
Recent measurements of lithium cathode materials found evidence of two separate diffusion pathways in NCA materials [Li(Ni,Co,Al)O2], showing the benefits of gradual improvements in data collection rates since the original measurements of LiCoO2 were done more than ten years ago. For in-situ and in-operando measurements, the benefits will be even greater as higher charging rates become accessible and allow more charge cycles in the same experiment.
As new materials continue to be developed, the process of understanding their properties to provide feedback on the development process will continue. Just as muons generated at the ISIS Neutron and Muon Source contribute to the understanding of ionic motion, the neutrons produced can help us to better understand structural properties. Neutrons are particularly well suited to the study of materials containing light elements, matching well with the elements that are abundant and suitable for electrochemical applications.
The two techniques are often used in tandem to gain a more complete picture of a material's properties, along with standard laboratory techniques and computational studies.
One such example is a recent study, published in the journal Nature Communications, where researchers designed a new series of materials that could be used as the electrolyte and electrode in solid-state batteries (which are highly regarded as safer and more efficient alternatives to our everyday ones).
The new materials were brought to ISIS Neutron and Muon Source to be tested using the neutron diffraction and muon spectroscopy instruments, where they were able to confirm their structural characteristics and ionic transport properties. The next stage of this project will involve fine-tuning the materials, so this approach to material design can be used to speed up the realisation of solid-state batteries.
Toward a greener future
While the types of materials and cells described above are closely related to the widely deployed lithium-ion cells, the techniques used can certainly be applied to key parts of flow batteries and other electrochemical energy storage systems. The analysis of atomic processes equally underpins developments in these technologies too. Widespread electrification of different sectors will almost certainly rely on several types of energy storage.
As the lifetime impact of electric vehicles has gained wider attention, the way the battery materials are made has also entered the spotlight. One approach to reducing the energy consumed is the microwave synthesis of cathode and solid-state electrolyte materials. This can also lead to faster synthesis and greater control of particle sizes, access to metastable phases, and better macroscopic performance while retaining the microscopic properties of the materials— seen by both neutrons and muons.
Having made the materials into a cell— the goal of sustainability, not to mention cost, user acceptability, and convenience— encourages the avoidance of material and cell degradation. Degradation processes can occur at all scales and in all components of the cell. Muon measurements are best suited to examining the shortest length scales within the electrode materials of lithium-ion cells, down to the nanometre, and have already been used to study this.
Nevertheless, at the end of what should have been a long and productive life (or even second life), battery cells cease to function usefully and need to be recycled. Requirements for this are increasingly being defined by legislation. Assessing the properties of materials recovered using different methods will be a key guide as those methods are developed and new methods emerge.
Creating a sustainable future for batteries is an uphill battle. Muons and neutrons are two important tools to understand the atomic-level processes that occur in materials, and employing such techniques is only one way we can enable the UK battery industry and science to take the next steps. There is no one-size-fits-all solution— this multifaceted problem can only be solved when the needs of society, policies, and innovation are met.
With this in mind, it is in industry where we must innovate to react to the needs of the planet and society, and also shape the possibilities of the future. Urgent and effective solutions are required to deal with the environmental problems we now face.
At facilities like the ISIS Neutron and Muon Source, we are facilitating partnerships between academia and industry, forging crucial connections and facilitating collaboration that will not only result in the development of cutting-edge technologies that will take us towards a greener future but also understand what might be possible once we are there.