Confused by the stream of press information coming from the auto industry on EVs and hybrids? BEST's assciate editor Lynnda Greene tries to make sense of it all.
From the slew of exciting new hybrids and fully electric cars making their debuts at auto shows over the last couple of years, it's becoming increasingly clear that the future fleet of the world's automobiles will be, at least in part, powered by batteries. The dazzling near-reality of such showstoppers as the Tesla Roadster, the Th!nk City, the ZAP-X, and the GM Volt, have set pundits and consumers alike to salivating. Automakers large and small are not only embracing electric vehicle technology but taking earnest steps to actually produce these cars in quantity, and soon. Just as soon…..as they can find batteries small, safe, reliable and cheap enough to power them.
Though scores of inventors and engineers have tried to make a viable electric car over the last 175 years, the problem of a suitable power source has continually stymied the best of them. Even Henry Ford and Thomas Edison, who attempted to collaborate on such a vehicle in the 1920s, failed to crack the chemical conundrum that is the electric car battery. One hundred years and dozens of chemistries later, the auto industry has largely come to the consensus that lithium-ion batteries currently come closest to meeting all the challenges inherent in EV applications. Their compact dimensions and superior weight-power ratio offer high ampere-hour efficiency, long service life, and great reliability, even at very low temperatures – which in turn makes for vehicle efficiency and greater interior space for passengers and cargo.
But as the stalled status of the much touted Volt demonstrates, the limits of electric-automotive technology in general, and lithium-ion chemistry in particular, are achingly clear. For all its advantages, the intricacies of Li-ion's various reactions remain perplexing in all current battery applications. One failed cell can initiate an exothermic reaction that raises its temperature to hundreds of degrees Celsius. In seconds, adjacent cells can also heat, producing a runaway thermal reaction that can be spectacular – as Sony can testify. Worse, because the cell's inherent chemistry liberates oxygen, the flames resist smothering. Though such field failures are known to occur only once in every 5 million to 10 million of the most common lithium-ion cells, the risks remain high enough that no carmaker is quite willing to risk installing a still unreliable, possibly flammable chemistry into a car.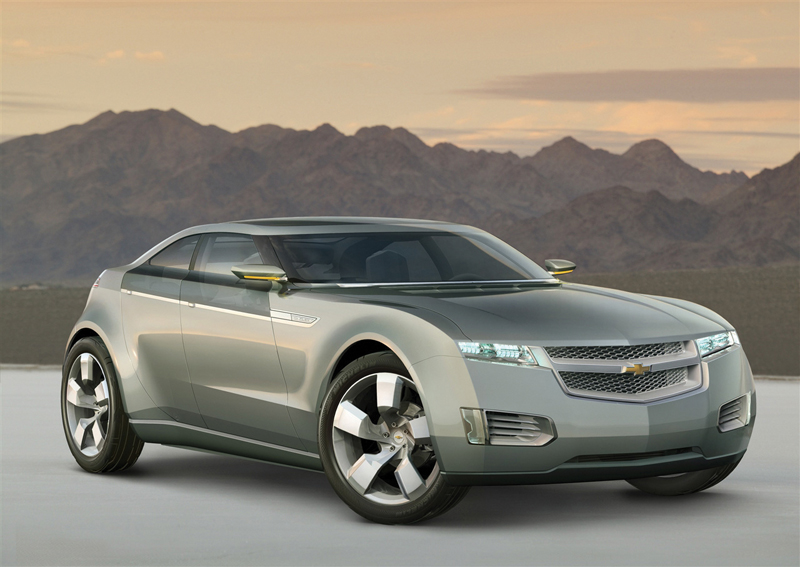 Still, everyone insists the problems can be solved. It's just a matter of finding the right recipe, and there are plenty, each offering distinct advantages and drawbacks, depending upon application.
The most challenging aspect to all lithium chemistries is achieving the optimal relationship between anodes and cathodes, since choice of materials can affect a battery's voltage, capacity, durability and safety dramatically. The anode is typically made of graphite, but the cathode can be made from any one of three materials: a layered oxide, such as cobalt oxide, a polyanion, such as lithium iron phosphate, or a spinel, such as manganese oxide. The choice of material thus presents certain trade-offs in the rate at which the cathode can absorb and emit free lithium ions, and produce power.
Nickel-cobalt-manganese
Nickel-cobalt-aluminum
Manganese oxide
Cobalt, more reactive than nickel or manganese, offers the benefit of higher voltage when paired with graphite anodes. But both cobalt and nickel are expensive. Manganese is cheaper, but because it is soluble in electrolytes, life spans in batteries using it are shorter.
Enter iron phosphate, which offers the most promise for its stability, low cost and safety. Because the bonds between the iron, phosphate, and oxygen atoms are far stronger than those between cobalt and oxygen atoms, the oxygen detaches with more difficulty when overcharged, thus greatly reducing the danger of overheating in the case of failure. But because iron phosphate doesn't conduct well, engineers add dopants, which cause cells to work at a lower voltage than cobalt – and that requires that more of them be bound together to drive a motor. Iron phosphate battery packs thus need more interconnections and sensors to control systems.
One way around this problem is to use nanostructures in the cathode, a technology developed by MIT professor Yet-Ming Chiang and used exclusively by A123 Systems, the company he founded six years ago in Watertown, Massachusetts. More on A123 presently, but it's worth noting their innovation within the context of lithium chemistry here.
As phosphate molecules in the cathode acquire and give off lithium atoms – undergoing lithiation and delithiation – the phase boundary between the two states shifts, just as the boundary between cold water and ice changes during freezing. Because the molecular lattices of the two states are structurally more similar to each other in A123's nanostructures than in other phosphate cells, the atoms need less time to rearrange themselves. That means lithiation can proceed faster and deliver more power. Moreover, the lattice spacing of the two phases is closer, thus reducing physical stress on the cell, especially in deep discharge and charge. The phosphate particles in its electrodes are less than 100 nanometres across, about a hundredth of the size of the oxide particles used in existing Li-ion technologies. Thus A123's cell produces better power and longer life than earlier generations of iron phosphate cells.
Another characteristic flaw in Li-ion batteries is a tendency toward anode plating, which happens when a recharging cell dumps lithium ions faster than the anode can absorb them. Caused either by low temperatures, which slow the rate of diffusion, or by overcharging, which slows the rate of absorption, plating is bad because it further reduces absorption, and thus increases the concentration of carbon ions until they begin to react with the oxygen in the electrolyte. The oxidation – equivalent to that in a burning lump of coal – creates a lot of heat, which in turn increases the rate of deposition.
Altair Nanotechnologies, a small company in Reno, Nevada, has had some success avoiding plating by coupling standard cobalt oxide cathodes with anodes made of lithium titanate spinel, which does not react with oxygen. So far, however, the energy density is only half that of standard cobalt cells, and only slightly better than that of nickel-metal-hydride cells.
Life span issues, as measured by both the calendar and the number of charge-discharge cycles, represent some of the industry's greatest puzzlements. GM has said that it expects battery packs for its Volt concept car to last for at least 4000 full-discharge cycles. At one charge-discharge cycle per day, the pack would last for 11 years – though it's the rare car that runs 365 days a year for a decade. Meanwhile, automakers have been "oversizing" their battery packs to ensure they'll power the car even after projected degradation – a practice that adds weight and cost.
And cost remains daunting. Because lithium is not a "strategic metal," the cost of the metal per kilowatt-hour is lower than for nickel-metal-hydride. Still, it is costly, considering that lithium-ion cells run about $450/kWh, while 12 V lead-acid batteries cost US $40 to $50 per kWh. Some insiders suggest the industry will eventually down-select the many lithium ion chemistries currently available to a few core materials and recipes. Scaled up manufacturing should reduce the cost of Li-ion batteries significantly.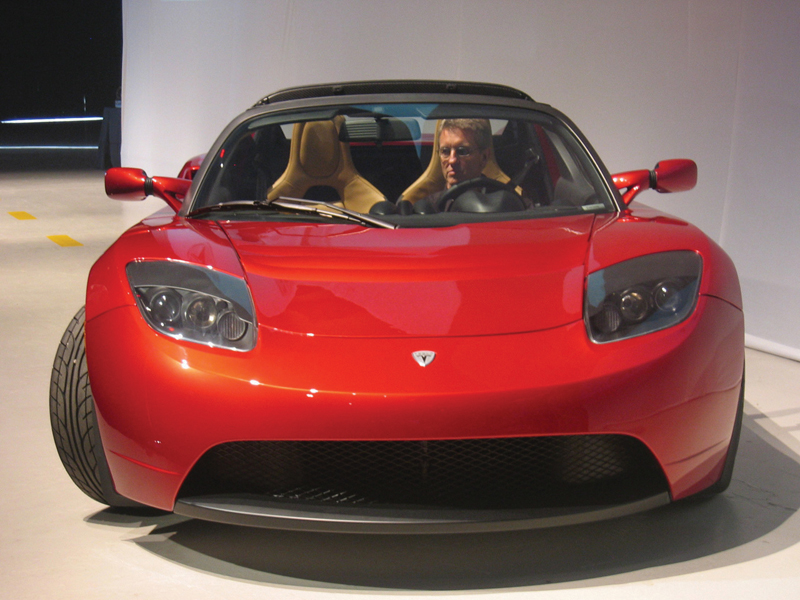 One of the most interesting aspects of the race to design and produce batteries up the demands of the next generation of electric cars is that it is pitting established Asian battery makers against a gaggle of gutsy, mostly American start-ups. Carmakers' serious push to develop EVs and PHEVs has opened a window of opportunity for obscure American companies to not only jump into the game with exciting new technologies, but leapfrog the old industry leaders right into some of the most exciting cars now being developed and produced. Any company that can solve the multiple problems inherent in Li-ion chemistries and manufacturing will find itself well-poised to secure lucrative deals with major auto makers such as GM, Toyota, as well as such major European makers as Mercedes-Benz and BMW.
Among the several companies vying for carmakers' business, several, as noted here, stand out for outstanding research, innovation and in sme cases, sheer business savvy.
A123 Systems has, as noted above, done groundbreaking research toward solving some of Li-ion's problems. Though the company won't give details of its proprietary formulation, we do know that their utilization of nanotechnology in the cathodes combines the high rate of charging provided by graphitic carbon with the long life of nongraphitic types to achieve greater power and longer life.
Independent industry tests indicate the A123 batteries perform as advertised. Their new Li-ion batteries hold over triple the energy per unit of weight than lead acid batteries, and nearly double the energy per weight of the newer nickel metal hydride batteries. If A123's cells can deliver the power and energy of the best cobalt varieties with far less danger of a spontaneous meltdown, the company could carve out a big, profitable share in the auto components industry. General Motors currently has development contracts with A123-Cobasys and Johnson Controls-Saft to work on lithium-ion battery packs, initially for the plug-in hybrid Vue program, and later for the Volt, although the balance of the battery chemistry will be different for that program since it's primarily battery driven and requires greater energy than does the Vue.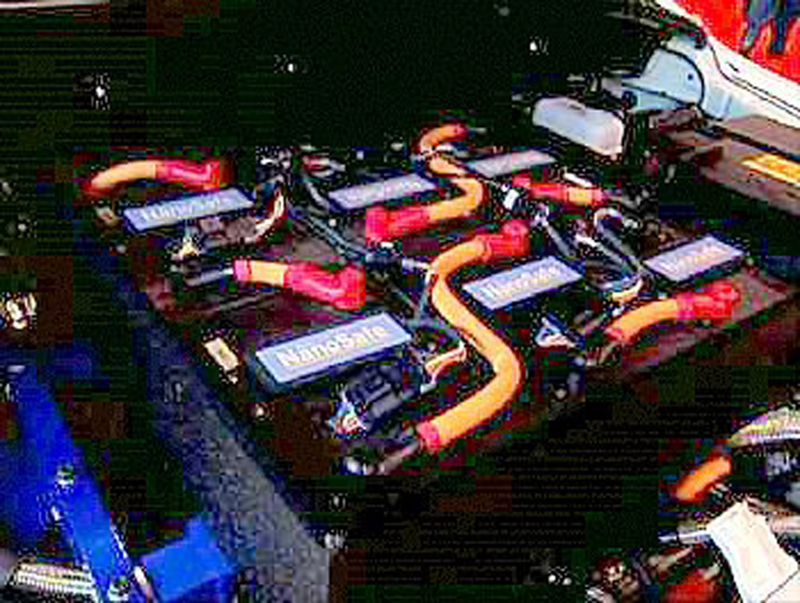 Altairnano has won praise for their innovative alternative "NanoSafe" electrode technology that, unlike other nanotechnology-based designs, replaces the anode (as opposed to the cathode) via the utilisation of a patented nano-structured lithium titanate spinel oxide. As mentioned earlier, the coupling of standard cobalt oxide cathodes with anodes made of lithium titanate spinel, which does not react with oxygen as graphite does, also avoids plating.
The result is a high-powered battery that reportedly offers three times the power output of existing batteries and can be fully charged in six minutes – even though the battery's energy capacity is about half that of normal li-ion cells. The company also says the battery can handle approximately 20,000 recharging cycles, so durability and battery life are much longer, estimated to be around 20 years or four times longer than regular lithium-ion batteries. The batteries can operate from -50°C to over 75°C and will not explode or result in thermal runaway even under severe conditions because they do not contain graphite-coated-metal anode electrode material.
Currently, Phoenix Motorcars of Ontario, California, is using NanoSafe in its sport-utility vehicles, and Lightning Car Company in the UK has a license for using NanoSafe cells in its upcoming sports cars. Altair also has a working relationship with AES Corporation, thus linking it to the stationary energy storage industry. In June 2007, Altairnano entered an agreement with ISE Corporation to jointly develop and commercially supply the NanoSafe battery technology for use in
Enerdel, jointly owned by Ener1 and Delphi, is working to commercialize cells containing a titanate anode and manganese spinel cathode. Although the cells show excellent thermal properties and cyclability, their low voltage may mitigate commercial success. All these formulations involve new electrodes (anodes or cathodes). By increasing the effective electrode area – thus decreasing the internal resistance of the battery – the current can be increased during both use and charging. But though the battery is capable of delivering more power (watts), its capacity is increased only slightly.
To date the big Asian battery makers have held enormous advantages over the startups, chiefly for the heavy investments they've already made in the manufacturing process. Industry experts agree that no matter how groundbreaking a company's research might be, how dazzling the prototype in the lab, without the ability to produce in quantity, via fool-proof a battery whose safety they could guarantee 100%, a startup has scant chance of becoming a strong market player.
The "Race for the Charge," then, is doubly interesting for the fact that it is motivating such major players as Johnson Controls-Saft to take advantage of their incomparable manufacturing capability to produce Li-ion batteries quickly for any number of eager EV and HEV markets. Certainly Johnson Controls, one of the world's leading suppliers of automotive batteries and thus deeply experienced in integrated automotive systems solutions – and Saft, an advanced energy storage solutions provider with extensive Li-ion battery expertise – represent a formidable market force. Together they have been supplying NiMH and Li-ion batteries to two Chinese automakers, Chery and SAIC, who have recently introduced HEVs and PHEVs in Asian auto shows. In January, the joint venture announced it would begin to supply lithium-ion batteries to unnamed European HEV makers. The cells will be produced in Saft's new facility in Nersac, France, one of 18 Saft sites in Europe, South America and the U.S.
Good news for carmakers, perhaps, if not for mavericks like Alairnano and A123 who, despite their small size, are doing some of the best research in the industry. But without the means to mass produce, they really don't have a product carmakers can use on any scale, and scale is key to the major makers.
For now, though, the luxury market seems to be driving the most promising innovation in EV and PHEV technology. That only a handful of small, high-end operations are actually making electric cars, all of them pricey, has aroused a lot of angst and impatience in the green car blogosphere. Yet historically, the luxury segment has served as the prime hotbed for innovation in systems and features precisely because new technology is so expensive no other market could bear the costs.
Though dozens of Henry Ford wannabes have emerged over the years to produce innumerable ideas, sketches, prototypes and business plans, none has been able to tilt the windmill of the major American and Asian makers, yet the new mavericks argue that conditions for challenging, if not overthrowing their dynasty have never been better. Advances in technology and manufacturing, they say, are gradually reducing or eliminating the capital-intensive obstacles that have so long prevented smaller companies from competing. Assembly plants now cost single-digit millions to build, as opposed to the hundreds of millions necessary to build traditional plants.
Skeptics counter that such optimism reflects a profound ignorance of the realities of manufacturing costs, regulatory standards, not to mention the technical and safety challenges inherent in the batteries 21st century EV and PHEV cars will require. Nonetheless, a number of small companies have produced some impressive EVs (and PHEV cousins) that are close to coming to market – even if it is a millionaire's market.
Tesla Motors, ZAP-X, Phoenix Motors and Th!nk Global, among others, have produced some jaw-dropping EV and PHEV prototypes, ranging in price between $30,000 and $90,000. All run on some form of lithium-ion battery pack that affords significantly improved weight-power ratios, mileage per charge, miles per hour, etc. That they are producing such vehicles is making it possible for battery makers to ramp up their efforts to remarkable effect. Carmakers can now experiment with a variety of chemistries and products.
Of all the companies examined here, however, Tesla Motors stands out for its decision to bypass the shelf entirely for a go-it-alone approach. Their master plan – build sports car, use the money to build an affordable car, use that money to build a more affordable car, all while providing the best power generation possible – is not without precedent.
Of all the companies examined here, however, Tesla Motors stands out for its decision to bypass the shelf entirely for a go-it-alone approach. Their master plan – build sports car, use the money to build an affordable car, use that money to build a more affordable car, all while providing the best power generation possible – is not without precedent. What sets Tesla apart from any other makers is that they're attempting to accomplish every aspect of engineering, design, and all-important battery pack – in-house. Indeed, Tesla founders have consistently said they launched the company five years ago in part upon the idea that there was no need to reinvent the battery, particularly for a product with a small initial market. Their idea, profound in its simplicity, was to adapt the Lithium-ion technology already used in the computer industry, to a car.
Tesla declined our request for an interview, but did forward a white paper explaining every aspect of their unusual battery pack, and proffering some remarkable claims. For starters, that it can deliver enough power to accelerate the Roadster from 0 to 60 mph in about 4 seconds; and that it stores enough energy for the vehicle to travel about 250 miles (based on EPA city/highway cycle) without recharging, something they point out no production electric vehicle in history can claim. To achieve the same range via nickel metal hydride chemistry would mean a battery weighing over 2000 lbs.
Even at this high density, the Roadster's Li-ion battery pack, which comprises 900 lbs of the car's total 2,500 lbs, only stores the energy equivalent of about 8 liters of gasoline; a very small amount of energy for a typical vehicle. The pack operates at 375 volts, stores 53 kilowatt hours of electric energy, and delivers up to 200 kilowatt hours of electric power. Tesla promises that the battery pack can be recharged in about three hours and will endure at least 100,000 miles. (See www.teslmotors.com for full details.)
Interestingly, Tesla engineers purposely decided to start small – very small – with the small form factor battery cell known as the 18650 (for its measurements of 18mm diameter by 65mm length). Their reasoning: that the effects of a failure event in a small cell, containing a limited amount of energy, would be less than in a large one. They then combined 6800 of these small cells (purchased from unnamed "reputable Fortune 500 battery suppliers") into a battery pack that achieves a mass of about 450 kg.
Because, as the central building block of the pack, the 18650 had to be fault tolerant, engineers designed two levels of protection in each cell. The internal positive temperature coefficient (PTC) current limiting device reduces short circuiting current on an individual cell level, and the Current Interrupt Device (CID) protects the cell from excessive internal pressure, usually caused by overheating. Should pressure occur, the CID will break and electrically disconnect the cell. For structural strength and thermal conductivity, Tesla packages the Roadster's batteries in steel cans. They've also designed several safety features, such as the combination of passive and active, mechanical and electrical features (such as embedded microprocessors) makes for redundancy and multiple layers of protection.
Architecturally, the pack consists of 11 battery modules (known as "sheets"), a main control and logic PCB (printed circuit board), and 12 V DC-DC power supply. Each of the 11 modules carries a monitoring PCB (its own microprocessor) that communicates the module's voltage and temp measurements with the rest of the vehicle microcontrollers. Each of the battery pack's thousands of cells has two fuses – one each for the cell's anode and cathode – thus ensuring that it will be electrically separated from the rest of the pack should either of its fuses blow. Further, each of the 11 battery modules has its own main fuse, which guards against a short circuit across the entire module.
Not surprisingly the pack attracted a lot of interest among EV makers looking for viable batteries. As mentioned earlier, Tesla's "Energy Group," launched last May, signed a deal to supply Th!nk City EVs with their lithium-ion battery packs, starting in December of 2007. But perhaps predictably, they ran into manufacturing problems almost immediately. Announcing they'd gotten ahead of themselves, they canceled all orders in late fall, and returned their focus to their Roadster, the first model of which rolled out in early February.
So where does all this impressive innovation leave us? Well, hopeful. We're closer to both the electric car and the electric car battery than we've ever been before. To their great credit, the pioneering battery makers and carmakers we've discussed here have done more to move a viable EV to the showroom floor than any of the major makers in decades.
But their progress must also keep us pragmatic. As many industry analysts have pointed out, it's fine for battery makers to come up with batteries and pack designs, but unless they can work on a vehicle from the drawing board up, they are limited in what they can do. Similarly, no matter how sophisticated a car's engineering and design, carmakers, still operating on a make-or-buy model, must work with what they take (or contract) from any battery maker's shelf. To a large degree, they're caught in a vast corporate industrial modus operandi of long standing. For the time being, both industries must (with rare exception) work in relative isolation.
For most of the last 100 years, the automotive battery has been considered just a passive component in a vehicle electric power system. Battery makers met any challenge the auto industry threw them with what constructive improvements were required, then waited for the next one to come along. Today, however, the automotive industry's ever evolving requirements for higher functionality in batteries demand a much more integrative approach ill-suited to make-or-buy manufacturing practices as they've developed over the last 40 years. Merely working to specification, on time, at cost, denies the battery supplier the opportunity to perfect a design, and thus build knowledge that can speed innovation. Battery manufacturers now need to be intimately involved in designing every aspect of an EV's electrical architecture, as well as the technology of battery management, battery monitoring and state detection, and performance prediction under future operation conditions. They need to be present at the drawing board.
The challenge to 21st century automotive and battery industries may be for designers, suppliers and assemblers to break out of their long established dance of giving-and-taking orders. They will need to look back to the future for ways by which they can work in smooth cooperation to build knowledge, reduce costs and – produce the EV we're all waiting for.