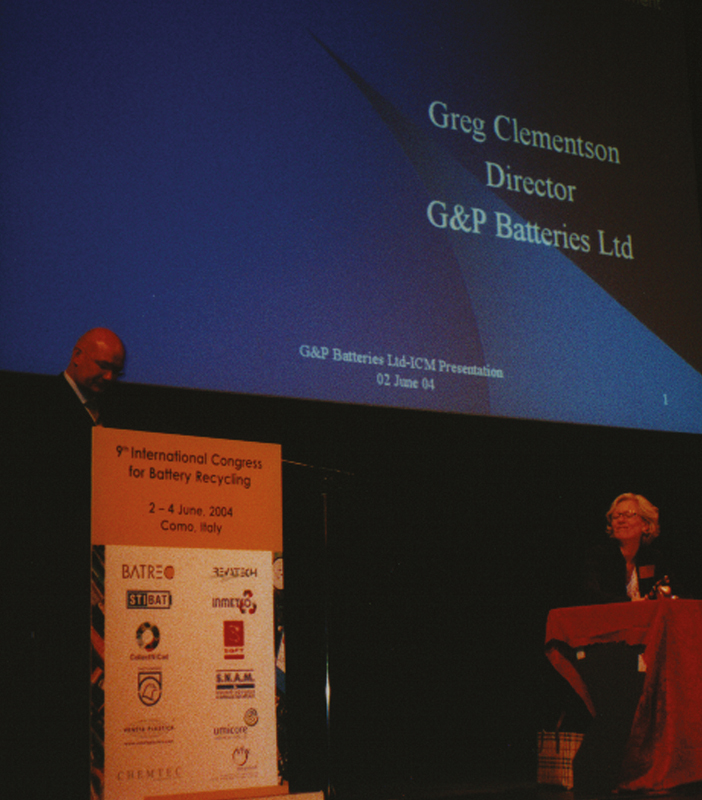 Only the Belgians meet battery collection and recycling targets, Hugh Cullimore discovers. What hope for the rest of us in the EU?
The magnificently ornate theatre in Como, Italy may have been an unusual setting for the 9th International Congress for Battery Recycling, but when it comes to agreeing to a new European Battery Directive on the subject then this drama is going to run and run.
It's not that anybody disagrees with the need for legislation for battery recycling, it's making it work that's the difficult part. For example, who should be responsible for battery collection, what targets are achievable, how should schemes be policed and who should pay for it? And if the cost of recycling exceeds the environmental cost if you don't recycle, then where is the benefit?
Fernando Duranti, CEO of Leghe & Metalli International and President of The Bureau of International Recycling was the opening keynote speaker. He began by emphasising that waiting for substitute materials for current battery chemistries is not an option. He urged support for incineration and land-fill bans and for separate collections of spent batteries, but warned that legislation should not raise obstacles to trade.
He pointed out that, as an example of recycling in Europe, Italy is ahead compared to most countries with a system decided by a consortium, while other countries are proceeding with independent schemes.
Alain Vassart, President of the European Battery Recycling Association, Belgium spoke from the point of view of the recyclers. He suggested that the new draft directive represented a fair compromise among the positions of the various stakeholders, namely the European Council, battery manufacturers, battery sellers, NGO's and battery collectors and recyclers.
The aim was to reduce the quantities of spent batteries going for disposal or incineration and achieve the highest possible re-use of secondary materials from recycled spent batteries, while ensuring the proper functioning of the internal market. Amendments to the draft proposal on Batteries and Accumulators first read on April 20th this year represent a radical shift away from the EC Commission proposal. The main amendments are:
*The prevention on the use of heavy metals as one of the aims of the new battery Directive
*The re-introduction of a ban on Ni-Cad and the introduction of a ban for lead batteries, with an exemption list to be adapted regularly with the aim of reducing it.
*Stricter limits on heavy metals with prohibition of some battery systems, including some zinc carbon portable batteries.
Because of the large gap between the proposal and the text adopted in the first reading, the recyclers envisage no adoption of a final text before the and of 2005, followed by 18 months for translation into national laws and 4-6 years for targets to be implemented.
The consequences of this are that the implementation schedule should be sufficient to allow collection schemes to be established but there will be no rapid increase of recycled tonnage in the next four years. A further outcome is that the economic viability of recyclers remains under threat for some years to come.
Raynald Dallenbach of Energizer, Switzerland spoke on making battery legislation workable. Three major battery categories are currently defined by EU legislation:
1. Portable batteries for consumer and general purpose applications, including:
a Primary (alkaline manganese, carbon-zinc and lithium)
Rechargeable (Ni-MH, Ni-Cd, lead acid and lithium)
Button cells (silver oxide, zinc air, lithium, etc).
2. Industrial batteries (mainly lead acid and Ni-Cd).
3. Automotive and starter batteries (mainly lead acid).
The portable battery market in the pre accession sixteen European countries represents 5.5 billion units equivalent to 155,000 tonnes (2002 figures). The Commission's collection target for recycling portable batteries is 160g/inh/year, four years after implementation.
The battery industry position is that the restriction of heavy metal is not scientifically justified and goes beyond the original purpose of the directive which should ensure the sound collection and recycling of spent batteries. Furthermore targets should be measurable and achievable. The industry's proposal is that 110-120g/inh/year after five years is a measurable and achievable collection target.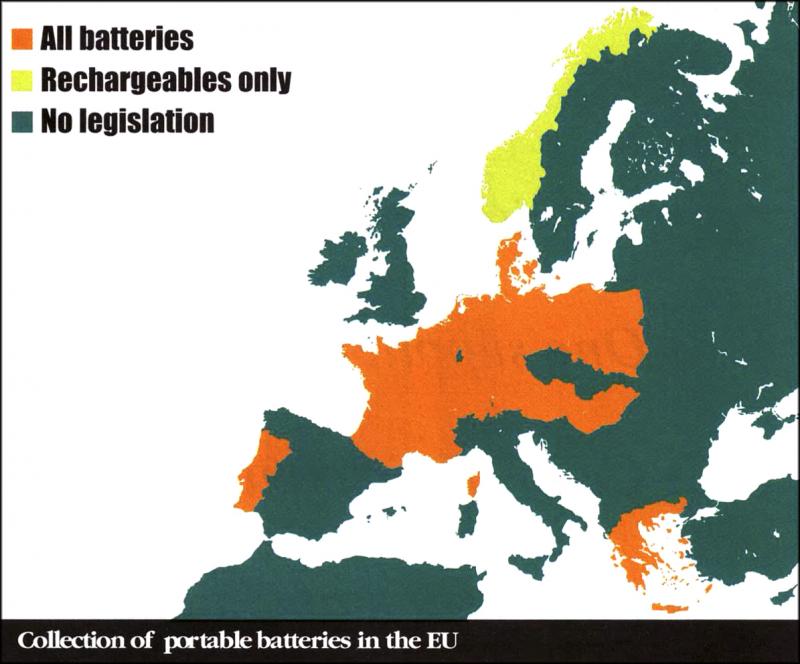 Mr Dallenbach stated that the differences in targets, restrictions, financing and labelling have lead the industry to conclude that "the proposal is not only unrealistic but it will make the Battery Directive unworkable and it will surely fail again when implemented in the future." Speaking on behalf of the European Portable Battery Association, Khush Maroli's talk was entitled 'Collection of Portable Batteries in the EU'. He pointed out that in all countries there is a continuous improvement in weight of batteries collected But collection targets proposed by the European Parliament are only currently being met by Belgium and those proposed by the Commission are only being met by Belgium and Austria. The average collection rate in 2003 was 92g per inhabitant, ranging from 239g in Belgium to just 5g in Poland. More than 80% of batteries sold in Europe – alkaline and zinc carbon types – are not classified as hazardous in the EU waste catalogue but the EPBA agrees to their collection for the purpose of resource recovery. The EPBA's conclusions were that financing collections is best managed by producers and that collections should be the responsibility of municipalities and retailers. Figure X shows the lack of legislation in large areas of Europe. This was borne out by Greg Clementson, Director of the UK company G&P Batteries Ltd. He started his presentation in humorous style, illustrating some misconceptions about Britain commonly held by their European partners. He emphasised however, that although the UK had a reputation for adhering to the rules, they were often reticent to adopt legislation, favouring a voluntary approach. Legislation that does exist in the UK suffers from a number of anomalies which must be resolved. Nevertheless over 90% of lead acid batteries are recycled , representing about 110k tonnes a year. For non-lead acid types the figure is about 750 tonnes compared to a possible market of 25,000-30,000 tonnes a year.The Conference highlighted the different approaches favoured by the various members of the EU and it is clear that much needs to be done before agreement can be reached. However it is also clear that many EU countries are taking the subject of recycling seriously and are not waiting for legislation to implement schemes which are both practical and profitable.