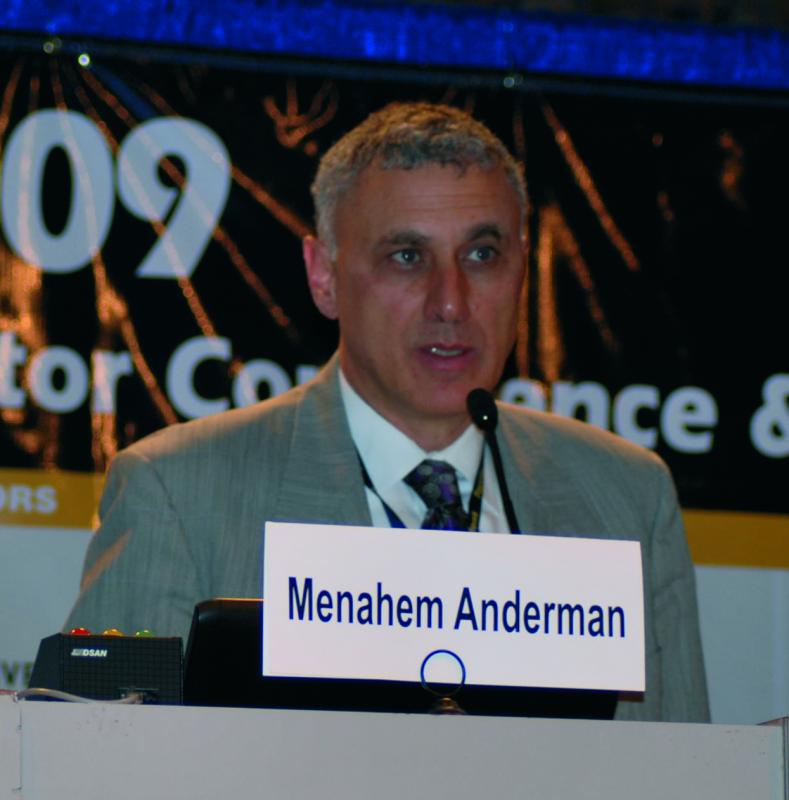 The automotive world is close to slashing its collective wrists as car sales crash. At the temple of hope — aka the Advanced Automotive Battery Conference, the faithful gathered to listen to their favourite prophet on the great beacon of hope in the auto market: the electrifiedvehicle. The Editor reports.
Proceed with caution." That's the one phrase you could use to sum up this year's Advanced Automotive Battery Conference held in Long Beach, California. Last year I berated Dr. Anderman for being something of a "wet blanket" with regard to the introduction of high power lithium ion into the automotive market. Despite Anderman's sanguine warnings, there was a string of announcements from Japan and Korea about the establishment of new lithium-ion plants last summer. So was Anderman wrong? Good question, but we will never know, because then came the crash of '08 and with US finance, the auto industry crashed to its knees. Anderman was planning to carry out a multi-client study for publication earlier in the year, he told his followers. But he had the good sense to hold off. It pays to be cautious, then? With GM and Chrysler in bankruptcy hearings and even Toyota feeling the pinch, who could say where things were going? Perhaps he had heard the UK Prime Minister on BBC radio extolling the possibilities of electric cars? That's when this author knew the world had gone "f888ing mad".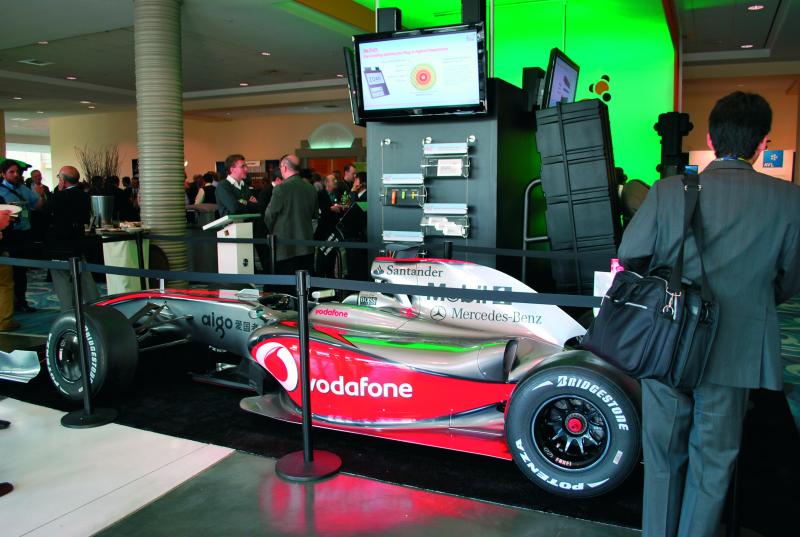 Today's AABC is very different from those of even three years ago. In the early days, (2000-2004), it was a genuine conference and debate about which technologies were going to take the automotive world by storm. By 2009, by and large, the automakers (and the battery makers) have drawn up their roadmaps, and we're in the early days of roll-out. So what you get, by and large, is a series of "infomercials" from the main vendors, and a little discussion in the Q&A.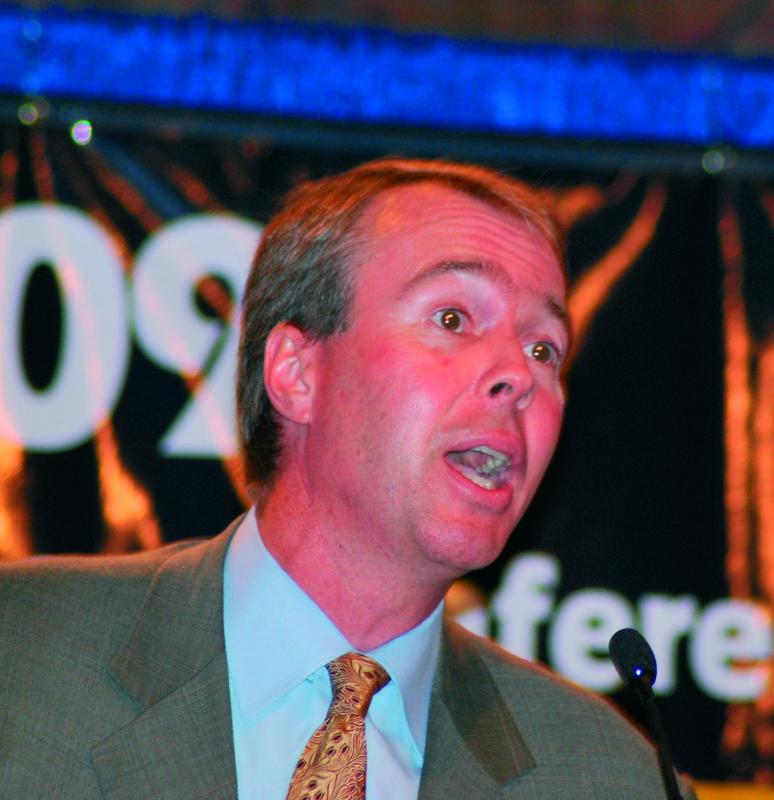 Dr. Anderman runs his meetings with a certain slickness that's hard to fault. It's more like an opera really, with one day of overtures (the tutorials). Miss these and you'll miss what's worth hearing in the conference itself. Dr. Anderman's tutorial on lithium-ion was predictable enough and pulled the biggest audience. Ultracaps are interesting but pulled a fraction of the crowd. When it comes to lithium-ion, the same old issues fail to go away — performance, power, life cost and safety. But really it's all about cost and for the past nine years the cost issues haven't really diminished.
Cue the slide of current cell designs, by cathode, anode, electrolyte packaging and structure. Anderman can do the swot analysis standing on his head — especially on the cathodes. After a few years of this, you will be able to too. LiNi COA1 O2. The most proven, one of the best cost figures, but the most thermally unstable at a high state of charge.
LiMNO4 high power yes, but life is an issue.
LiFEPO4 is the most thermally stable and thus safest, but it's lower voltage and thus lower energy, and there are life issues.
We haven't done the anodes yet; good performance seems to cost more but anode selection is probably not as critical as that of cathodes. We haven't even touched on construction. Spirally wound cylindrical cells are probably the best in term of manufacturability but they are complicated so why not go for oh-so simple pouch cells?
Because there are more issues — longevity and reliability due to the flimsier cell design.
Then there's the whole safety debate. Anderman's figures haven't changed much. If the failure rate in cars turns out to be the same as that in laptop computers and mobile phones— i.e. 1 in 5 million — we are looking at one incident in every 60,000 cars.
And we're still talking cells; we haven't gone to battery packs or modules. You can see Anderman's dilemma. No lithium chemistry is so good that it kicks nickel-metal hydride to the curb. As you start to build packs, your costs rise with added electronics for cell balancing sensors, never mind manufacturing engineering costs.
And what's it all for? Well according to Anderman and his analysis of what's out there in terms of pack offerings, you get modules that are somewhere between 1.4 — 1.7 times higher in energy density than NIMH and maybe 40% smaller, and as much as 60% lighter.
But we're still stuck with the proposition that the auto industry is obsessed with ever lower costs, certainly more reliability and as long a life as possible. And is it worth it? Is there a market?
As much as Anderman puts his cautious, conservative spin on things, there is unquestionably a big market and it's not just moderate hybrid electric cars— it extends all the way from the four-wheeled market to the two-wheeled market and it could enter the rechargeable market currently defended by lead aid technology.
Anderman cited the Toyota micro-hybid Vitz car which uses a four cell 12Ah 2250 W/kg lithium ion pack. It's not cheap though, at US$1000 Wh, but the performance data to make it work are there, so it's a goer in the face of cheaper technologies.
In the mild hybrid car designs, where the battery pack is responsible for between 3 and 10% of total vehicle power, lithium-ion comes out as the most attractive solution (see chart) even though there are still uncertainties about system architecture.
And in the moderate to strong hybrid class, lithium is still attractive because of its weight advantage. But with Dr. A, there is always a but. The fact is that over the past ten years or so, nickel-metal hydride technology has established itself as the technology of choice. So shifting away from lithium-ion is only going to happen in a cautious and gradual manner.
And as for the great white hope market the plug-in hybrid well, it's hardly an economic winner. Battery volume is going to be a dominant factor with maximum electric range being 15- 20miles. But the fuel costs saving is going to be negligible, even if US fuel costs are at US$4-00/ gallon and electricity at US$0.1/kWh. You'll save just US$200 a year.
And if the battery dies during the life of the vehicle, you're looking at US$4000-00 as a replacement cost. It's hardly economical.
The trouble is, of course, that this meeting is bereft of higher political and environmental thinking. It's down to government to come up with the strategies to facilitate adoption of new technologies and you come away with a feeling that no matter what happens in terms of technology, nothing much is going to change.
And if you weren't feeling depressed enough, Anderman comes back with the slide that reminds me of the fact that we now have 300 TV channels on cable and there's nothing worth watching.
What's really happened in the last 20 years? Well, says Dr. A, we have a lithium-ion battery with three times the specific energy of NiCd battery of the early '80s. We can now put a 50kWh lithium-battery into a car compared to a 20kWh NiCd battery of 20 years ago.
But these new batteries are too damned expensive and we don't really know how long they will last, or how reliable they are.
In spite of all this, progress is being made, notably in Asia because the two-wheeled market in terms of bikes, scooters and neighbourhood EVs is such a great fit for lithium- ion. Electric bikes with lead acid batteries are just too damned heavy. The breakthroughs could come from places where the industry watchers just aren't watching carefully enough — China — and Anderman fully admits that he just doesn't have the market information from the biggest battery making market of all.
In spite of the conservative viewpoint of the good doctor, the auto industry is pushing ahead with lithium hybrid with introductions this year and next year, though the numbers are going to be low — just a few thousand cars per year.
Overall, this author got the impression that the forecaster's crystal balls were looking hazier than ever, and this was perfectly reflected and in one of Anderman's regulars on the main conference bill, Scott Miller of Synovate.
As one would expect, by now US consumers know an awful lot more about "electrified cars," and they'd like to purchase them (assuming they still have jobs and money). But when push comes to shove, they aren't buying because they believe there are too many risks — such as the volatility of fuel prices, the uncertainty about resale values and reliability, and the level of Government support in terms of incentives for purchase. There's also a concern that if they purchase now, something better will come along next.
It's the same proposition that iPhone users currently have: Why don't I get the latest upgrade at no extra cost?
If the "electrified car" does emulate the IT industry in penalizing early adopters of the technology, then the auto industry and the battery industry have a very serious problem on their hands and purchase volume will always remain modest. Beyond Anderman's worrying prediction that the PHEV concept could go horribly wrong, there was precious little in the conference that wasn't a commercial for what European and Asian manufacturers are rolling out already.
From Mercedes came an excellent presentation on the parallel hybrid S 400 — the first hybrid electric car to come from the company and one sporting lithium-ion technology. But this was first announced more than two years ago and launched in June this year. The lithium-ion battery is quite small, just 15KW capacity, enough to provide electric start stop — but this improves economy by about 20%. But with a price tag of US$80,000, most buyers should be short of the cost of fuel.
Korea is another interesting part of the world. In the North of the region the regime strives to build nuclear weapons, while in the South, Hyundai strives to get its first lithium powered hybrid to market and gets beaten by the Germans. Jinho Park of Hyundai said the car would go on sale in the USA and Korea in 2011, but again, to HEV watchers, nothing here was particularly new. Hyundai announced its intentions more than a year ago; you'd learn more about the battery technology from the Society of Automotive Engineers web site than you could from Mr. Park's presentation. No real surprises though: the battery is kept in the family, so to speak, made by LG chem. And it's of the Li-ion polymer rechargeable battery variety. Li-ion polymer has significant advantages over conventional Li-ion, including greater energy density, lower manufacturing costs, more robustness regarding physical damage, and more charge-discharge cycles before storage capacity begins to degrade, Hyundai says. The battery pack for the Elantra LPI HEV has passed the company's 300,000-km (186,000-mi) durability test, and has been thoroughly tested for overcharging and collision safety.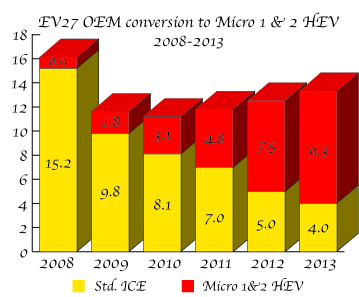 The audience did learn, from LG Chem directly, that its batteries used a mixed cathode and an amorphous carbon anode and a separator of its own making (safety reinforced separators).
The battery operates at a nominal voltage of 180 V and has a capacity of 5.3 A·h. But when presentations include slides on control that say "smart and fun to drive," some of the audience walk away with a feeling of being short changed. I did.
That feeling is even further enforced when you get to hear a presentation from Honda on the latest development of the Clarity fuel cell powered vehicle which, while on "sale" in the US to selected customers, is not likely to reach a mass market till 2018. The radical development though, was that Honda has decided to abandon the ultracapacitor as the intermediary energy storage technology for the vehicle in favour of lithium-ion batteries. The immediate benefit to the user is in enhanced acceleration. The graphic shown seem to suggest that Honda is pretty confident about the performance of its batteries at high temperatures, but they offered no hard and fast numbers.
You couldn't have a lithium-ion battery meeting without a presentation from A123, and Andy Chu was suitably aided (with hi-spec animations) to show the company's next generation prismatic designs and modules, which are being used in a wide variety of vehicles.
Boredom was beginning to set in.
As the meeting split into two strands, your scribe chose to sit in on what might prove to be the most lively sector of the developing market — that for micro hybrids In Europe.
In a session chaired by Eckhard Karden of Ford Europe, it seemed the debate on the use of lead-acid technology in this bottom end-of-the market application had hardly changed: Or had it?
The facts are simple enough: these micro hybrids are hardly going to yield the car manufacturers the sort of profits you're going to get from the S class Mercedes hybrid — so everything has to be cheap. And that means the energy storage solution has to be lead acid technology. But this is probably going to limit the car's hybrid capability to stop start only. Energy recovery from regenerative braking is going to be limited by the lead acid battery dynamic charge acceptance — as little as 0.2kW/ 100km can be recovered.
BMW and Mercedes are introducing stop start micro-hybridisation right across their auto mobile ranges, but there's a catch. The battery required is a VRLA design and JCI is the major supplier in Europe with 80% market share. Bad news if you happen to be Europe's major supplier of the polyethylene separator — not only is the automobile car market down, but the cars that might actually sell don't need batteries with your separator!
The problem is, of course, that the car makers don't like paying the price of the VRLA battery — it's twice the price of the standard flooded lead acid battery. What would suit everyone — consumer automaker and. of course, Dr Graeme Fraser-Bell of Entek, whose company makes only Polyethylene separator — is an extended life flooded lead acid battery for these mild hybrids. Or would it?
As ever, Asian manufacturers are ahead of the game. GS Yuasa have already designed and manufactured an extended life flooded SLI battery, and while it is possible to double the battery cycle life, even GS Yuasa found that when push comes to shove and you add more electric goodies (like air conditioning) in a mild hybrid, the VRLA AGM design is the better choice of battery.
Bad news then for Entek in a European market that is going to switch to micro-hybridisation in Europe at a very rapid pace indeed. And perhaps bad news, too, for lead-acid technology in new car sales. It's getting warmer in Europe. If VRLA life proves shorter than expected, it may persuade auto OEMs to switch to lithium-ion much faster than expected — certainly faster than the good Dr. Anderman has predicted. It's going to be a very interesting road ahead. We'll know a little more perhaps when AABC comes to Europe next February.