In spite of the best efforts of the organising team, the COVID-19 pandemic lockdown thwarted all attempts to find a 'live' venue for the 19th Asian Battery Conference. BEST reports on some of the highlights of the online conference.
The virtual conference was well organised with simple, logical procedures to gain access to the presentations, speakers and contact platforms. The content was based largely on the themes of lead-acid battery performance and life enhancement. In this regard, the offerings were mostly from the industry's components and materials suppliers.
The main stand-out articles were from Tim McNally of Borregaard/Jinkelli, Wojcinski from Hammond, Jhiping Jang of Hollingsworth and Vose and Akihiro Watanabe, from the battery R&D division of Furukawa. The papers largely reflected the view that lead-acid had a future role, not only in industrial applications such as solar and ESS but also in the automotive market as the backup power for the control systems in EVs.
The main thrust for improvement seems to have shifted little over the last decade, with PSoC cycling improvement for stop-start vehicles and enhanced energy densities combined with better high-rate performance topping the wish list.
One presentation, which, in my opinion, was representative of the conference theme, was that of Akihiro Watanabe of Furukawa. This paper, titled 'The Improvement of Utilization and Durability of Positive Active Materials for Lead-Acid Batteries', was a broad discussion of the mechanisms and effects of additives on the properties of LAB positive active material. This highlighted the current thinking of the PbA industry, that is, the use of additives to elevate LAB technology to a performance level closer to that of its competing chemistries. In this, the speaker shows some impressive R&D results, demonstrating quite clearly the effect of carbon additives on the physical properties of positive active material.
However, it also highlighted the old thorny problem of utilisation vs. durability. Capacity was increased up to levels of 0.5wt% of additives but then decreased on further additions. Durability, however, increased at levels above 0.5wt%, Fig 1. This was clearly shown by Watanabe to be related to the specific surface area, particle shape change (round to needle-like) and porosity.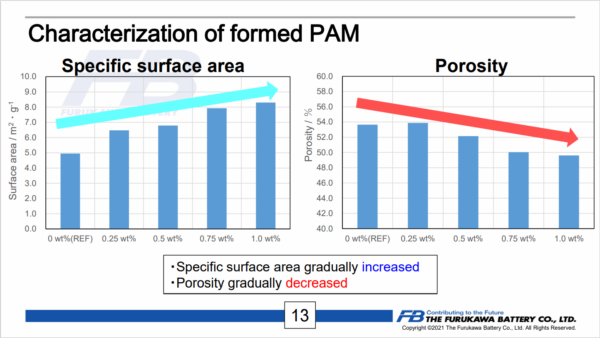 In a similar vein, Tim McNally of Borregarrd on behalf of Jinkelli had a presentation (see article) that looked at the interactions of three Vanisperse products, with several types of carbon black and their effect on SLI LAB performance. The presentation suggested that interactions occurred which tied up the majority of Vanisperse, thereby reducing its effectiveness, Fig 2.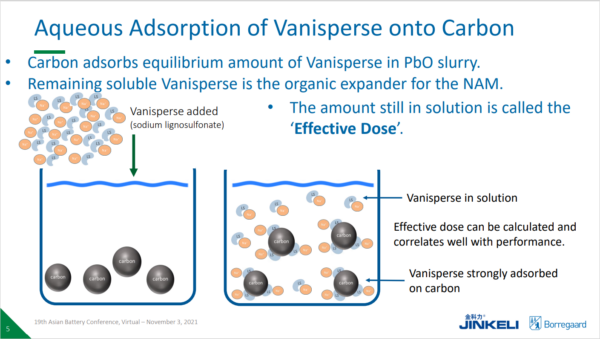 What they found was that with the right combinations they could maximise the effect, not only of Vanisperse but also that of the carbon black options, on LAB performance. This goes some way to explaining some of the effects of carbon black, particularly that of increased water loss in some test procedures. Some further testing taken up by battery manufacturers would be very welcome.
EFB technology is becoming more of a hot potato as the number of stop-start vehicles increases. As a flooded battery, it is more prone to acid segregation in low states of charge than other technologies such as AGM. The big advantage is that it has a higher capacity than its VRLA counterparts and so has a higher SOC under the same test conditions. This gives the dual advantages of dealing with the higher hospital loads of modern cars and the damage done by deep battery discharges. Anything that reduces its sensitivity to electrolyte stratification under PSoC conditions is very welcome.
The paper by Thomas Wojcinski of Hammond tackled this age-old problem head-on. Their research with lead monosilicate as an AM additive (Gravity Guard product), showed a much higher absorption of sulphuric acid than water (Fig 3). The upshot of their work was that if the lead monosilicate was in both PAM and NAM at levels of 1% and 2% respectively, the stratification would be negligible (Fig 4).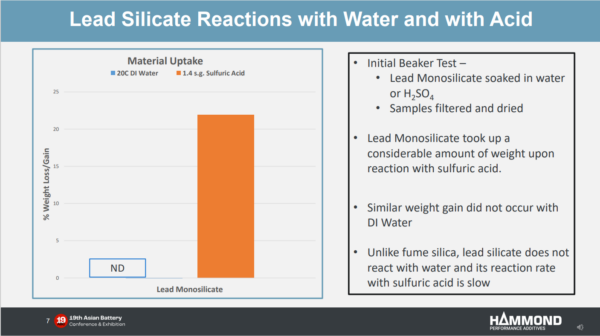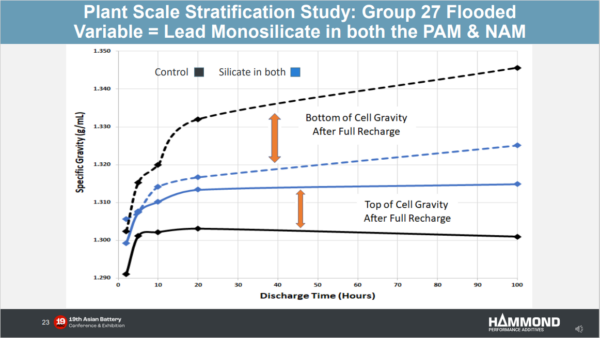 Anyone who has ever worked with AGM batteries and knows the difficulty in trying to get adequate acid filling, particularly in high compression and small pitch cells such as a bipolar design, will appreciate the presentation made by Zhiping Jiang of Hollingworth and Vose. Their analysis of the difficulties of filling a highly compressed glass mat separator struck a very deep chord in my manufacturing memory. In addition to the filling time and complexity of the filling cycle, there is manufacturing variability in battery plate thicknesses. Therefore, we need something that not only fills faster but also better.
In his presentation, Jiang demonstrated that their AGM separator design, PowerFillTM, with open channels, allows entrapped gases to escape from the filling cell more easily. The results of their filling tests look quite impressive: the new separator design in these tests managed to pull in around 6% more acid than the standard control AGM. That is the difference between a blank spot, causing dendrites and overheating, and a full AGM mat, performing as designed.
The organisers have to be praised for this virtual conference, it was simple to enter, finding and choosing presentations could not be more straightforward, and the networking for me at least proved trouble-free. My congratulations to Mark Stevenson and his team for pulling out of the hat yet another highly successful conference, despite the challenges of the present circumstances.