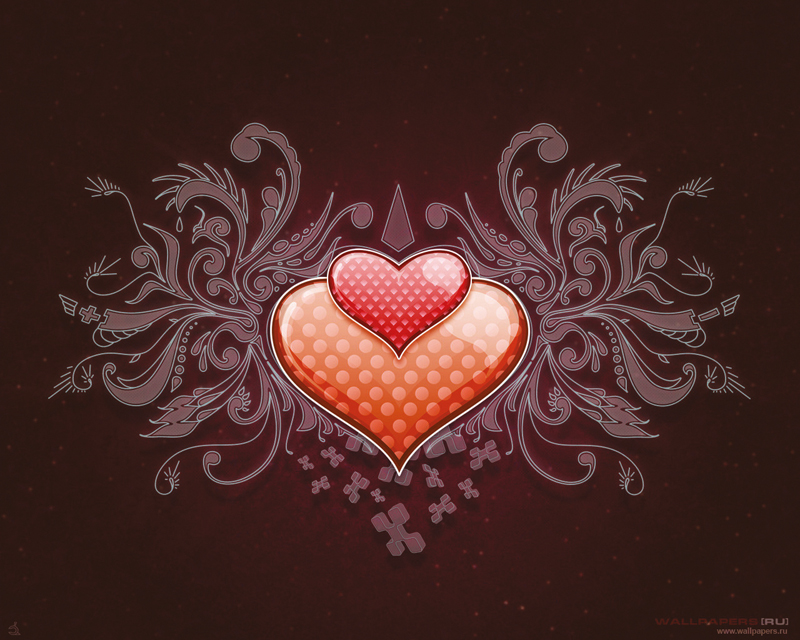 The feuding had to stop: fuel cells and hydrogen offer electrical autonomy in abundance – batteries offer instant electrical power… so why not work together? Consultant Jim Horwitz looks at what's on offer.
Fuel Cells differ from batteries by definition in that they supply power constantly with no degradation as long as there is a fuel source but have intrinsically no stored power. By contrast, electronic storage – batteries and capacitors – instantly provides power stored internally, though it must eventually be recharged by an external power supply. Each offers advantages and limitations in most applications across all power ranges. As the cost and reliability of fuel cells approach the commercialization threshold, it is becoming clear to system integrators that although fuel cells are beginning to appear to exhibit a compelling value proposition in a few of their many potential applications, a hybrid solution can be not only advantageous, but required in many cases. Fuel cells provide the ability to recharge batteries that in turn provide on-demand power to augment the fuel cell during peak loads, and provide short-term outage response avoiding excessive fuel cell cycling extending stack life. In the end, this relationship insures a long, healthy relationship between the two.
Disappointment in fuel cells' ability to provide non-polluting automotive power and reliable continuous stationary power via a variety of hydrocarbon fuels after massive investment in the nineties, has not only soured their reputation among consumers but slowed any movement toward commercialisation in more specialized mobility and stationary market segments.
Currently we're seeing financially-challenged fuel cell stack developers wage an uphill battle to carve inroads into conservative industries despite successful field demonstrations in niche markets. The basic PEM (proton exchange or polymer electrolyte membrane, your choice) touted initially as the universal technology, has finally been brought to reasonable reliability and cost levels for select market segments. Early pioneers in the US and Canada who survived the downturn have been joined by post-millennial entrants (see figure 1) now bringing the almost mature PEM fuel cell technology to markets long controlled by classic lead acid batteries.
Telecom and fork lift fuel cells rile conventional battery markets

Critical backup and MHVs have finally achieved positive value propositions for fuel cells versus conventional or valve-regulated lead acid (VRLA) batteries. Classic PEM technology ('low temp', operating at 60-70° C) stacks produced by these manufacturers have now proven unusually reliable, with stack life run-times of up to 40,000 hours, far in excess of current VRLA batteries. These stacks require almost pure (99.999%) hydrogen fuel, but such industrial grade hydrogen is readily available from major industrial gas suppliers world wide, and for the sporadic nature of critical back-up applications, supplier access and in-cabinet storage is more significant than cost. But the advantage over batteries is that to increase fuel cell run times, additional hydrogen canisters can easily be added. As for indoor fork lifts, a recently completed two-year government funded study has concluded that for large (100 vehicle+) sites with round-the-clock operations, fuel cells offer financial advantage over battery vehicles whether hydrogen is produced on-site by electrolysis, by steam reformation of natural gas, or it is delivered as in the case of critical back-up.
Fuel cells represent disruptive technology, requiring novel maintenance, support and refueling, including operator instruction a new supply infrastructure. Such "disruptive" changes can, or course, initiate concerted arguments from operators and managers afraid of disturbing the status quo, not to mention the conventional battery suppliers who have not yet partnered with an upstart fuel cell developer. The primary logical argument lodged by this disparate group against adopting the new technology is that fuel cells are unable to deliver the peak power and instant response of batteries. But a properly integrated hybrid solution, whether using a classic VRLA or a costly but more technologically and environmentally matched supercapacitor, can seal the deal for fuel cells.
The US Federal Communications Commission (FCC) passed regulations in 2007 requiring 8 hours of power for telecommunications tower and transfer stations, an increase from the previous 4 hours. The new requirements (now placed on hold by the Bush administration as of December 5th) are referred to as the "Katrina" regulations as they were promulgated in reaction to the failure of the communication infrastructure during 2005's devastating Hurricane Katrina. Recent EU mandates have also increased required backup run times, forcing providers to look at unconventional power systems. Fuel cells have enjoyed anecdotal success as backup for remote telecom towers over the past decade, and recent incremental technological improvement increasing reliability and lowering cost have created a compelling value proposition particularly in the case of extended run times. Hydrogen and, in 2009, methanol fueled fuel cells, are now a cost-effective alternative to doubling the current technology VRLA battery banks. Although the upgrade will be a major expense for the telecom industry, it is a major opportunity for fuel cell and electronic storage developers as was in evidence at this fall's Intelec Conference and Exposition in San Diego. Rather than representing a technological oddity, Plug Power, ReliOn, Altergy, and Danish import Dantherm Power were actively courting the telecom giants with commercially viable indoor and outdoor configurations.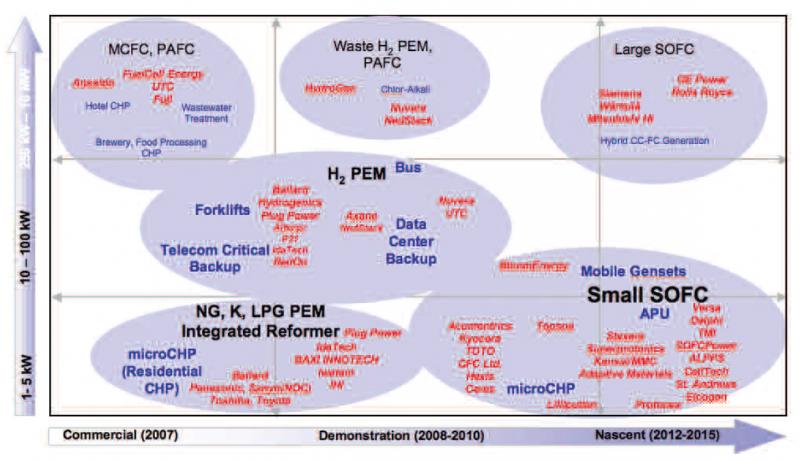 Plug Power remains proud of its brand name, being a true survivor after all. So while it continues with its own high temperature PEM development (120° – 200° C) for its mCHP applications, it markets its complete GenCore™ cabinet telecom hydrogen fueled backup system with its own 5 kW fuel cell and a standard telecom grade VRLA for instant response. Plug is counting on its name brand as well in the forklift arena. After a $241M investment by Russian oligarchs in April 2006, Plug purchased two competing fuel cell MHV power developers who were packaging Ballard stacks into a forklift battery emulator. The more successful one, Cellex Corp., had just completed a demonstration program with world's largest retailer, WalMart. The Cellex product integrates a Maxwell ultracapacitor, which is designed to replace the battery pack in existing forklifts, into the package.
Hydrogenics, the "other" Canadian PEM FC developer, also has chosen Maxwell ultracaps for its critical backpack product. Hydrogenics intends its HyPM configuration of 1, 2, or 3 10 kW stacks to be integrated by name-brand industry leaders. It first inked a large but slow-starting agreement in 2006 with APC of Kingston, Rhode Island, with an eye toward hundreds of unit sales to the major data center market. It seems now that perhaps 25 at most are in the field, primarily in Canada and the UK. French electronics leader Schneider Electric purchased APC last year, and have re-launched the product with renewed vigor. The system in its minimum configuration does replace battery arrays, but in the 20 – 30 kW configurations it competes directly with diesel generators. The subjective green advantage the fuel cell/ultracap hybrid holds over VRLA batteries, which can be a toxic waste nightmare, becomes extreme when held against a diesel gen set. Vibrating, loud, CO-producing generators simply cannot be used even on the same floors as those occupied by ordinary workers, and thus are frequently relegated to roofs or perhaps basements, far from the data centers to which they are delegated. In this application, it is clear that the ultracap is a more natural partner for the fuel cell.
Despite the slow acceptance of the APC by Schneider fuel cell product, due mainly to the initial high cost, other critical power integrators who have relied on large banks of VRLAs are looking to fuel cells for extended run time solutions, thus allowing them to move into the diesel generators segment. CommScope, another leading complete power solution integrator, has designed a product around the Hydrogenics fuel cells. CommScope offers standard VRLAs, but Hydrogenics will deliver its HyPM product with the ultracap preconfigured in the fuel cell, thus eliminating the need for batteries. Emerson Network Power, the self-proclaimed "global leader in enabling Business-Critical Continuity™," has partnered with one of the earliest fuel cell telecom back up players, Spokane, Washington's own ReliOn. Emerson also includes a space for either a low cost VRLA or ultracap to provide bridge power. ReliOn has targeted a comparatively low power segment with its high-end stack rated at 2 kW, and must daisy chain six to get to its maximum 12 kW configuration.
Denmark's Dantherm Power, newly created subsidiary of the nation's leading HVAC designer and manufacturer, has done significant homework in packaging their own critical backup solution. They have worked with multiple domestic and foreign stack and other component makers, and thinks they now have an optimal package. They are integrating Ballard's outdoor back-up designed model 1020 ACS (air-cooled stack) into a complete cabinet package. Dantherm has been the leader in cooling systems for battery-based backup systems, and already has a manufacturing facility in the US, in South Carolina.
Tom Ollila, the Plug Power alum chosen by Datherm to get the US operation off the ground, is optimistic despite the hiccup in the "Katrina" 8-hour regulation. "Worst case," he notes, "even if no new rules are issued, this whole process has elevated the importance of backup power."
The CTIA, in a recent statement, would seem to agree. "While we have the same goal as the FCC – to keep our networks running during times of emergency – we believe that having the flexibility to adapt to unique emergency situations will better serve American wireless consumers. As we prove the economic and performance advantages of using fuel cells to provide vital backup power to telecom customers, we can still continue to build a viable market here in North America." Over 200,000 cell towers in place and new network equipment being rolled out all the time, represents a very attractive market.
Back home, Dantherm Power, through its affiliate, Dantherm Air Handling, has received an initial order for 100 fuel cell cabinet backup power systems for Denmark's new public safety network, SINE. The SINE network will consist of about 450 sites spread throughout Denmark. This example from the specifications portion of Danish Dantherm Power's brochure clearly shows the advantage of the fuel cell–ultra cap hybrid:
California based Altergy, which has quietly put together its own PEM stack and integrated it into a 5 kW telecom backup solution, has teamed with PA-based leading global industrial battery producer and system integrator EnerSys. Altergy clearly hopes to leverage the solid name recognition EnerSys. Since reliability issues for pure hydrogen fueled PEM appear to be settled, Altergy has stressed its "mass production" facilities and its low system cost. This makes it an ideal partner for the VRLA-oriented EnerSys.
Developing markets beckon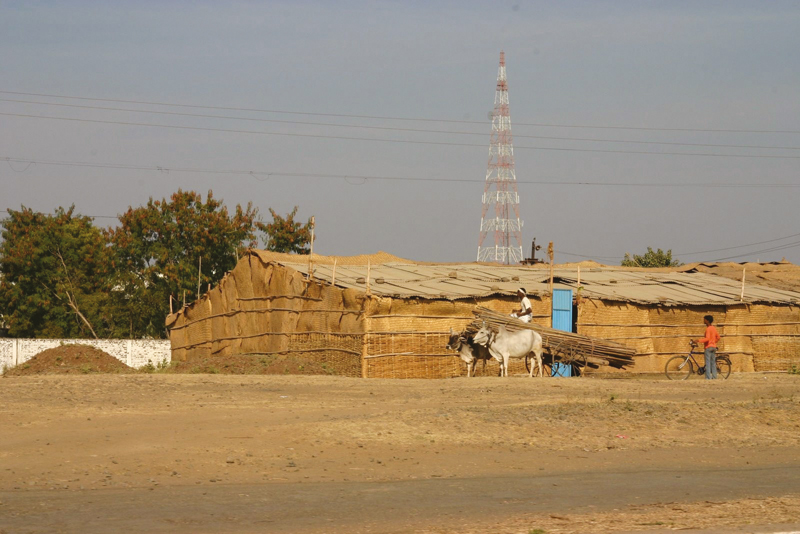 Although classic battery manufacturers may look at the current expanding wireless network environment as a huge opportunity, fuel cells with a small adjunct battery or supercapacitor may eventually capture a significant share of the worldwide market. Certainly those with international reach may be wise to have a fuel cell-based extended run time solution to offer in Asia, Latin America, and Africa. IdaTech, working on PEM stacks and liquid fuel reformer technology for over fifteen years hidden away in the high desert foothills of eastern Oregon, has signed into a reasonably credible agreement with a major Indian back up system integrator for at least 10,000 natural gas fueled systems. Like Dantherm, IdaTech will use a Ballard 5 kW stack. Ballard, actually a party to the agreement, is developing the liquid-cooled stack specifically for this agreement. IdaTech now offers a standard VRLA battery with ultracap option.
ACME Tele Power Ltd., the ACME Group subsidy signing the agreement, is India's largest reserve power provider and has international reach as well. It has an overtly green platform, and already professes that it wishes to replace all diesel generators. It has been working on its own AFC (alkaline fuel cell, like those that have been used on the US Space Shuttle and Apollo capsules) since 2003, but the move to include Ballard instead gives the deal a real chance of success. IdaTech will deliver an initial 310 hydrogen fueled systems in early 2009, and plans on building a manufacturing facility in India with ACME's assistance, modeled after their small, cost effective Tijuana, Mexico plant.
It should be noted that no backup fuel cell developer has sold over 206 systems in a year. The market for extended run time solutions where the grid is somewhere between marginal and non-existent, is huge. John Gagge of EnerSys estimates that India is putting up "about 20 towers a day." We must wait and see how the economic meltdown affects the deal – whether IdaTech and Ballard can deliver the initial systems, whether ACME chooses the technologically superior but more expensive ultracap option, and finally whether IdaTech can deliver an integrated methanol reformer to provide the Ballard stack hydrogen on demand from an easy to ship and handle common liquid fuel. ACME already counts Nokia, Siemens and Ericsson as partners, and virtually all of the many Indian telecom providers. Like Dantherm, ACME got into the telecom back-up business as a cooling system provider, specializing in keeping those VRLA batteries alive in the Indian heat.
Material handling vehicles
Fuel cells for fork lifts were looked by the early players as direct replacements for the standard lead-acid batteries use for indoor forklifts. While pre-commercial, Hydrogenics, Nuvera, General Hydrogen and Cellex (Ballard stacks), Plug Power, and Germany's Proton Power concentrated on building stacks that could withstand the shock and vibration and sourcing the necessary hydrogen fueling stations which would have to replace the "battery room" of most warehouses. When asked about finding viable fuel cell markets, Nuvera's vice president said :, "Follow the batteries!" But to totally replace electronic storage and still provide the necessary power boost when fork lifts do their work, the fuel cell would have to be four times its nominal capacity. Integrating ultracapacitors into their stacks, the Ballard OEMs in particular with their battery emulator products, resulted in a viable package. Nuvera has partnered with East Penn, which is complementing its Deka battery line with the Nuvera fuel cells. And Exide has decided to use the Ballard 1020 ACS critical backup stack as a hybrid partner with its lead acid battery, using the small fuel cell to trickle charge the battery, and the battery for all power needs.
Near commercial applications test options
Residential cogeneration, microCHP, or better yet mCHP, is still facing major cost and reliability problems. A medium sized supercapacitor would probably suffice for peak loads and immediate startup, and certainly would complete the green product, but initial systems generally use standard lead acid batteries. Current installations, mostly with 1 kW fuel cells, aren't space or weight challenged and using a standard LA battery removes a possible failure point while minimizing the project cost. In Japan, over three thousand systems have been installed in regular homes under a massive government program featuring Panasonic, Toshiba, Sanyo (now bought by Nippon Oil), and Ebara Ballard (a joint venture between Ballard and a major domestic manufacturer), but production models are still a work in progress, cost being the major sticking point. Since Panasonic is one of the few major supercapacitor producers in the world, it would make sense for them to include their own advanced technology, but we shall see.
The automotive playground
Just as the 12V Pb-acid battery is ubiquitous in gasoline-powered vehicles, advanced batteries or ultracapacitors will be with the production fuel cell vehicles of the future. An efficient, clean high-power, low-energy electronic storage module will always be an important adjunct to a fuel cell electric car, at a minimum to recover regenerative braking power and run the ever-increasing car electronics while idling. Commercial products though, dependent on the construction of tens of thousands of hydrogen filling stations at $1M a pop, are still a way off. With today's hybrids paving the way, and the intensive push to rebirth the plug-in all electric car, electronic storage designers are in high gear.
But just as fuel cells represent a breakthrough in extended run-time critical back-up applications, they also will offer extended run-time for electric automotive power as well. Being able to refuel in minutes for a five hundred mile trip certainly offers a compelling case for a fuel cell electric vehicle. The batteries now being developed by companies like the Watertown, MA MIT spin-off A123 will not only make plug-in hybrids viable, they will also serve as incredible complements to fuel cells when the cost of stacks finally comes down to Earth. Unlike the mCHP world, FCV producers are not yet considering cost, but weight is certainly a consideration. Honda, the clear leader in the technology, has made an interesting move with their hybrid technology. Their 2005 3rd generation FCX fuel cell vehicle used a large bank of in-house manufactured ultracapacitors. The new 4th generation road-ready Clarity, 200 hundred of which are being leased in Southern California to ordinary [sic] citizens, uses a large advanced Li-ion battery from an "unnamed" manufacturer.
You're either on the bus or off the bus
Although Hydrogenics (and to a lesser degree Nuvera), German Proton Motor, and Dutch Nedstack have produced one-off 10 – 30 kW stacks that have been hybridized with large Li-ion batteries for government demonstrations, Ballard and deep pocket UTC Power, subsidiary of multinational conglomerate United Technologies, have been sparring it out in major bus demonstration programs all over the world for nearly ten years. A discussion of their battery partners and the subsequent trials and tribulations warrants a short story. In summary: UTC has doggedly stuck with ZEBRA (high temp sodium nickel chloride, or liquid salt) batteries despite continuing problems. Ballard's first run of 30 buses in 2004 for use in EU cities, Perth and Beijing went solo, just a 200 kW fuel cell. The fuel cells worked well, but without capturing regenerative braking and the need for the huge, expensive hydrogen sucking fuel cell essentially proved the need to hybridize. Since then Ballard has gone exotic, paired first with the NiMH developer Cobasys; the troubled Michigan company is now on the block. Now the project manger, bus builder ISE, has chosen Austin, TX-based lithium phosphate developer Valence for the fleet of ten buses that will ferry winter Olympics visitors from Vancouver to Whistler, two hours into the mountains.
In fuel cell vehicles, ultracapacitors, which have demonstrated a higher recovery of energy from braking than batteries and a longer economic life, have also proven themselves considerably lighter and more environmentally friendly in their manufacture and disposal. Their application beyond cars, then, according to Pierre Rivard, founder and chief visionary of Hydrogenics, is promising at the least. As he pointed out in a recent statement, "When paired with fuel cells in stop-and-go mobility applications, such as forklifts, ultracapacitors provide burst power for lifting and acceleration and enable regenerative braking; in backup power applications, they provide instantly available short-term bridge power." In fact, in many applications they can buffer power demand peaks, and allow scalable fuel cell systems to be optimized for size and low cost.
Win-win? Well, let's just say I have seen the future, and it is filled with multitudinous hybrids, each optimized to a particular environment and duty cycle. We will have a good time getting there.