Andrew Draper reports from Battery Cells & Systems Expo, held at the UK's National Exhibition Centre in Birmingham from 29-30 June.
It was apparent from the range of exhibitors and expo participants that there is no shortage of battery insight, innovation and vision. Precision engineering, testing and pioneering production were on show, from automotive manufacturers, electric utilities, battery system integrators, cell manufacturers, academic research, and the entire manufacturing supply chain.
Among the conference debates were sessions on:
succeeding in the international battery market
what to expect from EVs in future
solid-state battery-powered cars
transition to zero-emission technology for medium to heavy-duty vehicles
alternatives to lithium-ion with commercial promise
recycling and the circular economy
skills and investment
regulatory frameworks.
Many delegates noted the expo was on at the same time as the Battery Show Europe Expo in Stuttgart, so footfall was a little thinner than might otherwise have been expected.
Among exhibitors, Dürr Megtec of Germany was showcasing its technology for coating battery electrodes. It says simultaneous two-sided coating using a tensioned web process and fast drying enables very fast production times. A vertically mounted slot-die coats both sides of the electrode foil travelling horizontally. It can complete production runs with precision tolerances in a matter of hours rather than days. This has obvious cost advantages.

It claims it offers the lowest capital and operating costs for gigafactories through its electronic-grade solvents, which allow immediate re-fining and re-use on site.
HEL Group of London, UK, presented its solutions for hazard screening, safety and performance testing for the battery testing and process safety industries.
Claudio Ferreira, Sales Manager for HEL Group, emphasises the importance of reliable data for detecting exothermic runaways and dangerous gas generation. If investigating a plant-scale runaway, such data is crucial for root-cause analysis and control measures. Catastrophic failures and the conditions that lead to them can be anything from operating temperatures, incorrect installation and charging to physical damage to the battery.
HEL Group was showing off its new iso-BTC+ calorimeter for isothermal battery performance testing. The iso-BTC+ defines cell, battery, or pack thermal performance and characteristics under normal and extended use conditions.
The model is designed to characterise the thermal behaviour and electrical performance of high-power battery cells. It highlights regions of increased thermal energy generation and identifies risks of thermal runaway. It is capable of characterising physically larger and more powerful batteries – up to 350mm by 350mm in size – and 200W.
Isothermal performance testing is used in EV manufacturing and consumer electronics. Additional features include accelerated aging tests, electrode composition analysis and battery chemistry investigations.
Heat release rate (power) is measured in watts and energy released, measured in kilojoules during charge and discharge of a gel cell battery at 40°C. Source: HEL Group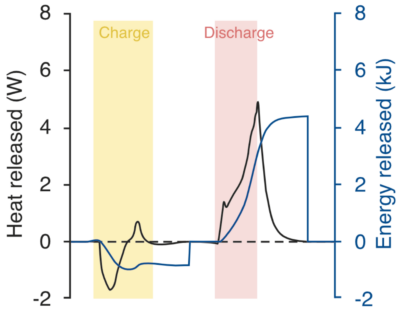 H&T Battery Components of Germany's Heitkamp & Thumann Group said, at the expo, it is planning an expansion into the automotive market. In July, it signed a memorandum of understanding with Britishvolt to collaborate on the battery can component supply for automotive applications. Clients include EV manufacturer Tesla.
Its H&T Battery Components Rechargeable unit will develop a new battery can production line at its manufacturing site in Blackburn, Lancashire. It supplies the rechargeable battery industry (and is the world's largest manufacturer of battery components for the consumer battery market).
Tobias Ott, President of H&T Battery Components Rechargeable said the company would support UK-based mass production, also with research and development from its newly established centre in Germany for cylindrical battery can development.
AceOn Group of Telford, England, is working with the University of Wolverhampton to develop second-life battery technology. It has a project bringing old electric bus batteries back to use to store electricity for use on Cranfield University's campus near Bedford. AceOn has been working with Oxford-based specialists in power electronics and battery management systems Brill Power, as well as the university on the scheme, which it believes is the first of its kind in Britain.
Two German companies were showcasing slurry mixing technology, Hauschild and Eirich. Hauschild says its Speedmixer helps reduce battery slurry manufacturing times, while its competitor Eirich claims its Mixsolver batch makes electrode slurry which can be held in tanks temporarily before being supplied to coaters on a just-in-time basis. It reckons its mixer is faster and uses far less energy than a conventional planetary mixer.
It said the first gigafactory for lithium-ion batteries in Asia to use its Mixsolver to manufacture electrode slurries was commissioned in May 2022.
Got its act together
Dr Stephen Lambert, chair of the Automotive Electronic Systems Innovation Network (AESIN) and head of electrification at motorsport technology company McLaren Applied, was one of the conference speakers. He said he has seen a huge change in the battery industry in the last five years as consumers switch to EVs. "As a result, the battery industry has really got its act together and started to focus and made sure that the products being developed at the cell or battery level are coming through in the right way to meet the requirements of the electric vehicle industry. And that's a really positive change and is in stark contrast to what happened 10-15 years ago in the vehicle battery industry."
Forecasting the future of motorsport is difficult, he said, but he believes there will eventually be a switch towards EVs as the automotive industry in general moves towards electrification. "The technology isn't there yet to make Formula 1 electric but over the next 30 years there will be an inevitable movement towards EVs."
The third phase of EV development will be around efficiency, he said. That means improving battery power and lowering costs. Smaller battery packs will mean they will become cheaper and in turn make EVs less expensive, especially on the battery side. Fast charge technology will also improve and that will lead to smaller, less expensive batteries too, he said.
Battery price bump
In its last annual battery price survey (from November 2021), research body BloombergNEF (BNEF) said prices for battery electric vehicle (BEV) packs in particular were $118/kWh on a volume-weighted average basis in 2021. At the cell level, average BEV prices were just $97/kWh. This indicates that on average, cells account for 82% of the total pack price, it said. Over the past two years, the cell-to-pack cost ratio had diverged from the traditional 70:30 split, a result of changes to pack design, such as the introduction of cell-to-pack designs.
But in July, it warned of a reversal: "There could be a bump in the road this year. Amid rising raw material and component costs, battery prices could increase for the first time since at least 2010. BNEF forecasts the average battery price will climb to $135 per kilowatt-hour in 2022, some 2% higher than a year earlier. If inflationary pressures persist, this could delay the point at which EVs reach the $100-per-kilowatt-hour threshold by two years, to 2026."
It says it is at around this price point that car manufacturers should be able to produce and sell mass-market EVs at the same price (and with the same margin) as comparable internal combustion engine vehicles in some markets.
High commodity costs could spur car manufacturers to adjust their battery manufacturing and opt for cheaper compositions, for example, to substitute cobalt for nickel.
Kwasi Ampofo, head of metals and mining at BNEF, said: "Cobalt use in lithium-ion batteries has evolved over the last three years as a result of the higher prices recorded in 2018 and the ethical concerns automakers have around supply from artisanal miners in the Democratic Republic of Congo. These concerns have resulted in a shift to less cobalt-intensive battery chemistries, or those without cobalt."
Lithium, specifically lithium carbonate and lithium hydroxide, is a crucial ingredient in EV batteries, and it has been getting increasingly expensive. "Lithium carbonate prices have risen from $5,000 per ton in July 2020 to about $70,000 per ton in July 2022," he said.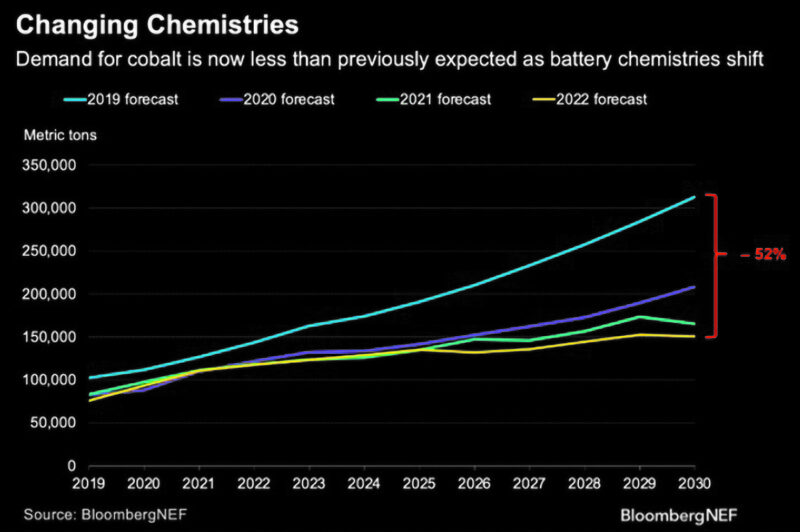 The switch to higher nickel content, as well as the rapid uptake of lithium iron phosphate cells, means less cobalt will be used in batteries than previously anticipated. BNEF's latest forecast is that cobalt demand will grow by 28% between now and the end of the decade to over 150,000 tons. However, this is less than half of what was estimated in 2019.
The path to achieving $100/kWh is clear, although the timing now looks more uncertain. In 2021, a wave of car manufacturers released battery technology roadmaps outlining how prices can be reduced below $100/kWh. Companies like Renault and Ford have publicly announced targets of $80/kWh by 2030, according to BNEF.
Continued investment in R&D alongside capacity expansion across the supply chain will help to improve battery technology and reduce costs over the next decade. BNEF said it expects next-generation technologies, such as silicon and lithium metal anodes, solid-state electrolytes and new cathode material and cell manufacturing processes, to play an important role in enabling these price reductions.
More efficient batteries
In her presentation to the expo, Dr Jacqueline Edge of Imperial College London and the Faraday Institution, talked about targets to make batteries perform better and last longer. The cost will have to come down to a pack cost of $100/kWh (from $280 kWh), energy density will have to double and power density must quadruple.
That raises the question of safety and preventing thermal runaway. The audience was told, in the session on ultra-fast charging and optimal performance conditions using better thermal management, that safety, cell ageing and performance are just a few of the reasons that good thermal management is crucial to H/EV success.
The increasing demand for ever faster or ultra-fast charging is seen by many as crucial in attracting those consumers who want to replicate their experience of driving an internal combustion engine vehicle. A cohesive thermal management system can be the difference between maintaining a healthy, long-lasting battery and running the risk of thermal runaway or extreme degradation.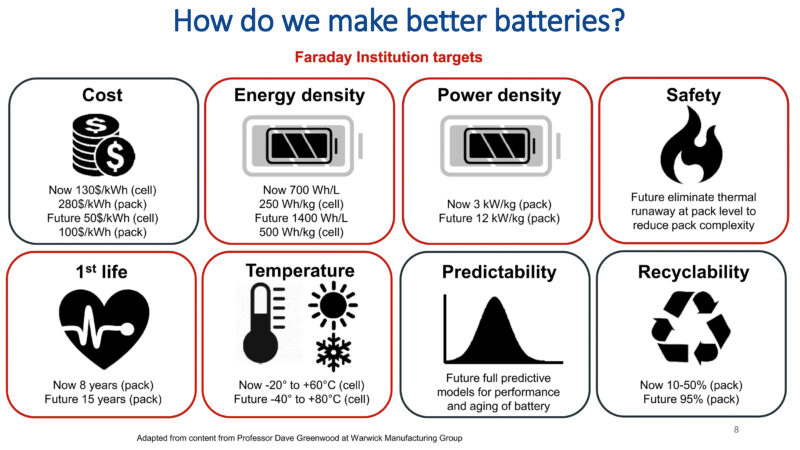 Thermal management is critical because it improves performance, limits degradation and improves safety. Battery packs in use today have large thermal management systems which aim to remove heat. This substantially reduces the energy density of the battery pack as an overall system.
The Faraday Institution's Multi-Scale Modelling project has proposed changes to cell design to improve thermal performance. A new standard called the Cell Cooling Coefficient (CCC) allows car manufacturers to compare the ability to thermally manage commercial lithium-ion batteries across a set of performance targets.
Innovation in solid-state batteries (SSBs)
Specialists in all-solid-state battery technology for electric vehicles, Ilika Technologies of Romsey, England, and Comau (part of car maker Stellantis), which is engaged in SSB technology, have completed a one-year government-funded study into solid-state batteries. They looked at the machines and processes required to manufacture oxide electrolyte-based solid-state technology at an approximate scale of 100 MWh per year.
They developed both a lab-scale and industrial manufacturing process with a specific focus on utilising existing technologies and machines. The study identified that two-thirds of all-solid-state cell production steps can be achieved on standard or lightly customised equipment currently used in the production of conventional liquid electrolyte-based lithium-ion batteries and other markets. They are now scaling up towards mass production levels: 2 MWh per year by the end of 2023 and then Giga scale after that.
They say Ilika's Goliath ASSB technology for EVs has the potential to improve pack-level energy and power density, enabling fast charging of below 20 minutes and operation to higher temperatures than conventional lithium-ion batteries.
Regulations and standards
The conference part also considered regulation and standards, and where regulation is needed – such as in-vehicle battery standards and second life. Ben Lincoln, patent attorney and partner at Potter Clarkson, talked about optimising patent strategies to take advantage of a market subject to regulation.
He said: "The scope of regulation must be carefully controlled so that it steers the market towards a desired family of solutions without disrupting or overstretching the capacity of technical solutions that will fall outside the regulation. Thus, regulators must assess what the intentions of the regulation need to be and gain a thorough understanding of what the market will look like once introduced.
"If the regulation is too restrictive, demand for the remaining technical processes can outstrip supply. If the regulation is too lax, then the desired steering of suppliers and consumers may not be achieved."