The Editor pays a fleeting visit to Northern Italy on a cut-price airline to see traction cells forming in a fraction of the expected time.
Some of BEST's readers will remember a site visit I made in the old days to a well-known traction battery plant in Poland. My minders took me into their formation room and showed me their secret weapon – a formation system that cut the process time in half, saved energy and manpower, and reduced enormously the number of faulty cells being formed. But they wouldn't let me take any photographs, or answer any of my questions.
In the field of business-to-business journalism it's not easy to tell your host "Drop dead. You've wasted my time. Please don't show me things I can't tell my readers about." But now I can tell my readers that the plant I saw was nothing but a flagrant copy of an original design!
I can now reveal that the true inventor of the system I saw was one Osvaldo Maggiori. His company, OM Impianti, is now ready to tell the world about its radical developments in formation, which any battery maker can now adopt. Maggiori can do this because he holds the patents to the process.
OM Impianti has been in operation for about five years, although Maggiori's expertise spans over 30 years in the business. He is involved in process design, especially with regard to acid plants, so he's really what I'd describe as a chemical engineer. And as I've told readers before, from my halcyon days working for the UK's foremost engineering body, IChemE, it's the consultancy in this field that can save the chemical majors billions of dollars through improved use of energy – be it chemical, electrical or, indeed, mechanical. And from what I've seen Maggiori is up there with the greats – Bechtel, Kellogg, Foster Wheeler and more – so, battery makers, you'd better take this seriously! And the company is not alone. In a consolidated group known as New Battery Engineering, OM Impianti works with other small engineering specialists who have been providing the skills and know-how that Italian battery makers have had on their doorsteps for nearly 20 years. Small, as BEST knows, can be very beautiful indeed.
The waste stream from one process can be salvaged to form another process's feedstock, and some reagents can be recycled to reduce costs. It's the real clever stuff in the chemical industry – and to do it, you don't need a huge business – just imagination and the ability to specify the major components and develop a control system to make it work. That's exactly what this company does.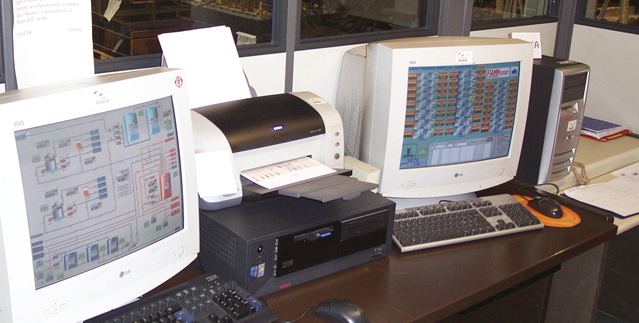 So what am I describing here? What's the greatest waste in the formation process? Easy: the amount of current used which simply boils away electrolyte in that inefficient process. Well haven't we solved this problem with systems which employ water baths to cool the forming batteries? Only in part, because the heating is taking place deep inside the cells, within the plates.
The answer of course is to cool the electrolyte used in the formation process. To do that, as well as putting current through your charging cells, you also have to pass electrolyte itself. What you end up with is a complex chemical process operation, but it can form traction battery cells in under 24 hours as opposed to three days. And you can use the same process for automotive batteries, slashing formation time from 24 hours to less than four.
Flavio Grassi, who looks after new projects, is currently testing this bench-scale operation with a leading automotive manufacturer (more in a future issue). Three acid streams are used in the process: the electrolyte which is left in the finished cells is not the same acid used in their formation. While the cells are charged in series strings, each cell gets its own flow of electrolyte, run in under gravity and run out through displacement to heat exchangers and recycling tanks.
And what do you do with the time you've saved? In the case of FIAMM's plant at Montecchio, where I recently saw this operation, you can use that time to cycle cells before they're taken out and assembled into traction batteries, and you can spot problems before the customer does. And for FIAMM, which builds over a million traction cells annually with this system, this means its returns and refurbishment department has become almost redundant. No wonder ENERSYS has been so keen to snap up the FIAMM business.
"The OM Impianti system works with anyone's rectifiers," explains Philip Larkin, Osvaldos' sales and marketing (and translation) specialist, "so you don't need to rip out what you've already installed in that domain." Just a handful of PCs control the system from acid mixing (there's a full mimic of the plant set-up) to current control and testing. The system also archives all system data – including charging regime and test parameters applied to all cells produced – on IBM servers, making it a valuable system for quality control and product traceability.
Hydrogen produced in the process is not vented into the formation area but caught by scrubbers in the acid recirculation lines. And the whole area is virtually acid mist free – so workers and visitors like me are not constantly catching their breath and coughing, as is so often the case in formation areas. It makes this system a real formation without tears.
How much does it cost? Of course that's the question some of you may already be asking. Maggiori and Larkin are in the process of developing the presentation which will show you what the payback is in terms of increased productivity, fewer rejects, and energy savings. The cost of the plant is something else. "There's no point in us dragging all these tanks and piping out from Italy and then installing them at your location – you can buy everything locally and we'll help you source them," says Larkin. "But what you're really acquiring is our know-how, support and a proven technology".
With electricity prices rising, here's another technology that the cost-conscious battery maker can't afford to ignore.