Selling lead-acid batteries in India is truly a licence-to-print-money these days. Aidan Turnbull reports.
Historically, the Indian automotive battery market has been driven by one dominant player – Exide Industries Ltd – a company which was swiftly followed by many manufacturers from the unregulated sector serving the light and heavy commercial vehicle segment. At one stage, about 20 years ago, Exide controlled nearly 100% of the Indian auto OE market and was the biggest name in the Indian battery industry.
A sea-change came in the late 1990s with the entry of battery manufacturers like Amara Raja Batteries Ltd. (ARBL). Amara Raja Batteries Ltd, (ARBL) remains India's largest manufacturer of Standby Valve Regulated Lead Acid (VRLA) batteries in the Indian Ocean Rim, with market penetration from Africa and the Middle East to South East Asia. Based in Chennai, with a fully integrated manufacturing unit for its industrial batteries at Tirupati, Amara Raja has reached a position of leadership in just 7 years.
Strategic partnerships to sell more lead-acid units
Amara Raja is currently in a strategic partnership with Johnson Controls Inc., USA. Backed by this ARBL has achieved a Global Supply Alliance with Varta AG of Europe and Enertec, who are joint venture partners of JCI in South America and Mexico. The Business Group of Amara Raja is categorised as Industrial Battery Division, Automobile Battery Division and Power System Division. ARBL is currently the largest supplier of stand-by power systems, catering to Indian utilities such as, Departments of Telecommunication, Indian Railways, Power Generation Stations, MTNL, VSNL, ITI and HTL. The company has preferential status with most MNC-OEMs such as ABB, Alcatel, Ericsson, Fujitsu, Lucent, Motorola, Nokia, Tata Liebert and Siemens.
ARBL, in particular, boasts a prestigious Automotive OE client list including Ford, GM, Daimler Chrysler, Ashok Leyland, TELCO, and Mahindra & Mahindra. Amara Raja is probably best-known for its replacement battery brand Amaron Hi-life. ARBL has a capacity for manufacture of around 1 million units at its facility at Tirupati and is undertaking work to augment capacity to 2 million batteries by 2012.
Mr Jayadev Galla (Jay) is the Managing Director of ARBL. Three years ago his company launched 200+ PowerZone franchisees across India; these retail centres now offer India-made automotive batteries, tractor batteries and home UPS. Jay had this to say about the batteries:
"The consumer in the rural markets is today treated like a poor country cousin to the urban consumer. He settles for the substandard local offerings because he does not have access to the top-end products at a price he can afford. We have technology and expertise in batteries and inverters and Powerzone [the retail chain] is the innovative concept that brings technology at the right price for the rural consumers.
"The business model for Powerzone has in-built social responsibility components which result in two direct benefits in the local community.
One, Powerzone brings a new self-employment opportunity to the rural educated youth, who are constantly seeking better opportunities outside. Our franchisee model nurtures and supports entrepreneurial spirit to develop a vibrant business and non-migratory job opportunities.
Two, Powerzone will help reduce lead related pollution in the rural landscape which results from unregulated battery disposal," he adds.
Beyond India's metropolitan areas and large cities, the retail consumer is more acutely in need of power solutions and is a frequent buyer of automotive and power related products, whether it is to run his tractor, power his home or his shop, he says.
"Frequent power cuts add to the quest for alternative power solutions. However, the consumer wants a product which he can afford and hence finds many of the products designed for the city consumer unattainable. Whether it is a tractor battery or an inverter, the consumer frequently ends up buying a locally available, non-standardised product, which is a poor substitute, both in terms of performance and service," he concludes.
Another product which is well-known in India is Prestolite, the internationally renowned brand of storage batteries, was launched in India in 1997 by Tudor India Limited. Tudor India Limited is a subsidiary of CMP Batteries Ltd., UK, which in turn is the British arm of the world's largest battery manufacturing group based in Georgia, USA, Exide Technologies). Both entered the market with technologically-advanced products – but ARBL became the first company to launch the Zero Maintenance Free Batteries for the automotive segment. The 'big four' manufacturers of batteries in the organised sector remain Exide, Amco, Amara Raja and Tudor.
How big is the market?
Today, the storage battery market in India is estimated to be worth in the region of US$ 700 million [Figures: Automotive Report 2009-10] with the automotive battery segment (including cars, road, military & agricultural vehicles) contributing 60 to 65% of the overall market value. In terms of volumes, the overall consumption of automotive batteries could be around 9 – 10 million units, with the OE segment comprising around 2 to 2.3 million units per annum.
Certainly, the rise in battery sales in India has been directly driven by the automotive industry – one of the largest in the world and one of the fastest growing globally. For example, India manufactures over 17.5 million vehicles (including 2 wheeled and 4 wheeled) and exports about 2.33 million every year. It is also the world's second largest manufacturer of motorcycles, with annual sales exceeding 8.5 million in 2009.
India's passenger car and commercial vehicle manufacturing industry is the seventh largest in the world, with an annual production of more than 3.7 million units in 2010. According to recent reports, India is set to overtake Brazil to become the sixth largest passenger vehicle producer in the world, growing 16-18 per cent to sell around three million units in the course of 2011-12. In 2009, India emerged as Asia's fourth largest exporter of passenger cars, behind Japan, South Korea, and Thailand. Each vehicle gets fitted with a lead-acid battery.
India's roads currently hold 40 million passenger vehicles. A further 3.7 million automotive vehicles were manufactured in India in 2010 (an increase of 33.9%), making the country the second fastest growing automobile market in the world – and every single one of those relies on a lead-acid battery [World Motor Vehicle Production by County, 2008-9].
According to the Society of Indian Automobile Manufacturers, annual car sales are projected to increase up to 5 million vehicles by 2015 and more than 9 million by 2020. By 2050, the country is expected to top the world in car volumes with approximately 611 million vehicles on the nation's roads.
The Indian Automobile Industry is manufacturing over 11 million vehicles and exporting about 1.5 million every year. The dominant products of the industry are two wheelers with a market share of over 75% and passenger cars with a market share of about 16%. Commercial vehicles and three wheelers share about 9% of the market between them. About 91% of the vehicles sold are used by households and only about 9% for commercial purposes.
In India, the relaxation of government controls on automobile industry has led to a car boom, an increase in the number of producers and a growing range of joint-venture agreements with foreign manufactures (including Daewoo, General Motors, Mitsubishi, Honda and Hyundai).
This has resulted in an influx of many foreign-made cars on the Indian roads and the increased use of car starting, lighting, ignition (SLI) batteries. This means increased demand of lead for the manufacture of batteries which has to be met by the existing primary and secondary lead resources.
Under ideal conditions, a SLI battery can last as long as six years, but normal operation battery life in India is much shorter than this, because of issues such a tropical climate, the annual Monsoon Season, and the stop-start nature of Indian traffic flow. Battery Council International (BCI) surveys confirm that a lead-acid battery's efficiency varies with particular extremes of temperature, poor road conditions and inadequate battery maintenance.
The bottom line is this: in India the life of lead-acid batteries is estimated to be 21 months. A battery's normal lifespan mean that every 2 years it has to be replaced to maintain peak efficiency.
Who uses the batteries?
Today, the lead-acid battery is used by many sectors such as the automobile, power, telecomms, UPS, transport spheres etc. for various uses. The major consumer remains the automobile sector, which – according to some sources – consumes nearly 70% of the total battery production. The rapid growth in the automobile sector since 2008 is expected to put the annual growth of lead demand on a double-digit trajectory. Demand can increase by about 10% every year. More than 50% of the battery consumption is in government sector such as Defence, State Transport Authorities, Railways and state-owned telecommunications.
The Railway arena is the second largest consumer of lead-acid batteries after the automotive sector. 15% of the total lead consumption goes to battery manufacturing in this sector and the demand in the railways has remained more or less the same.
In 2004, India's storage battery market was worth an estimated US$500 with the automotive battery segment contributing 60-65% of the market value. Some analysts have suggested that this figure could even be as high as US$1bn by 2020.
Batteries contain: lead (70%), acid (20%) and plastic case (10%) and about 5kg of lead can be recovered from each battery. ["Imperatives of Recycling for Developing Economics": Indian Zinc Information Centre, New Delhi].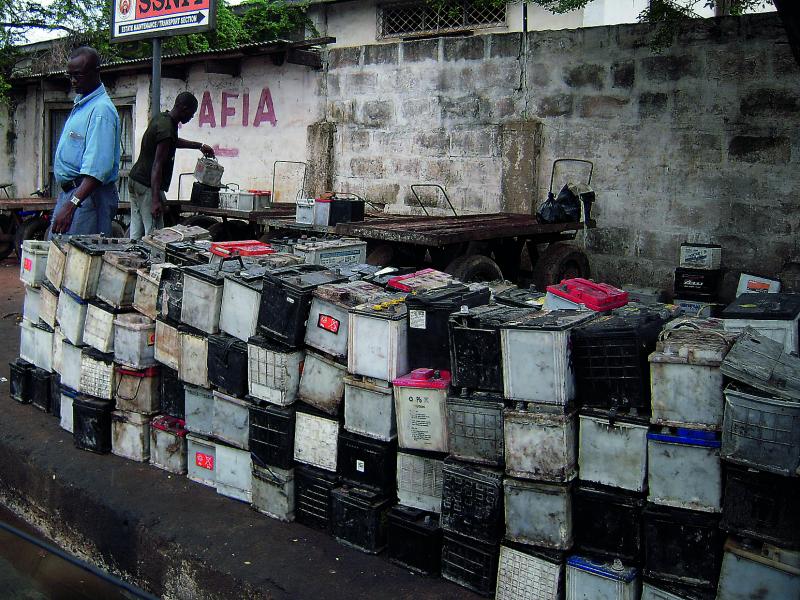 As has already been said, the average life span of the battery is around 21 months and a car battery installed in 2009 will most likely now be available for recycling as scrap.
Author of 'Lead-Acid battery recycling in India', Sumita Dubey comments: "The increase in automotive vehicles on roads as well as in various other applications has increased the demand for lead-acid batteries. With so many batteries in use, their disposal and recycling is of paramount importance. The spent battery is 99% recyclable if processed in a proper facility and under environmentally friendly conditions.
"Lead is the most recycled metal – and more than 50% of world demand is met by the secondary lead itself. The spent battery should be seen as a lead resource. In the absence of proper smelting facilities and legislation regarding the recycling of lead‑acid batteries, they find their way to backyard smelting units. Here, lead is recovered from these batteries in a very crude manner, which degrades the surrounding area and also affects the workers. Tens of thousands of metric tonnes of lead from batteries are illegally recycled in India each year in hundreds of backyard smelters."
The backyard smelters recover lead from these batteries in a very crude manner, which degrades the surrounding area and also affects the workers, says Dubey.
Ask anyone in India's Government and they'll tell you that responsible battery manufacturing companies in India – in conjunction with the Indian government – are determined to combat the indiscriminate and widespread disposal of lead-acid batteries, to safely smelt and recycle them and minimise their harmful effects on environment and health.
Indian Law demands that spent batteries are recycled and should only reach authorised smelters. Unregulated recyclers who reclaim lead in environmentally-hazardous ways account for almost 50% of the Indian scrap battery market.
Annually, it's estimated that about seven million batteries in India are still disposed in an unsafe manner, putting the environment and population at risk. The SLI (starting, lighting and ignition) batteries, which are used in cars, trucks, buses, etc. represent the largest category of end-use for lead followed by batteries to power electric vehicles such as fork lift trucks, airport ground support vehicles, delivery vans and golf carts. One of largest in the lead-user category is industrial batteries – such as those used for standby power supply system, electrical energy supplies for telephone exchanges, public buildings, hospitals and various industries.
There are only a handful of legitimate Indian lead companies in the organised sector involved in the metals recycling and the majority of the industries are found in the unregulated sector. These secondary unregulated lead-smelting plants in India are the biggest threat to environment from the point of view of lead contamination. These units collect the spent batteries from different dealers, break them and recover the lead from small batteries without any control equipment, masks, monitoring or environmental filters.
India has no national network or organised collection mechanism for gathering discarded batteries: there are open auctions of spent lead‑acid batteries and there are individual scrap merchants – and that's it.
When one goes to a service station in India you frequently exchange your old battery to get a discount with your purchase of a new battery. The old batteries are reused in some cases but most are sold to auction operations or scrap dealers who don't keep a check on who buys them or where they are likely to be smelted. The same thing happens with India's railway system – the second largest battery user after the automobile sector – it simply auctions off spent batteries to any bidder irrespective of their smelting facilities.
What exactly happens to the batteries?
The Official Approach: When you break up a lead-acid battery to recover the lead, the first thing you do is to take off the top portion and drain out the acid (a government-regulated recycler will neutralise the acid: an illegal one will simply pour it down the drain).
Batteries are broken up by hand in most Indian smelting facilities – the workers involved can face health risks as result of the contaminants they are exposed to. Lead, at certain exposure levels, is a poisonous substance. It damages the nervous system and causes brain disorders. Excessive lead also causes blood disorders in mammals. Like the element mercury, another heavy metal, lead is a neurotoxin which accumulates both in soft tissues and the bones.
These workers will then take the top portion for transportation to a hammer mill where the plastic is shredded away and the lead posts fixed in the top are released.
At the next stage in the process the plastic is separated, cleaned, dried and then sold as reclaimed polypropylene. The lead post and oxide, which have passed through the mill, are extracted via clarifiers and are stockpiled for furnace feed.
The Unregulated Approach: In backyard smelting all you need is a wok (Kadhai) and a cooker capable of reaching 330°C. The batteries are broken down to recover the valuable battery top and are then placed in a mud furnace (bhatti) to melt them. Elements of hot coke are added and then air is blown into it, to raise the temperature. Once the lead is melted then, it is transferred into another bhatti to remove the impurities based on the difference in the melting points of the inner materials.
The recovered lead is then poured into a mould to make rough ingots and is sold. The plastic casing is also sold and the acid is thrown away. The lead-oxide fumes coming out during this process are released into the atmosphere without any treatment.
The consistent demand for lead-acid batteries (linked to the rise in India's automobile sector) naturally drives the demand for lead in the coming years.
One of the main watchdogs of exactly this kind of waste in India is the Basel Action Network (BAN), a non-governmental charitable organisation which works to combat the export of toxic waste. BAN is named after the Basel Convention, a United Nations treaty designed to control and prevent the dumping of toxic wastes, particularly on developing countries.
However, without enthusiastic backing from government, this NGO can do little to stop unregulated smelted lead products (sometimes from foreign scrap batteries) from returning back to the regulated battery manufacturing area. Lead is lead, after all.
India has very few national regulations governing lead emission limits but particulate matter in industrial emissions are certainly prescribed under the Air Prevention and Control Act, 1981 – but does anyone (apart from the responsible recyclers & manufacturers) pay attention? The crux of the problem lies in the fact that substituting the lead-acid battery is not yet technically possible because lead is the active electrochemical component in the unit – and it works so well.
What about the future?
The experts say that battery electric vehicles are likely to replace battery/biofuel ones in the next 20 years. But the fact is that this will depend primarily upon the cost and availability of alternative batteries with high energy densities, power density, and long life, as well as all the other aspects such as motors, motor controllers, and chargers are fairly mature and cost-competitive with internal combustion engine components.
Li-ion, Li-poly and zinc-air batteries have demonstrated energy densities high enough to deliver range and recharge times comparable to conventional vehicles, but whether these will be cheap enough to entirely replace lead-acids is open to speculation.
It has been suggested that battery-operated vehicles (such as the Nissan Leaf) could have annual sales in 2020 of 100,000 units in the US and 1.3 million worldwide, making them just 1.8% of the 71 million cars expected to be sold in 2020. Another 3.9 million plug-ins and hybrids will be sold worldwide, bringing the total electric and hybrid market to about 7% of all cars sold in 2020. But in India in the absence of legislation dictating otherwise vehicles are still likely to still have lead-acid batteries at the core of their propulsion unit by the same date. Lead will still be king.