The Editor visits Rahimafrooz batteries in Bangladesh and discovers it's the philosophy that sets it apart from its rivals.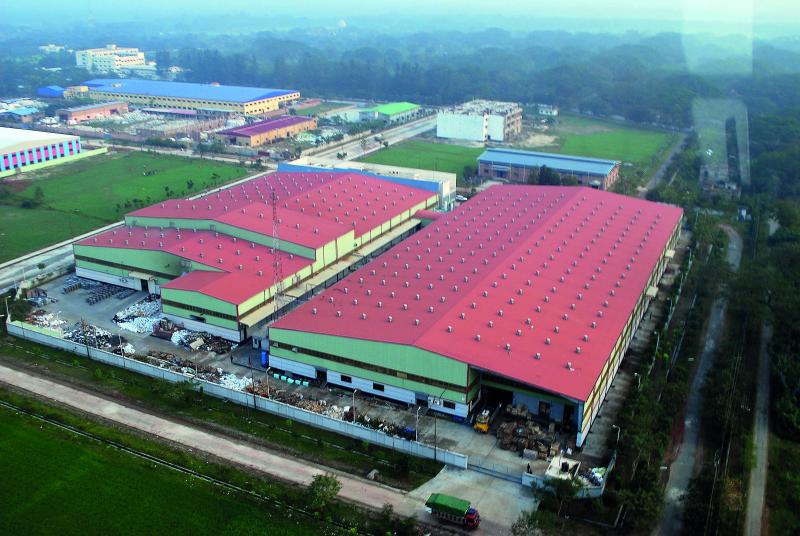 One of the better moments at 14ABC last year was meeting some the management team of Rahimafrooz batteries, thanks in part to Vinod Dumra, who represents the company in India.
Your scribe had no idea that the company was based in Bangladesh. And in reality, not much knowledge of Bangladesh either. So when the invite came to make a visit, a little research was required. What does it take to 'cut it' these days as a lead-acid battery producer?
With most western makers believing the automotive product is essentially a commodity item, with low margins, cut-throat competition and a distress purchase, marketing is virtually dead.
It's a little different however in Asia. Brand still means something to consumers as I saw when I visited the two year old Globat plant in Ishwardi about 240 km from Dhaka. There, carefully cleaned and smartly labeled starter batteries were being put into fancy cartons, with a set of instructions even! You could sell these in Harrods or even Macys, I thought to myself. It adds to cost of course but it's what's needed to make an impression in the company's overseas aftermarket.
Rahimafrooz isn't just a lead-acid battery company and that's probably what makes its approach quite different in getting market share in a cut‑throat world.
It's the other parts of the business which have had an influence on the battery activity— and the business talent that it has brought in— quite simply, not your typical battery man.
The company is a little more than fifty years old and is quite diverse: as well as making batteries, it has interests in automotive distribution, energy services, real estate and even has a supermarket chain, called Agora.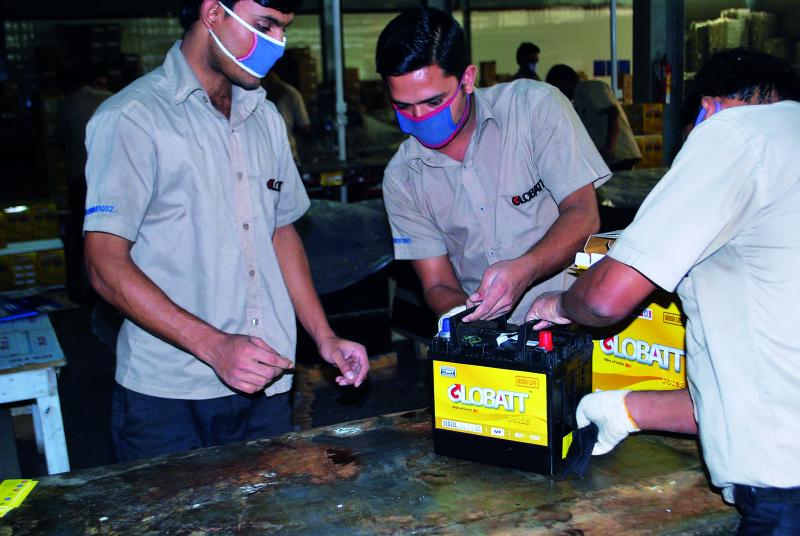 Interestingly it's not in textiles and clothing, which is the best known Bangladeshi business sector. It is still family owned and private though you wonder if it can stay that way, given its aggressive growth strategy. The organisation is quite complicated and divided into no less than eight business units. But this is a battery publication and we'll stay focused on that, or will we? Well, not quite because the company has an interest in renewable energy and it's tangible, real and not just the usual BS you see in company brochures and corporate videos. It has installations in the millions and there's very little subsidy involved. It's real.
Appetites whetted? Let the tour begin. I must be showing my age when, if you just mention the name Bangladesh, then my brain finds the MP3 file of former Beatle, George Harrison's appeal and the song from over 40 years ago, when the country had broken away from what was known as West Pakistan, endured both a war and a famine;
Bangla Desh, Bangla Desh
Where so many people are dying fast
And it sure looks like a mess
Today it still looks a mess to an untrained eye. But there is an incredible industry sense in what looks like chaos, which would indicate rising prosperity for all?
And within the chaos are pockets of order, of which Rahimafrooz is a part.
To really succeed though, you have to move the new order out of the chaos of Dhaka— one of the most overcrowded cities in the world— and put it on a greenfield site. And that's exactly what the company has done. Munawar Misbah Moin, group director, US educated and already doing his own thing, was encouraged to come back into the family business.
Since the company was already making batteries and under and agreement with Chloride Group UK back in the early 90s the company started some exports steered by the group Managing Director Mr Firoz Rahim. Why not use exports as a strategy for growth? Well every other South Asian state was.
So what are the limits to growth in developing countries? One word— government— through import duties and other taxes. So create free trade zones or, as they call them in Bangladesh, export processing zones and you can wipe all this out. Put this near a port like Chittagong and you can tap into the all trade routes to 44 countries.
And that's how Rahimafrooz Globatt Ltd was created, with a bit of help, from HSBC, ICD and one Eberhard Naan. When it's running at full capacity, the 200 000 ft2 building should be able to produce 2.5 million maintenance free automotive batteries a year.
Production equipment is, to say the least, multicultural and good value for money coming in at under US$15million, all in. The oxide mill is Sovema's— positive plates are made on six Shenyang Jugu casters. The negative expanded line was still Cominco, when it was purchased and pasting is carried out with a Chinese Sunlight paster. Assembly? Well cast-on is semi automated based on someone's well-proven technology. But not built by them. Battery finishing and testing is carried largely on Nanjing Zhong Guan equipment.
It was the first time this writer had seen so much mixed equipment from east and west working together, so was it a smooth start up? Munawar Moin was frank: "We learned a lot about how machines work and how they have to be modified." Hardly plug and play by all accounts. But you cut your coat according to your cloth. The plastic cases are also made in‑house— buying‑in makes no sense with low cost Chinese injection moulding kit readily available.
All in all, the factory was as clean as anywhere you'd find in the West. The key to making a good after‑market product is probably getting your engineering consultancy right. Says Munawar Moin: "Dr Naan showed us how we could make a low cost product. But he advised us not to." And that's how the products sail through buyers' tests.
The branding exercise was a surprise to this writer— the boxing and packaging, the labeling, etc. But it's what some part of the Asian after‑market expect and it ties in with one of the company's core values— total commitment to customer satisfaction. If this is what the customer wants, you deliver it. Never mind the fact than Wal Mart's replacement batteries are boring black boxes which one grudgingly buys.
But Rahimafrooz has an exciting aspect to its battery business. So much hype is associated with solar energy— from Europe and its feed‑in tariff, to endless conferences and meetings. Doing is something else and solar energy is usually associated with subsidy.
In relatively poor Bangladesh, off-grid solar has taken off , installations are in the millions and hardly subsidised. How? Once again, Rahimafrooz has being playing a major part. It is not simply about technology, though that has to be right. It is mainly about logistics and finance and in particular using micro‑finance, to enable the poorest in society to get credit, where none exists.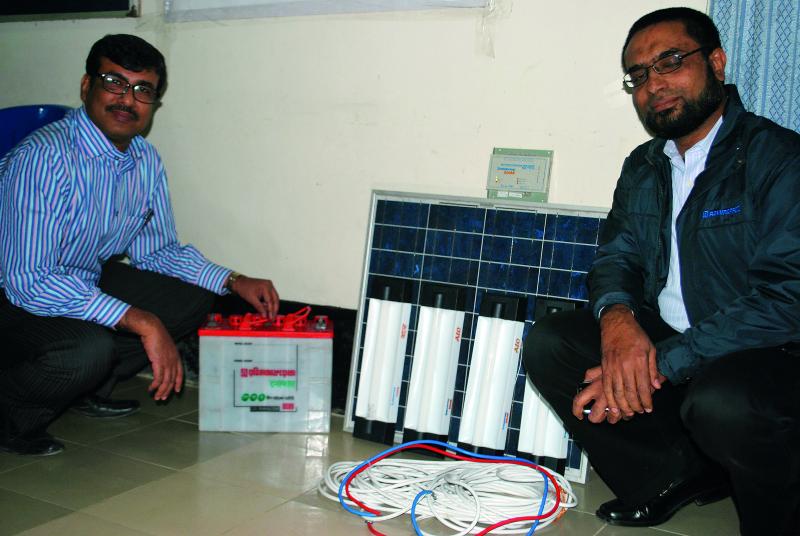 As well as taking me out to see the solar battery plant, Munawar Moin was keen for me to see the ground operation in rural Bangladesh where 60% of the 148 million population live. The company has established more than 500 offices around the country and the staff install, maintain and collect the payments on the cost of the US$325 systems, paid off over 36 months.
The seed money comes from the Government (via the World Bank) through the Renewable Energy Development Agency. The solar package consists of a 50 Watt solar panel, four lighting units and the 12 volt, 80 Ah tubular plate battery, along with a charge control system and the cabling. Installation isn't such a big deal… the rural homes are, as you'd imagine, shacks. So it's what we'd call a 'lash up'. And customers pay, says Moin. There's a huge community pressure not to default.
The rural deployment gives the rural Bangladeshi more than light. Everyone has a cellular phone, so charging is now simplified. And there's a whole gamut of low power, pure DC devices, available… from monochrome TV to small fridges.
And who can say how this market might develop ? Rahimafrooz plans to triple its output from 30 000 batteries per month this year, to 90 000 per month next. It has already provided the batteries for at least two thirds of all existing installations. The company's commitment to solar is much more than selling batteries— it is now establishing a plant to make 18MW of solar panels, in Bangladesh, because the Chinese only want the bigger unit market focused on the west.
If you want to expand your market, maybe you have to create the opportunities for your products and think about the future. In that sense Rahimafrooz are not just another lead-acid maker in Asia… it could be argued they are the leading lead‑acid maker— in the world.