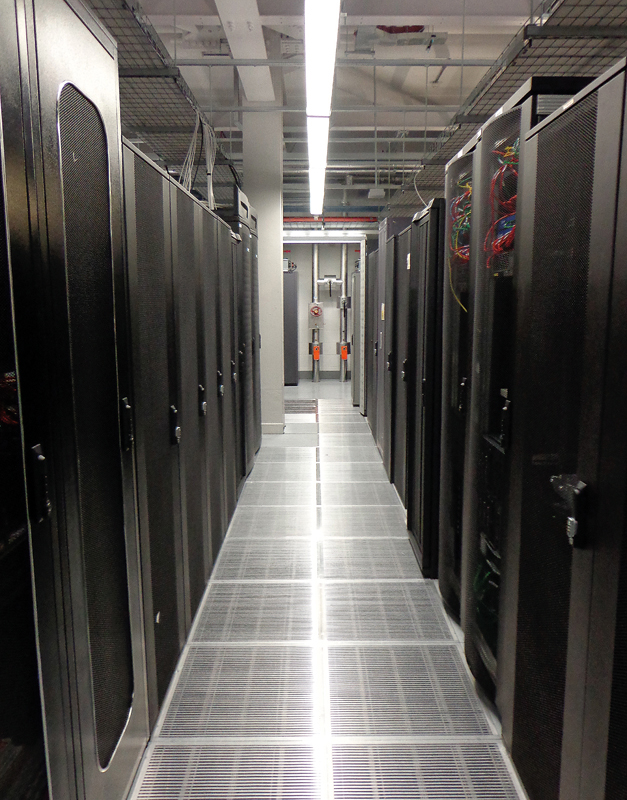 A data centre hosting 70% of Europe's live internet traffic must offer total reliability to its 500+ direct customers and 1 000's of indirect customers backing up their data here. Ruth Williams looks around Telehouse's newest building in East London to see how their power is covered from every angle— and it all comes down to the batteries.
Telehouse West is the newest building opened in 2010, it joins Telehouse North and East on the site in the London Docklands. The site has grown since the North building opened in 1990 as the house of the London Internet Exchange (LINX) and as the online world has grown, so has Telehouse.
The size of the building and the amount of data held here is impressive; it is a nine-storey building with 19 000 m2 of space for customer footprints, each floor is capable of housing 1.5 tonnes/m2 of cables. There are three buildings, each with five floors of cabinets housing data that seem to go on as far as the eye can see.
Paul Sharp, the Senior Buildings Manager, explained eight milliseconds is the longest computer systems can withstand a power interruption before shutting down. If this place lost all power for any longer the consequences for its customers would be dire. And the bottom line is customers would leave.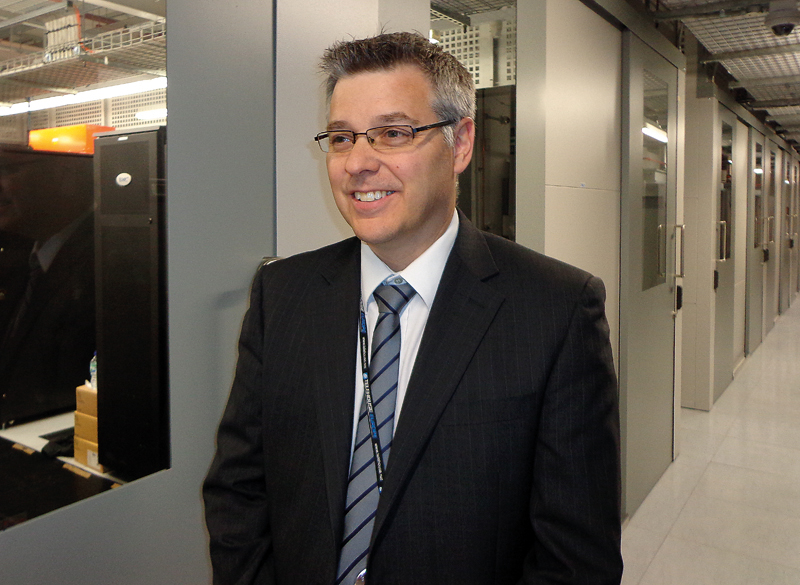 "Telehouse is all about business continuity, we have to guarantee resilience of supplies and the services behind the supply. Protecting the customer's load in the commercial world has to be worthwhile as a cost. I'd like to think we are the most resilient building in the country for telecoms, but I'm not sure how we'd measure that," said Sharp.
Many companies don't like to reveal where their data is held, for security reasons, but as the world's largest data centre customer, there are plenty of household names with contracts ranging from £15 000 to £6 million. These include financial institutions, online gaming companies, telecom suppliers, IT companies, cloud service providers, media companies, content providers— any company with a large number of servers must be hosted somewhere.
All the data units and cabling, as well as air-conditioning, cooling and humidification to ensure ambient climate, require constant reliable power. This comes directly from the National Grid: 132KV is fed into a substation that converts it to a useable 11KV. For resilience Telehouse has dual power supplies from separate portions of the grid and can operate on either.
The substation, which has been operating for 17 months, is standard commercial equipment but is the only privately owned substation in the UK. The live wires run overhead and the room buzzes loudly, the air is ionised so you can practically taste the electricity.
Everything on-site is duplicated to insure against failures or allow for maintenance. Therefore there are two in-feeds, two substations and each floor has two transformers, two diesel generators, two UPS systems as well as two banks of VRLA batteries.
On the five customer-critical floors, UPS and battery banks are mirrored on each side of the building. Telehouse works on four scenarios: N + N (normal service duplicated), N +1 (normal service plus one spare breaker or module to allow for anything being out of service), N + 25% (normal service, with allowances for 25% of the cooling systems to be offline for repair or modification and still run the room at 100%) or 2N + 1 (the configuration for the UPS systems, two times N + 1).
The battery banks operate on N+N. On each floor there are two banks of 126 Fiamm Highlite batteries, specially designed to work with UPS systems with data centres in mind. These 12V AGM VRLA batteries are designed to protect from power disturbances for high rate discharge UPS application and emergency power supply systems for IT network operations and data centres.
The batteries were selected for reliability, "Lead-acid is the best option when you look at resilience, the easy ability to repair and replace, they are relatively cheap (£270 000 to replace the lot) and they don't really fail," said Sharp.
He says the batteries require no maintenance and have a long working life. "We change them every seven years and don't have problems in between this time. We do six-monthly maintenance on the batteries and UPS to test the cells and the strings and make changes as and when it is required."
The batteries are the last line of defence, the battery storage is so important because it supports the service while it is switching between the dual power options, when using the UPS, or in the case of needing a generator. If the power failed and the batteries failed the service would not run.
"We don't use a management system, a lot of people try to sell services for monitoring the condition of the batteries but we have such a controlled environment— rooms air conditioned to the manufacturers recommended temperature, they are housed indoors, not remote, and we have people on-site at all times." There is a 24-hour cabling team on-site to see to any faults, as well as seven high-voltage trained maintenance engineers.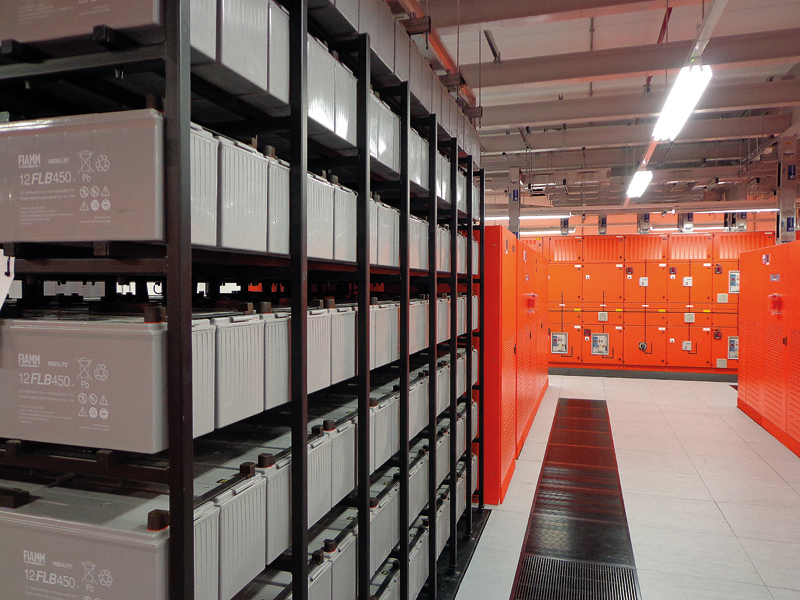 The batteries are regularly put through their paces— the system is switched over to generators. The UPS as a whole is tested monthly and a full double-mains failure scenario is run quarterly.
Sharp said, "The batteries are always on-line and essential to resilience. If there is a failure of the batteries there is still the mains, if there is a failure of the mains then the batteries will continue the power."
As well as the batteries for the customer critical services, there are separate banks for the air conditioning and for the UPS that specifically operates the chillers and circulating pumps for the watering services. All the air-conditioning as well as power to the customer cabinets is protected by UPS service.
The UPS systems are continuously in use to regulate incoming power to ensure a smooth waveform and offers back up power 'just-in case' by seamlessly switching over to the secondary power supply.
Another layer to the total resilience is having redundant power options. The site has a total of 19 diesel generators, which Sharp says are never needed. "They are really here never to be used. Unless the National Grid goes down we shouldn't need to use them."
In theory these are an alternative to either of the Grid power supplies and provide up to 24-hours power running at full-load, but in Telehouse's 25-year history the generators have rarely been turned on.
Once snow in East Anglia shorted overhead power lines causing interruptions to the supply. "The supplier London Electricity Board said they couldn't guarantee power in London north of the Thames. We were getting voltage dips— not loss of supply but dips. After a few dips we decided to run on generators for the night, but the power never dipped again," said Sharp.
While having so much redundant power may seem overkill in some industries, downtime for a company like Telehouse is unacceptable. Sharp joked while looking round the vast building that all this was to send an email, however, without the duplicated power options, Telehouse losing power could mean customers losing their IT infrastructure— which is the heart of a company and in a world so dependent on online services, can a company afford not to have this level of protection?