The US' latest gold rush is gathering momentum as its nascent lithium-ion battery industry realises that having to rely on foreign supply chains could obstruct the country's bid to become the fastest growing electric vehicle and energy storage system market over the next four years. And of course, where the dollar leads, the market will follow, Paul Crompton reports.
In the past two years, the US has begun to embrace lithium-ion technology like only it knows how: full throttle and with a certain swagger, like a Ford Shelby Mustang GT-350 slashing its way down Route 66.
While the US is home to some of the biggest energy storage systems in the world, the country's lithium-ion market growth lies in an automobile industry that is increasingly seeing its future in electric drive trains— rather than the V8 internal combustion engines that powered its iconic muscle cars.
As with many things in North America, the market is driven by demand, not regulation— unlike its counterparts in Asia and Europe— and as the country consumes electric vehicles with an increasingly rapacious appetite, the need for batteries to be 'Made in the USA' is exacerbated. The question is: who will build the plants that manufacture the batteries that power the cars?
Many a story filtering across the BEST news desk involves vehicle companies— General Motors, Ford, Tesla to name three— holding hands with Asian companies to make battery manufacturing happen quickly and efficiently, as well as utilising the expertise those firms have in cell development and manufacturing at scale.
The US EV market is the third largest globally, behind China and Europe, which, coupled with federal and national policies, is driving the growth of the US battery market. There are 47 states that have consumer-oriented schemes in place to promote EVs. And while the U.S. Department of Energy (DoE) made $3.1 billion in funding available in May to accelerate the development of the US domestic lithium-ion battery supply, it's still relatively early days and the impact of this is yet to be fully realised.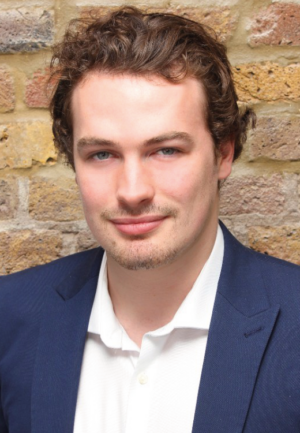 "It is mostly international cell producers reacting to the regional demand, with the majority of cell plants in the US constructed and operated by companies based in Asia," says Evan Hartley, an analyst at Benchmark Mineral Intelligence.
He adds that to date it has undoubtedly been the EV supply chain that has driven the growth in US lithium-ion cell capacity. This growth has created a shift in more favourable policies towards EVs and the wider energy storage transition by the country's government, which in turn has helped drive some of the more recent investments in the supply chain.
"Certainly, increasingly aggressive EV targets from US automakers have helped attract lithium-ion cell companies to set up in the US, in many cases in the format of joint ventures with automakers," says Hartley. "But the biggest changes in US cell plans have come in the previous two years, with Benchmark tracking at 65% YoY increase in pipeline capacity in the last 12 months alone."
Those favourable policies include US president Joe Biden invoking the country's Defense Production Act of 1950 in April in a bid to secure a domestic supply of battery materials for the production of automotive, e‑mobility, and stationary "large-capacity" lithium-ion batteries. The Act is a US federal law that gives the president significant emergency authority to control domestic industries.
The DoE's funding opportunities are key components of the Biden Administration's strategy to strengthen the US energy independence and reduce its reliance on competing nations.
At the time the DoE funding was announced, US senator Debbie Stabenow said: "For too long, other countries have been outpacing the United States in funding new technologies. We are at a critical moment in our competition to build the next generation of electric vehicles and batteries here in America and to secure automotive leadership in these next-generation vehicles.
"This funding will help us win this race by investing in our supply chain and manufacturing here at home. Our workers are the best in the world, and there's nothing more American than ensuring that our products and technology are built in America."
Racing toward a goal
All told, the US aims to have 101.1GWh of capacity this year, according to industry analysts Benchmark Mineral Intelligence. That capacity is forecast to rise to 396.4 by 2016 and 750GWh by 2031. Last year, cumulative global battery manufacturing capacity was 200GWh, according to analysts WoodMac.
Benchmark forecasts the US will house 11% of global cell production capacity in 2031, compared with Europe's 15%, so reducing the gap between the US, Asia and Europe isn't impossible. However, the likelihood of the US lithium-ion battery industry reaching a point of equality with Asia is slim, says Hartley.
Today, China dominates. The country accounts for 79% of global cell production capacity with this number only predicted to fall to 70% by 2031.
For the US to realise its battery ambition, it will need to invest in midstream infrastructure; with Asia, and Europe to a lesser extent, boasting growing capacities of cathode and raw material refining. A number of US states— Nevada, California, Utah and Arkansas among them— have begun plans to extract lithium but the country is hampered by only mining 2% of the global supply and having an estimated 4% of all reserves.
Switch from ICE to EVs
While the US has been focused on legacy technologies and alternative chemistries to lithium-ion, the switch in mindset from the "old world" of lead-acid batteries, and ICE supply chains to a "new world" focus—lithium-ion cells and EVs— can be traced back to the growing shift to electrification, in both EV and ESS markets.
Lithium-ion batteries are used in EVs, of course, and benefit from having an established supply chain. There are ongoing movements toward alternative chemistries, as some of the major cell producers have R&D divisions focused on sodium-ion or solid-state batteries for instance, but these are yet to be fully commercialised, says Hartley.
But can the US materials supply chain keep up with its battery manufacturing goals— or will it remain reliant on China for an "independent" US battery industry?
At the current level of domestic material supply, the US cell production goals and capacity targets will be reliant on Chinese and international supply, particularly with regard to cathode and anode active material, says Hartley. "Additionally, as mentioned, a number of the cell production facilities in the US are operated by Chinese and international companies, who either also produce their own cathode active material in Asia, or have supply agreements in place with Chinese, Korean, and other Asian companies that do."
Battery production capacity
As of 25 October 2021 the DoE revealed research suggesting there were plans for 13 plants in the US, all of which were expected to be operational by 2026. Of those, eight are joint ventures between automakers and battery manufacturers. Many of these new plants will be located in the Southeast or Midwest of the country.
Vehicle OEM Ford Motor Company and South Korean firm SK Innovation announced plans last October to invest $11.4 billion in the US electric vehicle and battery sector. Plans include three battery plants with a combined 129GWh capacity with two sites in the US state of Kentucky and one in Tennessee— all set to have 43GWh capacity. Ford is due to invest $7 billion of the cash, with SK Innovation delivering the rest of the funding.
The plants are due to begin coming online in 2025 to supply batteries for next-generation electric Ford and Lincoln vehicles. Ford is also investing $5.6 billion in a 3,600-acre mega campus in Tennessee called Blue Oval City that will "reimagine" how vehicles and batteries are made and include a battery plant called BlueOvalSK and an assembly plant. The firm's global battery centre— Ford Ion Park— is due to open in Michigan, US this year. Ford estimates it will need a 140GWh battery supply to meet its manufacturing demand.
Also, this October, Norwegian battery maker firm Freyer formed a joint venture with US venture capital company Koch Strategic Platforms to develop an initial 50GWh of battery manufacturing capacity in the US.
The 50/50 ownership structure was established, based on US-based firm 24M Technologies' SemiSolid™ platform technology.
General Motors (GM) announced in December last year it would build a cathode factory in North America for its electric vehicle batteries, under a joint venture with South Korea's Posco Chemical. The factory will process cathode active material.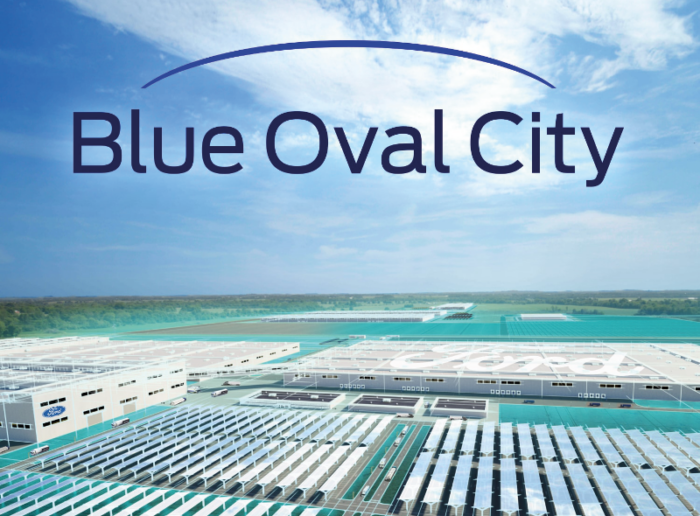 GM has said it will spend more than $6.6 billion on building three US battery plants in partnership with South Korea's LG Chem. Around $2.4 billion of which will be spent on Ultium Cells— a joint venture between South Korea's LG Energy Solution and GM— factory in Ohio. Further plants will be in Spring Hill, Tennessee and a 2.8 million-square-foot, $2.6 billion cell manufacturing plant is planned for Lansing, Michigan.
This February, Tesla announced plans for a cathode materials factory to be built next to its 2,000-acre Gigafactory Texas plant in Austin. Of course, it has a plant in Nevada that uses cells made by the Japanese firm Panasonic.
Utah-based start-up American Battery Factory (ABF) revealed plans in March for a network of lithium-iron-phosphate prismatic battery gigafactories in the US. Forthcoming agreements and the first of the planned 3-15GWh manufacturing sites are yet to be announced.
In June, Greek technology company Sunlight Group received €275 million ($290 million) in the form of seven-year loans from Greek banks to increase its lithium-ion and lead-acid battery production and R&D— including a plant in North Carolina. The firm's subsidiary Sunlight Battery US— part of the Olympia Group— aims to develop a 2GWh assembly hub in the US state.
The following is a list of gigafactory plans published by the US Department of Energy in December 2021: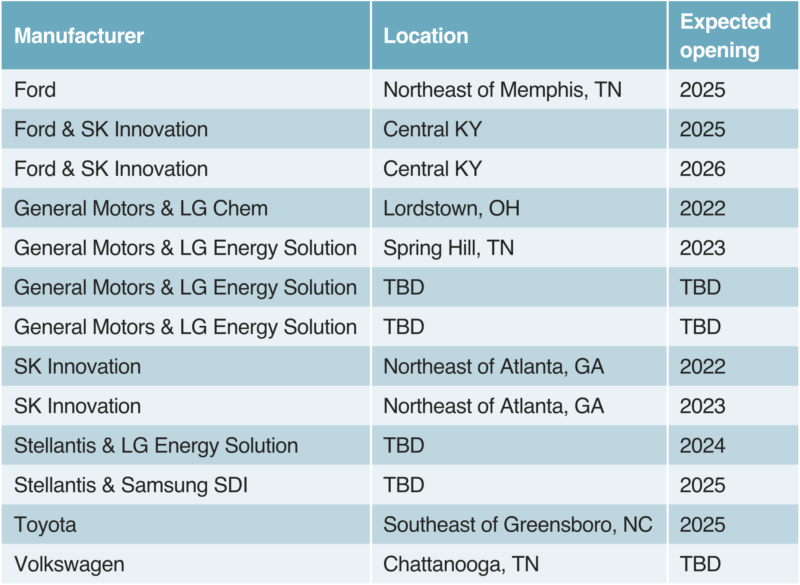 Read the sister article to this one below:
INTERVIEW: EV market driving the US' lithium-ion battery ambitions