As the numbers of microhybrid cars rolling off Europe's car assembly lines rise, battery makers and the supply industry gathered in Turkey to learn what the long awaited change in propulsion will mean for them. Editor Gerry Woolf reflects on three days of discussions.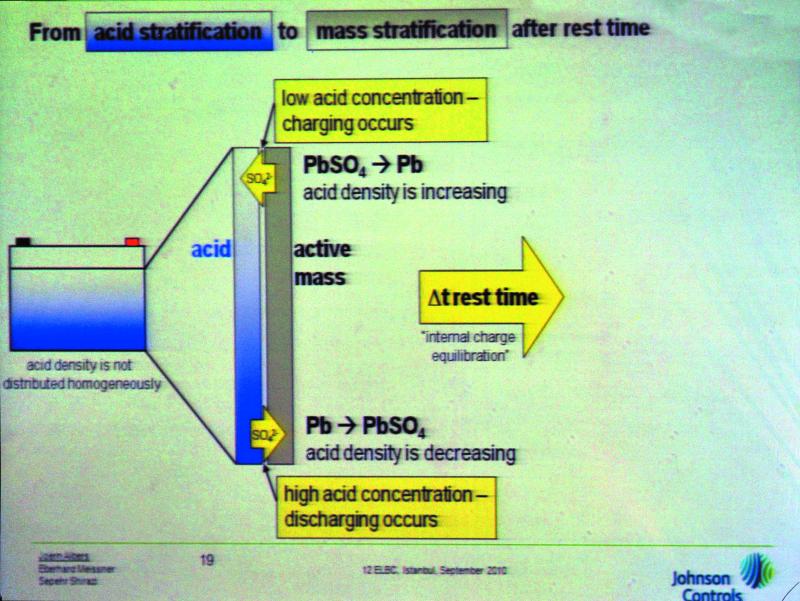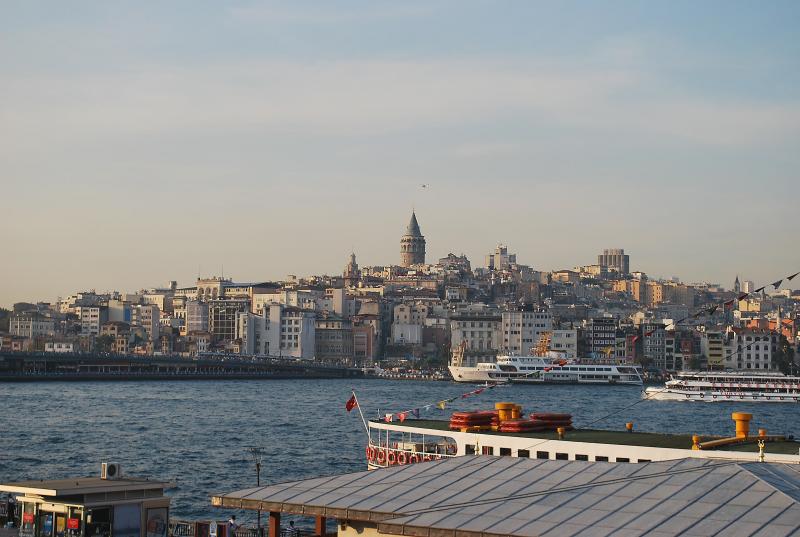 There was something real and immediate for lead-acid battery makers to consider at this year's lead industry's biennial gathering in Turkey (12ELBC), though the fact is quite a few of them have been considering it for some while.
The impact of microhybridisation, which I've banged on about at length in these pages for some years, is now being felt— in terms of investment, lead sales, new machinery acquisitions and so forth. In fact it brought quite a fillip to the event, with over 700 delegates and nearly as many exhibitors as one finds in the average issue of BEST. The overall economy in Europe might be shaky and it will be a while before car sales are back to their 2007 levels, but spending in the lead-acid battery industry is up.
And the market for lead-acid automotive batteries is finally undergoing a revolution— one that was predicted a decade ago, with the much-hyped prediction of a switch to 42 volts.
Stop-start is really happening in the European Union and perhaps, if EU standards are adopted elsewhere, the rest of the world. If that's the case, we could see, within a decade, the slow demise of what is now called "standard flooded" lead-acid batteries and a battle for dominance between AGM technology and so called extended flooded batteries. Or perhaps, if for any reason, lead is found wanting, then we could see, within the same decade, the steady loss of virtually all starting applications to a so called advanced technology. It's these issues which brought this year's 12th European Lead-acid battery conference to life in a way we haven't seen for some years
You think I'm exaggerating or alarmist? Hardly!
Ray Kubis of Enersys, wearing his Eurobat hat, couldn't have spelled out the threats and opportunities facing lead-acid more succinctly. In fact, it was quite the best presentation he's given in all the years I've covered the market.
Remember the European Battery Directive? It hasn't gone away. In 2003 this piece of law destroyed the market for nickel cadmium batteries in consumer applications (which would have occurred naturally at some point) and cost SAFT, the only maker of industrial Nickel Cadmium, a pretty penny in lobbying to preserve that market for itself, which was as "closed loop" as one could reasonably expect it to be.
There's money in recovering nickel, so precious little cadmium, became a pollutant.
Now the EU has its sights set on banning lead usage in cars and it really is only price issues that have stopped it in its dumb bureaucratic tracks. A lithium-ion starter battery would cost as much as €2,000 for an average car today—a perfect "EU stupidity" story for the anti-EU British tabloid newspaper, the Daily Mail— "How the EU want to force up the cost of starting your car". You can read more of the battery directive shenanigans in my report on ICM's battery recycling meeting on page 81.
For now, economics and the automotive industry have put the brakes on this "wacko" proposal, but Kubis pointed out that the issue will be revisited in 2015. By then, lithium-ion might be cheaper for several reasons: technical and process improvements and price slashing— because the billions of dollars invested in the Electric Vehicle market won't have delivered a return i.e. the number of pure electric car sales is going to be much less than the very best hopes.
This author can see SAFT having the last laugh as it lobbies on the side of lithium, though its JV partner, Johnson Controls, with significant interests in lead-acid, might not be too pleased. But we digress. Lets skip, for now, Neil Hawks' solid analysis of lead fundamentals… we've heard it before, one way or another
Let's clap and be happy for Detchko Pavlov, who received the International Lead Metal at 80 years of age, still thriving on working with lead and surely the argument to thwart the idiots of the EU who are unable to see that some people actually benefit on this toxic element.
And lets forgo briefly the market interpretations on industrial batteries by Bob Cullen of Hollingsworth and Vose who understands, just as well as this author, that the battery market follows the telecom and wireless devices market and the two are forever linked— if wireless booms, then so do batteries.
The old doyen of British lead-acid battery design, Ken Peters, told your scribe that I clearly had the patience of a saint to sit through the first few technical papers. They weren't good. But then I had little choice. Peters though had helped to select them and I could do little else that was useful.
Because the owners of the Grand Cevahir — the conference hotel, were clearly not subscribers to the thoughts of Mr Cullen and Internet connectivity, I was disconnected from the real world for three days. Some might say it's permanent.
It took a whole day before the conference homed in on what really needed to be discussed — the issues surrounding lead-acid batteries in the stop start configuration. And who knows, one day the micro hybrid battery seminar might even emerge as a spinout meeting all on its own.
The right man chaired the session: ex semiconductor specialist and forward looking Tim Ellis pointed out, at the last ELBC in Poland (2008) there were just two papers on microhybridisation. This year, there were 14. And the picture they painted is a confusing one both technically and from market share perspectives.
One thing is not in doubt. There are going to be millions of micro hybrids on the road— it's not about customer choice— its what the manufacturers stipulate whether you're buying up-market BMW or economy Fiat. And that's the first issue: Money. How little does an automotive OEM have to spend on a battery in order to do stop start without creating customer grief or warranty issues? Answer: not the cost of a standard flooded battery— the automotive OEM must spend more.
The second issue: What's the crucial technical issue which governs lead-acid technology's ability to stay in this market. Answer: good charge acceptance.
The third issue: What happens if you can't achieve this—answer you are going to have disappointed consumers, angry OEMs and eventually sales hungry lithium battery makers chomping their way into your market.
The writing is on the wall.
You didn't have to fully appreciate the presentation of one Ali Madani, one of the rare European battery market watchers from the research group Avicienne— his slides were far too information-packed to read from further back than the front row. Nobody really knows how fast the pure EV and hybrid markets will take off. But we do know that globally more than US$15 billion has already been invested in producing a global 60 Gigawatt production capability in lithium batteries and if they aren't going to go into pure EVs… they could provide the energy storage solution for stop-start albeit with a reduced profit margin, but better than the inevitable bloodbath of lithium bankruptcies that must inevitably come, if there aren't enough customers.
Throw in a little lobbying to the European Commission between now and 2015 and you don't need to be a "master of spin" to see how things could turn out. But you do need to be something of master of spin to make sure that those who are influential in this world do have the right figures to hand when they evaluate technologies.
One such influential group is Ricardo Engineering— a UK automotive consulting group that has had massive impact in US. Anthony Law, standing in for Peter Miller explained how Toyota had experimented with stop start nearly a decade ago (only we called it a 42 volt system them) with limited success— modest improvements in fuel economy for just 18% increases in battery costs.In 2008 Toyota revisited the stop-start Crown sedan and fitted a Nickel Metal Hydride battery, achieving huge benefits in fuel economy. Law concluded that this chemistry is "the one" for mild hybrids. Really? Have Ricardo not heard of the impressive achievements of the Advanced Lead-acid Battery Consortium, some three years ago, where Nickel-metal-hydride technology was replaced with lead–acid batteries and quite astonishing mileage performances were achieved? I asked them or rather Mr. Law… in my new strange voice. They hadn't. Now these numbers ought be embedded in the easily accessible memories of all those who have anything to do with hybrid and electric vehicle development, just like famous dates and numbers in British history for the average British schoolboy— 1066, into the valley of death rode the six hundred, the six wives of Henry VIII, 13 years of Tory miss rule etc. But the battery numbers aren't well known. The fact is that lead-acid can meet the power and energy density requirements of even a medium hybrid at one fifth the cost of nickel metal hydride and lithium-ion. Sure, there are some weight and volume trade offs and almost certainly shorter life but as an up front cost and with an established supply chain, it's a winner.
Or is it? The in-house automotive battery specialists and some of the would-be suppliers like Ed Buiel of Axion Power know only too well of the drawbacks. It's the issue of charge acceptance. As this author has noticed, cars sporting start stop don't like to do too much of it. Lead-acid systems do not accept charge rapidly due to issues surrounding the negative plate— essentially the effects of sulfation. The more you discharge the battery, the more sulfation you get, the fewer conducting pathways are available to the negative plate and thus the longer it takes to put charge back into the battery. So in practice, the battery needs a rest time between being able to do another start after its been stopped.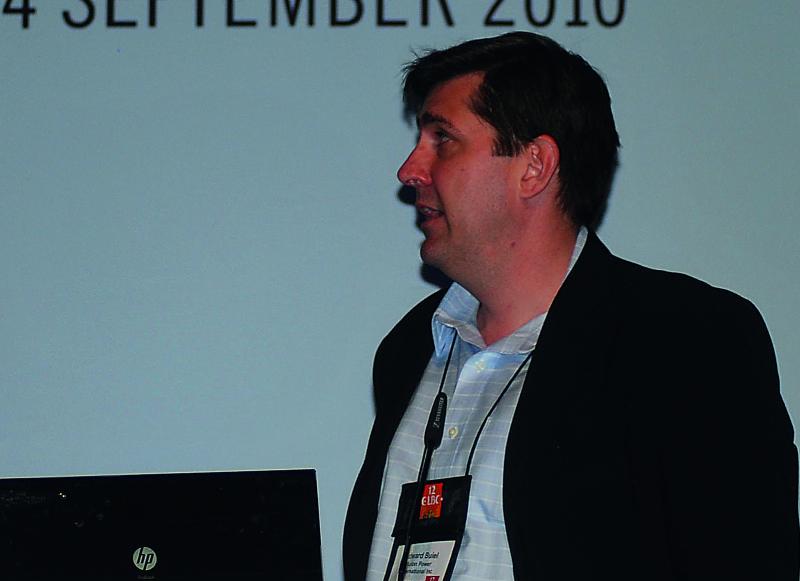 Andreas Stormer of BMW pointed out how this needed to be taken into account in lead-acid battery test regimes but isn't
always. There's been a huge work programme in regard to improving the negative plate mix to avoid sulfation by adding carbons of various kinds— its not quite "common knowledge" but suppliers of paste mixers like Tek mention the importance of this in their promotional material. David Boden of Hammond explained that its still not easy to work out exactly which carbon forms yield the best results without costly time consuming performance test of individual cells.
So enter Buiel with Axion's so called PBc technology, where the negative plate is no longer the complicated lead grid with the negative expander mix but a simple carbon plate and current collector. And there we have a system that can cope with a rapid series of discharges.
Bueil— a master at explaining the "rest" issue and graphically able to describe what's going on the molecular level has a "beef" with his rivals and the auto industry. If you do a test, which doesn't take into account battery rest times, you don't really show the benefits of the PBc system over conventional technology. But that's the battery world all over, isn't it? When did you ever get a nail hammered through a lithium-ion battery in real life? If you design a test that most products/students/banks (need I go on?) can pass, it's not much of a test. Buiel's case is that with a test, which properly factored in the effects of rest time, the superiority of the PBc device could easily be shown.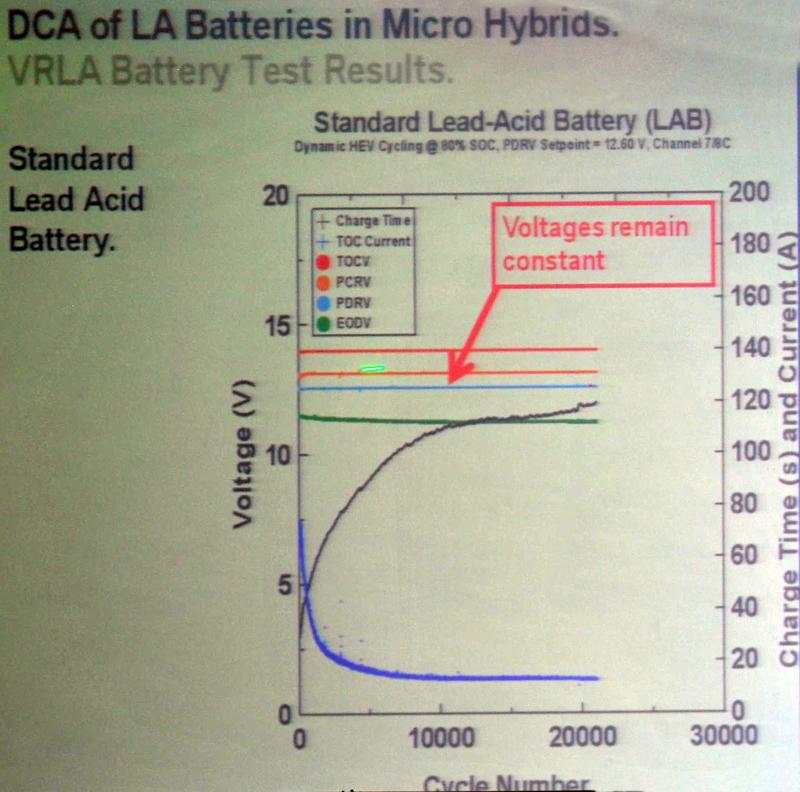 My advice to Bueil is to keep plugging away because the truth will out in the end.
Even if the best of lead-acid is going to find stop-start hard work, then the the budget end is really going to struggle. Joern Albers of JCI, which can supply every kind of lead-acid battery for the market and also lithium-ion with its JV partner SAFT, put the steel capped boot straight in to the groin of lead-acid's weakest offering— Standard flooded batteries. The issue of acid stratification makes them unsuitable— their charge acceptance issues are weaker, their lifetimes are shorter in this duty than AGM.
The lead-acid battery makers, it seems, are not putting a lot of hope into the future of standard battery designs. Graeme Fraser-Bell dusted down the presentation he made in conjunction with David Prengeman in Warsaw in 2008. Trying to crystal ball gaze in the height of a slump while technology is also changing is no mean feat. Two years on it can be seen that automotive sales have risen thanks to the scrappage schemes but now they are coming to an end. People with money have prevailed and top end cars sales have done OK and sales of microhybrids from the quality German carmakers have risen— this year 1.8 million. Next year a prediction of 4.6million and a stonking 6 million in 2012. The overwhelming majority of the new vehicles will have AGM batteries fitted and Fraser Bell predicts a massive fall of standard flooded batteries, dropping by about 8 million units by 2012. Of course it isn't smooth sailing for AGM— there's a shortfall in supply and an overall lack of competence is being able to manufacture these batteries in Europe. Never mind: Japanese lead-acid makers and East Penn can easily make up for that. Fraser Bell concurred with my view that supply chain weaknesses could easily bring alternative chemistries into the market.
And these are early days: who knows what snags are happening out there in the real world? Is there a new Dr David Feder, the scourge of VRLA in the mid 1990s in the world of telecom standby, lurking out there in the automotive market place collecting data on premature failures, if indeed they are occurring? I don't know and we can only guess.
The world of lead-acid was however prepared to let its critics come in and challenge it. Professor Dirk Uwe Sauer, one of the new champions of energy storage and the smart grid pointed out all the benefits of up and coming lithium-ion in everything from grid connected PV and home based peak shaving system to electric mobility. Lithium's major obstacle— price, would have to come down considerably to less than €300/kW.
But for the small cell market— the so called 18650 cell, huge price falls had already been obtained, which is how makers like Tesla, had achieved a long-range, pure EV, based on the use of thousands of small cells.
The EV market though is just one that lithium-ion threatens. Uwe Sauer pointed out that lithium makers could have stationary battery applications in their sights if they can get cost down to under €80/kW and with price slashing a possibility if EV markets don't go to plan, that could be a reality. As for now, lead-acid was four times cheaper than the lowest cost lithium-ion offering and is easier to handle electrically.
Marion Perrin, another one of the battery "young Turks" (though of French origin) was equally forceful in castigating the lead-acid world on its seeming lack of interest in the future stationary energy storage market. Now heading the role of business development manager at INES, the French national laboratory charged with the role of bringing PV and energy storage to market, she said scarcely a week went by without an approach being made from a lithium battery maker.
As to lead-acid was there an interest? I could see where Perrin was coming from. Too many lead-acid presentations this writer had seen, extolled the virtues of great lead-acid battery energy storage systems of the past— Metlakatla in North America, the German BEWAG and the Puerto Rican Chino project. But nothing "big" has been built using lead-acid technology in almost a decade.
The stationary energy storage scheme headlines are being won by NGK, A123 and the like. Yet the opportunities are there— in France certainly, where tariffs for the adoption of home energy storage are being made more attractive and the ability of the country's national grid to cope with demands being made upon it is in question.
In something by way of a riposte to the young critics, Friedrich Kramm of Exide in Budigen described the company's effort to modularize lead-acid based energy storage in modular units, just as we've seen from A123, Enerdel and others including flow battery and flywheel makers.
Exide calls the business unit ReStore and this presentation was the first this author had heard of it. But a quick check on the web informed me that the business division has been in existence since 2009 and had attended a recent American Wind Energy Association conference and exhibition in August. But the press release stated that as well as offering its traditional technologies it would also be offering its Onyx range of lithium-ion batteries. Clearly at a corporate level, Exide, just like JCI, doesn't want to be caught out in not having the product the consumer demands.
If you want 0.5 megawatts of storage with ten years maintenance free operation in a 20 foot container (I didn't calculate the weight) then Exide can do it, seemed to be at the core of Kramm's message. And since the whole thing is modular; you could have quite a few megawatts of storage (if you had the space). And the whole system (including inverters and BMS) is cheap at between 600 and 800€/kWh. How well the batteries would do in high temperatures and in confined spaces is anyone's guess.
If nothing else, one came away from the meeting thinking that the industry more so than ever, was aware of the threats and opportunities surrounding it.
The big cost advantage that lead has over other chemistries is still there but lead-acid is being asked to do more, in more demanding conditions (like stop start) and in industrial situations too.
Standby batteries for telecom were traditionally designed for float operation— not cycling— but now, with massive penetration of cellular in countries without access to grid based electricity, it's being asked to just that.
It can be done, as Rhod Evans of Enersys showed. It can be achieved, but it may be that it can only be done by a handful of global players and the smaller makers, who litter the compass in all directions 150 km of Istanbul, (a good justification for holding the meeting there), may not be able to stay in the game.
Making an OK lead-acid battery used to be easy. Now making a sophisticated lead-acid battery to meet market requirements means having a level of expertise only a few companies have access to.
There are just five companies making very nearly all the 18650 cells that get used in laptop computers globally because the market is so tough and demanding. In another decade could it be just the same for lead-acid?