PowerTech Water has developed a powerful and chemical free water treatment platform that harnesses the power of carbon electrode technology to actively attract, immobilise, and filter metals from water used in the recycling of lead batteries. Its co-founder Dr Cameron Lippert speaks to BEST about his company's ElectraMet technology.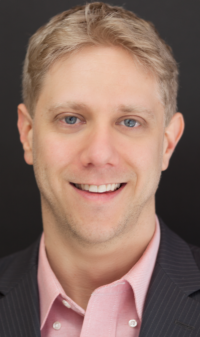 For those who have not heard of the company, they may have heard of the product, ElectraMet. That's because the company puts its technology forward facing, as it believes that is what matters most to customers. "They just want to know what the solution to their problem is, and that solution is ElectraMet," says Lippert who co-founded the company in 2014 with James Landon, the companies chief technology officer.
Lippert, who spent five years in grad school working on his PhD in inorganic chemistry, has 30 publications and patents in the fields of catalyst development, electrochemical energy storage, water treatment devices, and wastewater chemistry. He is leading the implementation of PowerTech's business development and financing strategy.
The company— which was spun out of the University of Kentucky, with a focus on developing and commercialising new ways of delivering sustainable water treatment options— moved its focus onto batteries in 2018. Last year, it introduced the ElectraMet system to the world, which is when BEST was first introduced to the technology.
The environmentally-friendly technology is an electrochemical filter that removes heavy metals from water, using PowerTech's patent-pending ElectraMet technology. It uses activated carbon electrodes and small amounts of electricity to actively attract, immobilise and filter metals, with more than 99% selectivity and no sludge production for 100% water recovery. Energy efficient, high-temperature tolerant (80°C), and acid and alkali tolerant, the firm says it reduces OpEx and requires minimal CapEx.
ElectraMet harnesses the power of advanced, chemical-free, carbon electrode technology, to go beyond traditional water treatment solutions and deliver clean water with an environmentally responsible, cost-efficient and easy to use platform. It earned an SBIR Phase II grant through the US' National Institute of Environmental Health Sciences for its work on removing lead from drinking water.
The company initially targeted metals from wastewater including: lead, copper, manganese, iron, zinc, nickel, and cobalt.
BEST spoke to Lippert about his technology and the business plan he hopes will transform the battery recycling market.
Can you give us an overview of the ElectraMet System and how it works?
ElectraMet is an electrochemical device that uses carbon materials and small amounts of electricity to actively attract, and permanently remove, heavy metals from water streams. The amount of energy required to perform the metal removal is less than an LED bulb. We use unique carbon and water chemistry, in conjunction with electrode technology, to selectively target metals in the water streams. Because of this innovative approach and the lack of chemicals, we do not produce a sludge by-product. This is a fundamentally different approach than legacy systems, which produce significant amounts of sludge and are labour intensive. The ElectraMet system is fully automated and requires minimal involvement to maintain and operate.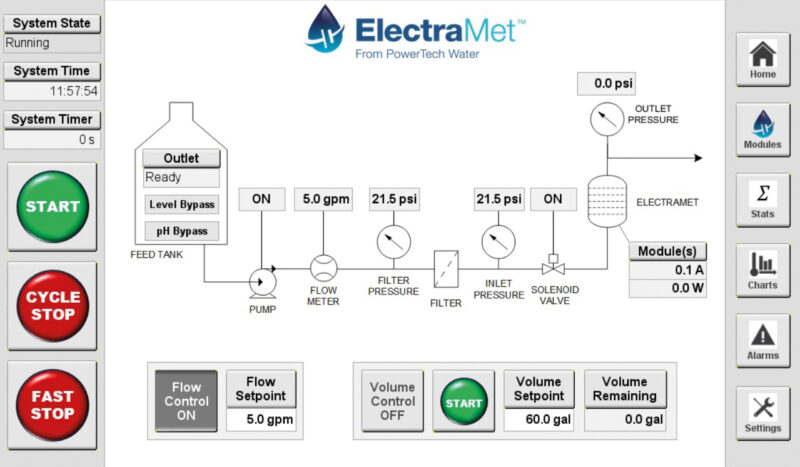 What are your goals and ambitions for ElectraMet, including your business model regarding the recycling industry?
We have a very ambitious goal to play a key part in the future of the circular economy. Currently, we are just focused on helping our clients meet discharge compliance with their wastewaters. We do this through an OpEx business model. We typically offer a simple subscription/service model where we charge a flat monthly rate and provide the system and consumables as needed. Clients also have the option to just purchase the metals filters as they are consumed. The standard razor and razor blade model.
The next stage for us will be to treat process waters and recovery of the metals we filter out in a semi-pure form. We will then work with the recyclers to put these metals back into the marketplace thereby closing the loop on the circular economy.
Can you explain why you have now moved into the battery-recycling sector, and tell us why the technology works so well in this application?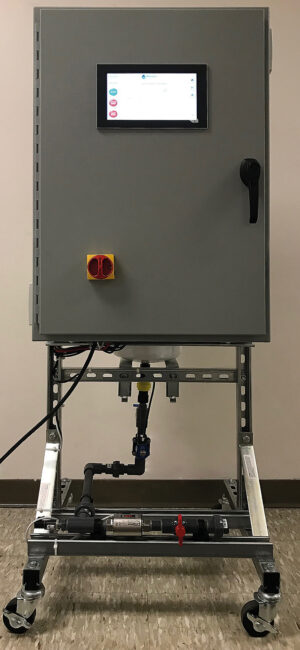 We started focusing with the battery manufacturing facilities, to help them meet discharge compliance with their wastewater. Given the close nature of the manufacturers and recyclers, it was the obvious next step for us. The two industries face similar challenges. Our ElectraMet system works so well because we can target desired metals with surgical precision. We can do this because of our unique electrochemical operation, using carbon-based materials instead of metal electrodes. Waters in the battery manufacturing and recycling industry tend to contain high amounts of dissolved solids (salts) that interfere in most systems, such as ion exchange. This reduces their efficiency and increases their cost. There is no impact and no interference on our system by these salts. This little difference in how our system operates is what lets us work so well for these industries.
Is the technology designed for specific battery chemistry, or can it be used for multiple battery types (what are those types)?
The ElectraMet system can be tuned to target a wide variety of metals derived from multiple battery chemistries. Specifically, we focus on Pb, Cu, Ag, Zn, Ni, Mn, and Co. This is one of the powerful features of our technology. We can selectively target different metals even when they are in a complex matrix. Another key feature is that we can easily recover the metals that we isolate from the water streams. If the metals are valuable, like Cu and Ag, then we can generate an added revenue stream.
Can you tell us a little about the commercial availability of the technology and the companies testing it at pilot and full-scale?
We installed our first system in 2018 at a lead-acid battery manufacturer for pilot testing. We have seen significant traction and growth in multiple markets. Toyota has been our largest commercial installation to date with process capabilities of up to 150gpm. This system is designed to treat wastewater for reuse in their paint line. Another one we can name is Advanced Battery Concepts, where our system is helping them meet some very strict discharge limits. We are also working with a large chemical company that is building a large lithium-ion battery recycling plant next year, and is looking to use our system to remove and recover Cu, Mn, and Co from a variety of complex streams. We are exploring options for treating wastewater to meet discharge compliance, and to removing trace impurities from product streams.
Can you tell us a little more about the pre-testing (I understand firms can send a five gallon sample to you to see how pure your kit gets it) and scalability (i.e. do you have to be recycling gallons and gallons of water for it to actually pay)?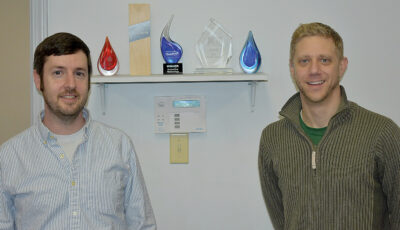 We offer feasibility testing for potential clients, where we will test samples of their wastewater or process water in one of our bench-top systems. We use this process to validate our ElectraMet system in their specific waters, as well as determine preliminary systems design and costs. We offer a free service to help acquire the wastewater sample. We send the client UN-certified containers with all the required DOT labels to ship hazardous water. We also cover all the shipping costs. We try to make it as simple and painless for the client as possible. Our goal is to reduce their burden regarding the water from start to finish, from sample-testing to full-scale system installation and operation.
If you treat the subsequent slag, how is it treated in the process, and how do you do this? If you or do not, is this done via another process?
We have not done this yet at commercial scale. We typically look at the resulting wastewaters with trace amounts of metals. In our discussions with battery recycling plants we have devised a process to where we would extract the metals from the slag. This would most likely be an acid treatment. We would then take that acidic water and process it through our ElectraMet system to recover the metals.